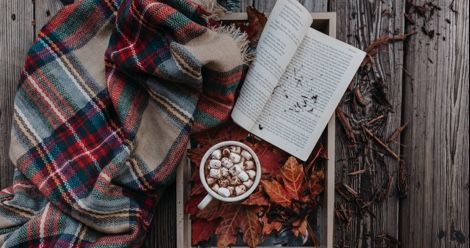 This content contains affiliate links. When you buy through these links, we may earn an affiliate commission.
The 2019 Read Harder Challenge is sponsored by the Read Harder Journal.
Created by Book Riot, this smartly designed reading log consists of entry pages to record stats, impressions, and reviews of each book you read. Evenly interspersed among these entry pages are 12 challenges inspired by Book Riot's annual Read Harder initiative, which began in 2015 to encourage readers to pick up passed-over books, try out new genres, and choose titles from a wider range of voices and perspectives. Indulge your inner book nerd and read a book about books, get a new perspective on current events by reading a book written by an immigrant, find a hidden gem by reading a book published by an independent press, and so much more. Each challenge includes an inspiring quotation, an explanation of why the challenge will prove to be rewarding, and five book recommendations that fulfill the challenge.
---
I once encountered this in someone's Twitter bio: "I love (fictional) crime." And I thought: "IT ME." The world is often a terrible, frightening place, and it makes me so sad and tired. Yet I am 100% down to read about those things happening to fictional people. BRING ON THE MURDER. But as much as I love reading about chainsaw killers and escaped cannibals, I equally love cozy mysteries.
The parameters of a cozy mystery vary a bit, depending on who is doing the defining. The hard and fast rule is the book must have very little sex, swearing, and violence. Some people also insist the protagonist must be a woman, it must be set in a small village, and they must be an amateur sleuth. Personally, I think if you have a charming mystery that follows the hard and fast rules, the other details aren't as important. It's up to the reader to decide. There are THOUSANDS of cozy mystery series, so you're sure to find ones that meet your parameters.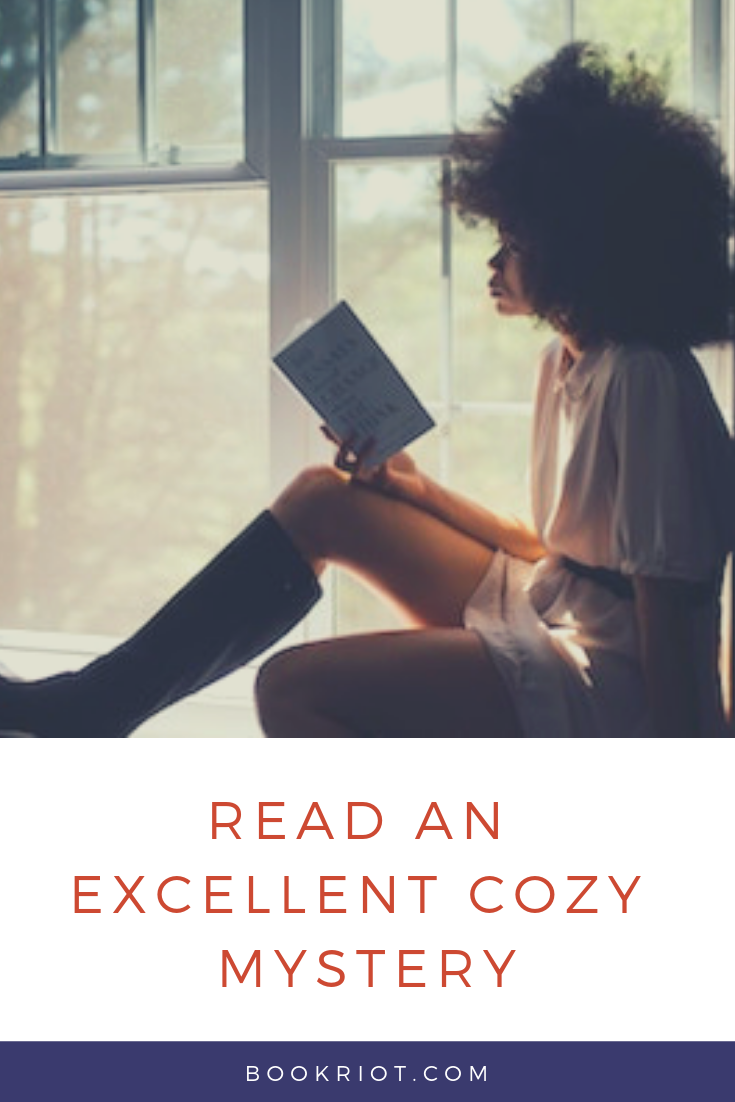 My love of cozy mysteries dates back to when I discovered Agatha Christie novels in elementary school. Maybe that's why I don't require my cozy mysteries to follow the strict definition, since the Poirot books don't meet the parameters. Give me a quirky, clever mystery, or maybe something a little sinister without all the blood and violence, and I'm happy. Oh, and a funny title is a bonus. For people who love puns, nothing beats a cozy mystery title. (The Quiche of Death, What's a Ghoul to Do?, Thyme of Death, etc.)
So whether you need a good cozy mystery for the Read Harder Challenge, or you're looking for a good jumping off point to get into them, here are the first books in 10 delightful series to get you started. (And here's another list for more great recommendations.)
Death by Dumpling by Vivien Chien (The Noodle Shop Mysteries)
This is a recent series, and it's so cute! Lana Lee never expected to end up back home, working at her family's restaurant, but her personal life hit a few big snags, so she's back to waiting tables. But when the landlord of the building dies after being served food from the restaurant, she and everyone else who works there are suspects. Lana decides to investigate the crime, which will clear her name and hopefully impress the cute detective working the case.
This series is another one of my childhood favorites, because it's about crime-solving cats! Well, it's really about a journalist named Qwill—he of the salt-and-pepper mustache—who moves to a small town and ends up adopting Koko and Yum Yum, a pair of Siamese cats. Qwill winds up playing amateur sleuth quite a bit, but in the end, it's always the cats who point him to the clue that cracks the case. (This series is like Murder She Wrote, where if this many people were actually being killed in a small town, the government would test the water or something. That's why fiction is fun!)
These books are delightful because the amateur sleuth who solves the crimes is an 11-year-old girl who lives in a decaying mansion in 1950s England. Her name is Flavia de Luce and she's reviled by her older sisters and ignored by pretty much everyone else, which leaves her time for her hobby: learning about poisons. In this book, Flavia must use her wits to clear her father of a crime.
In Inspector Singh's first mystery, he is trying to clear a woman of her husband's murder. There's just one problem: all signs point to her as the murderer. But Inspector Singh has a suspicion she's as innocent as she claims to be, and must overcome his frustrations with the lack of clues or other suspects in order to set her free.
Wish You Were Here by Rita Mae Brown (Mrs. Murphy Mystery Series)
Another charming series where the detectives have four feet as well as two! When citizens of the small town of Crozet begin dying after receiving a postcard that says "Wish you were here" on the back, Mrs. Murphy and Tucker decide to investigate. Making this a little unusual is the fact that they are, respectively, a tiger cat and a Welsh Corgi. And along with their human, Mary Minor "Harry" Haristeen, they're sure to crack the case.
If I had to guess, food-themed cozy mysteries are the most prevalent types of cozies, after bookstore-themed ones. This series is about Halia Watkins and her soul food restaurant, Sweet Tea, in Maryland. When an unpleasant customer turns up dead on the floor of Sweet Tea, a skillet to the back of the head the weapon, Halia decides to solve the crime to keep her good name out of the press.
Murder is Binding by Lorna Barrett (Booktown Mystery Series)
There are hundreds of cozy mysteries set in bookstores and libraries, usually also involving cats. Book cozies are my favorite ones to read! This series is about Tricia Miles, who moved to picturesque Stoneham, New Hampshire, to open a mystery bookstore, not knowing she'd end up solving mysteries instead. In the first case she must crack, the suspect is Tricia herself. She's accused of murdering a cookbook bookstore owner for a rare cookbook, and must uncover the town's secrets to find the real killer.
Aunty Lee's Delights by Ovidia Yu (Singaporean Mystery Series)
Set in Singapore, this series is about Rosie Lee, who owns Aunty Lee's Delights, a wildly popular restaurant. In the first book in the series, Aunty Lee has a sneaking suspicion that a murder and a missing dinner guest are related. The local police depend on her for gossip and clues that they can't get as police officers, and together they'll uncover hidden secrets and solve the case.
Along with Diane Mott Davidson's Goldy Schulz series, these are probably the most popular food-related cozy mysteries. The hero of Fluke's series is Hannah Swensen, who runs The Cookie Jar, Lake Eden's most popular bakery. But when someone offs the beloved dairy delivery man behind her bakery, with her delicious cookies near the body the only clue, Hannah is determined to solve the crime and keep her stellar reputation. Includes recipes!
Curses, Boiled Again! by Shari Randall (Lobster Shack Mystery Series)
Another relatively new entry to the cozy mystery genre, and a super punny one to boot! Allie Larkin is a ballet dancer who returns home to Mystic Bay after a broken ankle brings her dancing career to a halt. She plans to help her Aunt Gully around her restaurant, the Lazy Mermaid Lobster Shack, starting with the lobster roll contest. But when a judge dies after eating a roll from Gully's competitor, her aunt is in hot water, and Allie will have to work to clear Gully's name. But it will be a tough case to crack! (Lobster jokes!)