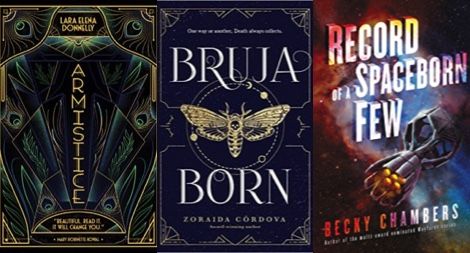 LGBTQ
7 Fantastic Queer Sequels Coming in 2018
This content contains affiliate links. When you buy through these links, we may earn an affiliate commission.
I love a good series—be it fantasy, science fiction, historical fiction, or romance—and I love a good series with fantastic queer characters even more. It's such a treat to sink into a fascinating world and discover it populated with queer folk in all shades of awesome. Happily, there are a whole bunch of queer sequels coming in 2018 that I cannot wait to read.
If you haven't read the first books in these series, you've got some truly excellent reading to do while you wait for the latest installments. If you have read them all, it's your lucky day, because two of these books came out in January, and are patiently waiting for you at your local library!
In the second installment of Tara Sim's alternate history/steampunk fantasy series where time all over the world is controlled by clock towers and their sprits, time itself comes under attack. Danny Hart, a young clock mechanic who helped avert disaster the pervious year is sent to India to investigate a series of clock tower bombings. Meanwhile, his boyfriend, the clock spirit of Enfield, discovers danger in his own hometown, and sets off in attempt to save both himself and Danny. It's an imaginative and action-packed novel set against the backdrop of Indian uprisings against the British occupation.
Beneath the Sugar Sky is the third installment in McGuire's Wayward Children series, in which children who have fallen through portals into other worlds get some help with reentry at a magical boarding school: Eleanor West's Home for Wayward Children. McGuire's world building is lush and fanciful; the fantasy worlds these children have come to love are unique and varied. Beneath the Sugar Sky focuses on Rini, a girl on a quest for her lost mother. So far, all of the Wayward Children books have been full of queer characters of every persuasion, and the warmth that comes from finding queer family in unlikely places.
Armistice by Lara Elena Donnelly (May 15)
Amberlough introduced us to the high-glam, high-stakes fantasy world of Amerlough City, where the shadow of a fascist regime threatens everyone living out loud, on their own terms, and on the fringes—the artists, the poor, the queer folks, the sex workers, the actors and dancers. The second installment picks up where the first book left off, following three different characters as they navigate revolution, espionage, survival and freedom. If the second book is anything like the first, it'll be a high-stakes, glittering whirlwind of a novel that has me on the edge of my seat.
Bruja Born by Zoraida Cordova (June 5)
Zoraida Cordova's Brooklyn Brujas series weaves a beautiful world of magic, danger, and family. The Mortiz sisters all possess the bruja powers that have been part of their family for generations, although having magic is not always fun or easy for any of them. In the second book, Lulu Mortiz, healing bruja, uses her powers in new and unpredictable ways in the wake of a terrible bus crash—and then faces the consequences. I loved the lush world-building, family dynamics, and sweet love story in the first book, and I'm looking forward to sinking back into this world, this time from the persecutive of a different sister.
The Long Way to a Small, Angry Planet was the queerest and most fabulous romp though space I've had in ages. The third standalone installment in her Wayfarers series looks to be full of the same diverse and fascinating characters and superb world-building. In this one, Chambers turns her eye toward the people still living as part of the Exodus Fleet—the slew of ships that left Earth centuries ago—those folks who haven't yet joined alien communities and terrestrial colonies. I can't wait to meet this new cast of fabulous queer questers.
The first two books in JY Yang's Tensorate universe were two of my favorite reads of 2017. In a world ruled by their mother, the head of the harsh Protectorate government, two twins become caught up in a rebellion. The Tensorate universe is rich, complicated, and lovely, and unlike so many fantasy worlds, it's inspired not by Medieval Europe but Southeast Asia. Yang's books are full of action and adventure, but they're also deeply character driven, thoughtful, and moving. The third installment features characters from the first two novellas, and I cannot wait to see what happens in the next installment.
The Gentleman's Guide to Vice and Virtue: two queer teenagers (Monty and his best friend Percy) take a romp across 18th century Europe and fall in love. Up next: Felicity, Monty's badass younger sister, gets a book all to herself, where, I'm sure, she'll have a wild, rollicking, feminist time. I can't wait.
Looking for more great queer books coming out this year? Check out Book Riot's most anticipated LGBTQ books of 2018.
What queer sequels coming in 2018 are you looking forward to?