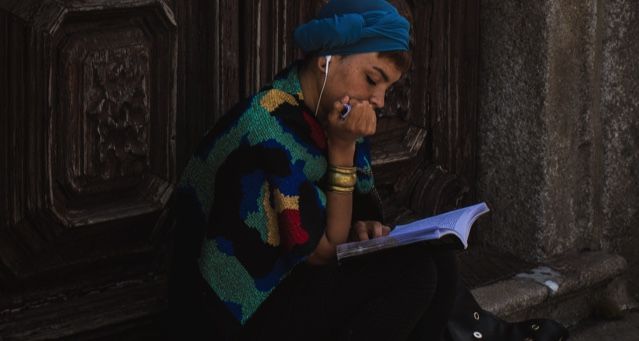 Lists
5 Boss Lady Books of Nonfiction
This content contains affiliate links. When you buy through these links, we may earn an affiliate commission.
Essay collections and memoirs have become a place where women can do the dangerous work of telling the truth. It is a form that often allows place, history, and current event to crash on top of each other like angry waves or be braided together with the calming click of an old loom. This fall, as we reach for a sweater and watch the sky twist to a different shade of blue as the colder weather comes in, here are five new books to cuddle up with.
After her hashtag #Disabledandcute went viral, Keah Brown found herself with a book deal, and this is the book that emerged from it. Brown has cerebral palsy, but fiercely insists that she is both bold and beautiful.
She writes essays on romcoms, pop culture, love, and her identity as as a disabled black feminist. The humor and honesty is worth every page.
Sarah Broom's childhood home wasn't just the place where she and her 12 siblings slept. It was a stand-in family member, a symbol, and a legacy. It was also destroyed, like so much else, by Hurricane Katrina.
The research and delicate prose are worth a read alone, but the gorgeous and unflinching examination of race, inequality, and family are reasons to read it a second time.
Terry Tempest Williams is a voice of hope in the dark. In a time where climate change and greed have ravaged everything many of us hold dear, Williams gives us the words to understand it. She makes it easier to feel both the sacredness and pain of grief for an ever-imperiled natural world.
Her latest book, Erosion, is a collection of essays looking at everything from the crisis facing Bears Ears National Monument in her home state of Utah to the leasing of oil and gas rights on public land. The book is also stuffed with Williams's signature nature writing and calls to be courageous in a time when it is dangerous to do so.
This is the book with the coolest title of 2019! It is a collection of essays recounting Rebecca Fishbein's experiences with addiction, sexuality, a rapidly changing media landscape where print media is both the golden child and the one that everyone kicks down the stairs when the refrigerator gets left open.
It is both hilarious and honest, without losing itself awareness. The essays have funny and often frightening titles like "Everything in Moderation, Especially Moderation," and "I went to Soothe America to Find Myself and all I Found was a Forty-Foot Jesus." Good Things Happen To People You Hate may be just the book you want to read in the crowded airport during Thanksgiving— just saying.
Lindy West may now be an icon with a fantastic TV show, but her fame hasn't dimmed her brilliance on the page. The Witches are Coming is West's take on our current cultural identity crisis.
While it combines the author's now-famous laugh-out-loud irreverence, it also has this fantastic element we will call the twist. She will take an essay that is seemingly going to be light and funny, and she twists it around, turning it into searing on the nose commentary on some of the most important problems of our time. My favorites include one on how internet cat memes are emblematic of how Americans are allergic to examining ourselves and adjust our actions. The other gem is one on Joan Rivers which starts as a silly montage about how dresses with pockets are dumb to a beautifully written critique of how the culture of misogamy allowed Joan Rivers to break the glass ceiling and then crush the women below her with its shards.