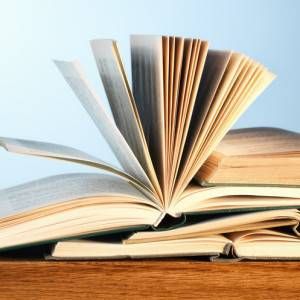 Lists
Peek Over Our Shoulders: What Rioters Are Reading On May 21, 2015
This content contains affiliate links. When you buy through these links, we may earn an affiliate commission.
In this feature at Book Riot, we give you a glimpse of what we are reading this very moment.
Here is what the Rioters are reading today (as in literally today). This is what's on their bedside table (or the floor, work bag, desk, whatevskis). See a Rioter who is reading your favorite book? I've included the link that will take you to their author archives (meaning, that magical place that organizes what they've written for the site). Gird your loins – this list combined with all of those archived posts will make your TBR list EXPLODE.
We've shown you ours, now show us yours; let us know what you're reading (right this very moment) in the comment section below!
Nimona by Noelle Stevenson: stumbled on this full-length deadpan graphic novel after finishing (and loving) Stevenson's Lumberjanes. "I'M A SHARK!" (Paperback, library)
Big Little Lies by Liane Moriarty: what started as a hilarious satire about parenting in suburban Australia got rull dark, rull fast. The audiobook narrator is phenomenal. (Audio)
The Fishermen by Chigozie Obioma: it was finally my turn on the library holds list! (Hardcover, library)
Let Me Tell You: New Stories, Essays, and Other Writings by Shirley Jackson: Excited doesn't even begin to cover how I feel about "new" writing from one of the country's greatest writers. If you haven't read We Have Always Lived in the Castle, do so right now. (e-galley)
Undermajordomo Minor by Patrick deWitt: The Sisters Brothers is one of my favorite books, so I squealed like a crazy person when I received this, his follow-up, which sounds completely insane. (galley)
The Nakeds by Lisa Glatt: Reading this at the recommendation of a friend. It's about a hit-and-run accident and the unforeseen consequences that affect everyone involved. (Hardcover)
Under a Painted Sky by Stacy Lee: I don't know anything about this book, but I grabbed it when I saw it at the library, simply because so many of my fellow Rioters have raved about it. (Hardcover)
S by J.J. Abrams and Doug Dorst: This book has been on my shelf for a while. I'm about halfway through after having to start over to figure out how the book is structured. It's not a book to be read in a reclining position because it's jampacked with actual postcards, letters, and photographs, and if any of those fall from their place you lose clues to the story. (Hardcover)
The Republic of Imagination: America in Three Books by Azar Nafisi. Been thinking a lot about what makes a book or author the Great American Novel/ist since Harold Bloom's boring, absurd, predictably racist list of the 12 best American writers came out. Ended up at this book. (Audio)
Graceling by Kristin Cashore. Was in the mood for fantasy with a badass female lead. (Paperback)
Shadowshaper by Daniel Jose Older (June 30, Arthur A. Levine Books). Because Older's weird, fantastical Brooklyn is always a great place to visit. Also, that cover.
A Case of Possession by KJ Charles: Charles is my new go-to author when I need something fun to read. (ebook)
The Melody Lingers On by Mary Higgins Clark: For a Bookspan book report. (eARC)
Stolen Idols by E. Phillips Oppenheim: Filling out my collection of Oppenheim novels with this new release from Librivox. (audiobook)
The Boundless by by Kenneth Oppel: The first chapter of this middle grade book opens with a theft, a tight-rope walker, a boy artist, a luxury train, an avalanche, multiple deaths, and a golden railroad spike. How could I resist? (Library Hardcover)
The Dumpling Days by Grace Lin: Ms. Lin is an exceptional artist and illustrator, and I love this memoir-ish middle grade book that recounts her family's trip to Taiwan when she was a young girl. I'm reading this with my daughter, and we are finding so many connections from our recent visit to China. (Library Hardcover)
Strings Attached: One Tough Teacher and the Gift of Great Expectations by Joanne Lipman: I'm always interested in memoirs by amateur and professional musicians, and this one was on my friend's TBR list and it caught my eye. I'm a few chapters in and so far it's a great read. (Library Hardcover)
Making Pretty by Corey Ann Haydu: I've really enjoyed all of Haydu's novels, and this one explores the ideas of what is/isn't "pretty," as well as the bonds of sisterhood. (Print ARC)
Missoula by Jon Krakauer: I like Krakauer's work, and I'm so curious how he handles the topic of rape and sexual assault. I've seen some really solid reviews from great reviewers, so despite knowing it'll be a tough read, I'm looking forward to spending time with it. (Purchased hardcover — the only book by a white guy I'll buy this year)
Strange Skies by Kristi Helvig: With her debut novel Burn Out, Kristi Helvig wrote one of my favorite YA novels of 2014. I've been eagerly awaiting the sequel, which just came out last month. After holing herself away on the dying Earth, with a promise to guard the terrible weapons her father regretted creating for the government, Tora is whisked away by a band of mercenaries. The stakes are even higher now, with the possibility of her father being alive, and his secrets at risk of being exposed. Helvig writes amazing sci-fi, and I'm psyched to take some time to finish this one. (Print)
Deadly Design by Debra Dockter: I just started flipping through this one, a sci-fi novel about genetically engineered twins… born two years apart? Suddenly, genetically engineered kids start dying at 18, and when the oldest twin dies first… the other goes on a quest to find out what's happening. (Print Advance)
Fates and Furies by Lauren Groff: because I love her dark and beautiful imagination and turns of phrase. (egalley)
A Darker Shade of Magic by V. E. Schwab: I mean, really. Alternate 19th-century Londons and magic. SOLD. Well, not really: (library)
The Land by Mildred D. Taylor: This was a gift from a booktuber when I said that I planned to read all PoC authors this year, and I'm really enjoying it so far. I want to follow it up with Roll of Thunder Hear My Cry, because it looks like a great one to recommend to customers.
Lose Your Mother by Saidiya Hartman: I'm halfway through Hartman's journey along a slave route in Ghana as she comes to terms with the effects of slavery on African, American, and her own personal history, and this book is already changing the way I look at the world. Devastating, beautifully written, and extraordinary.
The Accidental Tourist by Anne Tyler: I have this problem where I tend to decide what a book is about based on the cover and title and then I get kinda mad when I am wrong. This book is not about an actual accidental tourist. No one means to get on an aeroplane to visit their inlaws in Kansas and whoops they end up in Paris for some zany adventures. WHICH IS FINE, I GUESS. It's mostly a thoughtful little book about a midlife crisis. WHICH IS FINE. (Audiobook)
Bee & Puppycat Vol 1 by Natasha Allegri: This is a completely adorable trade of a comic that is based on a web series that was Kickstarted funded last year. It's about a 20-something girl who is consistently out of work until she and puppycat (who is magic? I guess?) start doing magical temp work. It's weird, but it's great. (Paperback)
Ellison Langford
Good Time Girls of the Alaska-Yukon Gold Rush: Secret History of the Far North by Lael Morgan: At the tail-end of the 19th century, thousands of women braved the icy mountain passages and iceberg-clogged ocean crossings to venture to the gold fields of the Yukon. Not to mine the earth, but to mine the miners- staking their fortunes as husband-hunters, entertainers, and prostitutes. Morgan says in the acknowledgments that her friends thought she would never actually write this book, because she enjoyed the research too much. She spent three decades on it. There doesn't seem to be much of an overarching plot or theme, and the profiles rarely last for more than several pages, but if chapter after chapter of vignettes about women raising hell and making their own way during the height of the Victorian era is your idea of striking it rich, then this book is a bonanza.
Verbivoracious Festschrift Vol. 3: The Syllabus ed. by G.N. Forester and M.J. Nicholls: Got hepped to this essay collection on Twitter and ordered myself a copy. Oh man, what a table of contents. 100 fresh takes on 100 of the most innovative experimental writers of the last hundred years–Calvino, Nabokov, Barthelme, sure, but also Alexander Theroux, Lydia Davis, Nicola Barker, Lucy Ellmann, David Markson, Christine Brooke-Rose … My TBR list just got a lot longer. (Paperback)
When We Were Animals by Joshua Gaylord. This tells the story of Lumen, a teenage girl who grows up in a town where teenagers "breach" upon reaching puberty and go on a rampage of sorts when the moon is full. They run naked through the streets and fight and have sex. Lumen, however, claims that she won't breach, that she is immune to whatever it is that causes the teenagers to go mad. Interesting take on the madness and chaos of puberty from the writer that gave us The Reapers Are the Angels (as Alden Bell).
Dreams of Shreds and Tatters by Amanda Downum. I am literally just a few pages in but this promises to be a nightmarish Lovecraftian story. I like those. The prose seems… dense, for lack of a better word, and I wonder if I will love it or hate it by the time I'm done with the book.
A God in Ruins by Kate Atkinson: I'm just starting this book, which lots of people have raved about. A copy just arrived for me from our local library, so I'm excited to dive in. (Hardcover)
Yes Please by Amy Poehler: Audio on Scribd!! (Basically, I've been meaning to read and now it's basically free monies, so I got on that.) (audiobook)
Getting Things Done by David Allen: I'm reading this one in short bursts because that last thing I've been wanting to think about recently is revamping my to-do list. (paperback)
War of the Encyclopaedists by Christopher Robinson and Gavin Kovite: ARC I got a couple months ago that I'm finally getting around to.
Milk Bar Lifeby Christina Tosi: Trying to up my cookie and nacho game real hard. (Hardcover)
The Preacher's Promise (Home to Milford College Book 1) by Piper Huguley: not my usual jam, this is an inspirational African American romance set in Reconstruction era Georgia, where Oberlin graduate Amanda Stewart hopes to work as a teacher of freed slaves but finds the town's mayor/preacher/blacksmith less than enthused. Really enjoying the unusual (for a historical romance) setting. (ebook)
The Girl With All The Gifts by M. R. Carey, narrated by Finty Williams: As per usual, I'm way behind everyone on this one. Yes it's another zombie book, but no it's really not. I can't stop listening, even when making dinner, which I do not recommend. (audiobook)
Lost on Planet China by J. Maarten Troost: One of my favorite writers of travel books, Troost, hasn't disappointed me yet. I loved The Sex Lives of Cannibals and Getting Stoned with Savages, and so far Planet China has me firmly in its grasp. I've long been fascinated with China, and learning more about everyday life there and its quirks has been a lot of fun. (ebook)
Harry Potter and the Philosopher's Stone by J.K. Rowling: I've been in a bit of reading slump lately, and have turned to Harry Potter to help get me out of it. I've probably reread this one a dozen times already, but it still fills me with joy and inspiration every time, so I'm gonna keep reading it.
The Signature of All Things by Elizabeth Gilbert: I'm so very late on this (I'm reading a print galley of this from 2013, for goodness sake), but I was dying for a good meaty historical novel while I was on vacation and this is completely fitting the bill. I haven't read anything quite like it in a long time. (galley)
The Collected Stories of F. Scott Fitzgerald: Stewart O'Nan's terrific biographical novel of Fitzgerald, West of Sunset, led me down a rabbit trail to this massive collection of stories which span FSF's career. Though I've always liked Fitzgerald for his novels, I feel like I'm rediscovering him with this book. I'm now busily building a new pedestal for him to stand on. (Paperback)
Tiny Pretty Things by Sona Chairapotra and Dhonielle Clayton: Who can resist a book set in an elite Manhattan ballet school and pitched as a combination of Black Swan and Pretty Little Liars? Not me, that's for sure.
As for Me…
Big Little Lies by Liane Moriarty: After having a friend tell me this was like Mean Girls for mommies (and then asking around the Book Riot channels and finding that many particularly liked this Moriarty book), I'm giving it a go. What Rachel said above is true – it gets pretty real quite quickly. Still, I'm enjoying the satire and the making fun of how competitive we humans can be about a.n.y.t.h.i.n.g and e.v.e.r.y.t.h.i.n.g!
____________________
Book Riot Live is coming! Join us for a two-day event full of books, authors, and an all around good time. It's the convention for book lovers that we've always wanted to attend. So we are doing it ourselves.
Save