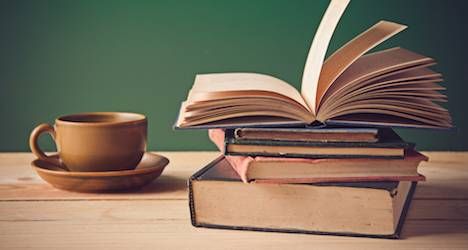 Lists
Peek Over Our Shoulders: What Rioters Are Reading on June 23, 2016
This content contains affiliate links. When you buy through these links, we may earn an affiliate commission.
In this feature at Book Riot, we give you a glimpse of what we are reading this very moment.
Here is what the Rioters are reading today (as in literally today). This is what's on their bedside table (or the floor, work bag, desk, whatevskis). See a Rioter who is reading your favorite book? I've included the link that will take you to their author archives (meaning, that magical place that organizes what they've written for the site). Gird your loins – this list combined with all of those archived posts will make your TBR list EXPLODE.
We've shown you ours, now show us yours; let us know what you're reading (right this very moment) in the comment section below!
Today Will Be Different by Maria Semple (Little, Brown, Oct. 4): The new book from the author of Where'd You Go, Bernadette! (e-galley)
Sabriel by Garth Nix: Our managing editor, Amanda, who is normally unflappable, totally flapped when I mentioned I hadn't read this, which was all the endorsement I needed. (paperback)
On Bowie by Rob Sheffield (Dey Street Books, June 28): *sob* (e-galley)
Lucky Boy by Shanthi Sekaran (G.P. Putnam's Sons, Jan. 10, 2017): Picked this up simply because I've heard raves about it. (e-galley)
The Three Body Problem by Cixin Liu, Translated by Ken Liu: prep for Ken Liu's visit to Comicpaoolza (Library Hardcover)
The Wonder Trail by Steve Hely: all his stuff is kickass. (hardcover)
One of These Things First by Steven Gaines: was recommended to me by one of my fellow book group members (paperback ARC)
Euphoria by Lily King: June book group read (paperback)
Grunt by Mary Roach: would read a Mary Roach book about dirt (hardcover)
Marrying Winterborne (The Ravenels #2) by Lisa Kleypas: huge Kleypas fan, thrilled she returned to historicals). (E-book)
Let it Shine by Alyssa Cole: Civil Rights era setting drew me in: wonderful characters kept me reading. (E-book)
The Natural Way of Things by Charlotte Wood: A publicist who noticed that I read and write a lot about sexual assault sent me this ARC of a novel that effectively explores the demonization of female sexuality. (Paperback)
Greetings from Utopia Park by Claire Hoffman: When I first read about this memoir of a woman who grew up in an isolated meditation community, I couldn't help myself. I meditate, but I have a healthy skepticism for yoga/meditation practices that revolve around an omnipresent guru. (Ebook)
Grace of Kings by Ken Liu: After all the buzz over this door stopper of a fantasy epic, I finally got around to reading it. And lawsy, I'm glad I did. (Paperback)
Bestiary: Poems by Donika Kelly: When Amanda Nelson raves about a book nonstop, you damn well better listen. This collection of poetry is absolutely lovely and absolutely devastating (my combo). (Paperback ARC)
Here Comes the Sun by Nicole Dennis-Benn: Rioters have been raving about this one, and it's all kinds of brilliant. (egalley)
The Girl who Circumnavigated Fairyland in a Ship of her Own Making: by Catherynne M. Valence: As a cure for my The Night Circus hangover. (paperback)
The Hidden Keys by André Alexis: Alexis's 2015 novel Fifteen Dogs was one of my favorites of the year. This new novel is (be still my heart) A PUZZLE BOOK and it is intricate and interesting with every single kind of character imaginable from a heroin-addicted heiress to a Black albino drug dealer. (Paperback ARC)
An Unnecessary Woman by Rabih Alameddine: A book about a Lebanese woman who is married young but divorces and builds a life by herself working in a bookstore sounds like the absolute perfect thing I want to read right now. You guys, you guys, each year she sits down and translates an entire book and now I have old lady goals. (e-book)
Beloved by Toni Morrison: This has been sitting on my shelf since last year and it's high time I read it! (Hardcover)
Infectious Madness: The Surprising Science of How We "Catch" Mental Illness by Harriet A. Washington: A nuanced and highly readable exploration of the role microbes play in mental illness. (Library Hardcover)
Infomocracy by Malka Older: I love a weird version of the world, and this one's clever political future hits the spot perfectly. Smart concept and propulsive, engrossing plot. (ebook)
IQ by Joe Ide (October 18, Mulholland): It's not a genre I usually gravitate toward, but something about this one stood out. So here goes nothing. (egalley)
The Terranauts by T.C. Boyle (October 25, Ecco): The plot was intriguing, the characters challenging, and the writing smooth and sly. I couldn't resist. (e-galley)
The Miles Between Me by Toni Nealie: Amanda, Book Riot's fearless leader, gave me a heads' up on this essay collection, written by a woman of Indian heritage from New Zealand, but currently living in the United States. These essays are fearless and bold, and I'm really enjoying dipping into them in between reads. (paperback galley)
Thursday's Children by Nicci French: I've loved the previous three books in this series, featuring psychotherapist Frieda Klein, and I'm really enjoying this fourth one as well. These are excellently written psychological thrillers, and believe it or not, each book is better than the last. (paperback)
Uprooted by Naomi Novik: I'm taking a graduate-level readers' advisory course this summer, and this was my fantasy selection. Heard so many great things about it that I decided to bump it up to the top of the list. (paperback)
Parasite by Mira Grant: My science-fiction pick for class, and let me say this book knocked my socks off. Fantastic dystopian sci-fi/horror mix about a world where disease has been eliminated by genetically modified tapeworms (ew), but now the tapeworms are taking control of their hosts' bodies. Reads like a fabulous blend of The Hunger Games and The Passage. Can't wait to read the other 2 books in the trilogy! (hardcover)
The Immortal Life of Henrietta Lacks by Rebecca Skloot: Narrative-nonfiction pick for class. It's been on my TBR list for awhile, so when I saw it listed on the recommended reads list for class, I went for it. Extremely compelling and thought-provoking. I wish I had read this sooner. (Audiobook)
The Crossing by Samar Yazbek: because I want to read something solid and uncomfortable about the situation in Syria. This is delivering, and then some. Fantastic and heartbreaking (Paperback).
Not So Much, Said the Cat by Michael Swanwick: upcoming collection from literary magician Michael Swanwick. Half Neil Gaiman, half Kelly Link, wonderfully unique. (ARC from Netgalley)
David Copperfield by Charles Dickens. Because Dickens is just the best, isn't he? (Penguin Classics paperback)
Dead Beat by Jim Butcher: Harry Dresden is like an old pal. I visit him whenever I need something snarky and familiar. (Paperback)
Romeo and Juliet by William Shakespeare: Came for the Shakespeare, stayed for the phallic humor. (Hardcover)
The Paper Menagerie by Ken Liu: because I wanted to read something by Ken Liu before going to Book Riot Live. (hardcover)
A Maiden Weeping by Jeri Westerson: forthcoming next instalment in the Crispin Guest medieval noir series, set in 14th century London. I have adored every other entry in the series and look forward to each new novel like I look forward to a visit from a dear friend. (e-galley, August 1, 2016, Severn House Publishers)
Homegoing by Yaa Gyasi: I put this on hold at the library way in advance, and I think it paid off because I think I got one of the first circulating copies! (Library Hardcover)
Tru & Nelle by G. Neri: Was pulled in by the beautiful cover and the fact that the story is based on the friendship of Truman Capote and Nelle Harper Lee. (Library Hardcover)
You Don't Have To Like Me by Alida Nugent: My book club is reading this in June and I am loving, fist-pumping, highlighting like a whirlwind. (Paperback)
One Man Guy by Michael Barakiva: This was an impulse bookstore buy. I needed something light and romantic after an emotionally draining week, and so far, this is doing the trick. (Paperback)
Hillbilly Elegy: A Memoir of a Family and Culture in Crisis by J.D. Vance. This caught my eye in an e-mail from HarperCollins because I grew up in a white rural working-class family, and I'm now a middle-class urban professional still affected by my background. (e-Galley)
Mr. Splitfoot by Samantha Hunt. This has been recommended by heaps of people I know, and it's pretty much my kind of book. (Library hardcover)
All the Birds, Singing by Evie Wyld. My book group is reading this. I put in on my TBR during the 2015 Tournament of Books and then completely forgot what it's about. (Library hardcover)
Rich and Pretty by Rumaan Alan: I've been at the cabin for the weekend, and this highly-recommended book seemed like a perfect beachside read. (Hardcover)
Stiletto by Daniel O'Malley: I literally squealed when a friend reminded me this book came out last week. So excited! (Hardcover)
Sweetbitter by Stephanie Danler – I've been hearing about this book from my agent since I signed up with her, and it's everywhere. Plus, I'm a foodie. (Digital Review Copy)
Writing Great Books for Young Adults by Regina L Brooks – there's a tween character in my last novel who plays a minor role, but whom I really like and would enjoy revisiting. I think writing YA might be a good fit for me. So I'm tentatively dipping my toes. (Paperback)
Ancillary Justice by Ann Leckie: There's been a lot of hype surrounding this book so I decided to read it out of curiosity. I'm about halfway through and my mind keeps wandering to other more interesting things… (Paperback)
The Long Way to a Small Angry Planet by Becky Chambers: this book is amazing. It's a science fiction novel which I've been describing as "Firefly combined with Farscape," and I've been saying that a lot because I've been recommending it all over the place. It is so brilliant, and I'm grumpy that I didn't start reading it sooner. 2016 has already been so full of Favorite Books, and this is just crowding that group even further.
Jerusalem by Alan Moore: I've been following him working on this mammoth project for years now, so to finally be reading it is surreal. It's only his second-ever novel, but it's also twelve hundred pages, so that counts as a few books. Anyone put off by the hyper-density of Voice of the Fire should give Jerusalem a try. It is extremely readable, and a delight.

The Haunted Library by Dori Hillestrad Butler: This is a very short kid's book that I've been reading out loud for the past few nights to my kids. Sometimes, kids books aren't great to read out loud, but this one is. The story feels like Casper, but stuck in a library, and I am a fan of both Casper and Libraries, so this is a win for me.
As I Descended by Robin Talley: I love Talley's books. She writes some wonderful LGBTQ contemporary YA about teens struggling with love, loss, family, and everything in-between. Her latest takes on a magical realism bent, as teens wrestle with spirits from the past as well as their own demons that haunt them. Nearly finished with this, and it's as beautiful and haunting as all her other lovely books. Keep an eye out for it. (ARC, September 6th 2016, HarperTeen)
The Last Harvest by Kim Liggett: Liggett's debut, Blood & Salt, was one of my favorite YA novels to hit last year, and easily one of the best horror novels of the year period. I'm been anxiously awaiting the sequel, but luckily for her new fans, they've got a standalone come in January. The Last Harvest, out with Tor in 2017. I'm halfway through, and it's already incredibly tension filled and wonderfully cringe-inducing, with just enough gore and gasps to keep you hungrily turning the page… but with one eye closed. Maybe under blankets. Because you want to turn away, but you can't stop reading about a teen who might be a prophet, a community hiding a dark secret, and the blood that gets spilled on the fields. (ARC, January 10th 2017, Tor Teen)
You Can't Touch My Hair: And Other Things I Still Have to Explain by Phoebe Robinson: I can't say no to a great sounding essay collection and between the great forward by Jessica Williams and the book making me laugh from the get-go I'm really enjoying this one. (egalley, Plume, Oct 4)
The Education of Margot Sanchez by Lilliam Rivera: That cover! And I loved Burn Baby Burn by Meg Medina and this sounded like it shared some elements. (egalley, Simon & Schuster Books for Young Readers, Feb 21, 2017)
The Hidden Keys by André Alexis: A young thief and an older heroine addict trying to solve a mystery—yes, please. (egalley, Coach House Books, Oct 11)
The Midnight Assassin: Panic, Scandal, and the Hunt for America's First Serial Killer by Skip Hollandsworth: I grew up in Texas (though not in Austin) and am always interested in books about weird or dark parts of Texas history. Hollandsworth's book is part history of Austin and part true-crime. (ebook)
The Bad-Ass Librarians of Timbuktu: And Their Race to Save the World's Most Precious Manuscripts by Joshua Hammer: I have tremendous respect for the library, archive, and museum professionals who work in conflict zones. I'm sure this book will only make me appreciate their work to protect their collections that much more. (hardcover)
The Girls by Emma Cline: Everyone is reading or talking about this book and my book club is no exception. When we heard cults, California, and the 1960s we were all sold. (hardcover)
Booked by Kwame Alexander: I'm a big fan of Kwame Alexander's book The Crossover (which won the Newbery Medal a few years ago) so I've been looking forward to this one. (Hardcover, Library)
Marrying Winterborne by Lisa Kleypas: I loved Cold-Hearted Rake, the previous book in this series, and have been looking forward to reading this one for months. (ebook)
Judgment of Paris: California Vs. France and the Historic 1976 Paris Tasting That Revolutionized Wine by George M Taber: TBH I wanted to read Shadows in the Vineyard, but my library didn't have it available. So I decided to give this one a try instead. (audiobook)
The Exclusives by Rebecca Thornton: Boarding school drama meets adult trauma and a serious "just let me finish this chapter" sort of book. (eBook)
How to Be Parisian Wherever You Are by Anne Berest, Audrey Diwan, Caroline de Maigret, and Sophie Mas: I'm about as Parisian as string cheese but that doesn't mean I can't daydream. (Hardcover)
The Pharos Gate: Griffin & Sabine's Lost Correspondence by Nick Bantock: One of my birthday gifts and just a beautiful beautiful thing. (Hardcover)
Known and Strange Things: Essays by Teju Cole (Random House, August 9th): I'm a fan of Teju Cole's novel Open City, and I love me an essay collection, so I was super excited to discover this book. The first few essays are great. (egalley)
Shadow Notes: A Clara Montague Mystery by Laurel Peterson: The author is a friend, and I read and loved this book in draft form. I'm thrilled to be reading a revised version in print. (Paperback)
Homegoing by Yaa Gyasi: Picked this one up at BEA and have heard nothing but praise from the BR comrades. Loving it so far. (hardcover)