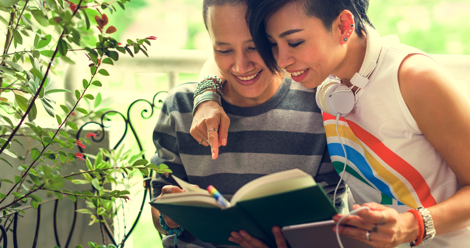 Lists
Peek Over Our Shoulders: What Rioters are Reading on Thursday, December 7, 2017
This content contains affiliate links. When you buy through these links, we may earn an affiliate commission.
In this feature at Book Riot, we give you a glimpse of what we are reading this very moment.
Here is what the Rioters are reading today (as in literally today). This is what's on their bedside table (or the floor, work bag, desk, whatevskis). Gird your loins—this list will make your TBR list EXPLODE.
We've shown you ours, now show us yours; let us know what you're reading (right this very moment) in the comment section below!
Jamie Canaves
(TW: sexual assault) I'll Be Gone in the Dark: One Woman's Obsessive Search for the Golden State Killer by Michelle McNamara (February 27th 2018, Harper): McNamara never got over an unsolved murder in her neighborhood from her childhood and grew up to create a website where she worked on solving open cases. This is the case that consumed her: the East Area Rapist, which she would later name the Golden State Killer, who preyed during the '70s and '80s in California and was never caught. I'm halfway through and I've had nightmares, cried, and now fiercely love McNamara. (egalley)
Steph Auteri
This Will Be My Undoing by Morgan Jerkins: When I saw advance buzz about this book, I knew it was going to be awesome as hell, so I begged Harper Perennial to send me a review copy. A memoir in essays that tackles issues of race and gender in a refreshingly open and honest manner, it is thus far everything I was dreaming of. I am >thisclose< to finishing it and I'm going to crawl into bed early tonight to do just that. It pubs at the end of January, but you should probably just preorder it now. (paperback)
Liberty Hardy
House of Broken Angels by Luis Alberto Urrea: A new novel (HOORAY!) about an ailing family patriarch who summons his relatives together for one last legendary birthday party. Every book from this Pulitzer-nominated writer is a damn treat. (galley)
Kate Scott
What Happened by Hillary Rodham Clinton: I've been meaning to read this since it was first published in September, but I decided to brave the Overdrive waitlist to listen to it on audio instead. I wanted to hear Hillary tell her story in her own voice. I'm about ⅓ of the way in and it's good. Better than I expected. And listening to it makes me sad and wistful. I'm glad she doesn't pull any punches about how misogyny played a role in the election. Listening to this is helping me to finally process my emotions about what happened. (audiobook)
Aimee Miles
All the Real Indians Died Off: And 20 Other Myths About Native Americans by Roxanne Dunbar-Ortiz and Dina Gilio-Whitaker: Dunbar-Ortiz is the author of the successful An Indigenous People's History of the United States. In her newest book, published in 2016, Dunbar-Ortiz and Gilio-Whitaker take on stereotypes and myths that exist today about Native American peoples. It's not a cheerful book. Narrator Laural Merlington even gets a mildly fired up when reading a few particularly egregious parts. But the book does clarify ideas and realities about Native peoples for those of us outside the Indigenous community, which allows us to be better prepared to make positive change. (audiobook)
Katie McLain
You Will Know Me by Megan Abbott: Psychological suspense about the world of competitive gymnastics? Um, yes please. Also, I've had some bad audiobook luck these last couple of months, and listening to this book on audio has helped me bust out of that unfortunate rut. (audiobook)
Dana Staves
One Day We'll All Be Dead and None of This Will Matter by Scaachi Koul: This book has the uncanny (and impressive) ability to have me laughing out loud and then to stop me in my tracks with beautiful writing, deep honesty, and a sharp view of the world around us. Koul feels like someone I want to have lunch and drink beers with, and since I can't have that, I'm glad I have this book instead.
Sarah Nicolas
The Serpent King by Jeff Zentner: The author is scheduled to visit the library I work at in March and I've never read one of his books, so I just started this audiobook. It's about three teenagers in a small Tennessee town dealing with their diverging paths after their senior year is over, but I also know it's about grief so I'm all tensed up waiting for someone to die. (audiobook)
Anthony Karcz
IQ by Joe Ide: I was casting about for something to clean my palate after being disappointed by Artemis (man, that was a brutal sophomore slump) and grabbed this on the recommendation of fellow Rioter Shiri Sondheimer. Imagine if Sherlock Holmes was a young African American man in South Central LA and instead of finding ghostly hounds on the moors, he was tracking down pitbulls trained to assassinate rappers. It's literally worlds away from anything that usually pops up on my Kindle and I love it all the more as a result. (ebook)
Danielle Bourgon
Sorcerer to the Crown by Zen Cho: I've just started but I'm already in love with this one. The magic is so beautifully described and the POC main characters are so fantastic. The added feminist slant with the debate about whether or not females are too frail for magic has me over the moon (witchy pun intended).
Brandi Bailey
When Morning Comes by Arushi Raina: My husband spent a decade of his childhood/adolescence in South Africa, so I will literally read anything that looks semi-interesting that is set there. It helps me feel more connected to him. Too be fair, this historical (are the 1970s considered historical fiction territory??) YA novel is way more than semi-interesting so far and I love the glossary in the back. (hardcover)
Karina Glaser
One of Us is Lying by Karen M. McManus: I've heard great things about this book, plus it's been hanging out on the NYT bestseller list for months now, so I picked it up and now I can't put it down. (library hardcover)
Teresa Preston
Sing, Unburied, Sing by Jesmyn Ward: I've been meaning to read this since it came out, and its recent National Book Award win and its presence on the Tournament of Books longlist but it at the top of my TBR. (ebook)
Rebecca Hussey
Her Body and Other Parties by Carmen Maria Machado: This short story collection is much-hyped at this point but halfway through I'm finding that it lives up to every good thing said about it. (paperback)
Emily Wenstrom
From Cradle to Stage: Stories from the Mothers Who Rocked and Raised Rock Stars by Virginia Hanlon Grohl: I was minding my own business, tending to my author booth at Baltimore Book Festival when my husband came back from meandering, absolutely gushing about Grohl's presentation and the fascinating, personal insights she shared from her interviews she did from this book with other rock stars' moms, including those of Kurt Cobain, Dr. Dre, Amy Winehouse and many more. I'm a sucker for a glimpse into the creative process of a top artist, and I was hooked. I sent him back to get in line for a signed copy.
Laura Sackton
The Obelisk Gate by N.K. Jemisin: Before I dig into the final installment of Jemisin's stunning Broken Earth trilogy, I decided to reread the first two books on audio. If possible, The Obelisk Gate is even better the second time around. It is lush and dark and so so smart, and the narration is killer. If you haven't had the pleasure of listening to Robin Miles narrate—well, anything—you are in for a treat. (audiobook)
Elisa Shoenberger
Being a Beast by Charles Foster: This book is about a man's attempt to understand what life was as another animal, such as a badger, fox, and more. So he sets off to do it in an unusual way: he'd live in a hole, eat worms, wear a blindfold to help him better understand the world from an animal's point of view. I'm not very far into it but it's a fascinating reorientation of what it means to be one with nature. I heard about it from This American Life story last year. (paperback)
Derek Attig
Kangaroo Too by Curtis Chen: This is its much-anticipated follow-up to Waypoint Kangaroo, which I adored, so I was thrilled for a chance to jump back into Chen's strange and surprising world of space-faring spycraft. (ebook)
Priya Sridhar
Splitting Seams: Sewn Together by Laura Diaz de Arce and Mary O'Neill: "Coming apart at the seams" is an old idiom to describe things falling apart, or disaster destroying normalcy. In this case, twin girls born to a kind, cursed mother have to handle a conjoined existence, as one being. Iris then finds the spell keeping her alive is fading, and she can't stay and wait for death. The beautiful illustrations undercut tragedy and cruelty. (ebook)
Christina Orlando
Battleborn by Claire Vaye Watkins: I loved Gold Fame Citrus so much and I'm ashamed to say how long it's taken me to get to Battleborn, despite having it on my shelf for a very long time. It's safe to say I'm completely devoted to everything Ms. Watkins has published or will publish ever for the rest of my life.
Ashley Holstrom
P.S. I Still Love You by Jenny Han: Because I need something cute and fluffy to warm my heart. (paperback)
Katisha Smith
Memoirs of a Geisha by Arthur Golden: After reading The Giver again, I wanted to revisit another book. I chose Memoirs of a Geisha because I previously mentioned on my blog how it was one of the worst book-to-movie adaptations I've ever seen. Now, I'm reading the book again so I can watch the movie for a second time and officially rant about how awfully the movie interpreted the book. (library ebook)
Rachel Brittain
The Miniature Wife and Other Stories by Manuel Gonzales: I fell in love with Manuel Gonzales's writing after reading The Regional Office is Under Attack earlier this year, and I was really eager to get my hands on his short story collection. He has such a rich and engaging voice in his writing, and I love that he tends to mix the fantastic with the ordinary. I'm only one story in, but I'm already hooked. (library hardcover)
Tasha Brandstatter
Want It by Elisabeth Barrett: Recommended by a friend. (ebook)
Adiba Jaigirdar
Children of Blood and Bone by Tomi Adeyemi: I'm only a few chapters into this book and I am enthralled. So far, every chapter has been a rush, and has me wishing that I could read faster. There's also some brilliant prose and some fantastic characters. (egalley)
Ilana Masad
See Now Then by Jamaica Kincaid: As has been the case for the last three months, I think, I'm reading this for class, and more specifically, for a paper. Let me tell you something, this book got some horrible reviews when it came out. Everyone in the New York literati scene and the Vermont music scene apparently took it REAL PERSONAL. And I am not pleased with them. People think this book is about Kincaid's divorce and that it's a big eff you to her ex. But you know what? Who cares? The fact is, it's a literary FEAT, and it's gorgeous, and it's worthy of every comparison it did get to Virginia Woolf and then some. Yes, I have feelings about this book. It is amazing. Please read it. (paperback)
Susie Dumond
A Discovery of Witches by Deborah Harkness: A dear friend gave this book to me for my birthday in June and I've been doing a terrible job at finishing it. Honestly, it's just a really large book, making it hard to carry around, and I do most of my reading while away from home. But I really like it so far and I've committed to keeping it with me until I finish it! (Sorry Megan, I'll finish it soon, I swear!) (hardcover)
Megan Cavitt
The Broken Kingdoms by N.K. Jemisin: I liked The Hundred Thousand Kingdoms so much that I immediately checked the sequel out of the library. I'm a capricious and dilettantish reader; I never read a series straight through anymore. But Jemisin, man: she's that good. (library paperback)
Bob Batson
The Dollmaker by Harriette Arnow: I read Hillbilly Elegy and thought it was terrible. Arnow's novel follows the same themes with far greater humanity. (paperback)
Jaime Herndon
Dictionary Stories: Short Fictions and Other Findings by Jez Burrows (Harper Perennial, April 2018): a publicist sent this to me, and I was intrigued by the form, first off. Reading it, I keep asking myself how he came up with these ideas, and I love the inventiveness of the book. (ARC)
S.W. Sondheimer
Nanoshock (SINless Book 2) by K.C. Alexander: like my colleague Anthony, I was super disappointed by Artemis and looking for something fun. Because my brain tends to conflate that with sweary and twisted, I dove into Nanoshock and I am enjoying the hell out of it. Gotta love the snarky, cranky, tough, unapologetic female protagonist with enough depth and nuance to surprise you from time to time. (ebook)
Sarah S. Davis
Sweetbitter by Stephanie Danler: Once upon a time, I arrived in Manhattan by car hoping to start a new life, just like Tess, the young heroine of Stephanie Danler's delicious debut novel. I'm loving this coming of age story set in the elite world of Manhattan's restaurant industry, with lush descriptions of food and poignant observations about Tess' education inside and outside the kitchen.
JEssica Pryde
Delaney's Desert Sheikh by Brenda Jackson: I've finally gotten through my other library books so I'm going to start that Westmoreland Project I wrote about. I've barely started, but I have the feeling this is gonna be hella fun. (library paperback)
***
What are you reading right now?