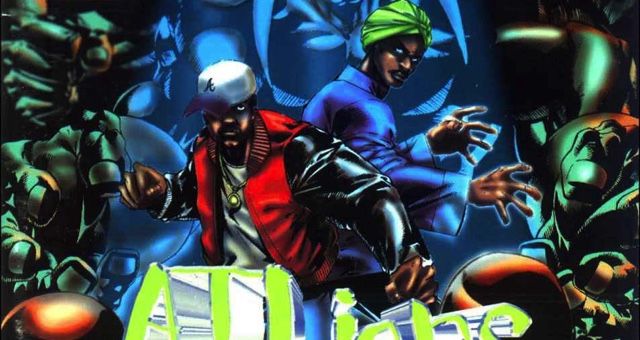 I strongly believe that you can find great art, literature, etc. anywhere. And though Outkast is well known for their music (and later acting), I had somehow missed that they wrote a graphic novel for the liner notes of their album ATLiens. Just to be clear, this isn't simply comic inspired cover art, but instead an actual full length story that reinforces the afrofuturism and social justice oriented focuses of the album.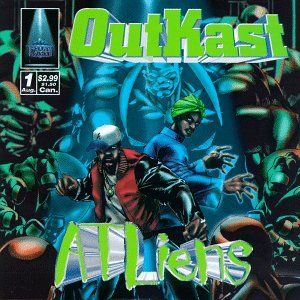 This might be old news to everyone else, and I guess I was living in a hole for the last two decades, because I didn't realize the liner notes for ATLiens are a full length comic book until I decided to write a paper on the album. I own the vinyl, rather than the CD, which doesn't include the book. So if you are interested, make sure to pick up the CD!
The cover image is, of course, designed to look like a comic book, but I hadn't realized that the CD booklet contained what is actually a very subversive narrative.
When ATLiens was released in 1996, Outkast was still part at the fringes of hip hop.
Most hip hop was still performed by artists in Southern California or in New York City. Being from the South, and having a uniquely Southern aesthetic quality to their music, Outkast was the subject of often unfair criticism from people who saw them as country or inauthentic rappers. So when ATLiens came out, it wasn't simply another hip hop album, but it was a response to the regionalism and prejudice Outkast faced as African American artists from the South in an industry dominated by the coasts. The comic book insert takes on their detractors head on.
The comic book itself is 24 pages, featuring Andre 3000 and Big Boi as super heroes. It incorporates afrofuturistic elements and involves Andre and Big Boi defending rap against a villain who is invested in other kinds of music-clearly commentary on their reception in the hip hop community and the ways in which hip hop was siloed by the music industry more generally during the 1990s.
The comic book wasn't just something they dashed off as an attempt at marketing, but was steeped in and informed by the kind of comics being written at the time. The art was done by Frank Gomez, who now works for Marvel Comics. The concept was highly influenced by Image comics, though they declined to work with Outkast on the book.
The art work itself is amazing and fun. Though the story arc is certainly part of a larger critique regarding Outkast's place in the music industry, at its heart it is a fun story deeply influenced by the comic landscape of the 1990s and the Afr0futurism of artists like Sun Ra. Even if you aren't super into Outkast, if you like space, debates about art and music, and diverse comics it is a must read.
It was the first CD I have purchased in a decade and I have no regrets. So get yourself a CD and pretend it is 2003. It will be worth it.