This Riot Recommendation is sponsored by No Baggage: A Minimalist Tale of Love and Wandering by Clara Bensen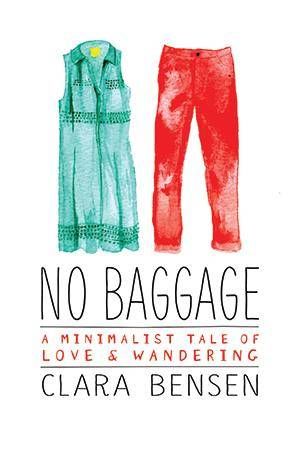 When Clara Bensen arranged to meet Jeff Wilson on the steps of the Texas State Capitol after just a few exchanges on OKCupid, it felt like something big was going to happen. Jeff is a wildly energetic university professor with a freewheeling spirit. Clara is a sensitive, reclusive writer just recovering from a quarterlife existential breakdown. Within a few days of knowing one another, they decide to embark on a crazy travel experiment: 21 days from Istanbul to London, with zero luggage, zero reservations, and zero plans. NO BAGGAGE is the story of their luggage-less adventure, told from Clara's perspective.
____________________
There are so many reasons to love a well-written memoir about an adventure, whether it's physical (traveling to far away places) or emotional (a memoir of parenting or new love or loss). It's both the comfort of living vicariously through someone– I'm glad you spent four months backpacking through the countryside, but I really like air conditioning– and the joy of seeing a fellow human being overcome and, well, slay.
We asked you to share what your favorite adventure memoirs were, and you answered. Get ready to be inspired to take on your own adventure….or live vicariously through the adventures of others while snuggling in your reading cocoon. Here are 20 of your favorite adventure memoirs.
Almost Somewhere: 28 Days on the John Muir Trail by Suzanne Roberts
An Age of License by Lucy Knisley
Between a Rock and a Hard Place by Aron Ralston
Black Wave: A Family's Adventure at Sea and the Disaster That Saved Them by John Silverwood
Born to Run by Christopher McDougall
Cruelest Journey: Six Hundred Miles To Timbuktu by Kira Salak
Down the Nile: Alone in a Fisherman's Skiff by Rosemary Mahoney
Eat Pray Love by Elizabeth Gilbert
The Final Frontiersman by James Campbell
Four Corners: A Journey into the Heart of Papua New Guinea by Kira Salak
French Milk by Lucy Knisley
Into Thin Air by Jon Krakauer
Life Is A Wheel by Bruce Weber
The Lobster Chronicles: Life on a Very Small Island by Linda Greenlaw
The Lost City of Z: A Tale of Deadly Obsession in the Amazon by David Grann
The Old Patagonian Express by Paul Theroux
Seven Years in Tibet by H. Harrer
Tracks by Robyn Davidson
A Walk In The Woods by Bill Bryson
Wild by Cheryl Strayed