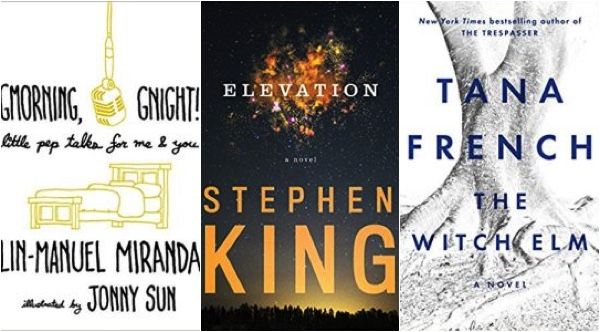 Lists
10 October New Releases To Put On Hold at the Library Right Now
This content contains affiliate links. When you buy through these links, we may earn an affiliate commission.
We're giving away 16 of the books featured on Recommended! Click here, or on the image below to enter:

---
Holy cats, the summer is already half over. Where does the (reading) time go??? I know one way you can save time: Beat the waiting lists at the library by putting these ten October new releases on hold now. You'll be so excited that you got them first when October rolls around.
P.S. The Proposal by Jasmine Guillory, which I mentioned last month, was moved from September 4 to October 30.
Chung has written a beautiful memoir about her search for the truth about her birth parents. Placed for adoption at birth in Seattle, she was became a member of a family in Oregon, but as she grew older she became curious about where she came from. Her search for the whole truth coincided with the birth of her own child, and revealed family secrets.
The author of The Book Thief, which has sold approximately a zillion copies, is back with his first book in over a dozen years. This is a sweeping family saga about five brothers dealing with the disappearance of their father, and one brother in particular, Clay, who fights to keep them all together.
Killing Commendatore by Haruki Murakami, Philip Gabriel and Ted Goossen (Translators) (October 9)
The much-anticipated new novel from the internationally acclaimed, best-selling author of The Wind-Up Bird Chronicles and 1Q84, which is being called "an epic tour de force of love and loneliness, war and art—as well as a loving homage to The Great Gatsby." WELL THEN.
What If It's Us by Becky Albertalli and Adam Silvera (October 9)
The New York Times bestselling authors (and real-life besties) have joined together to write a smart, funny novel about two boys who can't decide if the universe thinks they should be together or keep away from one another. There's a meet-cute, separation, reconciliation, etc. and all of it adorable.
The Witch Elm by Tana French (October 9)
Trust me when I tell you this IS as exciting as you hope it will be. French's first non–Dublin Squad novel is about a young man who returns to the family home to recover after a severe beating. And then a skull is found in the garden. AND IT GETS EVEN BETTER. But I'm not going to tell you, you'll have to check it out (Ha! Library book joke!) yourself.
Unsheltered by Barbara Kingsolver (October 16)
Kingsolver returns with her first novel since Flight Behavior six years ago! This one is about a middle-aged woman who attempts to have her dilapidated home declared a historical landmark in order to keep it from falling completely apart, which it also turns out is also a metaphor for her family life. I can't wait to read this!
The Essex Serpent was one of my favorites of 2017, so I am extremely excited to get my hot little hands on this one. It's about a mysterious robed figure, a dark legend of fairy tale folklore, who haunts the world seeking those deemed complicit in the troubles of the world. A young translator comes across a mention of this figure, and then her friend vanishes…
Little by Edward Carey (October 23)
This is my most anticipated book of the second half of 2018! It's a historical novel, about a young orphan in Revolutionary Paris, who grows up to be the famous Madame Tussaud, she of the wax museum fame. It's wonderful and charming and strange, and I can't wait for everyone to read it. I am a big, big fan.
LMM almost broke Twitter with the announcement of his collaboration with Sun, who is best known for Everyone's a Aliebn When Ur a Aliebn Too. This is an adorable little illustrated book of affirmations to help readers in the morning and at night, based on Miranda's own tweets.
Elevation by Stephen King (October 30)
Just in time for Halloween, another King novel, set in his favorite place: Castle Rock. It's about a man with a mysterious illness who tries to unite the town in support of all its citizens, including his neighbors, who are facing prejudice as they try to open a restaurant. It's King, so there must also be some scary stuff in there somewhere.
Looking for previously recommended releases? Check out and 10 September New Releases To Put On Hold at the Library Right Now and 10 August New Releases To Put On Hold at the Library Right Now.