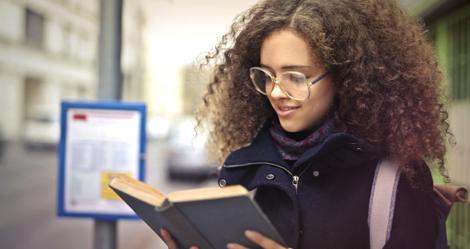 Lists
6 Books That Strip Away the BS Behind Living Your Dreams
This content contains affiliate links. When you buy through these links, we may earn an affiliate commission.
I fell in love with Harrison Scott Key's Congratulations, Who Are You Again?—a memoir about pinpointing and then achieving your dreams—within just six pages of starting it. I fell in love as soon as I saw my own messy truth in his words and knew that Key, thank the lord, would not bullshit me.
On page 6, Key writes that "birthing a dream feels like being sucked up into the vortex of a tornado you summoned out of your very own heart shortly before being hurled back down to earth."
As someone who had recently published her first book, one it had taken seven years to write, and who was now flailing about aimlessly with the growing suspicion that she would now spend the rest of her days editing inane blog posts in utter obscurity and should probably just give up and sing a cappella cover songs for a living, I appreciated Key's honesty around achieving your dreams.
Ten or so years ago, shortly after we all got clobbered by the 2008 financial crisis, my parents loaned me money so I could earn my career coaching certification. I had found some early success as a freelancer before the bottom fell out of the economy and thought I might enjoy coaching beginning freelance writers. The viability/idiocy of this idea is neither here nor there but, while immersed in the world of coaches and gurus and ninjas and whatnot, I found myself drowning in a sea of self-help books and blog posts about following your dreams and turning your back on the man and making your passion your career and abandoning your steady salary and health benefits for the elusive goal of ultimate happiness.
As more and more people launched their own self-help blogs, so many of them spewing the same touchy-feely crap while neglecting to actually show readers how they might actually survive, I lost patience with the whole milieu. Finding fulfillment in your work is possible, sure. But it's not as easy as handing in your resignation letter and jetting off to Hawaii and launching a blog about how many mimosas you had that day. Where was the practicality?
Which makes Key's memoir a breath of fresh air. There is so much out there that sugarcoats the best things in life—finding one's dream career, becoming a mother, becoming a published author. Who's actually telling the complex truth of it all?
Beyond Congratulations, here are a few more books that tell it like it is.
This memoir about an unplanned pregnancy and the writer's experience of new motherhood that followed is more raw and honest than most of what you'll find in the mommyblog sphere. The chapter on post-baby sex alone made me feel I'd found a kindred spirit. But more than that, I appreciated how O'Connell described the inherent fear that comes with motherhood, a fear that is all-consuming, no matter how #blessed you feel about having kids.
After You Can't Touch My Hair, I will read anything Robinson writes. She is like your no-bullshit BFF in book form and, in her latest, she lays out some truth on everything from white feminism to present-day work ethics. Yes, Phoebe. Everything is trash. Even the things that are allegedly not trash. But damn you make me feel less broken up about it.
Becoming by Michelle Obama
I am in awe of Michelle Obama, but I didn't necessarily plan to read her memoir. Then someone mentioned that, in the book, she opens up about the difficulties she experienced in putting her career aspirations aside for the man she loved, the man who would someday become President. Now, it's all I want to know about.
I am so deep into being bad with money (I'm 38) that I was pretty sure Bad with Money would have nothing new to offer me. After all, I'm already past the point where I've paid for college, signed up for my first credit card, purchased my first car, sunk too much money into a condo, and bought a house. The other month, I even paid off the last of my student loans! Yay me! But this book isn't the starry-eyed financial self-help system I feared it would be. I love how honest and real Dunn got when writing about the systemic realities many young people face that keep them struggling with money long after college.
This one's a quickie (it's part of Penguin Random House's Vintage Short series), but it's exactly what I needed. Especially now. Everyone is asking me what my New Year's Resolutions are and talking about their brand new goals for the year ahead. Meanwhile, I recently spent an entire evening adding numerous self-help-y motivational journals to my wish list before ultimately determining that I have zero goals, acknowledging that no journal is going to change that, and deleting them all. Irby's book, meanwhile, lays out the 70 micro-resolutions she set for herself and then goes on to describe how she failed at almost every single one of them. As one Amazon reviewer wrote, "Bless you Samantha Irby."