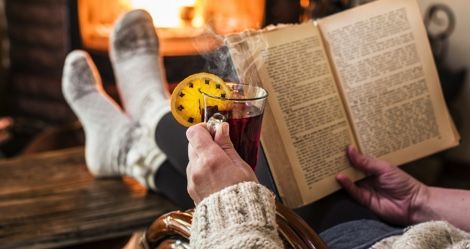 Lists
Riot Roundup: The Best Books We Read In December 2018
This content contains affiliate links. When you buy through these links, we may earn an affiliate commission.
Wondering which were the best books our contributors read in the last month of 2018? If so, lucky day to you, because we asked and Rioters told us what they read and loved in December. We have food memoirs, short essays, poetic YA, literary fiction, a hug to your soul and so much more! There's old, and new, and not even published yet. And if you want to share your favorite read from December pop into our comments and tell us—we're always here to talk about more books!
The awkwardness of two ex-spouses spending the holidays (of all things!) with their daughter (and her snarky imaginary rabbit friend), and respective new partners is so palpable in this book that readers will have a hard time keeping a straight face. This compelling debut provides just the right amount of comic relief in its portrayal of tense family gatherings, capping off with a side of a whodunit mystery when one of them gets injured, which unspools as more of their issues surface. Hulse managed to craft terribly flawed characters who are, in fact, so likable and relatable in their issues that it's hard to look away from the holes they keep digging themselves into. The irony of the title will not be lost on readers.
—Kamrun Nesa
After the Winter by Guadalupe Nettel, translated by Rosalind Harvey
I really loved the characters in After the Winter—they are complicated and sometimes incredibly unlikable, but also richly drawn and fascinating, even when it's difficult to be in their minds. The story follows Cecilia as she tries to find a place for herself in Paris, and Claudio as he broods over his life in New York City. We know their paths are going to converge somehow, and watching it happen is thoroughly absorbing. Nettel's evocation of Paris is particularly memorable.

—Rebecca Hussey
This book reminded me why I love the YA genre so much. It has explorations about who you are, pain, the realities of growing up, and a spectrum of parents. "Girl Scout," aka Mattie, gets into escapology during a summer when her best friend has gone to a specialized school and the guidance counselor has hinted that Mattie needs extracurriculars to pad her college applications. She decides to bang on the door of Miyu, the daughter of a famous escapologist, and ask for training. Miyu eventually agrees, on the condition that Mattie runs errands for her, does the training without question, and performs. On stage. Unfortunately, the day that Mattie does a death-defying escape, a high school jock named Will spots her at the show. Just as she's worried that he'll out her on social media, before she can even tell her best friend Stella, he responds with a secret of his own. And that starts a strange friendship, as well as making Mattie an interesting college candidate. The book is very open about how growing up is hard, and how we have to own our mistakes.
—Priya Sridhar
Becoming by Michelle Obama
By this point I'm sure Becoming has already flooded your timelines and dashboards. I mean, the memoir sold more copies in 2018 than any other book in the U.S and it's well deserved. Becoming is everything I hoped it would be and more. Not only do we get a glimpse of Ms. Obama's life inside the White House, but majority of the books focuses on her life before becoming First Lady. What I loved about this book is that she doesn't shy away from anything: she told the world about the doubts she had with her career, her troubles with getting pregnant, troubles in her marriage, and how she reacted to the "bullies" talking about her appearance. She even took a few jabs at Donald Trump. Her story moved me, especially as a young, black woman living in America. Not to mention that the writing is breathtaking. Becoming made me fall in love with Michelle Obama all over again.

—Yaasmeen Piper
Michael W. Twitty is a food historian who went on a journey to learn about the food of his enslaved ancestors in the southern U.S., deemed his "Southern Discomfort" project. In this book, he explores the history of southern cuisine, particularly the roles slavery, African roots, and Native American culture played in its development. Food is more than just sustenance; it's personal and political history, it's ancestry, it's inherited trauma and grief. Twitty's exploration of his own family history and the history of the food we eat will forever change your perspective on soul food.
—Susie Dumond
This book is a gift for anyone who's ever found themselves saying, "Ugh, why am I so awkward?" which is to say me and all of my friends. Dahl examines awkwardness and cringe as social and psychological concepts. In the name of research, she put herself into a number of potentially embarrassing situations, such as auditioning for Mortified (a comedy show in which people read from their middle school diaries) and attending a weekend training event called "Unlearning Racism" (which teaches participants how to have those important, if uncomfortable conversations about race and privilege). Cringeworthy is a fun and #relevant read, but I also learned a lot from Dahl's analysis. She talks about the "irreconcilable gap" between how we see ourselves and how others see us, explains how awkwardness can often be a sign that we've reached our "growing edge," and discusses how empathy can either be a force that leads to contempt or compassion. In the end, Cringeworthy makes the case that we should feel empowered—rather than paralyzed—by our awkwardness, an insight I was grateful to hear.

—Emily Polson
I wasn't sure if I would like this book when I started because it's told from multiple viewpoints; each section has a different narrator—but it turns out that I don't think there's any other way to tell this story. I finished this in two days because I just kept wanting to read more. When Althea and Proctor Butler, prominent members of a community, are arrested, Althea's sisters Viola and Lillian are shocked. The community is furious, and the family is disgraced. The two sisters pair up to take care of Althea and Proctor's daughters, and the story of what happened slowly unfolds from each person's point of view. Past, present, and future keep bumping up against each other as each person tries to navigate the current events and what it means to be family, forgive, forget, and rebuild. There are so many layers to this gorgeous story, and I kept wanting even more about each character, each time the POV switched. I haven't read a book like this in a long time.
—Jaime Herndon
This is a short book that packs a punch. In a series of short essays, Vargas, an activist and journalist who came to the U.S. from the Philippines as a child, delves into the everyday struggles, fears, triumphs, injustices, and ordinary specifics of living as undocumented person in the U.S. Though the essays range widely, covering both personal experience and larger political movements and happenings, my favorites were the essays where he simply talks about what it feels like to be an undocumented person. What it's like trying to get a job or a driver's license, to get on a fight, report a story as a journalist, or drive to a border town. Vargas's writing is clear, eloquent, and full of anger and heart. This is a must-read in today's America.
—Laura Sackton
Family Matters is somehow both piercingly specific (as a story of a Parsi family living in Mumbai and straddling different financial categories) and universally relatable (for its themes of duty, aging, and the complexities of family dynamics). It's beautifully written, and moving without any unearned sentimentality.
—Christine Ro
It's hard to prepare yourself for the experience that is Fierce Femmes, but I knew this going in. After all, the title is epic, and the pastel cover is littered with high heels, mermaid tails, daggers, and even swarms of bees. It just screams, "THIS IS UNLIKE ANYTHING ELSE YOU WILL EVER READ." And it was. Not your typical coming-of-age story, the narrator is a young Asian trans girl who also happens to be a pathological liar with a taste for blood and violence. The plot, which follows her journey to find both a true home and a true family, is filled with flourishes of magical realism that somehow seem real. And the lyricism of the language had me transfixed. I'm not making any sense. But that's okay. It's something that must be read to be understood.
—Steph Auteri
Less by Andrew Sean Greer
I'd picked this book up so many times in bookshops and almost bought it, so I was glad when my book club chose it and gave me an excuse to take the plunge. It doesn't sound like much on paper—minor novelist gets his heart broken, decides to travel far away to avoid the person who broke it—and in the hands of a lesser writer, it could have been insufferable. But Greer is not a lesser writer. Greer's character is thoroughly flawed but somehow endearing, and the author's observations on human nature, love, the literary world, and the joys and challenges of travel are conveyed in wonderful but unpretentious prose. Highly recommend!
—Claire Handscombe
I wish this book had existed during my pregnancy, but even though I'm a mom with a one-year-old, I found this so interesting and learned so much. It's a mix of pop science and memoir. Each chapter follows a specific aspect of pregnancy and the first year—miscarriage, placentas, labor, breastfeeding, etc.—and Garbes tells her personal story of these aspects and gives researched, scientific details about what's actually going on. You know, all that stuff nobody bothers to tell pregnant parents. I plan to throw this at all expecting parents in the future. But even if you're not an expecting parent or even ever plan to be, there are lots of super interesting bodily facts in this book that if you like health pop science, you'll find fascinating.
—Margaret Kingsbury
On New Year's Eve in 1984, Lillian Boxfish takes a walk through New York City, heading to a party. Along the way, she meets all kinds of people, treating them with grace, curiosity, and kindness. Passing landmarks of her 85 years of life, she muses about how she came to be where she is. She reminisces about her time as the highest-paid advertising woman, and the marriage and motherhood and divorce that derailed her career. She remembers her breakdown and the walks through gardens she was permitted while she recovered. She's a pistol. When I picked this up for the Read Harder challenge, I was planning on just cruising through to meet a challenge. But this book is so good. I can't stop thinking about it, and how I want to be Lillian Boxfish when I grow up.
—Ashley Holstrom
I adored Ng's first book, Everything I Never Told You, and was really excited for this one to come out. Yet, I let it sit on my bookshelf for over a year. I finally picked it up this month and was not disappointed. A searing character driven story of family, identity, and motherhood, Little Fires Everywhere had me glued to the page. The omniscient narrator explores the little mysteries of who these characters really are and where they come from while we guess who really set those little fires everywhere. This one definitely made my top ten reads of the year.
—Beth O'Brien
I loved this collection of quirky and wonderful stories by Yukiko Motoya and translated by Asa Yoneda. Winner of the Akutagawa Prize and the Kenzaburo Oe Prize, Motoya is a magician—she takes mundane, daily life and just twists it into strange and fantastic tales. In these stories, a newlywed notices that her husband's features are sneakily sliding around his face to match hers, umbrellas are more than they seem, women are challenging their boyfriends to duels, and you might want to reconsider dating the girl next door. I'd recommend this collection to fans of Hiromi Kawakami and Carmen Maria Machado.
—Pierce Alquist
I have been pushing this book on people like I wrote the thing! Based on a viral McSweeney's piece of the same name, it's a collection of quick one to two page satirical musings on what turns us feminists on—you know, stuff like equal pay, respect, autonomy over our bodies. It is chock full o'gems: one bit about Tom Hardy delivering a fridge full of free La Croix wearing a t-shirt that says WILD FEMINIST, another about meeting a guy on Tinder whose invents a serum to make RBG immortal. My favorite though? "Ed Sheeran releases a new single called 'I'm in Love with Your Body of Work,' about Agatha Christie. It sells nine million copies (more than there are people on the earth)." So much yes.
—Vanessa Diaz
The Nickel Boys by Colson Whitehead (Doubleday, July 16, 2019)
Get ready for Whitehead to break your heart again with this slim but powerful novel about two boys who are sent to a hellish reform school in Jim Crow-era Florida. Whitehead once again deftly lays open a dark chapter in American history for all to see, and we are better for it. Now I know what you're thinking: "But, Liberty, I still haven't recovered from The Underground Railroad!" Me either! And that's a good thing! It shows you what an amazing writer Whitehead is, to be able to put words together that keep you feeling feels long after you've turned the last page. I promise this one will do that very thing too. And you still have seven months to prepare.
—Liberty Hardy
Alan Cumming expertly played King James on Doctor Who a few weeks ago, leading me to rewatch my beloved Tin Man, to binge his new show Instinct, and finally to where these things always lead me: looking up audiobooks. I came across Not My Father's Son on Scribd and listened to the whole book in one sitting. The book alternates between Cumming's childhood experiences with violence and abuse and his present-day involvement filming the show Who Do You Think You Are? with the hope of solving the family mystery of his maternal grandfather's disappearance. Cumming's narration is beautiful and honest. I was particularly moved by his remembrance of a moment he spent communing with his grandmother's spirit after her passing.
—Dana Lee
Our Year of Maybe by Rachel Lynn Solomon (Simon Pulse, January 15, 2019)
I've admittedly been a bit of a reading slump lately and this snapped me out of it with the force of a hurricane. Sophie and Peter are neighbors and best friends, so when Peter needs a kidney transplant, Sophie doesn't even hesitate to volunteer. Secretly, she hopes that this will only bring them closer together and just *maybe* he'll see her as more than a friend. People, I SOBBED. Friends-to-lovers romances are my absolute favorite, throw in Peter's growing attraction to a cute boy in a band, the fact that Sophie is a dancer, and Solomon's beautiful writing…it all makes for an amazing sophomore release. Any book that makes snot stream down my face deserves all the stars.
—Kate Krug
The Poet X by Elizabeth Acevedo
I listened to this book in a single morning. I don't typically read on audiobook, as I find myself too easily distracted, but hearing the author's words exactly as she intended them was a magical experience. And this book is phenomenal! I don't know when I've rooted so hard for a protagonist (okay, probably the last book I read). I will be making an effort to incorporate more audiobooks and more poetry to my 2019 reading, starting with Ibi Zoboi's Pride, also read by Acevedo.
—Annika Barranti Klein
I'm likely one of the last people in the world to read this book, especially after the Todd Haynes adaptation Carol was released in 2015. But you know, better late than never. If you've somehow been living under a rock and have no idea what this novel is about, The Price of Salt is a semi-autobiographical novel set in the 1950s about a young woman who falls in love with an elegant but troubled older woman. Highsmith is a gifted writer who I admire most for her descriptive language that gives you an entryway into the psyche of her characters. This novel does an amazing job, too, of exploring gender and the ways in which many men incorrectly assume ownership over women (looking at you, Richard). I feel like this is an issue most women are acutely aware of in their everyday lives, but Highsmith illustrates the problem perfectly.
—Emily Martin
It's a nonfiction book that unfolds like a thriller. The book tells the story of one of the most important spies of the Cold War, Oleg Gordievsky. He rose through the ranks of the Soviet Union's fearsome security service, the KGB, to become its most senior spy in London. Only he was a double agent who recruited by MI6, the British secret service. The book tells one of the greatest Cold War espionage stories in nail-biting pace, giving you a fly on the wall view of how it all unfolded.
—Kareem Shaheen
So Lucky by Nicola Griffith
Perhaps unbelievably, this was my first Nicola Griffith book. It certainly won't be my last. This short, autobiographical novel was not quite what I expected. I thought it was going to be a lot more speculative (as I had it in my mind Griffith was mainly an SF writer) than it actually was. It's actually mostly a realist, visceral tale of a woman's first year after being diagnosed with MS, specifically focused as a character study of the protagonist Mara. I loved how full of anger she was—at having MS, at the casually ableist world she abruptly collides with, at violence against people with disabilities and/or women—and how Griffith obviously wasn't concerned with making her likable. Her relationships with the women in her life felt very real to me, both her (ex-)wife she has just got divorced from but is still close with (how lesbian!) and her old friend who she's had sexual chemistry with for years. So Lucky is unlike any other book I've ever read.
—Casey Stepaniuk
I will read anything Menon writes, since she's consistently brought delightful girls fighting for themselves into my life. If you've already met Dimple and Twinkle and love Menon's previous books, this is worth your pre-buy dollars. This time around we get to know Sweetie Nair, a track star who finds herself secretly dating Ashish Patel—yes, Rishi's younger brother from When Dimple Met Rishi! It's only a secret from Sweetie's parents, though, since her mother forbade them dating because she thinks Sweetie needs to be protected until she's no longer fat. Sweetie knows there is nothing wrong with her body but doesn't know how to challenge her mother or make her realize it. Until now, when she ventures into her first rebellion by secretly dating Ashish. But with his own baggage will this young love even have a chance? I love having girls I root for, great friendships, and getting to see bilingual families and their customs and traditions. Anytime your soul needs a hug, pick up a Sandhya Menon novel.
—Jamie Canavés