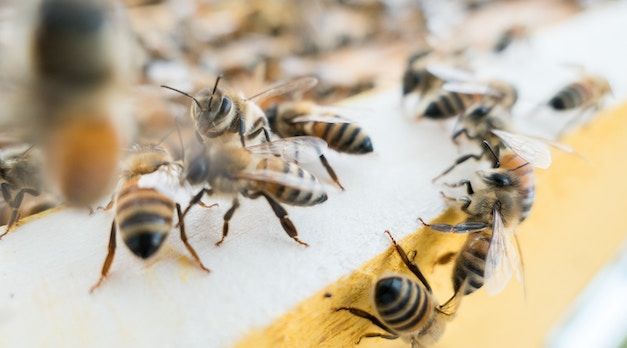 Nonfiction
5 Buzzworthy Nonfiction Bee Books For Proper Apiarists
This content contains affiliate links. When you buy through these links, we may earn an affiliate commission.
Everyone knows summer is a time for buzzing in the meadows. Bees of all species are out and about, foraging for food and pollinating as they go, filling the fields with sound and colour. For the past five months, I've been learning how to keep bees to be a proper apiarist with these nonfiction bee books, and I've learned so much in a short time about these fascinating little creatures.
The Bee Manual by Claire and Adrain Waring
When I started learning to keep bees, The Bee Manual came highly recommended as one of the best nonfiction bee books. A Haynes Manual for beekeeping written by Claire and Adrain Waring, this instruction guide to beekeeping covers all the basics.
Even if you never plan to keep bees, this is the place to learn the difference between queens, drones, and workers; pollen nectar and liquid gold honey. There are plenty of high quality glossy photographs, making the entire process of making, keeping and maintaining hives an easy concept to grasp (if not to execute) and there's plenty of conversation here about wax product making, honey extraction and beekeeping as a business.
A Honeybee Heart Has Five Openings by Helen Jukes
Since becoming actively interested in the buzzies that fly around my house, I've also started reading some narrative nonfiction about bees in an effort to broaden my scope of understanding of beekeeping in different places. A Honeybee Heart Has Five Openings is Helen Jukes's tale of relocating to Oxford and starting a proper beekeeping journey in the midst of huge changes in her professional and personal life. The bees are solace and concern all rolled into one and Jukes's writing style is loaded with emotion, making her feelings accessible to every type of reader. I really rooted for both Jukes and her little hive as her diary pushed through the year and she watched for swarms both personal and hive-wise.
The Honey Bus by Meredith May
On top of that, I recently had a chance to read an advance copy of Meredith May's The Honey Bus, the story of how she became a beekeeper under the tutelage of her grandfather when her family broke down and her mother withdrew from daily life. Her nonfiction bee book builds a picture of her family, her life growing up and the deep connection she feels to the wise figure of her grandfather, who helps her subtly through many steps in her life. The book is beautiful, any anyone with an interest in bees will adore it, but much more importantly, the conclusion answers any questions the reader might have and the scope of a whole life from childhood to adulthood is examined and considered with the gift of hindsight. It makes for really lovely reading.
Dr. Jamoke's Little Book of Hitherto Uncompleted Facts & Curiosities About Bees
In all my bee reading, between scientific fact and nonfiction, a friend gifted me Dr Jamoke's Little Book of Hitherto Uncompleted Facts & Curiosities About Bees, a little compendium of oddball facts, myths and legends about bees. It's a small book but it's chock full of things you'd never even consider asking about, making it a great gift for a bee-loving person, but also for generally weird and unusual knowledge collectors.
Bee Quest by Dave Goulson
Perhaps the best thing that has come from my forage into beekeeping is my understanding of how bees impact the environment and how human action has so many effects on both the critters and the planet. Reading Dave Goulson's work, particularly Bee Quest, has given me lots to think about in terms of planting patterns, agriculture, the death of hundreds of insect species, and the harsher world bees find themselves struggling to survive in as humans rampage across the earth. Goulson is a good check for any environmentally minded reader, with bees his lens for examining the damage we continue to do to the world around us.
---
Do you have any particular favourite nonfiction bee books? Tell us in the comments! Find even more recommendations here!