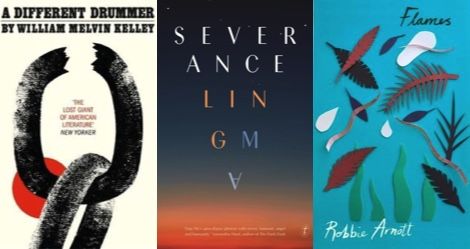 Lists
New November Fiction Out in the UK
This content contains affiliate links. When you buy through these links, we may earn an affiliate commission.
This November brings loads of eclectic new novels ranging from dystopia and modern fable to historical fiction. So without further ado, get reading!
June, 1957. One afternoon, in the backwater town of Sutton, a young black farmer by the name of Tucker Caliban matter-of-factly throws salt on his field, shoots his horse and livestock, sets fire to his house and departs the southern state. And thereafter, the entire African American population leave with him.
A rediscovered classic of African American literature which earned the writer comparisons to James Baldwin and William Faulkner, this is a powerful novel that weaves intricate themes like racism, systemized oppression and identity together.
Severance by Ling Ma (Text Publishing)
Dark apocalyptic humor meets political satire in this offbeat novel.
Candace Chen, a millennial drone self-sequestered in a Manhattan office tower, is devoted to routine. With the recent passing of her Chinese immigrant parents, she's had her fill of uncertainty. So Candace barely notices when a plague of biblical proportions sweeps New York. This is a quirky and addictive read about adulthood, loneliness and humanity.
Flames by Robbie Arnott (Atlantic)
A young man named Levi McAllister decides to build a coffin for his 23-year-old sister, Charlotte—who promptly runs for her life. A water rat swims upriver in quest of the cloud god. A fisherman named Karl hunts for tuna in partnership with a seal. And a father takes form from fire.
The answers to these riddles are to be found in this tale of grief and love and the bonds of family, tracing a journey across the southern island that takes us full circle. Ingenious and mythical, this Tasmanian adventure will move and inspire you.
Following the last days of a crumbling female gang in post-war London, this is a story of family, of love, of finding your way, and of deciphering a route through the grayest areas of morality. An absorbing piece of historical fiction with feisty characters.
Freshwater by Akwaeke Emezi (Faber)
Ada was born with one foot on the other side. Having prayed her into existence, her parents Saul and Saachi struggle to deal with the volatile and contradictory spirits peopling their troubled girl.
Narrated from the perspectives of the various selves within Ada, and based in the author's realities, Freshwater explores the metaphysics of identity and being. One of the most electric and inventive debuts to come out this year, Emezi's novel is one to watch out for.
China Dream by Ma Jian (Chatto & Windus)
A poetic and unflinching fable about tyranny, guilt, and the erasure of history, by the banned Chinese writer hailed as 'China's Solzhenitsyn'. An immensely hypnotic history lesson, told through the psychological disintegration of a provincial leader. This dystopian novel is ingenious and thought-provoking.
A dark magical fable about war, resilience, love and family. This is the story of Mary, a young girl born in a beautiful city full of rose gardens and fluttering kites. When she is still very small, Mary meets Lanmo, a shining golden snake, who becomes her very best friend. The snake visits Mary many times, he sees her city change, become sadder as bombs drop and war creeps in.
Bittersweet and timely, this is an impeccable modern fairytale which will also make for a perfect Christmas gift.