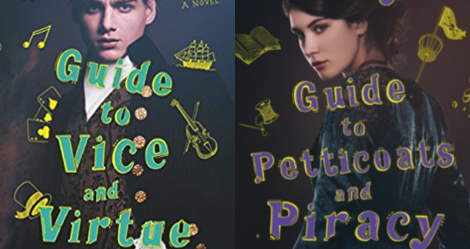 This content contains affiliate links. When you buy through these links, we may earn an affiliate commission.
Duologies are the new trilogies, and I am here for it. There is just something so satisfying about a story told in two books, and I'm not just saying that because I love the book design for duologies—you also don't have to wait as long for all the sequels, and you can use a duet of books as bookends. (Other people do that, too, right?)
Here are 50 must-read YA duologies for your TBR stack, in every genre and in no particular order:
The Montague siblings encounter adventure and mayhem whilst traveling and flirting throughout 18th century Europe.
Three ambitious teens attend the American Ballet Conservatory, where the competition is fierce and their secrets are dangerous.
Reese and her debate partner/crush David are caught up in a cover-up when they stumble upon a government secret, and Reese finds herself drawn to the mysterious Amber Gray, who is somehow connected.
A con artist and a quarterback must put their trust in each other if they're to escape the law on a spaceship to the Fringe and their best chance at new lives.
Nix lives with her father and his crew aboard a ship that can slip through time, but when her father gets a chance to go back in time and save her mother, Nix is afraid she might cease to exist.
Maggie Silver is an expert safe-cracker and daughter of international spies. Life is pretty boring when you're always kept from danger, but a new assignment in New York City—and a new high school—test Maggie's talents to their limits.
Okiku is a spirit who serves vengeance on killers, but can't find peace until she meets Tark, a a boy with a demon trapped inside him, and she becomes determined to free him.
Set in an alternate world where Hitler won WWII, a death camp survivor named Yael uses the abilities she gained as a result of human experiments to exact revenge on the Axis powers.
Teen con artist Julep runs schemes to make money so she can escape to college, but when her father goes missing she'll have to use every trick she has to find him.
This groundbreaking graphic novel duo tells the powerful story of the Boxer Rebellion from the perspectives of Little Bao, a Boxer, and Vibiana, a Christian.
When Princess Wilhelmina was a child, the Indigo King staged a coup and took over their kingdom. Wil and other noble children fled, but now they're ready to fight back. Wil has a secret weapon—the ability to use magic. But if she uses it, it might destroy her first.
Ai Ling defies tradition and travels to the Emperor's Palace in order to find her missing father, fighting demons along the way and meeting Chen Yong, who is on a quest of his own.
Madeline is born into privileged society as a descendant of the family who developed nuclear energy, but her worldview is dramatically altered when she discovers the real impact of her family's legacy.
Sunny doesn't quite fit in anywhere, but when she discovers that she has magical powers, she joins three other students against a criminal who is familiar with their magic.
Katharine Tulman is sent to her uncle's estate to prevent him from squandering the family fortune by committing him, but she finds that her uncle is of perfectly sound mind—and is in fact a genius inventor who introduces her to unknown wonders.
Rhee is the only surviving member of her dynasty, and looking for vengeance. Aly is a refugee who is falsely accused. With the universe on the brink of war, they must work together to confront evil.
With his father in jail and his mom spaced out, it's up to Tyrell to help get his family out of the homeless shelter. But he's torn: between two different girls, and between wanting to care for his family and not wanting to follow his father's path.
Lyra is a replica, the subject of an experiment at a secretive research station called Haven Institute. Gemma has always been sick, and when her father's secrets lead her to Haven, she finds herself with more questions than answers.
When Meliara promises her father that she will rise up against a corrupt king, she finds herself in over her head in a war that stretched across the kingdom. (Note: The books were originally published separately, but can now be purchased in an omnibus edition titled Crown Duel.)
When hacker Emika Chen accidentally hacks into the most popular video game in the world, she's certain she's in deep trouble. Instead, the game creator asks her to be a spy inside the game. Emika agrees, only to find herself caught up in a much larger conspiracy.
Lazlo, a librarian, has always dreamed of traveling to Weep, an abandoned city with dark secrets. When he's given the chance, he must confront the mysteries—and the tragedies—found only in his dreams.
Ryan Dean is the youngest junior at his boarding school, and no one takes him seriously because of his age. Put in a dorm for troublemakers, his life is turned upside down through a year of tragedy and discovery,
Cade has always been alone in the universe with just her guitar, but when she discovers that the weird noises she's always heard are because she's entangled with someone she doesn't even know, she sets out on a universe-expanding adventure to rescue him.
In the future, the AI Talis keeps world peace by holding the children of world leaders hostage. Greta is prepared to die for her country if necessary, but she's not at all prepared for a fellow hostage to start a rebellion.
When Aly, the daughter of a spymaster, is capture by slavers and sold far away from home, she meets a Trickster God who makes her a bargain: Protect two young noblewomen from harm for a summer, and she'll have her freedom. But when God, especially the Trickster, is involved, nothing is ever simple. For more info on where this duology falls in the Tortrall universe, see our Reading Pathways!
Cas is a ghost hunter and killer of the dead, and Anna is rumored to be one of the most ruthless ghosts around. But for some reason, she spares his life.
The Rose Riders are one of the most notorious gangs in the West, and when they kill Kate Thompson's father, she disguises herself as a boy and sets out to exact revenge.
When Liesl's younger sister is taken by the Goblin King, she offers herself in exchange for her sister's freedom, but the underworld is not at all what she expected, and neither is the Goblin King, who inspires her best music.
Three months after her beloved Aunt Peg's death, Ginny is shocked to receive a letter from her, sending her on a scavenger hunt across Europe for all of the letters her aunt left behind.
When Scarlett's beloved brother dies, she's left alone with her grief on her isolate island home, wasting away until Will Cohen shows up. With Will, Scarlett feels alive again, but he's keeping a secret that could change their relationship forever.
In a fantasy land where humans and dragons live in uneasy alliance, Seraphina is a court musician with a very large secret. When the crown prince is found murdered by dragon hands, Seraphina's information could have the power to unite the realm—or spark war.
Eon and Eona by Alison Goodman
Eon has been working years to be accepted as a dragoneye: an apprentice to an energy dragon. But Eon is actually Eona, a girl, and if her secret is discovered, everything she's worked for could be destroyed.
Cas is a Reckoner, a trainer of sea monsters that protect ships crossing the NeoPacific. When she's captured by pirates, captained by Santa Elena, she's given two choices: join the pirates or be tossed into the sea.
Not long after her father is killed, Zel's little sister is kidnapped and she finds herself in a foster home for teens with strange abilities, where one boy promises Zel a chance at reuniting her with her sister.
When Josh gets Ellie pregnant after a one-night stand, their lives and the lives of their two friends are irrevocably changed.
Kate Grable is an aspiring doctor who is horrified to learn that the football coach has been giving players steroids—and not just any steroids, either. These drugs are turning football players into zombies, and it's up to Kate to contain the virus before it spreads.
Syd is a Proxy, meant to take the punishment for any wrongdoing done by his patron, Knox. When Knox accidentally kills someone in a car accident, Syd is condemned to death. Instead, the boys flee.
Khalid, the Caliph of Khorasan, takes a new bride every day, and in the morning condemns her to death. Shahrzad knows that he must be stopped, so she comes up with a plan to exact revenge, and volunteers to marry him. Khalid is not what she expects, and she finds herself falling for her best friend's killer.
Allyson's uninspired trip through Europe gets a surprising jolt when she meets Willem and runs away from her tour guide to spend one perfect day with him. When she wakes up the next morning, he's gone without any explanation. Devastated and confused, Allyson begins looking for him, and the search changes her life.
Fateful wishing sends teens from present-day Brooklyn back in time to the Civil War era.
When Phoebe is blackmailed into racing for a powerful corporation, she finds herself caught in a web of corruption and deceit.
When Lily, who loves Christmas, leaves a notebook of dares on a shelf in her favorite bookstore, grumpy, holiday-hating Dash is the first to find it and soon they find themselves corresponding and trading dares as Christmas draws closer.
When Dimple's parents try to set her up with a "suitable" Indian boy, Dimple rejects him as too boring. But when she meets that same boy again while at a club, she finds that maybe he's not quite as suitable as her parents think—which makes him attractive to her.
Elusion and Etherworld by Claudia Gabel and Cheryl Klam
Regan's father is the creator of Elusion, a virtual reality that offers escape from a planet that's been devastated by climate change and pollution. But when her father dies, Regan is forced to investigate Elusion's darker sides.
Six very different teens must come together to pull off an impossible heist. What starts as a job promising unimaginable riches quickly turns into something much more dangerous and personal than any of them could have anticipated.
Sophie and Robin navigate love and secrets their freshman year of high school in these two novels-in-verse.
Donovan Reyes has a bright future, now that Earth has become one of the many colonies ruled by an alien race, and his dad holds a very high position within the new government. But when Donovan is kidnapped by anti-colonialists, his fate could have repercussions for the entire galaxy.
Yulia is a psychic, forced to keep her abilities secret for her own protection. When she's conscripted into the KGB in order to attack the U.S. space program, she finds that knowing other people's secrets doesn't give her the upper hand—it just makes everything all the more dangerous.
Allie has a life-threatening allergy to sunlight that confines her indoors and to the night, where she practices Parkour with her two best friends. One night, they accidentally witness what appears to be a murder, plunging Allie into a dangerous mystery that could cost her everything.
The daughter of a crime boss in the organ trade encounters love and betrayal when she ventures out of her protected circle.
Are series more your speed? We got you covered.