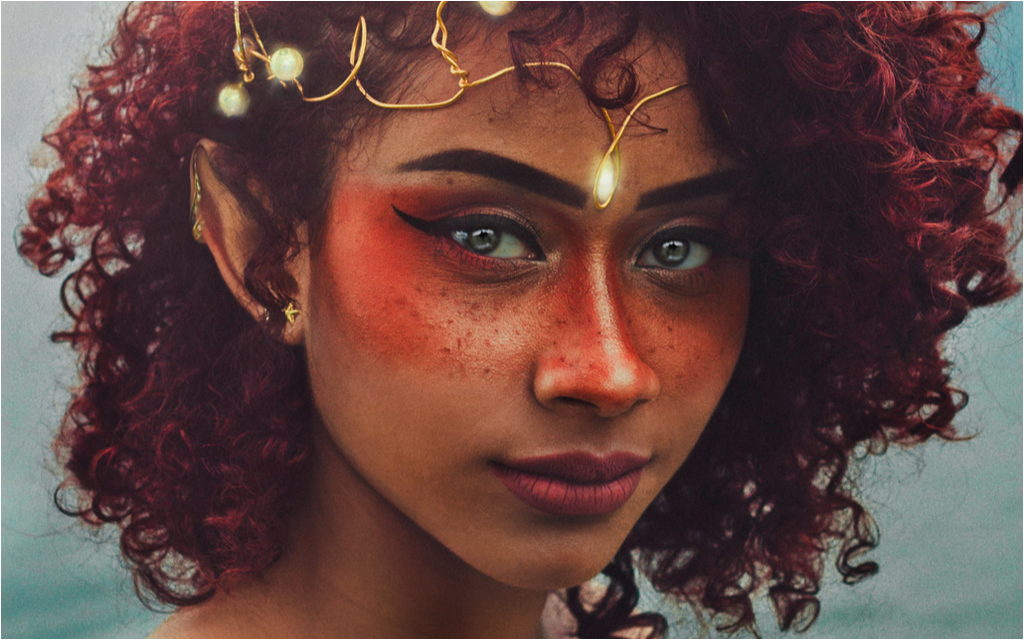 This content contains affiliate links. When you buy through these links, we may earn an affiliate commission.
100 Must-Read YA Book Series is sponsored by The Evaporation of Sofi Snow and Reclaiming Shilo Snow by Mary Weber.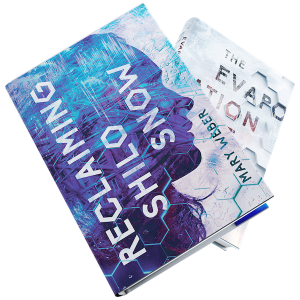 As an online gamer girl, Sofi Snow works behind the scenes to protect her brother, Shilo, as he competes in a mix of real and virtual blood sport. When a bomb destroys the gaming arena, Shilo disappears, and Sofi's sure he's been kidnapped to Delon—a technologically brilliant ice planet orbiting Earth. She must partner with Miguel, a Delonese Ambassador, to free Shilo and warn those on Earth of impending doom.
Mary Weber takes readers on a non-stop, full-throttle adventure to save humankind.
Get in the game!
---
One of life's greatest pleasure is discovering a series of books that you just love beyond all reason. There is no shortage of YA book series out there to binge-read, but we've rounded up 100 must-read YA book series that should definitely be on your radar. To keep this manageable, we've defined a series as three or more books connected by characters, world, or plot. We've also tried to limit this list to series that are either complete or will be complete this year, but we've managed to sneak in a few exceptions for books we just really, really love. All genres are represented! Are you ready to find your next favorite YA book series?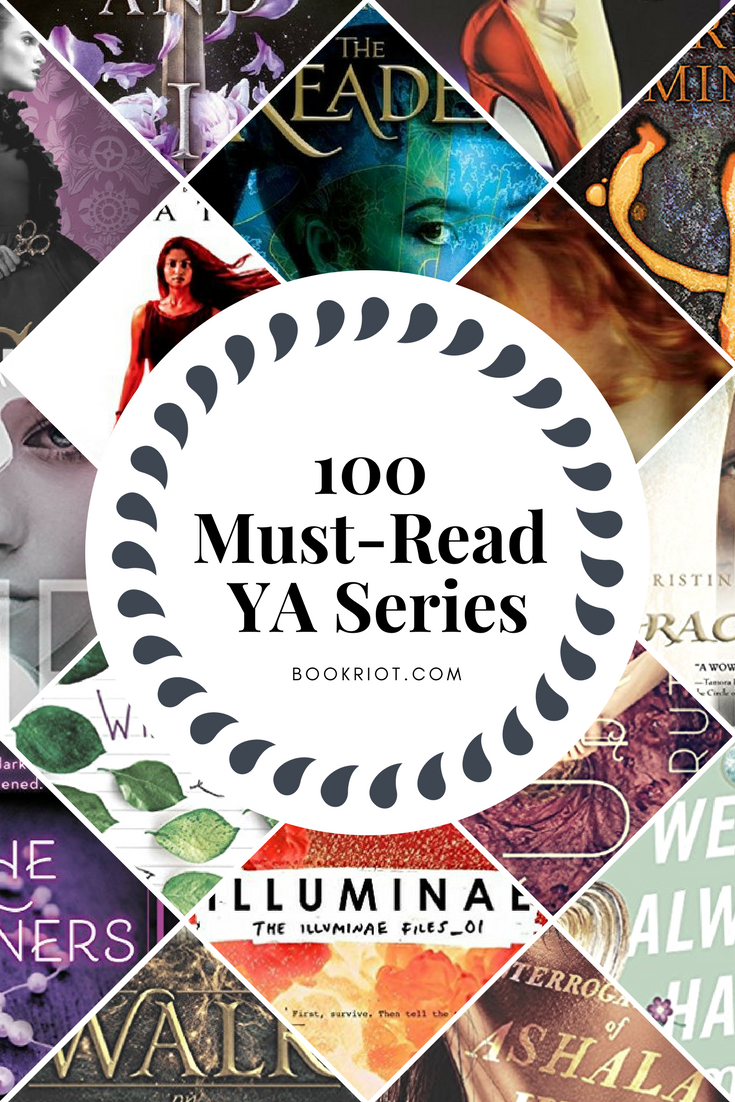 Contemporary YA Book Series
To All the Boys I've Loved Before series by Jenny Han
This trilogy follows Lara Jean Song, whose secret love letters accidentally get sent to her crushes, and the embarrassing and surprisingly romantic consequences. First book: To All the Boys I've Loved Before
Six Impossiverse series by Fiona Woods
Three novels focusing on an interconnected group of Australian teens, exploring life, love, grief, and identity. First book: Six Impossible Things
The Ruby Oliver Quartet by E. Lockhart
After a panic attack sends her to therapy, Ruby Oliver lists her crushes processes her social anxiety. First book: The Boyfriend List
Georgia Nicolson series by Louise Rennison
A hilarious and irreverent ten books series that follows the epic fails and triumphs of British teen Georgia Nicolson's love life. First book: Angus, Thongs, and Full-Frontal Snogging
Trouble series by Stephanie Tromly
A Veronica Mars–esque mystery trilogy starring Zoe, who just wants to fly under the radar, and annoying, brilliant Digby who won't let her sit on the sidelines. First book: Trouble is a Friend of Mine
Gallagher Girls series by Ally Carter
A six-book series that follows the ups and downs of a group of teen girls attending a super secret school for spies. First book: I'd Tell You I Love You But Then I'd Have to Kill You
Ashbury/Brookfield series by Jaclyn Moriarty
A hilarious series of books set around the high school students of Ashbury and Brookfield, two schools in Australia. First book: Feeling Sorry for Celia, but the best-known book is probably The Year of Secret Assignments
Anastasia Phoenix series by Diana Rodrigues Wallach
An action-packed series full of international intrigue about orphan Anastasia, who's determined to find her missing sister. First book: Proof of Lies
The Ivy by Lauren Kunze and Rina Onur
A four-book series follows Callie and her exciting, tumultuous first year at Harvard. First book: The Ivy
Charlotte Holmes series by Brittany Cavallaro
The teen descendants of Sherlock and Watson attend a Connecticut boarding school, where they solve mysteries crimes. First book: A Study in Charlotte
The Princess Diaries by Meg Cabot
This ten book series is a modern classic, following a NYC teen who discovers that her dad is actually the heir to a small European principality. First book: The Princess Diaries
Summer Trilogy by Jenny Han
This expansive trilogy follows the relationship between Belly and the two boys she loves, Conrad and Jeremiah, set across three life-changing summers. First book: The Summer I Turned Pretty
Amor and Summer Secrets trilogy by Diana Rodrigues-Wallach
Marianna Ruiz finds her life turned around after a vacation to her father's family in Puerto Rico. First book: Amor and Summer Secrets
Summers of the Sisterhood series by Anna Brashares
Four best friends, spending the summer apart for the first time in their lives, share a magical pair of jeans. First book: The Sisterhood of the Traveling Pants
The Conspiracy of Us series by Maggie Hall
Avery is believed to be the key to an ancient prophecy, and is guarded closely by a powerful secret society. In order to find the truth about her past, she'll have to follow a trail of clues spanning continents. First book: The Conspiracy of Us
Burn for Burn series by Jenny Han and Siobhan Vivian
Three girls living on an island in New England discover that together, they can exact revenge on those who've wronged them, but at shocking cost. First book: Burn for Burn
Historical YA Book Series
The Diviners series by Libba Bray
Bray melds the excitement of jazz, flappers, and Prohibition in New York City with spiritualism, magic, and ghosts to create a fierce series that is both uniquely American and downright spooky. First book: The Diviners
The Montmaray Journals by Michelle Cooper
In the vein of I Capture the Castle, Cooper follows the young members of the royal family of a fictional European island principality throughout World War II. First book: A Brief History of Montmaray
Prophecy of the Sisters trilogy by Michelle Zink
When twins Lia and Alice find themselves orphaned, they also discover a prophecy that pits them against each other in magical struggle for good and evil. First book: The Prophecy of the Sisters
The Luxe series by Anna Godbersen
Manhattan at the turn of the century is a struggle between new and old money, and four young women from three very different backgrounds struggle to find love and their own places in society. First book: The Luxe
The Agency series by Y.S. Lee
In Victorian London, Miss Scrimshaw's Academy for Girls is a cover for an all-female investigative unit. First book: A Spy in the House
The Flappers trilogy by Jillian Larkin
The trilogy follows three very different girls in 1920s Chicago, where anything goes. First book: Vixen
Jackaby series by William Ritter
Abigail has a talent for noticing details others miss, and Jackaby is an investigator for the unexplainable. Together, they take on mysteries in 1890s New England that no one else can explain. First book: Jackaby
Scarlet series by AC Gaughen
In this retelling of Robin Hood, protagonist Scarlet is one of Robin Hood's thieves, and she's having a difficult time keeping her identity and her feelings for Robin secret. First book: Scarlet
Gold Seer Trilogy by Rae Carson
When Leah Westfall's parents are killed, she knows why: someone knows about her ability to suss out gold, and wants to control her. With nothing left to her name, Leah pretends to be Lee and heads west, where gold has recently been discovered in California. First book Walk on Earth a Stranger
Valiant Series by Lesley Livingston
The daughter of a Celtic king wishes to avenge her older sister's death at the hands of Julius Caesar's army, only to find herself sold to Caesar's gladiator training academy. First book: The Valiant
Conqueror's Trilogy by Kiersten White
Set in the court of the Ottoman Empire, White reimagines the life of Vlad the Impaler…as a girl. First book: And I Darken
YA Fantasy series
Ember Quartet by Sabaa Tahir
A slave of the Empire and one of its finest soldiers form an alliance that will awaken old magic and change the course of history. First book: An Ember in the Ashes
Tortall multiverse by Tamora Pierce
Pierce has written six series set in the fantasy world of Tortall—for brevity's sake, I'm counting them all as one multiverse here. This reading pathway will clarify how they all fit together. First book: Alanna, the First Adventure
Falling Kingdoms series by Morgan Rhodes
Four young people grapple with politics and magic in an epic struggle for power. First book: Falling Kingdoms
Grisha trilogy by Leigh Bardugo
Alina and Mal have grown up together, orphaned. Now serving in the army, they prepare to cross the wide swath of darkness splitting their kingdom when Alina discovers a power within her that some people would kill to protect—or keep secret. First book: Shadow and Bone
Old Kingdom series by Garth Nix
In the Old Kingdom, the dead rarely stay dead, magic is wild, demons can be bound in unusual forms, and the Abhorsen keeps order with powerful bells. Originally a trilogy, Nix has expanded this world in recent years with a prequel and a sequel. First book: Sabriel
Lumatere Chronicles by Melina Marchetta
Lumatere, once a tiny and flourishing nation, is destroyed one night when usurpers kill the royal family and raise a magical boundary around the kingdom. Finnikin, the son of the king's guard, grows up in exile until a mysterious young woman appears with an impossible message: the prince is alive and Finnikin must reunite his people to take back Lumatere. First book: Finnikin of the Rock
Young Elites trilogy by Marie Lu
Adelina Amouteru survived a deadly illness, only to be marked as an outcast. Gifted with incredible powers, she struggles with betrayal and deception at every turn, destined to become the villain everyone fears. First book: The Young Elites
The Raven Cycle by Maggie Stiefvater
Blue, the powerless daughter of a psychic, has always been told she's destined to kill her true love with a kiss. She steers clear of boys until she falls in with the Raven Boys, who are searching for a lost Welsh king. First book: The Raven Boys
Precious Stones series by Kerstin Gier
Gwyneth's cousin has trained her entire life to travel through time, so it comes as quite a shock when it's Gwyneth who inherits the ability to slip through centuries! First book: Ruby Red
The Cahill Witch Chronicles by Jessica Spotswood
Three sisters must conceal their identities as witches in an oppressive, anti-magic alternate history, but that becomes impossible when they discover a prophecy proclaiming one of them will be killed by another. First book: Born Wicked
Seven Realms series by Cinda Williams Chima
A princess who aspires to be a legendary queen and a young man in possession of a dangerous amulet find themselves changing the course of their kingdom. First book: The Demon King
Finishing School Series by Gail Carriger
Set in an alternate, steampunk Victorian England, young Sophronia finds that her new finishing school is actually a training grounds for the most unexpected of spies: young society ladies. First book: Etiquette & Espionage
Splintered trilogy by A.G. Howard
Alyssa, a descendant of Alice Liddell, has always heard tales of Wonderland but think they're side effects of the madness that runs in her family. But then she's forced to step through the looking glass and face the truth in order to break a curse and save her mother. First book: Splintered
Dorothy Must Die series by Danielle Paige
Amy Gumm, the other girl from Kansas, discovers that the stories lied and in order to save Oz, Dorothy must die. First book: Dorothy Must Die
Frostblood Saga by Elly Blake
Ruby, a Fireblood, must keep her powers a secret from the ruling Frostbloods, until her desire for revenge leads her to join the resistance. First book: Frostblood
Court of Fives by Kate Elliott
Upperclass Jessamy finds escape from a stifling life in The Fives, an athletic competition where she becomes friends with fellow competitors who are linked with her family's enemies. First book: Court of Fives
Dragon King Chronicles by Ellen Oh
Kira, a demon slayer, is the bodyguard of a prince who is destined to become a hero. The two find themselves on the run, desperate to stay alive and somehow fulfill the Dragon King's prophecy. First book: Prophecy
His Fair Assassin Trilogy by Robin LaFevers
A convent in 15th century France serves as a smokescreen for the assassins of Death, and three young women have been tasked with special powers and sacred missions. First book: Grave Mercy
Winner's Trilogy by Marie Rutoski
Kestral makes the impulsive decision to purchase Arin, a slave, but finds herself falling for him even as the power dynamics of their relationship shift dangerously and unexpectedly. First book: The Winner's Curse
The Remnant Chronicles by Mary Pearson
Princess Lia, unable to face a marriage for political alliances, runs away on her wedding day, only two meet two young men. One is an assassin sent to kill her, one is her betrothed. First book: Kiss of Deception
The Great Library by Rachel Caine
In an alternate world, the Great Library is accessible and instantaneous for everyone, but the personal ownership of books is illegal. Jess, a reader of illegal books, is sent to train at the library as his family's spy. First book: Ink & Bone
The Sea of Ink and Gold Series by Traci Chee
Taken in by her Aunt Nin after her father is killed, Sefia learns how to survive in the wilderness. When Aunt Nin is kidnapped, Sefia finds a strange, rectangular object—a book. It will help her rescue her aunt and find out the truth about her father's murder. First book: The Reader
The Girl of Fire and Thorns trilogy by Rae Carson
Elisa has always known that she is destined for some great task, but she doesn't feel great. She's the second daughter of a king who has married her off, in secret, and it will take great danger and great courage for her to realize her destiny. First book: The Girl of Fire and Thorns
Arc of the Scythe by Neal Shusterman
Citra and Rowan are apprentices of the Scythe, responsible for deciding who must die in a world that has conquered death. Neither teen wants this job, but in order to live, they'll have to learn to kill. First book: Scythe
The Colors of Madeleine by Jaclyn Moriarty
Madeleine and Elliott begin exchanging messages through a secret gap between our world and another that wreaks havoc on their separate realms and may prove to be the key to unraveling the mysteries of their lives. First book: A Corner of White
Rise of the Empress series by Julie C. Dao
Xifeng is destined to be a great empress, but only if she turns her back on the man who loves her and embraces dark magic. First book: The Forest of a Thousand Lanterns
Three Dark Crowns series by Kendare Blake
Every generation, three sisters are born with equal claim to the throne and powerful magic. When they turn sixteen, they must compete not only for the throne, but for their lives. There can only be one queen left standing. First book: Three Dark Thrones
Timekeeper trilogy by Tara Sim
In an alternate Victorian world, broken clocks can fracture time and clock mechanic Danny is desperate to fix the clock that traps his father. When he's sent away to fix a different clock, he discovers that the new apprentice he's falling for is in fact a clock spirit. First book: Timekeeper
Graceling Realm series by Kristin Cashore
In a world populated with monsters and graces, two very different young women must learn the embrace their dangerous abilities and dark pasts in order to bring their realms together. First book: Graceling
Supernatural YA Book Series
The Chronicles of Nick by Sherrilyn Kenyon
Nick thinks he knew everything about the world, until one of his friends turns into a zombie and tries to kill him. It's then that he discovers the world of the Dark-Hunters. First book: Infinity
Tantalize/Feral Multiverse by Cynthia Leitich Smith
In these two companion series, vampires and were-creatures populate our own world, living in Austin, TX, solving murders and assorted crime, and working at a vampire-themed restaurant. First book: Tantalize
Shadowshaper Cypher Series by
Daniel José Older
Sierra Santiago is planning on an easy summer of working on her art when a zombie crashes a party and the street art in her neighborhood starts moving. She discovers she's a Shadowshaper, able to use art and ancestral spirits to fight dark forces. First book: Shadowshaper
Brooklyn Brujas by Zoraida Cordova
Alex, a bruja, hates magic. When she decides to use her magic to rid herself of her abilities once and for all, she ends up banishing her family to Los Lagos, the underworld, and must travel there to rescue them before they're lost forever. First book: Labyrinth Lost
These Vicious Masks series by Tarun Shanker and Kelly Zekas
When Evelyn's sister disappears in 1812 London, she decides to go after her, only to discover that both sisters have strange abilities that put them in more danger than they can know. First book: These Vicious Masks
The Mediator Series by Meg Cabot
Suze is a mediator: she talks to ghosts and helps them move on. When she moves to California, she discovers that her new bedroom is haunted by a very hot ghost…but he's not interested in moving on or finding a new haunt. Unfortunately for Suze, there are plenty of other ghosts who won't leave her alone. First Book: Shadowland
Cambion Chronicles by Jaime Reed
Samara plans on spending her summer saving up money and figuring out what's so mysterious about her coworker Caleb and the misfortunes that befall the girls who crush on him. What she finds may be more than she bargained for. First book: Living Violet
The Blessed series by Tonya Hurley
After near death experiences, three teen girls find themselves owners of strange bracelets that bring about strange occurrences, and according to one mysterious boy, they're reincarnated saints. First book: Precious Blood
Lady Helen series by Alison Goodman
On the eve of her presentation to the queen, Lady Helen discovers a dark threat of demons at every level of society, and one lord whose task it is to attempt to keep them in order. First book: The Dark Days Club
Vampire Academy by Richelle Mead
Best friends Lissa and Rose fled from St. Vladimir's Academy to keep Lissa safe, but now they're being dragged back. As Rose struggles to keep Lissa safe, she begins training with the mysterious Dimitri, who might be the only one to take her concerns seriously. First book: Vampire Academy
Iron Fey series by Julie Kagawa
Meghan Chase has always felt like something was off about her life, and when a stranger begins watching her she discovers the truth—she's the daughter of a faery king. First book: The Iron King
Bone Witch series by Run Chupeco
When Tea accidentally raises her brother from the dead, she discovers that she's a bone witch, and she'll have to train hard in order to fight the evil that's coming and will force her to make a choice that will change everything. First book: The Bone Witch
The Vicious Deep series by Zoraida Córdova
When Tristan is swept out to sea, he discovers that mermaids are real and he's part of a realm he didn't know existed and a powerful struggle that could change the course of his life. First book: Vicious Deep
Skinjacker trilogy by Neal Shusterman
When Allie and Nick die in a car crash, they end up in the Everlost, an in-between world where lost souls congregate. At first, they think they've found a home, but it quickly becomes evident that a monster threatens everyone in the Everlost. First book: Everlost
Sci-Fi YA Book Series
The illuminae Files by Amie Kaufman and Jay kristoff
Told in briefs, interviews, transcripts, and even AI poetry, this intense series is about what happens when teens take on an evil corporation, uncovering galaxy-changing secrets and scientific discoveries. First book: Illuminae
The Lunar Chronicles by Marissa Meyer
Four fairy tales are retold in the far future, where cyborgs and space travel are reality. First book: Cinder
Thousandth Floor series by Katharine McGee
In 2118, New York City is a hub of tech advances, and five teens are swept up in betrayal, dark secrets, and a shocking death around a thousand-floor tower. First book: The Thousandth Floor
Alienated series by Melissa Landers
Cara's family is hosting Aelyx, the first ever exchange student from another planet, but not everyone in her high school is happy about it. When anti-alien paranoia turns into threats, Cara and Aelyx are propelled closer together, but Cara learns that there might be more to Aelyx's presence on Earth than she initially thought. First book: Alienated
Corpus series by Jessica Khoury
Pia is genetically engineered to live forever, but when she finds an escape from the carefully-controlled environment she's been brought up in, and the chance for love, she begins to question everything about her life and purpose. First book: Origin
Across the Universe trilogy by Beth Revis
Amy is cryogenically frozen for a centuries-long trip on a spaceship to another planet, but when she's woken up after only fifty years, she discovers that things aren't as they seem on the ship. First book: Across the Universe
Hybrid Chronicles by Kat Zhang
Everyone is born with twin souls in one body, but it's illegal to remain that way. Addie is the stronger soul, and her twin Eva is supposed to fade, but she doesn't, and the longer she remains, the harder it is to hide her existence. First book: What's Left of Me
Firebird series by Claudia Gray
Marguerite's physicist parents invented a device that allows you to jump across multiple dimensions, but then her father is murdered by his research assistant, who escapes into a different world. Marguerite goes after him, determined to see justice served, but soon finds there is more to her father's death that meets the eye. First book: A Thousand Pieces of You
Chaos Walking trilogy by Patrick Ness
Todd can hear everyone's thoughts, even his dog's, and they can hear his. He's about to become a man, but he knows that everyone is hiding something awful from him, so he embarks on a journey with his dog to discover what secrets are being kept. First book: The Knife of Never Letting Go
Starbound trilogy by Amie Kaufman and Megan Spooner
When a luxury spaceliner is yanked out of hyperspace and crashes on the nearest planet, two teens from very different social classes must band together to survive. First book: These Broken Stars
Everlife trilogy by Gena Showalter
Life is only a dress rehearsal, and everyone knows that real life begins after you die, which is why Ten will do anything it takes to choose where she'll spend her next life, even if it means being placed in an asylum. First book: Firstlife
Dystopian
The Tribe by Ambelin Kwaymullina
In post-apocalyptic Australia, young people have developed strange powers that the government fears. When Ashala Wolff is betrayed and arrested, she's hooked up to a secret-revealing machine that will test her will and prove the fate of her tribe. First book: The Interrogation of Ashala Wolf
Shatter Me series by Tahereh Mafi
One touch is all it takes for Juliette to kill a man, and so she's cut herself off from the world and from her feelings. But when Juliette finally starts fighting back, she discovers she's powerful in more ways than one. First book: Shatter Me
Unwind Dystology by Neal Shusterman
In the future, Pro-Life and Pro-Choice groups have found a terrifying compromise: no child can be harmed or aborted from conception, but between the ages of 13 and 18, teens can be "unwound" and their body parts redistributed. Three teens set to be unwound go on the run, determined to escape their fates. First book: Unwind
Uglies series by Scott Westerfeld
In a world where normal is Ugly, teens count down the days until they can have the cosmetic surgery that allows them to become Pretties. Tally is eager for her surgery, until she learns the truth about what becoming a Pretty really means. First book: Uglies
Divided We Fall trilogy by Trent Reedy
In the near future, one seventeen-year-old from Idaho inadvertently fires the gunshot that brings about the second Civil War in an epic battle between the rights of the states vs. the rights of the federal government. First book: Divided We Fall
Jenna Fox Chronicles by Mary Pearson
When Jenna awakes from a coma, she's told a lot of things about her life, but her memories just don't add up and she realizes that her parents are keeping something very big from her. First book: The Adoration of Jenna Fox
The Forest of Hands and Teeth series by Carrie Ryan
Mary lives deep in the forest, where the fence keeps out the Unconsecrated and the Sisterhood rules over them all, but she dreams of the ocean. When the fence is breached, Mary learn the horrific truth about her village, and the forest. First book: The Forest of Hands and Teeth
Life As We Know It series by Susan Beth Pfeffer
One day, an asteroid strikes the moon, pushing it closer to Earth, and Miranda's life is irrevocably changed. Surviving season changes, natural disasters, and the mental toll of uncertainty, Miranda records life in their drastically-altered world. First book: Life As We Know It
Legend series by Marie Lu
In post-apocalyptic United States, June is a military prodigy determined to discover who killed her brother. Day is a criminal, and the prime suspect. But June and Day are about to find out that maybe they've both been played. First book: Legend
The Darkest Minds series by Alexandra Bracken
When she was a kid, Ruby survived an illness that killed most of America's kids, but left her with strange powers that land her in a government facility, where she escapes in order to find refuge with other kids like her. First book: The Darkest Minds
Under the Never Sky series by Veronica Rossi
An exile and an outsider must form an alliance in order to survive in a war-ravaged land. First book: Under the Never Sky
Tomorrow series by John Marsden
When a group of Australian teens go camping in the wilderness, the return to find their homes empty, their country invaded, and everyone they know captured. They can surrender…or they can fight back. First book: Tomorrow, When the War Began
The Young World trilogy by Chris Weitz
A mysterious illness wipes out most of the population, leaving New York to be ruled by tribes of teens. When one tribe discovers a clue for a cure, five teens bravely set out across a dangerous landscape in search of it. First book: The Young World
Killer of Enemies series by Joseph Bruchac
Based on an Apache legend, with a dystopian twist. When a Cloud appears, rendering all modern technology useless, Lozen is one of the only people left with the ability to fight genetically modified monsters and zombies for the tyrant who holds her family hostage. First book: Killer of Enemies
YA Horror
Asylum series by Madeleine Roux
When he is forced to spend the summer in an old dorm that used to be a psychiatric hospital, Dan and his new friends find startling connection between their present and the building's past. First book: Asylum
Bad Girls Don't Die series by Katie Alendar
When Alexis's little sister Kasey becomes obsessed with an antique doll, Alexis just thinks it's weird. Then weird stuff starts happening, and Kasey is no longer the nice little sister she knows…something has taken hold of her. First book: Bad Girls Don't Die
The Haunting of Sunshine Girl series by Paige McKenzie and Alyssa Sheinmel
When Sunshine and her mom move to Washington state, it's clear to Sunshine that something is off in their new house. Whatever it is wants her mom, and Sunshine is the only one who can save her. First book: The Haunting of Sunshine Girl
The Mara Dyer trilogy by Michelle Hodkin
Mara Dyer survived a traumatic incident at an old asylum, and moved across the country for a fresh start, only she can't stop having hallucinations…or are they premonitions? First book: The Unbecoming of Mara Dyer
Miss Peregrine's Peculiar Children by Ransom Riggs
When Jacob visits mysterious island, he discovers its past as an orphanage full of orphans with peculiar talents…and they might still be alive. First book: Miss Peregrine's Home for Peculiar Children
Want more? We've got complete YA series to inhale right now, 100 must-read historical fantasy novels, and recommendations for first books in a new-to-you YA series!
What are your favorite YA book series?