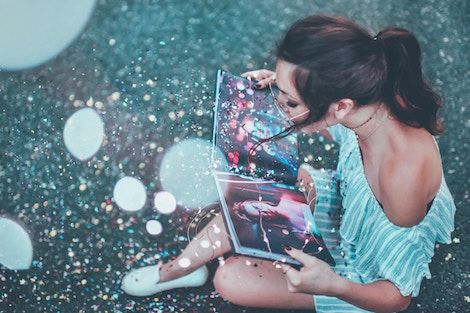 This content contains affiliate links. When you buy through these links, we may earn an affiliate commission.
We're giving away $500 to spend at the bookstore of your choice! Click here, or on the image below to enter:

---
Every quarter, I do a round-up of the YA books hitting shelves. But that list can be huge and overwhelming. Where do you start?
To make navigating that list a little bit easier, as well as to help make more helpful entry points into YA for new readers, once a month "3 On A YA Theme" will highlight three big YA fiction titles hitting shelves. These will range from big, buzzy titles to titles which, while maybe not as big, sound like ones Riot readers would love to know about. Since I can't read everything in time to post these pieces (though I do read an unbelievable amount of reviews of them), descriptions will come from Goodreads, with additional commentary where appropriate. Each month's list will also include one YA nonfiction title, to round out your reading.
So let's dive right into what you should hurry to put your holds on—or spend your cash on—for June 2018. Welcome to summer reading!
Not included on the list below are a number of highly-anticipated sequels, but do make sure you have Bruja Born by Zoraida Cordova, Smoke In The Sun by Renée Ahdieh, and The Reaper at the Gates by Sabaa Tahir on your radar.
Once upon a time, there was a girl named Maud who adored stories. When she was fourteen years old, Maud wrote in her journal, "I love books. I hope when I grow up to be able to have lots of them." Not only did Maud grow up to own lots of books, she wrote twenty-four of them herself as L. M. Montgomery, the world-renowned author of Anne of Green Gables. For many years, not a great deal was known about Maud's personal life. Her childhood was spent with strict, undemonstrative grandparents, and her reflections on writing, her lifelong struggles with anxiety and depression, her "year of mad passion," and her difficult married life remained locked away, buried deep within her unpublished personal journals. Through this revealing and deeply moving biography, kindred spirits of all ages who, like Maud, never gave up "the substance of things hoped for" will be captivated anew by the words of this remarkable woman.
Once upon a time, back at Darrow-Harker School, Beatrice Hartley and her six best friends were the cool kids, the beautiful ones. Then the shocking death of Jim—their creative genius and Beatrice's boyfriend—changed everything.
One year after graduation, Beatrice is returning to Wincroft—the seaside estate where they spent so many nights sharing secrets, crushes, plans to change the world—hoping she'll get to the bottom of the dark questions gnawing at her about Jim's death. But as the night plays out in a haze of stilted jokes and unfathomable silence, Beatrice senses she's never going to know what really happened.
Then a mysterious man knocks on the door. Blithely, he announces the impossible: time for them has become stuck, snagged on a splinter that can only be removed if the former friends make the harshest of decisions. Now Beatrice has one last shot at answers—and at life.
Charlie Grant's older sister is getting married this weekend at their family home, and Charlie can't wait—for the first time in years, all four of her older siblings will be under one roof. Charlie is desperate for one last perfect weekend, before the house is sold and everything changes. The house will be filled with jokes and games and laughs again. Making decisions about things like what college to attend and reuniting with longstanding crush Jesse Foster—all that can wait. She wants to focus on making the weekend perfect.
The only problem? The weekend is shaping up to be an absolute disaster.
There's the unexpected dog with a penchant for howling, house alarm that won't stop going off, and a papergirl with a grudge.
There are the relatives who aren't speaking, the (awful) girl her favorite brother brought home unannounced, and a missing tuxedo.
Not to mention the neighbor who seems to be bent on sabotage and a storm that is bent on drenching everything. The justice of the peace is missing. The band will only play covers. The guests are all crazy. And the wedding planner's nephew is unexpectedly, distractingly…cute.
Over the course of three ridiculously chaotic days, Charlie will learn more than she ever expected about the family she thought she knew by heart. And she'll realize that sometimes, trying to keep everything like it was in the past means missing out on the future.
Star-crossed lovers, meddling immortals, feigned identities, battles of wits, and dire warnings. These are the stuff of fairy tale, myth, and folklore that have drawn us in for centuries.
Fifteen bestselling and acclaimed authors reimagine the folklore and mythology of East and South Asia in short stories that are by turns enchanting, heartbreaking, romantic, and passionate.
Compiled by We Need Diverse Books's Ellen Oh and Elsie Chapman, the authors included in this exquisite collection are: Renee Ahdieh, Sona Charaipotra, Preeti Chhibber, Roshani Chokshi, Aliette de Bodard, Melissa de la Cruz, Julie Kagawa, Rahul Kanakia, Lori M. Lee, E. C. Myers, Cindy Pon, Aisha Saeed, Shveta Thakrar, and Alyssa Wong.
Want more "3 On A YA Theme" posts? Gotcha covered.