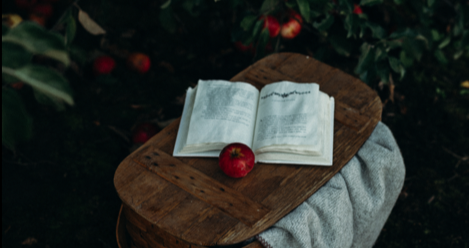 This content contains affiliate links. When you buy through these links, we may earn an affiliate commission.
This list of must-read fairytale retellings for adults and YA readers is sponsored by Everywhere You Want to Be by Christina June, Blink YA Books.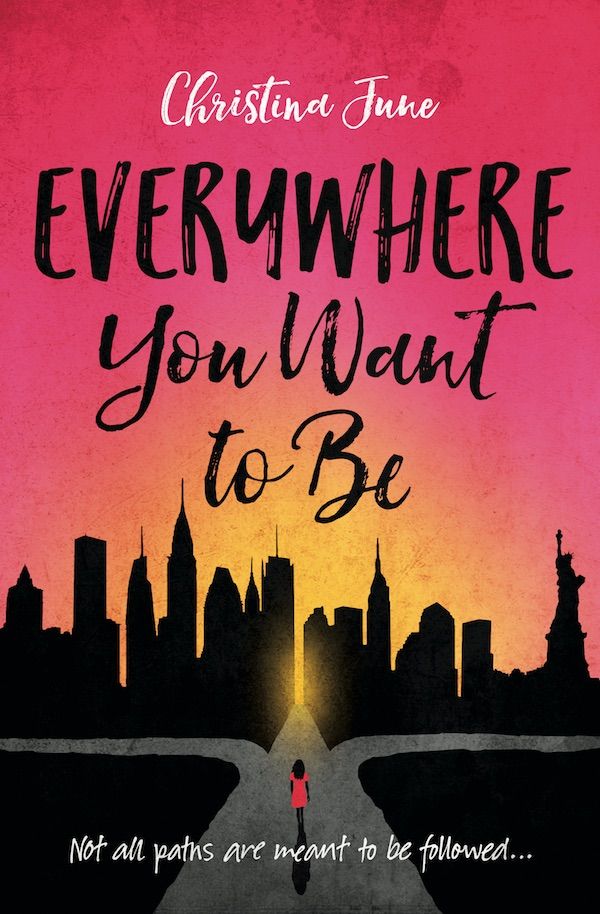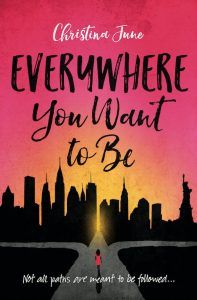 From author Christina June comes a new young adult novel, Everywhere You Want to Be, a modern retelling of the Red Riding Hood story. Tilly Castillo thought she lost her chance to be a contemporary dancer, but when a summer job in New York City appears, nothing can stop her from saying yes—not her mother, not the other cutthroat dancers, and not even her fears of the big city.
---
When I was 5, I told a fairytale lie. I was in kindergarten. I wanted to spend the night at a friend's house, but it was a school night so my mom said no. The next day I told the kindergarten teacher, Ms. Guffey, that my mom sometimes cooked me in the oven and I was too afraid to go home and could I please please please spend the night with my best friend?
My favorite fairy tale at the time? Hansel and Gretel.
Thankfully, my mom was not arrested and all turned out all right. Ms. Guffey knew my mom, and I had no burn marks. And perhaps I seemed like the kind of kid that would lie.
Despite my failure at fairytale lies, my love for the fairytale genre continued and continues. I love their darkness, their inconsistencies, their relentless hope despite the darkness. At this point, I've read so many fairy tales they've become metaphors for my life. When I was hospitalized due to heart problems last year, I couldn't help but think of Snow White.
When I started researching for this list, I went to Goodreads to see which books I'd marked as fairytale retellings. I had more than 200 books marked as such, and I've only been on Goodreads for a few years. Obviously, I have a bit of an obsessions. To cut down on what would've been a massive list (to make a slightly less massive list?), I decided to include only YA and Adult retellings. I plan to make a separate children's list at some point of middle grade and picture book retellings, which I also love. Even with cutting those, however, I still had to omit some books that I love!
I struggled a bit with the best way to organize the list. Ultimately, I decided to organize around themes. I've linked to the dominant fairy tales in each theme in the subheading, and linked to the other, similar fairy tales by each title. I love to read the fairy tale before or after I've read the retelling, and I've tried to make it easy for you to do the same. May your reading live happily ever after!
Blurbs come from Goodreads unless otherwise noted.
Beauty by Robin McKinley
"Beauty has never liked her nickname. She is thin and awkward; it is her two sisters who are the beautiful ones. But what she lacks in looks, she can perhaps make up for in courage. When her father comes home with the tale of an enchanted castle in the forest and the terrible promise he had to make to the Beast who lives there, Beauty knows she must go to the castle, a prisoner of her own free will. Her father protests that he will not let her go, but she answers, "Cannot a Beast be tamed?""
"Dragged to a magical kingdom for the murder of a faerie, Feyre discovers that her captor, his face obscured by a jewelled mask, is hiding far more than his piercing green eyes would suggest. Feyre's presence at the court is closely guarded, and as she begins to learn why, her feelings for him turn from hostility to passion and the faerie lands become an even more dangerous place. Feyre must fight to break an ancient curse, or she will lose him forever."
Beast by Brie Spangler
"Tall, meaty, muscle-bound, and hairier than most throw rugs, Dylan doesn't look like your average fifteen-year-old, so, naturally, high school has not been kind to him. To make matters worse, on the day his school bans hats (his preferred camouflage), Dylan goes up on his roof only to fall and wake up in the hospital with a broken leg—and a mandate to attend group therapy for self-harmers."
"Whistling Tor is a place of secrets, a mysterious, wooded hill housing the crumbling fortress of a chieftain whose name is spoken throughout the district in tones of revulsion and bitterness. A curse lies over Anluan's family and his people; those woods hold a perilous force whose every whisper threatens doom."
"Bryony and her sisters have come down in the world. Their merchant father died trying to reclaim his fortune and left them to eke out a living in a village far from their home in the city. But when Bryony is caught in a snowstorm and takes refuge in an abandoned manor, she stumbles into a house full of dark enchantments. Is the Beast that lives there her captor, or a fellow prisoner? Is the house her enemy or her ally? And why are roses blooming out of season in the courtyard?"
"Agnieszka loves her valley home, her quiet village, the forests and the bright shining river. But the corrupted Wood stands on the border, full of malevolent power, and its shadow lies over her life. Her people rely on the cold, driven wizard known only as the Dragon to keep its powers at bay. But he demands a terrible price for his help: one young woman handed over to serve him for ten years, a fate almost as terrible as falling to the Wood."
"Yoshifuji is a man fascinated by foxes, a man discontented and troubled by the meaning of life. A misstep at court forces him to retire to his long-deserted country estate, to rethink his plans and contemplate the next move that might return him to favor and guarantee his family's prosperity.
Kitsune is a young fox who is fascinated by the large creatures that have suddenly invaded her world. She is drawn to them and to Yoshifuji. She comes to love him and will do anything to become a human woman to be with him."
"Larissa Lai interweaves three narrative voices and their attendant cultures: an elusive fox growing toward wisdom and her 1000 birthday, the ninth-century Taoist poet/nun Yu Hsuan-Chi (a real person executed in China for murder), and the oddly named Artemis, a young Asian American woman living in contemporary Vancouver. With beautiful and enchanting prose, and a sure narrative hand, Lai combines Chinese mythology, the sexual politics of medieval China, and modern-day Vancouver to masterfully revise the myth of the Fox (a figure who can inhibit women's bodies in order to cause mischief)."
"Rollrock island is a lonely rock of gulls and waves, blunt fishermen and their homely wives. Life is hard for the families who must wring a poor living from the stormy seas. But Rollrock is also a place of magic—the scary, salty-real sort of magic that changes lives forever. Down on the windswept beach, where the seals lie in herds, the outcast sea witch Misskaella casts her spells—and brings forth girls from the sea—girls with long, pale limbs and faces of haunting innocence and loveliness—the most enchantingly lovely girls the fishermen of Rollrock have ever seen."
"After the loss of his wife, Scottish fiddle player Richard Brennan moves to Australia to escape the ghosts of his former life. Six years later, he returns for his father's funeral and decides to remain in his father's desolate cottage in the north of Scotland, gathering together the threads of his former life, scratching out a living playing music. Then Richard meets Ailish, the enigmatic young woman who's ethereal singing haunts the bay by moonlight."
"One night, George Duncan—decent man, a good man—is woken by a noise in his garden. Impossibly, a great white crane has tumbled to earth, shot through its wing by an arrow. Unexpectedly moved, George helps the bird, and from the moment he watches it fly off, his life is transformed."
"In a Balkan country mending from years of conflict, Natalia, a young doctor, arrives on a mission of mercy at an orphanage by the sea. By the time she and her lifelong friend Zóra begin to inoculate the children there, she feels age-old superstitions and secrets gathering everywhere around her. Secrets her outwardly cheerful hosts have chosen not to tell her. Secrets involving the strange family digging for something in the surrounding vineyards. Secrets hidden in the landscape itself."
"A wry, affecting tale set in a small town on the Indonesian coast, Man Tiger tells the story of two interlinked and tormented families and of Margio, a young man ordinary in all particulars except that he conceals within himself a supernatural female white tiger. The inequities and betrayals of family life coalesce around and torment this magical being. An explosive act of violence follows, and its mysterious cause is unraveled as events progress toward a heartbreaking revelation."
"The beautiful Indo prostitute Dewi Ayu and her four daughters are beset by incest, murder, bestiality, rape, insanity, monstrosity, and the often-vengeful undead. Kurniawan's gleefully grotesque hyperbole functions as a scathing critique of his young nation's troubled past: the rapacious offhand greed of colonialism; the chaotic struggle for independence; the 1965 mass murders of perhaps a million 'Communists,' followed by three decades of Suharto's despotic rule."
If the shoe fits, maybe don't cut off your toe: Cinderella and similar tales
Ash by Malinda Lo
"In the wake of her father's death, Ash is left at the mercy of her cruel stepmother. Consumed with grief, her only joy comes by the light of the dying hearth fire, rereading the fairy tales her mother once told her. In her dreams, someday the fairies will steal her away, as they are said to do. When she meets the dark and dangerous fairy Sidhean, she believes that her wish may be granted."
Happily by Chauncey Rogers
"Laure is a teenage street urchin just trying to get away. Where the rest of the world sees an enchanting love story, Laure sees royal incompetence and an opportunity to exploit it. She'll have wealth and a way out of a life she detests, if she can only manage to hoodwink the royal family and survive to tell the tale."
Cinder by Marissa Meyer
"CINDER, a gifted mechanic in New Beijing, is also a cyborg. She's reviled by her stepmother and blamed for her stepsister's sudden illness. But when her life becomes entwined with the handsome Prince Kai's, she finds herself at the centre of a violent struggle between the desires of an evil queen—and a dangerous temptation."
"Geek girl Elle Wittimer lives and breathes Starfield, the classic science-fiction series she grew up watching with her late father. So when she sees a cosplay contest for a new Starfield movie, she has to enter. The prize? An invitation to the ExcelsiCon Cosplay Ball and a meet-and-greet with the actor slated to play Federation Prince Carmindor in the reboot. With savings from her gig at the Magic Pumpkin food truck and her dad's old costume, Elle's determined to win—unless her stepsisters get there first."
"As Princess Lissla Lissar reaches womanhood, it is clear to all the kingdom that in her beauty she is the image of her dead mother, the queen. But this likeness forces her to flee from her father's lust and madness; and in the pain and horror of that flight she forgets who she is and what it is she flees from: forgets almost everything but the love and loyalty of her dog, Ash, who accompanies her. But a chance encounter on the road leads to a job in another king's kennels, where the prince finds himself falling in love with the new kennel maid…and one day he tells her of a princess named Lissla Lissar, who had a dog named Ash."
Is it ever okay to kiss someone you think is dead?: Snow White and Similar Tales
"BOY Novak turns twenty and decides to try for a brand-new life. Flax Hill, Massachusetts, isn't exactly a welcoming town, but it does have the virtue of being the last stop on the bus route she took from New York. Flax Hill is also the hometown of Arturo Whitman—craftsman, widower, and father of Snow. SNOW is mild-mannered, radiant and deeply cherished—exactly the sort of little girl Boy never was, and Boy is utterly beguiled by her. If Snow displays a certain inscrutability at times, that's simply a characteristic she shares with her father, harmless until Boy gives birth to Snow's sister, Bird. When BIRD is born Boy is forced to re-evaluate the image Arturo's family have presented to her, and Boy, Snow and Bird are broken apart."
[I recommend reading Melinda Guerra's
critique of transphobia
in the novel, however.]
"Eighteen-year-old Xifeng is beautiful. The stars say she is destined for greatness, that she is meant to be Empress of Feng Lu. But only if she embraces the darkness within her. Growing up as a peasant in a forgotten village on the edge of the map, Xifeng longs to fulfill the destiny promised to her by her cruel aunt, the witch Guma, who has read the cards and seen glimmers of Xifeng's majestic future. But is the price of the throne too high?"
"Forget the dark, enchanted forest. Picture instead a masterfully evoked Old West where you are more likely to find coyotes as the seven dwarves. Insert into this scene a plain-spoken, appealing narrator who relates the history of our heroine's parents—a Nevada silver baron who forced the Crow people to give up one of their most beautiful daughters, Gun That Sings, in marriage to him. Although her mother's life ended as hers began, so begins a remarkable tale: equal parts heartbreak and strength. This girl has been born into a world with no place for a half-native, half-white child. After being hidden for years, a very wicked stepmother finally gifts her with the name Snow White, referring to the pale skin she will never have."
"Frozen meets The Bloody Chamber in this feminist fantasy reimagining of the Snow White fairytale. Entwining the stories of both Lynet and Mina in the past and present, Girls Made of Snow and Glass traces the relationship of two young women doomed to be rivals from the start. Only one can win all, while the other must lose everything—unless both can find a way to reshape themselves and their story."
"In Snow White, Donald Barthelme subjects the traditional fairy tale to postmodern aesthetics. In the novel, the seven dwarves are men who live communally with Snow White and earn a living by washing buildings and making Chinese baby food. Snow White quotes Mao and the dwarves grapple with low self-esteem in this raucous retelling of the classic tale."
"Lorelai Diederich, crown princess and fugitive at large, has one mission: kill the wicked queen who took both the Ravenspire throne and the life of her father. To do that, Lorelai needs to use the one weapon she and Queen Irina have in common—magic. She'll have to be stronger, faster, and more powerful than Irina, the most dangerous sorceress Ravenspire has ever seen."
"The year is 1502, and seven-year-old Bianca de Nevada lives perched high above the rolling hills and valleys of Tuscany and Umbria at Montefiore, the farm of her beloved father, Don Vicente. There she spends her days cosseted by Primavera Vecchia, the earthy cook, and Fra Ludovico, a priest who tends to their souls between bites of ham and sips of wine. But one day a noble entourage makes its way up the winding slopes to the farm—and the world comes to Montefiore. In the presence of Cesare Borgia and his sister, the lovely and vain Lucrezia—decadent children of a wicked pope—no one can claim innocence for very long. When Borgia sends Don Vicente on a years-long quest to reclaim a relic of the original Tree of Knowledge, he leaves Bianca under the care—so to speak—of Lucrezia. She plots a dire fate for the young girl in the woods below the farm, but in the dark forest there can be found salvation as well."
"Liga lives modestly in her own personal heaven, a world given to her in exchange for her earthly life. Her two daughters grow up in this soft place, protected from the violence that once harmed their mother. But the real world cannot be denied forever—magicked men and wild bears break down the borders of Liga's refuge. Now, having known Heaven, how will these three women survive in a world where beauty and brutality lie side by side?"
"Patricia C. Wrede, the best-selling author of Caught In Crystal and other beloved fantasy novels, brings Snow White and Rose Red back to an adult audience, in this romantic and magical retelling set in the enchanted forests of England at the time of Queen Elizabeth."
"Death hasn't visited Rowan Rose since it took her mother when Rowan was only a little girl. But that changes one bleak morning, when five horses and their riders thunder into her village and through the forest, disappearing into the hills. Days later, the riders' bodies are found, and though no one can say for certain what happened in their final hours, their remains prove that whatever it was must have been brutal. Rowan's village was once a tranquil place, but now things have changed. Something has followed the path those riders made and has come down from the hills, through the forest, and into the village. Beast or man, it has brought death to Rowan's door once again. Only this time, its appetite is insatiable."
Sleeping, Imprisoned, and threatened, or why it sucks to be a woman in a fairy tale: Sleeping Beauty and other tales.
"Carol Evers is a woman with a dark secret. She has died many times…but her many deaths are not final: They are comas, a waking slumber indistinguishable from death, each lasting days. Only two people know of Carol's eerie condition. One is her husband, Dwight, who married Carol for her fortune, and—when she lapses into another coma—plots to seize it by proclaiming her dead and quickly burying her…alive. The other is her lost love, the infamous outlaw James Moxie. When word of Carol's dreadful fate reaches him, Moxie rides the Trail again to save his beloved from an early, unnatural grave."
"Ever since she was a child, Rebecca has been enchanted by her grandmother Gemma's stories about Briar Rose. But a promise Rebecca makes to her dying grandmother will lead her on a remarkable journey to uncover the truth of Gemma's astonishing claim: I am Briar Rose. A journey that will lead her to unspeakable brutality and horror. But also to redemption and hope."
"From award-winning author Genevieve Valentine, a "gorgeous and bewitching" (Scott Westerfeld) reimagining of the fairytale of the Twelve Dancing Princesses as flappers during the Roaring Twenties in Manhattan."
"French novelist Charlotte-Rose de la Force has been banished from the court of Versailles by the Sun King, Louis XIV, after a series of scandalous love affairs. At the convent, she is comforted by an old nun, Sœur Seraphina, who tells her the tale of a young girl who, a hundred years earlier, is sold by her parents for a handful of bitter greens…"
"Charlotte Miller has always scoffed at talk of a curse on her family's woolen mill, which holds her beloved small town together. But after her father's death, the bad luck piles up: departing workers, impossible debts, an overbearing uncle. Then a stranger named Jack Spinner offers a tempting proposition: He can turn straw into gold thread, for the small price of her mother's ring. As Charlotte is drawn deeper into her bargains with Spinner—and a romance with the local banker—she must unravel the truth of the curse on the mill and save the community she's always called home."
Alive is better than dead: Bluebeard and similar tales.
"Young Rhea is a miller's daughter of low birth, so she is understandably surprised when a mysterious nobleman, Lord Crevan, shows up on her doorstep and proposes marriage. Since commoners don't turn down lords—no matter how sinister they may seem—Rhea is forced to agree to the engagement."
"Atwood brilliantly recasts the monster as Zenia, a villainess of demonic proportions, and sets her loose in the lives of three friends, Tony, Charis, and Roz. All three have lost men, spirit, money, and time to their old college acquaintance, Zenia. At various times, and in various emotional disguises, Zenia has insinuated her way into their lives and practically demolished them."
"It's a bright afternoon in 1938 and Mary Foxe is in a confrontational mood. St. John Fox, celebrated novelist, hasn't seen her in six years. He's unprepared for her afternoon visit, not least because she doesn't exist. He's infatuated with her. But he also made her up. 'You're a villain,' she tells him. 'A serial killer…can you grasp that?' Will Mr. Fox meet his muse's challenge, to stop murdering his heroines and explore something of love? What will his wife Daphne think of this sudden change in her husband? Can there be a happy ending—this time?"
"Vernelia, Amy, and Catherine Charter are the three young townswomen whose father falls under the Reverend Fitcher's hypnotic sway. In their old house, where ghostly voices whisper from the walls, the girls are ruled by their stepmother, who is ruled in turn by the fiery preacher. Determined to spend Eternity as a married man, Fitcher casts his eye on Vernelia, and before much longer the two are wed. But living on the man's estate, separated from her family, Vern soon learns the extent of her husband's dark side. It's rumored that he's been married before, though what became of those wives she does not know. Perhaps the secret lies in the locked room at the very top of the house—the single room that the Reverend Fitcher has forbidden to her."
"The Crescent Moon Kingdoms, home to djenn and ghuls, holy warriors and heretics, are at the boiling point of a power struggle between the iron-fisted Khalif and the mysterious master thief known as the Falcon Prince. In the midst of this brewing rebellion a series of brutal supernatural murders strikes at the heart of the Kingdoms. It is up to a handful of heroes to learn the truth behind these killings."
"Set in an exotic Eastern landscape peopled by magicians and fantastic talking animals, Salman Rushdie's classic children's novel Haroun and the Sea of Stories inhabits the same imaginative space as The Lord of the Rings, The Alchemist, and The Wizard of Oz. In this captivating work of fantasy from the author of Midnight's Children and The Enchantress of Florence, Haroun sets out on an adventure to restore the poisoned source of the sea of stories. On the way, he encounters many foes, all intent on draining the sea of all its storytelling powers."
"In a land ruled by a murderous boy-king, each dawn brings heartache to a new family. Khalid, the eighteen-year-old Caliph of Khorasan, is a monster. Each night he takes a new bride only to have a silk cord wrapped around her throat come morning. When sixteen-year-old Shahrzad's dearest friend falls victim to Khalid, Shahrzad vows vengeance and volunteers to be his next bride. Shahrzad is determined not only to stay alive, but to end the caliph's reign of terror once and for all."
"Erotic, brutal, witty and poetic, One Thousand and One Nights are the never-ending stories told by the young Shahrazad under sentence of death to King Shahrayar. Maddened by the discovery of his wife's orgies, King Shahrayar believes all women are unfaithful and vows to marry a virgin every night and kill her in the morning. To survive, his newest wife Shahrazad spins a web of tales night after night, leaving the King in suspense when morning comes, thus prolonging her life for another day."
Tales of a Severed Head by Rachida Madani, translated by Marilyn Hacker
"This volume brings Moroccan poet Rachida Madani's remarkable poems to English-language readers for the first time. In Tales of a Severed Head, Madani addresses present-day issues surrounding the role of women in society—issues not unlike those explored a thousand years ago in the enduring collection of Arab tales known as The Thousand and One Nights."
"In an unnamed Middle Eastern security state, a young Arab-Indian hacker shields his clients—dissidents, outlaws, Islamists, and other watched groups—from surveillance and tries to stay out of trouble. He goes by Alif—the first letter of the Arabic alphabet, and a convenient handle to hide behind. The aristocratic woman Alif loves has jilted him for a prince chosen by her parents, and his computer has just been breached by the state's electronic security force, putting his clients and his own neck on the line. Then it turns out his lover's new fiancé is the 'Hand of God,' as they call the head of state security, and his henchmen come after Alif, driving him underground."
"In the woods that border Lynn Hall, free-spirited Rois Melior roams wild and barefooted in search of healing herbs. She is as hopelessly unbridled—and unsuited for marriage—as her betrothed sister Laurel is domestic. In Corbet's pale green eyes, Rois senses a desperate longing. In her restless dreams, mixed with the heady warmth of harvest wine, she hears him beckon. And as autumn gold fades, Rois is consumed with Corbet Lynn, obsessed with his secret past—until, across the frozen countryside and in flight from her own imagination, truth and dreams become inseparable…"
"Imogen and her sister Marin have escaped their cruel mother to attend a prestigious artists' retreat, but soon learn that living in a fairy tale requires sacrifices, be it art or love. What would you sacrifice in the name of success? How much does an artist need to give up to create great art?"
Tam Lin by Pamela Dean
"In this version of 'Tam Lin,' masterfully crafted by Pamela Dean, Janet is a college student, 'Carterhaugh' is Carter Hall at the university where her father teaches, and Tam Lin is a boy named Thomas Lane. Set against the backdrop of the early 1970s, imbued with wit, poetry, romance, and magic, Tam Lin has become a cult classic—and once you begin reading, you'll know why."
"Genie Lo is one among droves of Ivy-hopeful overachievers in her sleepy Bay Area suburb. You know, the type who wins. When she's not crushing it at volleyball or hitting the books, Genie is typically working on how to crack the elusive Harvard entry code. But when her hometown comes under siege from hellspawn straight out of Chinese folklore, her priorities are dramatically rearranged."
"In a family not at all reminiscent of Laura Ingalls Wilder's Little House on the Prairie, four Japanese-Canadian sisters struggle to escape the bonds of a family and landscape as inhospitable as the sweltering prairie heat. Their father, moved by an incredible dream of optimism, decides to migrate from the lush green fields of British Columbia to Alberta. There, he is determined to deny the hard-pan limitations of the prairie and to grow rice. Despite a dearth of both water and love, the family discovers, through sorrow and fear, the green kiss of the Kappa Child, a mythical creature who blesses those who can imagine its magic…"
Baba Yaga is a cool name: Vasilissa the beautiful and similar Russian/Eastern European tales.
Baba Yaga Laid an Egg by Dubravka Ugrešić, Translated by Ellen Elias-Bursać
""Baba Yaga is an old hag who lives in a house built on chicken legs and kidnaps small children. She is one of the most pervasive and powerful creatures in all mythology.
"But what does she have to do with a writer's journey to Bulgaria in 2007 on behalf of her mother?
"Or with a trio of women who decide in their old age to spend a week together at a hotel spa?
By the end of Dubravka Ugresic's novel, the answers are revealed. Her story is shot through with spellbinding, magic, involving a gambling triumph, sudden death on the golf course, a long-lost grandchild, an invasion of starlings, and wartime flight, the consequences of which are revealed only decades later."
"In Vassa's neighborhood, where she lives with her stepmother and bickering stepsisters, one might stumble onto magic, but stumbling away again could become an issue. Babs Yagg, the owner of the local convenience store, has a policy of beheading shoplifters—and sometimes innocent shoppers as well. So when Vassa's stepsister sends her out for light bulbs in the middle of night, she knows it could easily become a suicide mission."
"At the edge of the Russian wilderness, winter lasts most of the year and the snowdrifts grow taller than houses. But Vasilisa doesn't mind—she spends the winter nights huddled around the embers of a fire with her beloved siblings, listening to her nurse's fairy tales. Above all, she loves the chilling story of Frost, the blue-eyed winter demon, who appears in the frigid night to claim unwary souls. Wise Russians fear him, her nurse says, and honor the spirits of house and yard and forest that protect their homes from evil."
"Returning from war, Prince Ronan of Serre accidentally tramples a white hen in the road—and earns a witch's curse. Her words are meaningless to a man mourning his dead wife and child, but they come to pass all the same; Ronan has not been home a day before his father insists on an arranged marriage. As he gazes into the forest, desperate for a way out, Ronan glimpses a wonderful firebird perched on a nearby branch. He follows where it leads him—into a sideways world where his father's palace no longer exists. But his intended, the beautiful Princess Sidonie, is on her way to the palace. And her fate depends on Ronan wanting to find his way home…"
"Deathless, however, is no dry, historical tome: it lights up like fire as the young Marya Morevna transforms from a clever child of the revolution, to Koschei's beautiful bride, to his eventual undoing. Along the way there are Stalinist house elves, magical quests, secrecy and bureaucracy, and games of lust and power. All told, Deathless is a collision of magical history and actual history, of revolution and mythology, of love and death, which will bring Russian myth back to life in a stunning new incarnation."
You might get eaten, and other childhood lessons.
"Little Red Riding Hood in the Red Light District is Manlio Argueta's most popular novel in El Salvador. It has gone through eight editions and has been newly revised by the author for this English translation. The story revolves around the relationship of two young lovers in a time of political upheaval Manlio Argueta's novels have earned him an international reputation and have endeared him to the Salvadoran people. Caperucita en la zona roja received the Casa de las Americas Prize in 1977."
"Scarlett March lives to hunt the Fenris—the werewolves that took her eye when she was defending her sister Rosie from a brutal attack. Armed with a razor-sharp hatchet and blood-red cloak, Scarlett is an expert at luring and slaying the wolves. She's determined to protect other young girls from a grisly death, and her raging heart will not rest until every single wolf is dead."
"In the last months of the Nazi occupation of Poland, two children are left by their father and stepmother to find safety in a dense forest. Because their real names will reveal their Jewishness, they are renamed "Hansel" and "Gretel." They wander in the woods until they are taken in by Magda, an eccentric and stubborn old woman called "witch" by the nearby villagers. Magda is determined to save them, even as a German officer arrives in the village with his own plans for the children. Louise Murphy's haunting novel of journey and survival, of redemption and memory, powerfully depicts how war is experienced by families and especially by children."
"Vienna, 1899. Josef Breuer—celebrated psychoanalyst—is about to encounter his strangest case yet. Found by the lunatic asylum, thin, head shaved, she claims to have no name, no feelings—to be, in fact, not even human. Intrigued, Breuer determines to fathom the roots of her disturbance. Years later, in Germany, we meet Krysta. Krysta's Papa is busy working in the infirmary with the 'animal people,' so little Krysta plays alone, lost in the stories of Hansel and Gretel, the Pied Piper, and more. And when everything changes and the world around her becomes as frightening as any fairy tale, Krysta finds her imagination holds powers beyond what she could have ever guessed…"
"Alaska, 1920: a brutal place to homestead, and especially tough for recent arrivals Jack and Mabel. Childless, they are drifting apart—he breaking under the weight of the work of the farm; she crumbling from loneliness and despair. In a moment of levity during the season's first snowfall, they build a child out of snow. The next morning the snow child is gone—but they glimpse a young, blonde-haired girl running through the trees."
"Apollo Kagwa has had strange dreams that have haunted him since childhood. An antiquarian book dealer with a business called Improbabilia, he is just beginning to settle into his new life as a committed and involved father, unlike his own father who abandoned him, when his wife Emma begins acting strange. Disconnected and uninterested in their new baby boy, Emma at first seems to be exhibiting all the signs of post-partum depression, but it quickly becomes clear that her troubles go far beyond that. Before Apollo can do anything to help, Emma commits a horrific act—beyond any parent's comprehension—and vanishes, seemingly into thin air."
"On a summer night, Henry Day runs away from home and hides in a hollow tree. There he is taken by the changelings—an unaging tribe of wild children who live in darkness and in secret. They spirit him away, name him Aniday, and make him one of their own. Stuck forever as a child, Aniday grows in spirit, struggling to remember the life and family he left behind. He also seeks to understand and fit in this shadow land, as modern life encroaches upon both myth and nature."
"It's Carnival time, and the Caribbean-colonized planet of Toussaint is celebrating with music, dance and pageantry. Masked 'Midnight Robbers' waylay revelers with brandished weapons and spellbinding words. But to young Tan-Tan, the Robber Queen is simply a favourite costume to wear at the festival—until her power-corrupted father commits an unforgivable crime."
If you like birds (why wouldn't you like birds?)
"Princess Alyrra has never enjoyed the security or power of her rank. Between her family's cruelty and the court's contempt, she has spent her life in the shadows. Forced to marry a powerful foreign prince, Alyrra embarks on a journey to meet her betrothed with little hope for a better future."
"Lovely Sorcha is the seventh child and only daughter of Lord Colum of Sevenwaters. Bereft of a mother, she is comforted by her six brothers who love and protect her. Sorcha is the light in their lives, they are determined that she know only contentment. But Sorcha's joy is shattered when her father is bewitched by his new wife, an evil enchantress who binds her brothers with a terrible spell, a spell which only Sorcha can lift—by staying silent. If she speaks before she completes the quest set to her by the Fair Folk and their queen, the Lady of the Forest, she will lose her brothers forever."
"This novel focuses on two outcasts on two journeys in two eras. In 1689 England, Lady Eliza Grey's 11 brothers are turned into swans. Rejected by her father, Eliza is flown to America by her brothers where she has a chance to save them—until she is accused of witchcraft. In the second story, set in 1981 New York, Elias Latham has AIDS, is banished from his father's house, and must learn to live on the streets. Like Eliza, Elias struggles to understand the suffering he must endure."
"This is the story of Uguisu, a young woman with an extraordinary gift for song, who is brought to the Emperor's palace to be the greatest of his many possessions. Her song can bring tears to a courtier's eyes, but it is her wit, her courage, and her heart that must serve her best of all."
Sometimes the man just ain't worth it.
Redemption in Indigo by Karen Lord (Ansige Karamba the Glutton)
"A tale of adventure, magic, and the power of the human spirit. Paama's husband is a fool and a glutton. Bad enough that he followed her to her parents' home in the village of Makendha—now he's disgraced himself by murdering livestock and stealing corn. When Paama leaves him for good, she attracts the attention of the undying ones—the djombi— who present her with a gift: the Chaos Stick, which allows her to manipulate the subtle forces of the world. Unfortunately, a wrathful djombi with indigo skin believes this power should be his and his alone."
"When the children of his village were struck with a mysterious illness, Number Ten Ox sought a wiseman to save them. He found master Li Kao, a scholar with a slight flaw in his character. Together, they set out to find the Great Root of Power, the only possible cure."
"Princess Lira is siren royalty and the most lethal of them all. With the hearts of seventeen princes in her collection, she is revered across the sea. Until a twist of fate forces her to kill one of her own. To punish her daughter, the Sea Queen transforms Lira into the one thing they loathe most—a human. Robbed of her song, Lira has until the winter solstice to deliver Prince Elian's heart to the Sea Queen or remain a human forever."
"Be careful what you wish for. A small town librarian lives a quiet life without much excitement. One day, she mutters an idle wish and, while standing in her house, is struck by lightning. But instead of ending her life, this cataclysmic event sparks it into a new beginning."
You can never have too much of a good thing: Mashups and inspired by.
"When Amos Tutuola's first novel, The Palm-Wine Drinkard, appeared in 1952, it aroused exceptional worldwide interest. Drawing on the West African (Nigeria) Yoruba oral folktale tradition, Tutuola described the odyssey of a devoted palm-wine drinker through a nightmare of fantastic adventure. Since then, The Palm-Wine Drinkard has been translated into more than 15 languages and has come to be regarded as a masterwork of one of Africa's most influential writers."
"All her life, nineteen-year-old Liesl has heard tales of the beautiful, mysterious Goblin King. He is the Lord of Mischief, the Ruler Underground, and the muse around which her music is composed. Yet, as Liesl helps shoulder the burden of running her family's inn, her dreams of composition and childish fancies about the Goblin King must be set aside in favor of more practical concerns."
"On the eve of her wedding, a young queen sets out to rescue a princess from an enchantment. She casts aside her fine wedding clothes, takes her chain mail and her sword and follows her brave dwarf retainers into the tunnels under the mountain towards the sleeping kingdom. This queen will decide her own future—and the princess who needs rescuing is not quite what she seems."
"High in his attic bedroom, twelve-year-old David mourns the death of his mother, with only the books on his shelf for company. But those books have begun to whisper to him in the darkness. Angry and alone, he takes refuge in his imagination and soon finds that reality and fantasy have begun to meld. While his family falls apart around him, David is violently propelled into a world that is a strange reflection of his own—populated by heroes and monsters and ruled by a faded king who keeps his secrets in a mysterious book, The Book of Lost Things."
"A foundling, an old book of dark fairy tales, a secret garden, an aristocratic family, a love denied, and a mystery. The Forgotten Garden is a captivating, atmospheric and compulsively readable story of the past, secrets, family and memory from the international best-selling author Kate Morton."
"Seventeen-year-old Alice and her mother have spent most of Alice's life on the road, always a step ahead of the uncanny bad luck biting at their heels. But when Alice's grandmother, the reclusive author of a cult-classic book of pitch-dark fairy tales, dies alone on her estate, the Hazel Wood, Alice learns how bad her luck can really get: her mother is stolen away—by a figure who claims to come from the Hinterland, the cruel supernatural world where her grandmother's stories are set. Alice's only lead is the message her mother left behind: 'Stay away from the Hazel Wood.'"
"Once upon a time there was a fairy godmother named Desiderata who had a good heart, a wise head, and poor planning skills—which unfortunately left the Princess Emberella in the care of her other (not quite so good and wise) godmother when DEATH came for Desiderata. So now it's up to Magrat Garlick, Granny Weatherwax, and Nanny Ogg to hop on broomsticks and make for far-distant Genua to ensure the servant girl doesn't marry the Prince."
"When a savage creature known only as the Adversary conquered the fabled lands of legends and fairy tales, all of the infamous inhabitants of folklore were forced into exile. Disguised among the normal citizens of modern-day New York, these magical characters have created their own peaceful and secret society within an exclusive luxury apartment building called Fabletown. But when Snow White's party-girl sister, Rose Red, is apparently murdered, it is up to Fabletown's sheriff, a reformed and pardoned Big Bad Wolf (Bigby Wolf), to determine if the killer is Bluebeard, Rose's ex-lover and notorious wife killer, or Jack, her current live-in boyfriend and former beanstalk-climber."
"What would happen if an author went back to the darker themes of the original fairy tales for his plots, and then crossed the Disney princesses with 'Charlie's Angels?' Hines delivers a new take on what happened to Cinderella and her prince after the wedding. Original."
Collections and Anthologies.
"The magnificent title story of this collection of fairy tales for adults describes the strange and uncanny relationship between its extravagantly intelligent heroine—a world renowned scholar of the art of story-telling—and the marvelous being that lives in a mysterious bottle, found in a dusty shop in an Istanbul bazaar. As A.S. Byatt renders this relationship with a powerful combination of erudition and passion, she makes the interaction of the natural and the supernatural seem not only convincing, but inevitable."
"To read Hermann Hesse's fairy tales is to enter a fabulous world of dreams and visions, philosophy and passion. This landmark collection contains twenty-two of Hesse's finest stories in this genre, most translated into English here for the first time. Full of visionaries and seekers, princesses and wandering poets, his fairy tales speak to the place in our psyche that inspires us with deep spiritual longing; that compels us to leave home, and inevitably to return; and that harbors the greatest joys and most devastating wounds of our heart."
"How would it be if Snow White were the real villain & the wicked queen just a sadly maligned innocent? What if awakening the Sleeping Beauty should be the mistake of a lifetime—of several lifetimes? What if the famous folk tales were retold with an eye to more horrific possibilities? Only Tanith Lee could do justice to it."
"Thirteen tales are unspun from the deeply familiar, and woven anew into a collection of fairy tales that wind back through time. Acclaimed Irish author Emma Donoghue reveals heroines young and old in unexpected alliances—sometimes treacherous, sometimes erotic, but always courageous. Told with luminous voices that shimmer with sensuality and truth, these age-old characters shed their antiquated cloaks to travel a seductive new landscape, radiantly transformed."
"Anne Sexton breathes new life into sixteen age-old Brothers Grimm fairy tales, reimagining them as poems infused with contemporary references, feminist ideals, and morbid humor. Grounded by nods to the ordinary—a witch's blood "began to boil up/like Coca-Cola" and Snow White's bodice is "as tight as an Ace bandage"—Sexton brings the stories out of the realm of the fantastical and into the everyday world. Stripping away their magical sheen, she exposes the flawed notions of family, gender, and morality within the stories that continue to pervade our collective psyche."
"Science-minded fox spirits, tiger wives, books that can be read by anyone but their owner—these and more appear in Yoon Ha Lee's flash fairy tales. Previously available online, they have now been collected in this volume along with four new stories and an introduction by the author."
"Escaping the poisoned apple, Snow frees herself from possession to find the truth of love in an unexpected place. A club girl from L.A., awakening from a long sleep to the memories of her past, finally finds release from its curse. And Beauty learns that Beasts can understand more than men. Within these singular, timeless landscapes, the brutal and the magical collide, and the heroine triumphs because of the strength she finds in a pen, a paintbrush, a lover, a friend, a mother, and finally, in herself."
"In A Wild Swan and Other Tales, the people and the talismans of lands far, far away, the mythic figures of our childhoods and the source of so much of our wonder are transformed by Michael Cunningham into stories of sublime revelation. Here are the moments that our fairy tales forgot or deliberately concealed: the years after a spell is broken, the rapturous instant of a miracle unexpectedly realized, or the fate of a prince only half cured of a curse."
"Angela Carter was a storytelling sorceress, the literary godmother of such contemporary masters of supernatural fiction as Neil Gaiman, David Mitchell, Audrey Niffenegger, J. K. Rowling, and Kelly Link, who introduces this edition of Carter's most celebrated book, published for the seventy-fifth anniversary of her birth."
"Vanishings and apparitions, nightmares and twists of fate, mysterious ailments and supernatural interventions haunt these stories by the Russian master Ludmilla Petrushevskaya, heir to the spellbinding tradition of Gogol and Poe. Blending the miraculous with the macabre, and leavened by a mischievous gallows humor, these bewitching tales are like nothing being written in Russia—or anywhere else in the world-today."
"In Kate Bernheimer's familiar and spare—yet wondrous—world, an exotic dancer builds her own cage, a wife tends a secret basement menagerie, a fishmonger's daughter befriends a tulip bulb, and sisters explore cycles of love and violence by reenacting scenes from Star Wars."
"Spanning a variety of genres—fantasy, science fiction, horror—and time periods, Silvia Moreno-Garcia's exceptional debut collection features short stories infused with Mexican folklore yet firmly rooted in a reality that transforms as the fantastic erodes the rational. This speculative fiction compilation, lyrical and tender, quirky and cutting, weaves the fantastic and the horrific alongside the touchingly human."
"Sinister and inviting, familiar and alien all at the same time, The Merry Spinster updates traditional children's stories and fairy tales with elements of psychological horror, emotional clarity, and a keen sense of feminist mischief…Bed time will never be the same."
"Through the lens of Link's vivid imagination, nothing is what it seems, and everything deserves a second look. From the multiple award-winning The Faery Handbag, in which a teenager's grandmother carries an entire village (or is it a man-eating dog?) in her handbag, to the near-future of The Surfer, whose narrator (a soccer-playing skeptic) waits with a planeload of refugees for the aliens to arrive, Link's stories are funny and full of unexpected insights and skewed perspectives on the world."
"Goss's collection of 16 gothic stories possesses a spare, surprising beauty, though her modern-day characters, like those in fairy tales, are constrained by the hard lessons she sets out to teach." —from Publisher's Weekly
Wolves and Witches by Amanda C. Davis and Megan engelhardt
"Witches have stories too. So do mermaids, millers' daughters, princes (charming or otherwise), even big bad wolves. They may be a bit darker—fewer enchanted ball gowns, more iron shoes. Happily-ever-after? Depends on who you ask. In Wolves and Witches, sisters Amanda C. Davis and Megan Engelhardt weave sixteen stories and poems out of familiar fairy tales, letting them show their teeth."
"Leave it to the heroes to save the world—villains just want to rule the world. In this unique YA anthology, thirteen acclaimed, bestselling authors team up with thirteen influential BookTubers to reimagine fairy tales from the oft-misunderstood villains' points of view."
"You hold in your hands a volume of wonders—magical tales of trolls and ogres, of bewitched princesses and kingdoms accursed, penned by some of the most acclaimed fantasists of our day. But these are not bedtime stories designed to usher an innocent child gently into a realm of dreams. These are stories that bite—lush and erotic, often dark and disturbing mystical journeys through a phantasmagoric landscape of distinctly adult sensibilities…where there is no such thing as 'happily ever after.'"
"Happily Ever After is a star-studded book of fairy tales, featuring an introduction by Bill Willingham (Fables) and stories by Gregory Maguire, Susanna Clarke, Karen Joy Fowler, Charles de Lint, Holly Black, Garth Nix, Kelly Link, Peter Straub, Neil Gaiman, Patricia Briggs, and many other fantasy luminaries."
The Poets' Grimm edited by Jeanne-Marie Leprince de Beaumont
"Writers and readers have long been inspired by the haunting wisdom and sheer imaginative power to be found in the fairy tales of the immortal Brothers Grimm. The editors have collected more than a hundred poems inspired by Grimm tales and written by our finest living poets."
The fairy tale lives again in this book of forty new stories by some of the biggest names in contemporary fiction…Fairy tales are our oldest literary tradition, and yet they chart the imaginative frontiers of the twenty-first century as powerfully as they evoke our earliest encounters with literature. This exhilarating collection restores their place in the literary canon."
"Packed with award-winning authors, this anthology explores an array of fairy tales in startling and innovative ways, in genres and settings both traditional and unusual, including science fiction, western, and post-apocalyptic as well as traditional fantasy and contemporary horror."
If this list of fairytale retellings isn't long enough for you, Book Riot has retellings of myths and folklore classics and must-read Beauty and the Beast retellings you should check out.
What fairytale retellings would you have included on this list?