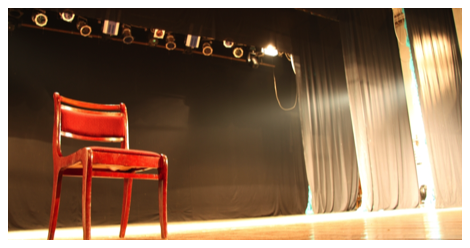 This content contains affiliate links. When you buy through these links, we may earn an affiliate commission.
I'd like to think of bookworms and theater geeks as second cousins. Books have always enriched my love of theater, and vice versa: especially for musical adaptations of books. The Broadway and Off-Broadway theater landscape has always offered a magnitude of shows that have been inspired by literary source material. Today, you can nab a rush ticket to Wicked, The Phantom of the Opera, Cats (based on T.S Eliot's poetry), The Color Purple, Les Liaisons Dangereuses, Matilda the Musical, and Natasha, Pierre, & The Great Comet Of 1812 (based on a chunk of Tolstoy's War And Peace.
As a theater aficionado, I can proudly say that the majority of my favorite contemporary musicals are musical adaptations of books. Usually, when fiction is adapted by a creative team, it's either turned into a film or television series. But a surprising number of readings, workshops, and full productions of musical adaptations have come to fruition in the past decade alone. No idea is too far-fetched when it comes to theater. Here are a few titles that have recently received a musical version:
Fun Home by Alison Bechdel
Carrie by Stephen King
The Shining by Stephen King
The Fortress of Solitude by Jonathan Lethem
Charlie and the Chocolate Factory by Roald Dahl
High Fidelity by Nick Hornby
American Psycho by Bret Easton Ellis
Brave New World by Aldous Huxley
Anthem by Ayn Rand
Tuck Everlasting by Natalie Babbitt
Giant by Edna Ferber
The Bridges of Madison County by Robert James Waller
How on earth does a composer and/or lyricist take a novel off the shelf and make it come to life through music? In musical theater, songs are born from moments with emotional resonance. Think of your favorite songs that make you happy. Now think about your favorite sad songs that make you want to fall down and never get up again. In a musical, a character's heightened emotions produce songs that reflect this. Take for example Fun Home, based on the graphic memoir by Alison Bechdel. One of composer Jeanine Tesori and playwright Lisa Kron's most well-known songs from the show is called "Ring Of Keys." This comes from a magical moment in Bechdel's memoir, where a young Alison first sees another female freely dressed as what she describes as "Old-school Butch." It's a child's first moment of emotional and sexual identification; the start of a new, hopeful chapter in her life. You can check out the performance here:
It probably goes without saying, but it's a huge plus if music plays an essential role in a novel. Nick Hornby's High Fidelity, Bret Easton Ellis's American Psycho, and Jonathan Lethem's The Fortress of Solitude are great examples. Patrick Bateman's manic commentary on his favorite albums contribute to American Psycho's musical score, which includes snippets of Phil Collins, Tears For Fears, and The Human League's 'Don't You Want Me'. And of course, Huey Lewis And The News' 'Hip To Be Square'. With dance numbers involving chainsaws included.
You know those giant, show-stopping musical numbers that tend to be placed right before intermission or in the middle of the second act? Many of those 'Eleven Oh Clock' songs are built around a lead character's developmental arc in the story. Wicked's song 'No Good Deed' is the culmination of all of the injustice and pain Elphaba (a.k.a The Wicked Witch of the West) has felt as an outcast up until that moment. It is the first time she declares herself as wicked: owning her formidable reputation that's been long associated with her ever since L. Frank Baum penned The Wizard of Oz.
Whether you're a longtime musical theater fan, or just recently became aware of musicals thanks to Hamilton (which, by the way, was inspired by Ron Chernow's whopping biography Alexander Hamilton), you'll start to notice familiar formulas for creating music out of fictional narrative.
Now, what are some of your favorite reads that you'd love to see in musical form? Personally, I'm still holding out for a dissonant Flowers in the Attic musical. My top choices to play the Grandmother are Patti Lupone and Bernadette Peters. Kidding (but not really).