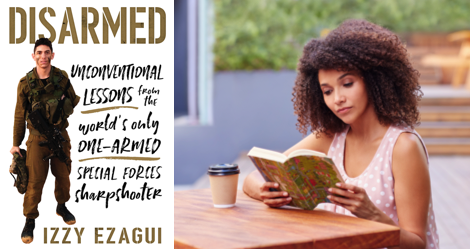 This Riot Recommendation of modern war books is sponsored by Prometheus Books, bringing you Disarmed by Izzy Ezagui.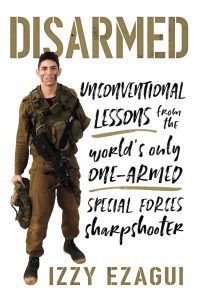 Combining refreshing candor with self-deprecating wit, this inspiring memoir encourages readers to reach their aspirations despite seemingly impossible odds. Disarmed is the moving story of a young American who volunteered to fight in the Israel Defense Forces, lost his arm in combat, and then returned to the battlefield as the world's only one-armed Special Forces sharpshooter.
Izzy Ezagui wrote Disarmed with fellow millennials in mind—not necessarily those with military ambitions, but everyone facing life's battles. His message is universal: if a self-described "nerd" like him can accomplish what he did; anyone can become a hero in their own life.
---
The topic of war is complex and difficult, and it seems to have grown even more so since the days described in The Illiad. Come to think of it, Homer's epic was probably the last book I read about war. So I asked you: what are the best modern books on the subject? Your recommendations follow:
War by Sebastian Junger
Code Girls by Liza Mundy
The Reaper by Nicholas Irving and Gary Brozek
We Were Soldiers Once…and Young by Harold G. Moore and Joseph L. Galloway
Lions of Kandahar by Rusty Bradley and Kevin Maurer
Hue 1968 by Mark Bowden
The Best and the Brightest by David Halberstam
The Last Stand of the Tin Can Sailors by James D. Hornfischer
Legend by Eric Blehm
The Forgotten 500 by Gregory A. Freeman
The Rape of Nanking by Iris Chang
The Chosen Few by Gregg Zoroya and William H. McRaven
No Easy Day by Mark Owen
The Girls of Atomic City by Denise Kiernan
Blind Man's Bluff by Sherry Sontag and Christopher Drew
If You Survive by George Wilson
12 Strong by Doug Stanton
Ghost Soldiers by Hampton Sides
Outlaw Platoon by Sean Parnell and John Bruning
Dancing in the Glory of Monsters by Jason Stearns