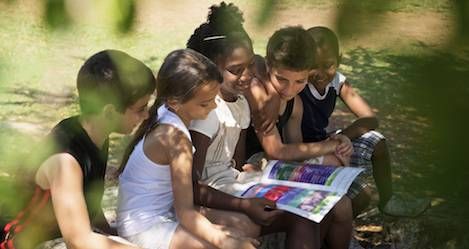 This list of modern classics for young readers is sponsored by The Girl Who Drank the Moon by Kelly Barnhill, now in paperback from Algonquin Young Readers.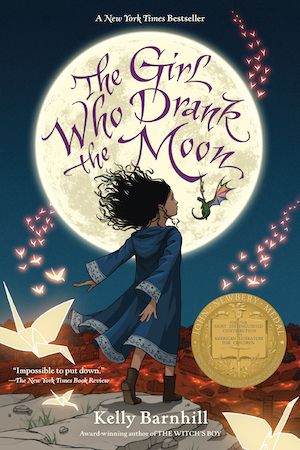 The beloved Newbery Medal winner is now in paperback! A girl raised by a witch, a swamp monster, and a Perfectly Tiny Dragon must unlock the dangerous magic buried deep inside her in order to save her life, her family, and even the community that once left her to die. "Impossible to put down . . . The Girl Who Drank the Moon is as exciting and layered as classics like Peter Pan or The Wizard of Oz." —The New York Times Book Review
---
Classic children's books, especially fantasy, are extremely my jam, but they tend to have one very annoying thing in common: the majority are written by white cis men, most of them long dead by now. I will never stop loving The Wonderful Wizard of Oz, The Lion, The Witch and The Wardrobe, or Knight's Castle. But I am really pleased that there are so many modern classics for young readers written by diverse authors. Here are ten of my favorites from this decade. Books that are the first in a series are marked with a *. Note: I am skipping many authors whose books are already praised as "modern classics," such as Kate DiCamillo and Diana Wynne Jones, because I believe most readers will find those without much effort.
Aru Shah and the End of Time * by Roshani Chokshi
I could have written an entire list comprised of Rick Riordon Presents titles, but let's stick with this one for now.
12-year-old Aru tells lies, and when a classmate dares her to prove one of her tall tales, she accidentally frees a demon that traps her mother. Based in Indian mythology.
Brown Girl Dreaming by Jacqueline Woodson
This 2015 Newbery Honor book is the only nonfiction on this list, included because Jacqueline Woodson's story of growing up a black girl in Brooklyn—told in beautiful verse—will resonate with kids of all ages.
El Deafo by Cece Bell
This 2015 Newbery Honor book tells the loosely autobiographical story—in comic format—of going deaf as a child and trying to make new friends while wearing a giant hearing aid. The young bunny heroine harnesses the superpowers of her Phonic Ear as El Deafo.
The Gauntlet * by Karuna Riazi
Full of Bangladeshi culture, this book from Simon & Schuster's Salaam Reads, their Muslim young readers' imprint, is a lush delight from start to finish. Farah receives a mysterious board game for her 12th birthday, and when her little brother gets sucked into the game, she and her two best friends go in after him and have to win the game, competing against The Architect. (Written by a Book Riot contributor!)
Long Way Down by Jason Reynolds
This 2018 Newbery Honor book is aimed at slightly older readers than the rest of the list (it is solidly young adult while the others are middle grade or younger), but it's an important book that many kids will connect with. Told in verse, Will is taking the elevator downstairs to kill the boy who killed his brother; along the way, he meets several people, all of them dead, who share their stories with him—and has to decide if he's going through with his plan.
Merci Suarez Changes Gears by Meg Medina
In this 2019 Newbery Medal winner, Merci is having a tough time in sixth grade, where she is a scholarship kid at a fancy school and the target of a jealous classmate, Edna. Things are tough at home, too, with her beloved Lolo (grandfather) becoming forgetful.
Roller Girl by Victoria Jamieson
My son has kept this book at his bedside (let's be real: in his bed) for about three years and almost certainly learned to read from poring over the pages again and again. The 2016 Newbery Honor book follows Astrid as she navigates roller derby camp without her best friend, learning that friendship can take as much hard work as a new sport.
The Serpent's Secret * by Sayantani DasGupta
Kirinmala doesn't know it yet, but her parents' fantastical stories are true and she is an interdimensional Indian princess…and demon slayer. When they disappear, she has to survive the underworld—and decide whether to trust two mysterious princes—in order to get them back and save New Jersey.
Stand On The Sky by Erin Bow
In Aisulu's Kazakh family tradition, only men train eagles. But when her brother Serik is injured, she ends up living with her aunt and uncle while her parents take Serik to the city for medical care. While they are gone, she cares for a baby eagle and secretly trains it.
Where the Mountain Meets the Moon * by Grace Lin
In this 2010 Newbery Honor book, Minli lives with her family in the valley of Fruitless mountain, where her father tells her folktales of the Jade Dragon and the Old Man on the Moon, who knows the answers to all of life's questions. Minli goes to find the Old Man on the Moon, hoping to improve her family's luck. Inspired by Chinese folklore.