Western Texas is the place where legends hold great power. Marfa, Texas, located approximately 7 hours west of Austin, 3 hours southeast of El Paso, and an hour from the Mexico border, is a small town steeped in such legends.
Marfa was founded in the 1880s as a railroad stop. The name, which stands out among the Spanish town names that dot the land, came to be because the wife of the railroad's chief engineer was reading The Brothers Karamozov by Fyodor Dostoevsky at the time. This history is laid out in a plaque located at the train depot downtown.
But that story, much as it's one book lovers may find sweet, might be little more than a story.
And yet, Marfa may still have a literary name.
An article in The Southwestern Historical Quarterly from 1944 about the city notes that "Marfa" came instead from Michael Strogoff, a novel by Jules Verne. Whether or not this is true or the story about The Brothers Karamozov is true, Marfa and the surrounding area is a land rich with literary lure and tourism — and nearly all of it comes in unexpected ways. Marfa is an artists town, jam packed with museums and galleries in a way that's wildly surprising for a town of roughly 2,000 people; the nearest "big city," Alpine, is half an hour away and only boasts a population of about 6,000.
Despite being a rural town in one of the most rural parts of the US, Marfa has its own bookstore. Located inside the Hotel St. George, the Marfa Book Company is unlike your standard bookstore — chain or indie. It's a bright, inviting space and hosts a number of art shows, readings, and events each year. The collection, though, is what makes it unique: the bulk of the books in the store are things you won't find anywhere else. There are big collector books featuring the art and artists of the area, as well as small west Texas history books and other titles interested in the local area. Even their literary fiction selection exudes the flavor of the area: you can pick up any copy of Cormac McCarthy your heart may desire. Marfa Book Company is also a publisher; on the day I happened to be in the store, the owner was giving a tour of the store and talking about how he hopes to see their publishing arm grow even more over the next few years. While it may be small, the bookstore has great hours — since it's located inside one of the bigger hotels (where, for what it's worth, you should make plans to stop at the bar for a margarita), you can visit the store from 9 am to 8 pm seven days a week.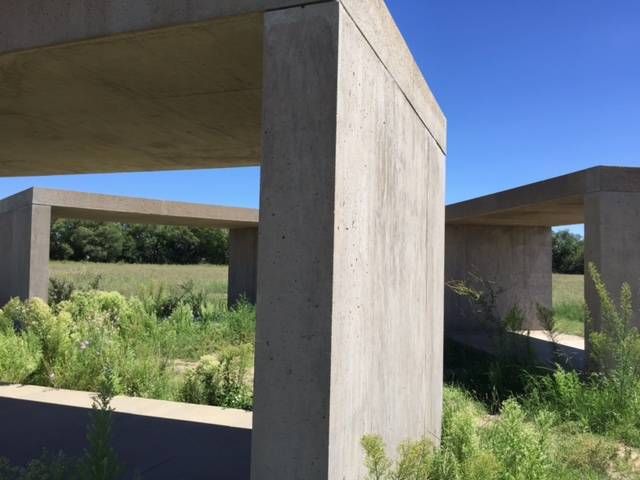 Once you've spent a little time in the bookstore, you'll want to make your way out to one of Marfa's most well-known art installations at The Chinati Foundation. Chinati is a contemporary art museum located on the former Fort DA Russell base; Donald Judd, whose name you will see everywhere in Marfa, started work on the site in 1979. Chinati has a number of exhibits you can sign up to tour, but perhaps the most well-known exhibit is Judd's collection of concrete sculptures on the grounds outside. The 15 concrete structures exude the contemporary art mentality, though even as someone who doesn't always "get" contemporary art, the project itself was neat to see — these are concrete structures in different arrangements all made from identical size slabs of concrete.
There's a lot to appreciate about Judd's work, but there's even more to appreciate when it comes to thinking about how Judd chose to use this former military base to create a place for he and his friends to showcase their art. It exudes the sort of unexpected flavor of Marfa all together. After you've wandered the sculptures and taken in the rest of the art at Chinati, it's essential to stop in the museum's guest center. It's small, of course, but it's packed with books about Judd, about Chinati, about the additional artists whose work is at Chinati, and about Marfa and west Texas more broadly. These are the kinds of books you won't find elsewhere.
One last essential bookstop while in Marfa is at another unexpected place: The Hotel Paisano. Located just up the street from Hotel St. George, the Paisano is perhaps most well-known for being the location where the film Giant was shot. But inside this beautiful hotel is a huge gift shop. . . and it's not just any gift shop. This one has rooms filled with books about local history, about Marfa, and about life in west Texas. There are well-known books, but the real gems are those smaller titles among the stacks. It was here I was able to pick up a book a woman wrote about her grandmother and grandfather leaving their city life to begin anew in west Texas; it was the kind of local story I knew wouldn't be easy to find anywhere else.
And after you pick up a few books there, you'll want to wander into the hotel lounge for a margarita. Because one margarita is never enough. (Though some will argue the margaritas here are the best in town, I personally thought the Hotel St. George's was better).
It wouldn't be a trip to Marfa without making a trip out to see the mystery lights. The viewing location, about 10 minutes east of downtown, is at an otherwise unremarkable rest stop. But when you stop out of the car and see all of the plaques talking about what people have guessed the lights to be, you note that it's anything but ordinary.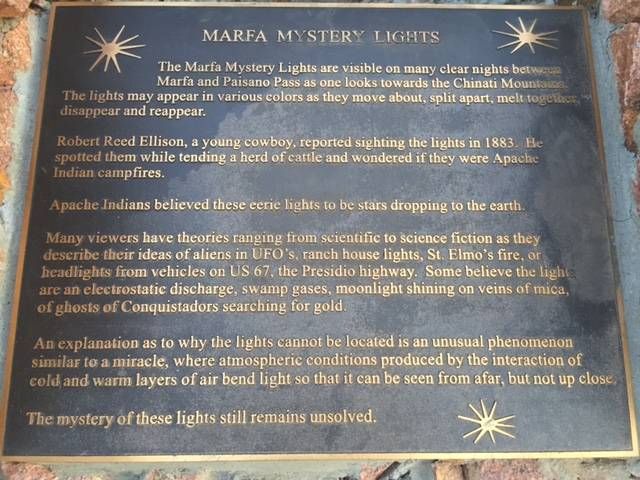 Go out there before it gets dark and settle into the space for a while. You're surrounded by mountains on all sides, and you have wide views of the rolling deserts. This is the setting, of course, for the famous scenes of loneliness in the adaptation of McCarthy' No Country for Old Men.
When it becomes dark enough, keep your eyes on the mountains to the southwest. There will be one red light — perhaps a cell tower — but on a good night, more lights will appear, move, then disappear. The mystery lights don't appear each night, and, the night I was out there, it was rainy and stormy and a bit hard to see, but the lights were bright and numerous. One man, who had made the trip out to see the lights ten times, said it was the first time he and his family had ever seen them. It was fun to not only see the lights, but to tell stories with other viewers about what was going on. Were they car lights from the Presidio Highway (a theory we said no to because of how they were moving)? Were they an atmospheric phenomenon? There are no real answers, but there are so many stories to share about them that it's no wonder people will return again and again hoping to catch them.
When the light dawns again, there are plenty of awesome places around Marfa where you could grab some solitude and read. There are great coffee shops, seating areas at museums and throughout downtown, and there are more unexpected places. I spent my time in Marfa at El Cosmico, where you can rent a trailer or other outdoor structure to stay in; the grounds there are rife with places to read and enjoy the silence and the beauty of the desert, including in some of the most comfortable hammocks around. If you're itching to find a book, you could always check out one of the local Little Free Libraries or wander into the local library (their tribute to the community on the outside of the building is worth visiting alone!).
Marfa may not be the whole of West Texas — it is a huge, huge area with a population density of about half a person per square mile! — but it's one of the coolest little spots for art lovers and book nerds to check out.