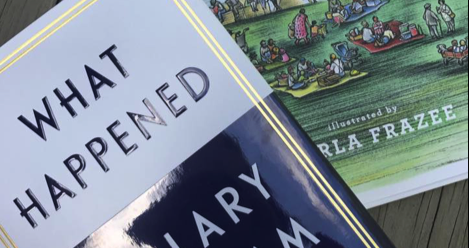 Lists
Read Like a Clinton: A Round Up of Literary References in WHAT HAPPENED
This content contains affiliate links. When you buy through these links, we may earn an affiliate commission.
After many tears and much relived anger, I finally finished What Happened by Hillary Rodham Clinton. It wasn't an easy read. Some of the wounds of the 2016 election are still raw and pulling off the bandage to poke at them a bit hurt more than I thought it could. But it was personally important for me to read. Not exactly cathartic, but something I needed to really begin to work through my anger and towards effective resistance.
This is not going to be yet another thinkpiece about how much right HRC had to tell her own damned story as compared to Bernie and all of the (mostly Y gene bearer) talking heads. This was her story, more intimately experienced by her than any other living soul in our country. Period. There, I just saved you a lot of internet reading and eyerolls.
But, this is Book Riot. So of course, we're most interested in what exactly this accomplished lawyer, First Lady, Senator of New York, Secretary of State, and first female nominee for President of the United States kicks back with after a long day of fighting the patriarchy. Reading is clearly a big part of the Clintons' lives. Hillary discusses in her book an intricate book tracking spreadsheet she and Bill use. She talks about watching Bill constantly rearrange their beloved bookshelves. Literature is obviously a central theme to their love story. And HRC proves that through the number of literary references she employs throughout What Happened.
So, if you miss having a literate president. If you aren't convinced of the genius of The Art of the Deal. And if you're looking for your next read to inspire you to "resist, insist, persist, enlist," here is a round up of all of the literary references in What Happened.
But first, I must brag. My 4 year old daughter and I got to meet Hills herself shortly after it was released and got signed copies of What Happened and her new children's book, It Takes a Village. It was a surreal, touching experience and it (along with her latest book) left me with the confirmation that we all made a very big mistake. But What Happened gave me the motivation to right our nation's collective wrong. It turns out, I remain forever and always #stillwithher.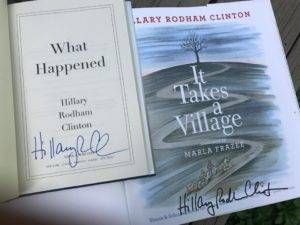 Dr. Seuss
"Invictus" by William Ernest Henley (as quoted by Nelson Mandela)
Louise Penny
Jacqueline Winspear
Donna Leon
Charles Todd
The Neapolitan Novels by Elena Ferrante
And Still I Rise by Maya Angelou
Help, Thanks, Wow: The Three Essential Prayers by Anne Lamott
Great Expectations by Charles Dickens
The Return of the Prodigal Son by Henri Nouwen
The Bible
"East Coker" by T.S. Eliot
Hard Choices by Hillary Rodham Clinton
New and Selected Poems, Vol. 2 by Mary Oliver
"A Splendid Torch" by George Bernard Shaw
Carl Sandburg
The Clue of the Tapping Heels (Nancy Drew book 16) by Carolyn Keene
Nora Ephron
David Foster Wallace
Lean In: Women, Work, and the Will to Lead by Sheryl Sandberg and Nell Scovell
The Destruction of Hillary Clinton by Susan Bordo
The Handmaid's Tale by Margaret Atwood
A Vindication of the Rights of Women by Mary Wollstonecraft
Bird by Bird by Anne Lamott
"Käthe Kollwitz" by Muriel Rukeyser
Peter Pan by J.M. Barrie
The Prophet by Kahlil Gibran
One Hundred Years of Solitude by Gabriel Garcia Marquez
Learning to Drive by Katha Pollitt
The Guernsey Literary and Potato Peel Pie Society by Mary Ann Shaffer
Wild: From Lost to Found on the Pacific Crest Trail by Cheryl Strayed
Delphi Complete Works of John Buchan by John Buchan
The Mind's Eye by Oliver Sacks
"The Summer Day" by Mary Oliver
A Letter of Consolation by Henri Nouwen
Elizabeth Stone
Marge Piercy
Marian Wright Edelman
Locking Up Our Own: Crime and Punishment in Black America by James Forman, Jr.
Langston Hughes
"Success" by Ralph Waldo Emerson
"Maud Muller" by John Greenleaf Whittier
With Liberty and Dividends for All: How to Save our Middle Class When Jobs Don't Pay Enough by Peter Barnes
Laurel Thatcher Ulrich
Charles Finch
Mystery and Manners: Occasional Prose by Flannery O'Connor
"Easter, 1916" by William Butler Yeats
Robert Frost
Devil's Bargain: Steve Bannon, Donald Trump, and the Storming of the American Presidency by Joshua Green
Henry James
"You Are Accepted" by Paul Tillich
Democracy in America by Alexis de Tocqueville
Bowling Alone: The Collapse and Revival of American Community by Robert D. Putnam
It Takes a Village by Hillary Rodham Clinton
The Power of the Powerless: Citizens Against the State in Central Eastern Europe by Václav Havel
A Game of Thrones by George R.R. Martin
The True Believer by Eric Hoffer
Did I miss any literary references in What Happened? Let me know in the comments.