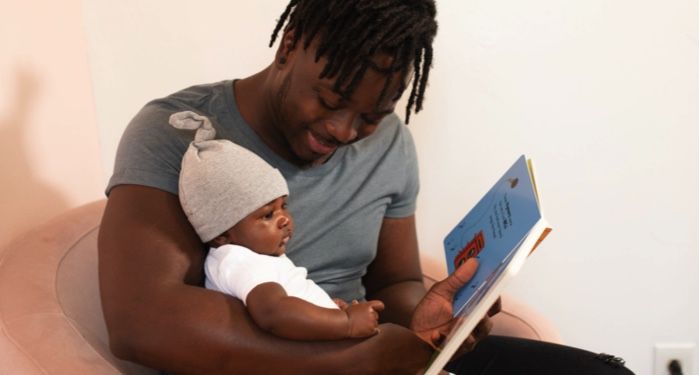 Children's
14 LGBTQ Board Books to Diversify Your Baby's Bookshelves
This content contains affiliate links. When you buy through these links, we may earn an affiliate commission.
Though LGBTQ content is still the number one reason children's books get banned or challenged, that luckily hasn't seemed to slow down publishing of LGBTQ children's books, because kids need queer books! Picture books featuring two moms or two dads have been published since the 80s, and they've only diversified and multiplied from there. We still have a way to go, of course, especially for books that represent other identities (like trans parents and kids) or more intersectional representation (like disabled queer parents), but there is a lot more to choose from than there was a generation ago.
Happily, that means that LGBTQ board books are now available! Board books are children's books made with sturdy paperboard pages, able to withstand grasping hands and some chewing. They're perfect for babies, and they allow parents to introduce children to books early, so they always feel like a natural part of their lives. They are also useful for when babies hit the tear-up-every-book phase.
These LGBTQ board books range from incidentally showing LGBTQ families to teaching about Pride. This isn't a complete list–I've left off the most well-known LGBTQ picture books that have been adapted to board books, because I want to introduce you to new titles!
Board Books About LGBTQ Families
LGBTQ Board Books with Incidental Representation
Board Books That Teach About Pride
Those picks should at least get you started in rainbowfying your baby's bookshelves! (Or your niblings'!) I'm also interested in the upcoming Being You: A First Conversation About Gender (First Conversations) by Megan Madison and Jessica Ralli, illustrated by Anne/Andy Passchier. If you're interested in starting a conversation about gender with your little one, the picture book (not board book, unfortunately) They, She, He: Easy as ABC by Maya Christina Gonzalez and Matthew Sg is also worth checking out.
If you liked this post, I think you'll also enjoy: