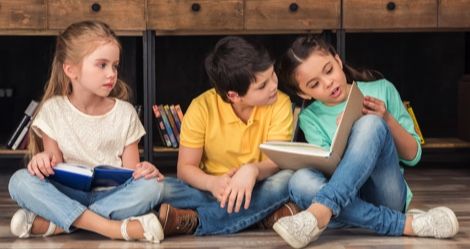 30 Children's Books About Diversity That Celebrate Our Differences
This post contains affiliate links. When you buy through these links, Book Riot may earn a commission.
The world is a diverse place. It's packed full of people living dramatically different lives, even within the same neighborhood or classroom. In order to raise kids in this world, we need to teach them about people outside of their immediate family. On the other hand, some kids grow up not seeing themselves or their family represented in any of the books they read or the TV shows and movies they watch. This is the importance of mirrors and windows: mirrors to see ourselves reflected in the world, so we don't feel alone, and windows to see outside of our own lives, to recognize the humanity of other people. That's where children's books about diversity come in! Whether you're a parent trying to raise an activist kid, a teacher trying to create an inclusive classroom, or you're just trying to introduce a different worldview to your niblings, you'll find plenty of options on this list!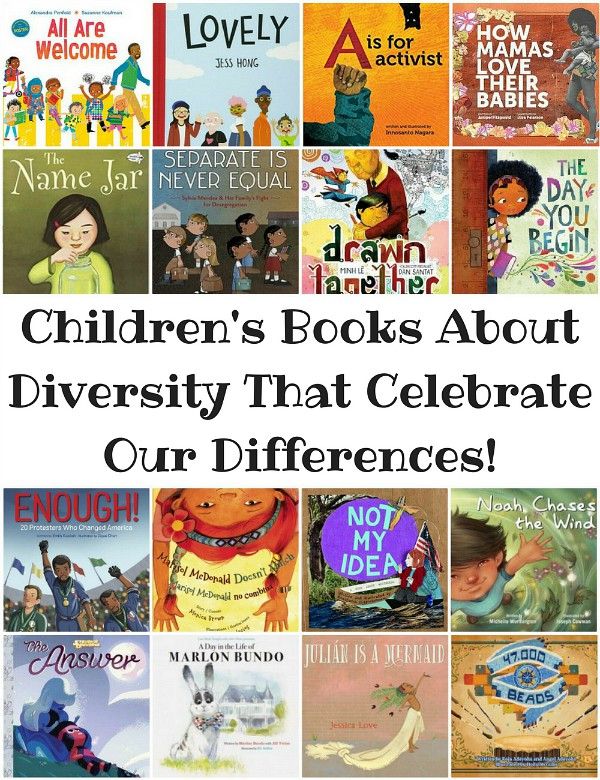 As I began to research this topic, I quickly realized this could get out of control, so I made the parameters pretty strict: these are all picture books (and a few board books)—depending on the book, the age range is 1–8. I also avoided books that are metaphorical (like Brick by Brick by Giuliano Ferri, Red: a Crayon's Story by Michael Hall, or Not Quite Narwhal by Jessie Sima) in favor of books that have literal representation.
Finally, I tried to stick to books that don't just include a diverse cast, but actively teach about diversity and inclusion. I do think that books like Everywhere Babies by Susan Meyers that include diverse families without actively teaching about diversity are also great additions to any kids' library, as well as general books about celebrating difference, like It's Okay To Be Different by Todd Parr. For the purposes of this list, however, I have stuck to these terms, and I'm mostly concentrating on racial and cultural diversity as well as LGBTQIA+ representation.
Children's Books About Diversity and Inclusion (in General)
1. All are Welcome, written by Alexandra Penfold and illustrated by Suzanne Kaufman
This a perfect book for classrooms, because it depicts a group of kids in a day at their school. They come from a wide range of cultures, and they share these cultures with each other through food (at lunch), music, art, and their stories. All are Welcome shows how these differences are their community's strength. Not only are different cultures and races represented, there are kids with disabilities as well as a variety of family configurations shown.
It's never too early to start teaching kids about inclusion and diversity! So why not gift Innosanto Nagara's board books the next time you attend a baby shower? Not only does A is for Activist teach about activism in an ABC rhyming format, it's also populated by a wide range of people being represented! Counting on Community is a great way to introduce the idea of a diverse and close-knit community, and what being a good community member means (while also teaching numbers!)
3. The Day You Begin, written by Jacqueline Woodson and illustrated by Rafael López
"There will be times you walk into a room and there is no one quite like you…" Angelina feels uncomfortable in her class, because all her classmates are talking about the exciting places they traveled to over the summer. She was home, taking care of her sister, and she feels awkward and alone. Soon, though, it becomes apparent that we all have times when we feel different, but by sharing our stories, we can always find points of connection as well, and that those differences are something to be celebrated, not hidden.
4. Lovely, written and illustrated by Jess Hong
I have completely fallen in love with this book. It shows a huge diversity of people, all described as "lovely." The simple, minimal text shows opposites: "black"—represented by a white woman in all black, "white"—a black woman with white hair, but includes them all under the umbrella of "lovely." There are gender non-conforming people shown, different races, a person with a prosthetic leg (playing soccer—the depiction of the word "sporty"), and person in a wheelchair. One page shows braces spelling out lovely, while another has a unibrow shaped into the word. I'll admit, the page that shows someone with hairy legs wearing red high heels with the text "Fancy" underneath made me want to buy a copy for my personal collection.
5. Last Stop on Market Street, written by Matt de la Pena and illustrated by Christian Robinson
I was surprised to see this was only published in 2015, because I think of this as a classic picture book. (It won the Newbery and Caldecott the same year, so you can't get much higher recognition in the kidlit world.) This follows CJ as he rides the bus with his grandmother after church. As he comments (and sometimes complains) about their community (why doesn't he have an iPod? Why do they have to go through the "dirty" part of town?), she lovingly chastises him and points out the beauty of the world around them. Some readers might object to the "incorrect grammar," but that might be an opportunity to talk about AAVE, and that just because someone speaks differently than what you might be used to, that doesn't mean they're wrong.
Enough! showcases some of the people throughout history (in the USA) who fought for their freedom. While it includes events like the Boston Tea Party, it centers the stories of activists like Martin Luther King Jr. and Harriet Tubman, as well as the protesters and activists still fighting today, like Jazz Jennings and Colin Kaepernick. It also includes a foreword from a survivor of the Marjory Stoneman Douglas high school shooting.
Books Featuring Racial or Cultural Diversity
7. The Name Jar, written and illustrated by Yangsook Choi
Unhei has just moved to America from Korea. As she enters her new classroom, instead of introducing herself, she says she will be picking a new ("American") name soon. Her classmates are intrigued by this nameless newcomer, and they fill a glass jar with suggestions, which she tries out. When one classmate visits her home and finds out her name and its meaning, the jar disappears. Unhei realizes that she doesn't have to change her name to find acceptance and friendship in her new life.
8. The Sandwich Swap, written by Her Majesty Queen Rania Al Abdullah with Kelly DiPucchio, and illustrated by Tricia Tusa
The Sandwich Swap makes a great introduction to the concept of celebrating differences, especially cultural differences. Lily and Salma are best friends that do everything together, but privately, they think the others' everyday lunch is disgusting: peanut butter sandwiches vs hummus on pita. When the truth comes out, the entire cafeteria splits into these teams, and a food fight erupts, until Lily and Salma try each other's lunches and realize that both are good. A little simplistic, sure, but a good conversation starter with young kids.
A popular choice for teachers, Same, Same But Different compares the lives of two kid pen pals: Elliot in America and Kailash in India. They learn what they have in common (pets, taking a bus to school, living with their families) and where they differ, but these differences are celebrated, instead of being treated as a barrier to their friendship.
10. Drawn Together, written by Minh Lê and illustrated by Dan Santat
A young boy dreads his visits to his grandfather. They don't share a language, so their time together is strained, awkward, and silent. Until they discover a shared love of drawing. Together, they find a common language through art. Drawn Together shows that meaningful relationships are possible even across communication barriers, and as their illustration styles start to blend together, it shows the connections they've made without words.
Marisol is Peruvian-Scottish-American, and she celebrates every aspect of her identity. She has red hair and brown skin, speaks English and Spanish (the book is also available in both languages), and she eats peanut butter and jelly burritos for lunch and plays pirate princess soccer at recess. When she's told she doesn't "match," Marisol tries to be all one thing, speaking only in English, eating PB&J sandwiches, and drops the "pirate princess" part of her recess activities. She fits in, but she is diminished and listless. A teacher writes her a note to tell her that she misses the Marisol she knows, and Marisol bounces back, embracing her whole, multi-faceted self.
12. Let the Children March, written by Monica Clark-Robinson and illustrated by Frank Morrison
Let the Children March is the story of the Children's March in Birmingham, Alabama in 1963. When their parents couldn't protest in fear of losing their jobs and not being able to provide for their family, black children as young as nine marched to protest Jim Crow laws. They were met with a hostile police force who responded with water hoses, batons, and dogs set on them. This story focuses on the strength of these children, and how they contributed to history. This gives important context to conversations about diversity and inclusion, while showing how children have made a difference in their words in action throughout time.
Almost a decade before Brown vs. Board of Education, Sylvia Méndez was denied enrollment to a "Whites only school." Despite speaking perfect English, her parents were told she must must attend the "Mexican school," which was further away and underfunded. The Méndez family fought back against this, and their fight helped end school segregation in California. A good touchstone for the history of diverse classrooms.
14. Dreamers, written and illustrated by Yuyi Morales
In Dreamers, Yuyi Morales draws on her own experience migrating from Mexico the U.S., trying to make a life with only herself and her infant son. Together, they found refuge in the library, and there, Morales learned English and was able to access resources to help her make a home in this new country. Dreamers also shows that despite leaving her possessions in Mexico, Morales carried with her her talents, skills, and dreams, which improve not only her own life, but also the lives around her. This title is also available in Spanish!
Stepping Stones is a book inspired by the stone art of Syrian artist Nizar Ali Badr. It depicts a family who has a happy and loving life in Syria, until war turns their home into somewhere unfamiliar and unsafe. They are forced to flee, packing as much of their lives as they can carry. The unnamed family can serve as an everyperson story about refugees, and the collage art is surprisingly evocative.
Ordinary Terrible Things is a series where Anastasia Higginbotham explains difficult topics to children (with titles like Death Is Stupid, Divorce is the Worst, and Tell Me About Sex, Grandma). Higginbotham presents this topics honestly and openly, confident that giving kids information is better preparation than trying to shield them from the reality of the world. In Not My Idea, a white child sees a news report about a police murder of a black victim. When she asks her family about it, they skirt around the issue. She begins to research at the library, and learns more and more about racism and white supremacy. This is painful, but necessary: "Connecting means opening. And opening sometimes feels…like breaking." She confronts her mother, who told her she didn't have to worry about it, saying, "You can't hide what's right in front of me." She learns how to fight against this ideology, and that text clarifies "You can be WHITE without signing on to whiteness." A quotation from a Toni Morrison interview is included in the book: "White people have a very, very serious problem, and they should start thinking about what they can do about it…Take me out of it." Not My Idea teaches that racism and white supremacy are problems that white people have created, and we have a responsibility to fix them. At the end of the book, Higginbotham addresses any concerns about whether kids are too young to learn about this with the simple statements: "Innocence is overrated. Knowledge is Power. Get some. Grow wise. Make history." (Check out the School Library Journal blog for a detailed review, as well as pages from the book that show the collage style illustrations.)
BOoks featuring LGBTQIA+ Representation and Inclusion
In the world of diverse children's books, A Day In the Life of Marlon Bundo has been a runaway success story of recent years, clinching the Amazon #1 bestseller spot and selling hundreds of thousands of copies in the first few days it was released. Released as a parody of Charlotte Pence's Marlon Bundo's Day in the Life of the Vice President, the Last Week Tonight version kept the best part (the rabbit's name), but the plot is a dig at Mike Pence's homophobic policies, with Marlon Bundo wanting to marry another male bunny, but a stink bug says they shouldn't be allowed to! Even though this is a parody first, it works surprisingly well as a picture book for children. The illustrations are adorable, and the message of inclusion and celebration of love can be appreciated even if the listener doesn't know who Pence is. Plus, 100% of the proceeds go to AIDS United and The Trevor Project!
Who Are You? serves as a great introduction to gender for kids. With minimal text per page, it's pretty general—sometimes vague—but provides a good foundation to build on. It introduces gender as being experienced through the gendering of our bodies, our activities, and our identities. My favorite part is the wheel included, where you can mix-and-match different gender expressions, bodies, and identities. The message is simply that gender norms shouldn't dictate how you express yourself, and you know yourself best.
This delivers just what the title promises. Errol notices that Teddy, his best friend, seems to be sad. Errol asks what's wrong, and Teddy responds that she wants to be known as Tilly Teddy now—she knows she's a girl Teddy. Tilly is afraid, though, that she will lose her friends if she tells them. Errol assures her that she is still his best friend, and he just wants her to be happy. This is a cute, gentle introduction to people transitioning.
20. 47,000 Beads, written by Koja Adeyoha and Angel Adeyoha and illustrated by Holly McGillis
I could have filled this list with all of Flamingo Rampant's books, because I love them all. Flamingo Rampant describes itself as a "micropress with a mission—to produce feminist, racially diverse, LGBTQ positive children's books." All of their books not only depict LGBTQ+ kids and families, but they are also racially and culturally diverse (including different religions), as well as depicting people with disabilities. I've picked 47,000 Beads because it's the first picture book I've seen to represent a two spirit kid (it's also written by a two spirit Lakota person). The main character, Peyton, is struggling, because she feels like she doesn't fit the gender expectations of her. Her family, recognizing this struggle, all come together to prepare a gift to show Peyton that they accept her and teach her about what being two-spirit means. This is a book I think every elementary school library should have.
21. The Boy & the Bindi, written by Vivek Shraya and illustrated by Rajni Perera
A young boy is fascinated by his mother's bindi. She explains what it is and its cultural significance, and when he asks for one of his own, she happily gives him one in his own color—yellow. He is allowed to express himself and his difference through the bindi, while participating in his culture and history. Like many of the books on this list, it represents diversity on multiple axes, so this could just as easily be read to learn about cultural diversity.
22. Prince & Knight, written by Daniel Haack and illustrated by Stevie Lewis
I couldn't write about LGBTQIA+ kids' books without mentioning Prince & Knight, a fairy tale update in the tradition of King & King haan. The prince's parents want to find him a bride, but all the princesses they introduce him to don't strike his fancy. He's looking for something special in a partner. When a dragon attacks his kingdom and he is fighting to defend it, he is rescued by a knight in shining armor, and they instantly fall in love. They marry and live happily ever after. This is a charming, Disney-esque fairy tale story that should help combat the heteronormativity of the typical book in the genre.
Personally, I can't resist that cover. The sheer confidence and style that Julián exudes makes the book for me. When Julián sees three women on the subway dressed up as mermaids, it inspires him to go home and make his own costume, but when his Abuela finds him, he's nervous about how she'll react, both to the mess he's made and to how he looks. Instead of chastising him, his Abuela takes him to see a community he didn't know he was part of: the Mermaid Parade. (Which I wasn't aware of, and will now be looking at endless pictures of.)
Morris loves make-believe and dress up, and his favorite thing to dress up in is his tangerine dress, in which he has many adventures. Unfortunately, the other kids don't understand why a boy would wear a dress. After staying home a day, Morris comes back and answers the claim of "Boys don't wear dresses!" with "This boy does." This isn't necessarily a book about being trans, but about questioning gender roles and making space for kids to express themselves and their gender however they see fit.
Kai Cheng Thom's memoir Fierce Femmes and Notorious Liars is one of my favorite books, so I had to pick up her picture book. This is a story about a kid who is a shapeshifter. Born when both the sun and moon were in the sky, they delight in being a little bit of everything. They are a shapeshifter, growing wings or fins or horns or all at once. No matter what they look like, their mother always reassures them that she'll love them no matter what. When the kid goes to school and gets teased, they stop shapeshifting, only to find that their classmates want them to be either a boy or a girl. When the kid asks their mom if the other kids will accept them, she gives a refreshing answer of "I don't know," but reassures them that they'll always be loved anyway. Going back to school as their glittery, shape-shifting, nonbinary self, they manage to find some commonalities after all, and start to teach the other kids how to develop their own wings, fins, and horns. A mix of nonbinary representation and metaphor of imagination and difference in general, this works on both levels.
I'm a big Steven Universe fan, and I'll admit, I'm not sure how this would translate if you've never seen the show. It is absolutely beautiful, though, and portrays the love story of Ruby and Sapphire, two gems (aliens) whose love allows them to become someone new together: Garnet. Their relationship is not accepted in their society, but they find a place to be themselves, one that celebrates their love. Alongside the story are mini versions of Sapphire and Ruby reacting to the events as they unfold, providing commentary and contrast. The style is reminiscent of a classic Little Golden Book. Not only did I have to include this because I, personally, love it, but it's also—as far as I've seen—the only picture to have a love story between two women (or girls). There are books about kids with two mothers, but there doesn't seem to be many sapphic equivalents to Prince & Knight, King & King, And Tango Makes Three, and Marlon Bundo. (Some digging has brought up Maiden Voyage by Jaimee Poipoi, but I haven't read it yet, so I can't give a full recommendation yet!)
Other Children's Books About Diversity and Inclusion
27. How Mamas Love Their Babies, written by Juniper Fitzgerald and illustrated by Elise Peterson
This book shows how mamas use their bodies to take care of their babies: through (sometimes) breastfeeding, (sometimes) being pregnant, and through the labor they perform: "Some mamas stay home with their babies all day long. It's hard work!" "Some mamas dance all night long in special shows. It's hard work!" The depiction of some mothers as sex workers is what makes this truly groundbreaking, but it's also notable just for the diversity of experiences, class, and races shown. The collage style illustrations feature photos of mothers taking care of their children, whether by feeding them, protesting for their rights, or making money by cleaning houses.
On Our Street acts as a gentle introduction to kids asking about poverty and homelessness. It is written from a middle+ class perspective, with an us/them framing, so it's not the best choice for a classroom that might include some students living in poverty. It also doesn't mention how race factors into poverty. That said, it does mention mental illness and refugee status. The subject matter is depicted in a mix of illustrations and photos, so it does show what poverty and homelessness really looks like. For kids first noticing homelessness and poverty in the world around them, this is a good first step in introducing them to the topic.
A parody of the typical "Here's my friend with a disability" picture book, this story centers an autistic child trying to explain his friend Johnny, who is neurotypical (NT). He acts erratically, his speech patterns are confusing, and he doesn't have a properly maintained special interest, but that's okay! They can still be friends, even if they are different. This achieves the same ends as the kind of book it parodies, but by centering autistic kids, it prevents the othering of neurodiverse readers.
30. Noah Chases the Wind, written by Michelle Worthington and illustrated by Joseph Cowman
"Noah is different. He sees, hears, feels, and thinks in ways that other people don't always understand, and he asks a lot of questions along the way." When Noah can't find an answer in his books about where the wind goes, he sets off on adventure to find out himself. Although this book doesn't directly name Noah as autistic or as having a sensory processing disorder, it does serve as a good foundation for talking about neurodiversity, and about how people thinking differently is one of the many ways we are all unique and having our own perspectives to share.
Of course, these are far from the only children's books about diversity! I made the parameters for this post fairly narrow, and often just picked my favorites that covered the same subject matter. There are many, many more children's books with diverse characters that aren't specifically about teaching diversity, too. If you haven't found exactly what you're looking for, let me know if there is another facet of this topic you'd like us to cover!
If you liked this post, also check out: