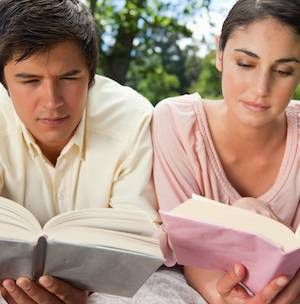 This content contains affiliate links. When you buy through these links, we may earn an affiliate commission.
Many of the book lovers I know (though certainly not all) can trace their fondness for reading back through the years to parents, grandparents, and other older loved ones reading to them aloud as children. I am not one of them. Though both my parents read books, and I remember at least one of them doing so throughout my childhood, they never read to me. I do remember my father teaching me how to read, but I distinctly remember this as the only times we sat down with a book together.
I grew up to become an avid reader regardless (and yes, it probably helped that dad got me going nice and early!), and eventually even discovered the joy of being read to, though not until I was about 20—a relatively late date, I think. I'm not talking about audiobooks, either, which are great.
My boyfriend and I have been sharing our love of books with each other pretty much since the start of our relationship. Our third date was to a bookstore (he bought The Lord of the Flies; I got Haroun and the Sea of Stories on his recommendation) and then to a park bench to read. And it wasn't much longer before we started our first read-aloud.
All credit goes to Lloyd, really—unsurprising, since reading aloud was a pretty foreign activity for me at that point. You may have the experience of lending a book to a new romantic partner in hopes they will come to love your own personal favorite. He spent months reading Moby-Dick to me himself, chapter by chapter, kicking me into 10 years of intense love for Melville (and for Lloyd too, sure). My Melville passion, which was big enough to lead me to a bona fide literary discovery and several mentions in Hershel Parker's most recent Melville monograph, is pretty visible. But the other change this brought to my life, the introduction of reading aloud, has been at least as important for me.
Over the past decade, we haven't stopped. Sometimes he reads to me, sometimes I to him, and some books we hand off back and forth—usually depending on whether he's sharing something previously discovered with me or vice versa, or whether we're re-appreciating a shared favorite. We've read aloud countless of Rex Stout's Nero Wolfe mysteries and P.G. Wodehouse novels and stories. We've gotten more serious, with me reading some of Robert Louis Stevenson's adult works, introducing him to beauties like The Beach of Falesá. Currently, I'm a few pages from the end of The Two Towers; I wouldn't have thought it, but we're powering through a co-re-read of The Lord of the Rings in record time.
For me at least, reading aloud, and the discussions that follow, are among my favorite "quality time" to spend together. When he's cooking us a delicious meal, I can hang out in the kitchen and keep him company with a book for the both of us. When I'm not feeling well, not only can I stay in bed with a novel myself, but I can also listen to my favorite voice in the world reading me some of my favorite stories (or his). And afterward, boy do we have things to talk about!
Do you ever read aloud to a loved one—or listen to one read to you? How do you find it compares to other ways to share literature with each other? And did you reach adulthood before discovering this activity?
____________________
Expand your literary horizons with New Books!, a weekly newsletter spotlighting 3-5 exciting new releases, hand-picked by our very own Liberty Hardy. Sign up now!