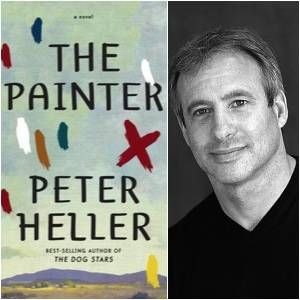 Fiction
The Language Of Landscape: An Interview With Peter Heller
This content contains affiliate links. When you buy through these links, we may earn an affiliate commission.
Peter Heller is the type of guy I want to buy a beer. He's received his MFA in fiction and poetry from the Iowa Writers' Workshop, gone on kayak expeditions around the world, surfed the perfect wave, sailed frigid waters with eco-pirates, and now written two brilliant novels of crisp literary fiction. When we spoke over the phone, I had the privilege of discussing his new novel, The Painter, a mutual longing to cowboy camp in Northern Michigan, World Book Night, and the profound artistry of Spanish language writers.
AM: What books are you currently reading? And what books influence and inspire you?
PH: I'm reading a bunch of Spanish language writers right now. I just finished The Hare by (Cesar) Aira. I think he's magnificent. And I'm in the middle of Alvaro Mutis' book The Adventures and Misadventures of Maqroll. I think Mutis is one of the great writers of our time. He reminds me a lot of Conrad. The book is a series of seven novellas, and they're about this sort of wayward traveler-adventurer, this really quixotic character who always has itchy feet. My favorite one was "The Snow Of The Admiral" which reminded me a lot of Heart of Darkness, just the way he makes the country and the landscape a character that's so integral to the story. It's the character's life pulse, and in that way I think it's a lot like Conrad. I just love the style of writing. It's really ruminative and poetic. Everyone should go out and read Alvaro Mutis.
AM: You write a good amount about adventures yourself. People really responded well to The Dog Stars in that regard. I really liked it because I thought it was a different look at the apocalypse than what most people have been writing. Can you tell us what you think readers can look forward to about your new work, The Painter?
PH: It's interesting, I think The Painter stays with some themes that seem to be really important to me. Again, it's a rough-edged character who has been through extreme loss and is trying to put his life back together. (And he also loves to fish) But The Painter makes a turn in that it's less about survival…In this book this man has suffered an extreme loss, and the way he deals with it through creating art. The book is a lot about how creativity and art functions in our lives. So that's different. But again, as I love about Mutis, the landscape in this book is also a character, as it was in The Dog Stars. And it's essential. For me, I have to say, when I sit down to write, what gets me really excited and inspired, that breathe life into the work, are two things: First, the music of the language. I start with the first line and let the music of the language to carry the story. And then it's nature. It is the landscape. It's the smells of the dirt, and the wind, and the rain, and the country. Those two things, my stories seem to ride on the backs of them. But, the book is a lot about art.
AM: One of the things I really liked about this book, with the book being a lot about art, the protagonist, Jim, is very well read and intelligent, but also an outdoorsman who enjoys simplicity. And there's this kind of dichotomy there. Can you talk about that juxtaposition? This kind of mix between the world of art and literature, true artistry, and the pretentious background that surrounds it?
PH: Well, I'm a physically exuberant person. So it's always been hard to sit at a desk. But I love, really deeply love, what some people might call the simple things. You know, swimming in surf, taking a long walk, spending hours fishing. A good meal. Good conversation. Nothing makes me happier…except getting in the zone and creating literature. What I found is, and this is tangential to your question, but it makes me want to answer this way: When I'm fishing, and I throwing my fly, watching the light on the water, I lose myself. I just sort of melt into the whole scene. And the same thing happens when I get lost in a novel…what I'm finding is writing fiction is a very physical activity.
AM: Diving back into talking about landscapes. The physical world of your books is very natural. When I think of great settings, I think of people like Cormac McCarthy, he does a brilliant job writing landscapes. And for me, growing up in Michigan, Ernest Hemingway's Nick Adams Stories do a great job describing Northern Michigan. Can you talk about books or authors that inspire you to write about nature and the strong settings you create?
PH: It's wonderful that you ask that because you just mentioned two of my favorite writers. When I was eleven a librarian gave me In Our Time the first of the Nick Adams Stories about upper Michigan, but I was in New York City. I took the book home and my jaw dropped. I thought I want to do that. I want to hop off of trains in a burned out forest, and walk for miles, and make camp by this river, and make cowboy coffee, and burn my tongue from it. I wanted to do that.
(We went on to discuss Faulkner, McCarthy, Conrad, London, Melville, and Mutis)
AM: So World Book Night is coming up, and The Dog Stars was a selection this year. What does it mean to be part of that experience? Can you talk about your involvement with that? (World Book Night took place on April 23rd)
PH: Well the book is chosen, and you look at the list and it's completely humbling. There's Margaret Atwood on there and some real classics. So it's a huge honor. And I'm going to be doing a really fun thing for it. There's a bookstore in my neighborhood called the BookBar, and the owner is this wonderful gal. She used to be a pedicab cyclist. So she's going to get a pedicab from her old company and she and I, on World Book Night, are going to peddle all around Denver and give the book out.
AM: To finish up here, and you don't need to answer if you're keeping it close to chest, but what are you working on right now?
PH: Yeah, just working on the next novel. It's in a really interesting period where you just start writing and it's fun and a little tenuous, and you just say here we go. And that's when you don't talk about it much. But it's exciting. I can't think of anything more fun.
Peter Heller's new novel, The Painter, officially hit shelves yesterday. (May 6th) Find out more about the author at peterheller.net
Save