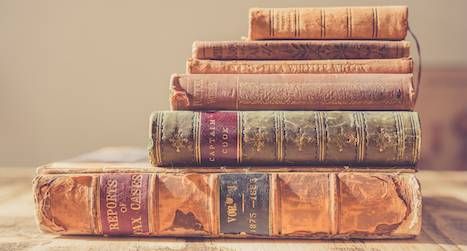 Fiction
The Joys of Obscure Fiction
This content contains affiliate links. When you buy through these links, we may earn an affiliate commission.
This is a guest post from Katherine Marciniak. Katherine is an over-caffeinated avid reader and writer. She was featured in the anthology Once Upon an Apocalypse, and loves to beta read and edit when she has the opportunity. She'll do more impressive things after she's finished her tea…and this next chapter. Follow her on Twitter @MarciniakKatie.
---
You know what I love? Secrets.
And I don't mean the ones that are whispered in the dark at middle school sleepovers. I mean the forgotten ideas and ideals of history, particularly the ones in books.
I mean the secrets that are held in a book that has been abandoned on a library shelf for so long that dust has accumulated at the top and the pages stick together a bit when you open it up and it has a library card stuck inside with the date 1958 stamped on it. Secrets that are only secrets because people haven't thought about them recently. Secrets from authors who have been shouting their ideas for decades 'til the point where their voice is just a whisper now and their name faded.
See, I read the classics. I'm not an English major, but I read like one. I've read Pride and Prejudice and Hamlet and A Farewell to Arms. But I've also read Queed and Jill the Reckless and the essays in Little Rivers. I've never seen the movie, but I have read (and cried over) Twelve Years a Slave by Solomon Northup. I was reading the playwright notes to my copy of A Funny Thing Happened on the Way to the Forum and I discovered the plays of Roman playwright Plautus, whose plays inspired Shakespeare's A Comedy of Errors. (Personally, I think the source material is funnier and tighter, but who am I to say?) I read about, and then had to read for myself, the beautiful poetry of Omar Khayyam's Rubaiyat. I have curled up with a copy of Louisa May Alcott's An Old Fashioned Girl and L.M. Montgomery's The Blue Castle—two books that deserve more recognition than they get—because I couldn't just stop at Little Women and Anne of Green Gables.
So maybe these books aren't complete secrets. But they feel like them. Queed, for example, the story of a little man more interested in studying sociology than he is in actually being social, was a bestseller in 1911 (and made its way into Carney's House Party of the Betsy-Tacy books, which was how I discovered it). There were people, once upon a time, who loved this book and now people give you funny looks if you say you're reading it. I find a certain thrill in reading something that was popular long ago—like I'm sharing in a legacy of sorts. Maybe the books I find aren't philosophical or wise and maybe they didn't all add something to literature like the classics we remember did, but that doesn't make these old classics useless. They still speak to the human condition (most a little less on the nose than Queed, what with sociology being its subject), with strong characters and stories to tell nonetheless.
While it's nice to sit back on my heels and flip through a book way back on that bottom shelf and pretend I'm the only audience this book has anymore, I'd like it if I wasn't so alone. After all, the best part about secrets is sharing them with other people, right? (Okay, maybe not all secrets). So go on out, read a not-so-well-known book by a well-known author! Tell me all about it! The best thing about these forgotten books is that many of them are free downloads on websites like Feedbooks and the Gutenberg project. So go out and look! There's something for everyone! Sometimes there are bad old books too and that's why they're not remembered anymore—but that just makes the classics that have stayed around that much greater (it's like comparing the average runner to the Olympian—it puts the Olympian in context). Happy reading!