Nonfiction
Professional Wrestling, AJ Lee, and Mental Health
This content contains affiliate links. When you buy through these links, we may earn an affiliate commission.
My love of professional wrestling surprises most people. After all, it's blood and guts and gore – until you remember that, unlike "real" wrestling and fight companies like UFC, professional wrestling is just an elaborate form of storytelling. It's the stories of fantasy stories and comic books unfolding in real life.* It's "Shakespeare with steel chairs."
Wrestlers perhaps know this best with the premise of "kayfabe" – the blending of the real world and the narrative presented in professional wrestling. Kayfabe presents things that happen in the industry as real and true, whether that be rivalries that are unfolding between in-real-life best friends or wrestlers never, ever breaking character. (Looking at you, Bray Wyatt.) Kayfabe also takes advantage of things happening in the real world, weaving actual events or relationships into the narrative of wrestling. When real-life wrestling couples break up or make up, or when wrestlers get injured doing something unrelated to the ring, professional wrestling finds a way to weave it into the story and blur the lines ever farther.
That makes wrestling memoirs and biographies some of the best types of reading for wrestling fans. It's when wrestlers get to take off the mask of their character and take us behind-the-scenes of what happens – of what really happens.
It also happens to be really excellent reading. Professional westlers cut their own promos in the ring and, while they might not plot the stories, do write a chunk of their own script; if a wrestler is good enough to be getting a book, it means they're one of the best on the mic, and likely a halfway decent writer. We see this with Mick Foley (who made the bestseller list with all three of his memoirs) and Chris Jericho (whose excellent memoir also reminded us that, hey, he went to school for journalism).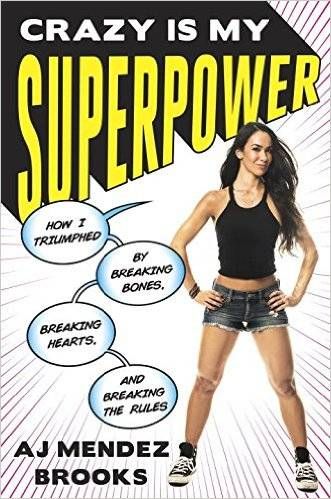 This is why I needed to pick up Crazy is My Superpower: How I Triumphed By Breaking Bones, Breaking Hearts, and Breaking the Rules by AJ Mendez Brooks, known in the ring as AJ Lee. AJ came to WWE during a time where women had become little more than props for the (presumed straight white male) fan to admire and holler at and helped begin to push the industry towards better representation for women. And while fans of women's wrestling will find glorious tidbits about the industry – including bits about AJ's friendship with new Women's Champion Trinity "Naomi" Fatu – it's the rest of the book that showcases exactly why AJ is to be both admired and held dear as a source of inspiration.
AJ reshaped the industry, becoming a successful women's wrestler in an industry that hated women wrestlers, becoming a memorable champion and one of the most beloved wrestlers in the industry – after having climbed her way up from homelessness, all while managing her bipolar disorder.
"Just taking the time to put your mental health first, acknowledging that it deserves respect and care, and accepting help when you need it, can save your life. You are worth saving. And you are not alone."
When I say that AJ's memoir should be held dear as a source of inspiration, I don't mean it in the "disability porn" sort of way that a lot of healthy folks use those who have mental illness or physical disabilities for. I mean that it should be held near and dear as a source of inspiration because a woman who had everything going against her managed to flip the industry she loved the middle finger and succeed despite all of their attempts to stop her.
In a presidential administration that devalues women, devalues people with mental illnesses, and devalues any person of color – categories which AJ falls very neatly into all of, by the administration's standards – it is both important and necessary to hold dear the people who succeed despite every odd thrown at them. Not just politically, or by professions deemed worthy of our attention, but in all walks of life, including professional wrestling.
AJ's story – which happens to be hilarious and heartfelt, great for non-wrestling fans as well as wrestling fans – happens to be a story I will hold dear. This is a woman who survived on stories, who believes that "no matter what [the] circumstance, if you provide kids with creative ammunition, they will blast holes in an oppressive reality and create limitless worlds." This is a woman who didn't let anything stop her: schools or her family or her bosses or her co-workers or her bipolar disorder.
This is a woman who took what she was born with and found ways to use it to her advantage, in the ring and in her life.
And that is something to be admired – and to aspire to.
"We were rough around the edges, but that didn't make us worthless. Being a little damaged does not make someone broken. It just means they have better stories to tell and cooler scars."
* WWE has its own comic book series about the world of wrestling, and Cody Rhodes' "Stardust" character had an in-ring rivalry with DC's Green Arrow both in the wrestling ring and on the television show. Wrestling is bananas in the best kind of way.
All quotes are taken from the advance reader's copy of the book and may be tweaked in the final edition.