This content contains affiliate links. When you buy through these links, we may earn an affiliate commission.
Have you heard of HexComix? No? I hadn't until recently, either. Hex is a small, indie press founded by artist Lisa K. Weber, writer Kelly Sue Milano, and producer/editor Lynly Forrest in 2014. Based in L.A., Hex is a 100% independence venture, self-funded and run from Lynly's home.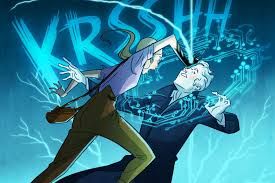 What does all of that mean for readers?
It means that these ladies, who love comics as much as we do, are dedicated to bringing us nontraditional voices and unique stories they care a hell of a lot about.
Their premiere title, Hex11, is an ongoing, with the issues published thus far available individually and in two trades. Nominated for the Dwayne McDuffy Award for Diversity in 2015, Hex11 follows Eleanor, an apprentice witch, as she tries to navigate the magical underworld, a haunting, family drama of an unnatural sort, and the fact she may be falling in love with a demon. That rare combination of sci-fi and fantasy that gets both—and the blend—right, I devoured both trades on my flight to San Diego and then joined the team at their booth, where they were nearly sold out of both books and merchandise, to talk about founding an indie press and the stories they love to tell.
BR: How did this all come about?
Lynly Forrest: Lisa and I were having a conversation one time about her freelance work and she was getting burned out… I said, "If you could do anything what would you do?" She said, "I would make comic books," and I said, "Why? Do people even read those?" In my mind, comic were still very much superheroes and boys…I wasn't up to speed. She (Lisa) said, "No, no, there's a whole thing going on!" She mentioned she had an idea she'd been working on for ten years—we'd been friends for a long time and I know her art, I love her art—so we did it. We realized pretty quickly we were going to need a writer and my husband said, "You have to reach out to this woman, Kelly Sue." She had just quit her job and taken a class at UCLA to write for TV. My husband said, "She's perfect for this, she likes all the same nerd stuff," so we called Kelly Sue and we got together…it was like kismet. She and Lisa have the same brain. We started in April (2014), we had issue one done by August. We took issue one to Kamikaze in LA. We printed 150 books because that's all the money we had, like $550…everyone said, "Don't be upset if no one buys any of these…" We sold out of all of our books by noon on Sunday…it's just been a snowball since then.
BR: Why do you think it was good timing for something that's women-led both in terms of the book and as a company?
Kelly Sue Milano: We synchronistically aligned. When we were going to Kamikaze was around the time Gamergate was really huge. Kamikaze is video game heavy so there were conversations about that going on. It pushed people's eyes toward, "What are the women doing?" And we were there.
LF: The day we went to pick up the comics, it was on the radio…the Gamergate thing had just exploded. We had a good friend who had been in PR and she wrote our first press release; we randomly sent it out to local news places and KCRW picked it up and called us because of the Gamergate thing…and then they ended up interviewing Lisa and putting us on their website on the "Top 5 Things To Do If You Go To Kamikaze" list. Something converged. We had done the work so when it all came together, we were there and we were ready.
Lisa K. Weber: It's empowering to be able to tell your stories without going through the old channels…there's all this technology out there now to empower the creator.
LF: If you can get a team of people together that have the skills you need, you can do this! The power is back in the hands of the creator.
BR: What are some of the influences people who enjoy your work can go to?
LW: Sleeping Beauty. I love the realism and disturbingness of David Lynch. As a child, I loved The Dark Crystal and Labyrinth. Things that lead to: things are beautiful but also grotesque and creepy! I did watch Bleach and I liked that a lot. I have the whole Last Airbender. Inuyasha. More of the classic anime.
KSM: I definitely like David Lynch. In terms of comics: Alan Moore and Craig Thompson. Brian K. Vaughn. Twin Peaks is such a great example of…you step into the world they've built and you're just there. You don't have to fill in a bunch of blanks with exposition. I find that when I see work like that, that's what embodies me and helps me to feel the world out.
Hex11 is available on Comixology and directly from HexComix.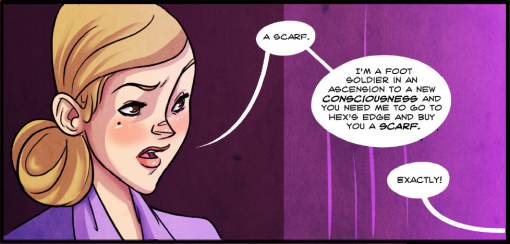 Not only is their work phenomenal, the ladies of HexComix have a recommended reading list for you:
HexComix's next book, Divorce: A Love Story, is a semi-autobiographical graphic novel that follows two high school kids as they fall in love, get married, and then as they grow up together and realize life, and each another, aren't what either of them expected. Divorce: A Love Story is due out at the end of the summer and will be available in bookstores and online.