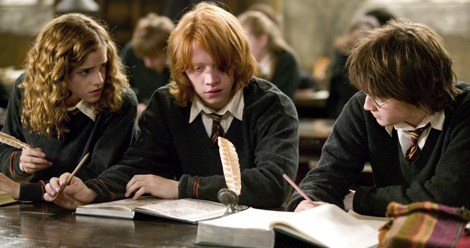 This content contains affiliate links. When you buy through these links, we may earn an affiliate commission.
No matter what your interests, if you're a Harry Potter fan (and who isn't?), there's a Harry Potter erotica fanfic that's right for you. I scoured the Internet to find the crème de la crème of Harry Potter erotica, and now I bring you a collection of some of the Internet's Erotic Wizarding World highlights. Please bear in mind that this list could hardly be comprehensive because there are so many fantastic pairings and stories to choose from, and feel free to share your own favorites in the comments. (And if you want your Potter clean, we've got a list of our favorite HP fanfiction for you.)
Editor's Note, 6/22/2020: Following are the works of independent creators. Book Riot no longer promotes J.K. Rowling in light of statements she has made against the trans community.
Canon Harry Potter Erotica
There is a small corner of the Internet dedicated to those of us who prefer the canonical Harry Potter couples. Personally, my favorite couple will always be Ron and Hermione, and not even J.K. Rowling herself can talk me out of this. Clearly, I'm not the only Potterhead who feels this way as Romione erotica seems to be the most abundant out of all of the canon erotica out there.
Fanfic author JessWithOneEss is out there killing the Romione game. Highlights from the author include Anxious, a 31-chapter epic exploration of Ron and Hermione's very adult relationship, and Midnight, a sexy Deathly Hallows-era one shot.
Some Romione erotica highlights from other authors: In Midnight Swim by lrthunder, Hermione finds Ron skinny dipping, and the situation quickly escalates. In Happy Birthday, Hermione! by phantompopcorn, Ron gives Hermione the best kind of birthday present.
If you're into other canon pairings, many of the more conventional pairings are often included in non-canon erotica. As much as I prefer my canon couples, non-canon erotica is where the Harry Potter fandom really starts having fun.
non-Canon Harry Potter erotica: m/f
With so many compelling characters in the Potterverse, it's no surprise that non-canon erotica makes up the majority of the erotic Harry Potter fanfic out there. There are so many different potential pairings and/or groupings with which fanfic authors can play around. What follows is a selection of some of the more interesting male/female erotic fics.
A Question of Value by Inell pairs Hermione with Percy Weasley on the Quidditch Pitch.
Still Waters Run Deep by sarhea keeps with the Hermione/Percy pairing and reminds us that "prim and proper doesn't mean passionless."
In As I Walk From My Machine by tamlane, Percy moves on to Astoria Greengrass after, on behalf on the Ministry of Magic, he puts out an ad asking for subjects to test experimental sex magic and Astoria answers the call.
One of the fandom's favorite non-canon pairings is Dramione (Draco/Hermione). In The Ladder by Cheryl Dyson, the couple gets frisky in the library.
The Dragon's Bride by Rizzle, Hermione and Draco find themselves naked, tattooed, and married after a drunken night of debauchery. If you're in it for the long haul, this particular fic is 61 chapters long.
Trust Me by RZZMG puts Hermione and Neville Longbottom together. This story a sweet mix of unrequited love and BDSM.
Neville Longbottom has a romp with Luna Lovegood in What if I Do It Wrong? by snarkysweetness. The idea of sex has always frightened Neville, but Luna is more than happy to guide the way.
It's his sixth year at Hogwarts, and Harry Potter finds out all new benefits of being the Chosen One in Harry's Sex Year by VenomBat22. This one features a lot of different ladies, so buckle up.
If you like a good threesome, A Nightly Stroll by TigerLily8806 might be more your speed. In it, Harry Potter is taking (you guessed it) a nightly stroll when he finds his girlfriend Ginny and his enemy Draco in a compromising position.
Non-canon Harry Potter erotica: m/m
One of the most popular male on male couples in the Harry Potter fandom are Sirius Black/Remus Lupin (WolfStar). In The Wolfsbane Effect by Kerichi, Remus is torn between his two loves, Tonks and Sirius. So this erotic fanfic has a little bit to offer to both the canon fans and the WolfStar believers.
If you want more straightforward Remus/Sirius smut, Ten Minutes by KatScratches is the fic for you. It's a short and simple tale of two men getting ready together and getting a little distracted.
I had no idea Percy Weasley and Oliver Wood were such a popular pairing until I started doing research for this article, at which point I uncovered a whole slew of Percy/Oliver erotica. In A Bit of Respite by Bryonia Alba, Percy and Oliver get some much needed alone time.
In Bustle by yeaka, Quidditch star Oliver Wood has to deal with adoring fans and his raging desire for his boyfriend Percy.
Drowned Boy by cest_what adds Marcus Flint into the Percy/Oliver mix.
Not enough for you? Check out Things I Learned in School by janed. Oliver and Percy are back for this one, and so is Marcus.
Did you love the movie Groundhog Day but also lamented the lack of wizard boy sex in it? Sexetera, Ad Infinitum by nqdonne is the story for you then. Once again, this story features the surprise star of M/M Harry Potter erotica, Percy Weasley.
If you're more interested in everyone having sex with everyone else (including twincest), try Make A Note by Inell. Fred and George test out a new line of products, and things get sexy.
non-canon Harry POtter erotica: f/f
M/M erotica continues to dominate Harry Potter fanfic, but there are still quite a few notable lesbian stories out there. Ginny's Self-Help Fantasy by mercuryidols dives into Ginny Weasley's secret lesbian fantasies about Hermione Granger.
In A Perfect Dream World by arobynsung, everyone's favorite Quidditch girls Alicia Spinnett, Angelina Johnson, and Katie Bell get together.
If you ever wondered what it would be like if Hermione Granger was a lesbian, check out The Exploits of Hermione Granger by WhereTheBerriesBloom. This series is a collection of one-shots in which Hermione explores several different lesbian relationships.
Varying Nature by Bunnyhops tells the tale of a threesome between Hermione, Ginny, and Luna, the lesbian Golden Trio.
erotica: the next generation
Once upon a time, Harry Potter and his schoolmates grew up and had kids, and those kids had sex.
After reading Harry Potter and the Cursed Child, I felt a little cheated that Scorpius and Albus Severus didn't end up together. If you're like me, you might enjoy Runs in the Family by TransBoyWonder. Scorpius and Albus are dating in this story, and after doing a little digging, they find out that their parents Draco and Harry also used to date.
Under the Night Sky by BOMBARDMAXIMA pairs Albus with his brother James. Yes, this is a brother/brother smut story. Albus is having the worst birthday ever, and James comes to his rescue.
Hands by iamisaac is erotic fiction starring Albus and Teddy Lupin. Albus always wanted Teddy, but never thought he would be able to have him. After he admits his feelings, things start heating up.
In The Dragon and the Rose by drcjsnider, generations collide when Rose Weasley gets intimate with Draco Malfoy
Erotic Heat by AnnaBelle Rose22 features Rose and Lily Luna, but also Ginny and Harry. And also all four of them together.
erotica that defies classification
Now for the really weird erotica, the stories that defy classification. Inanimate objects get involved in First Encounter by Lyris Malachi. In this extremely strange erotic fanfic, Hogwarts is lonely and the giant squid is there to fill those halls.
Sometimes a man's love for fruit knows no bounds. This is the case with the popular fan pairing Drapple. Yes, this is Draco Malfoy and an apple. Even Tom Felton has said that Drapple is his one of his favorite Harry Potter fan pairings. There are so many Drapple fics to choose from, but one of the steamiest is Forbidden Fruit by Charlotte Blackwood. Hermione makes a brief appearance as well.
Centaurs are infamous within the Harry Potter fandom for possibly raping a Harry Potter villain off-screen. Don't worry, however. The love between Hermione and centaur Firenze in The Winter Wizard's Centaur Love is entirely consensual. Strange, but consensual.
Speaking of strange, ever wondered how you have sex with a ghost? Harry Potter gives it a try with Moaning Myrtle in Harry Potter's Ghostly Experience by mercuryidols.
podcasting erotica
Though not its own fanfic, Potterotica is a podcast worth checking out for any fan of Harry Potter erotica. Every Tuesday, hosts Allie LeFevere, Lyndsay Rush, and Danny Chapman read a new chapter of Harry Potter erotic fanfiction. There are quite a few episodes already, so if you want to get your Harry Potter erotica fix while on the go, this podcast is your answer!
Don't forget to leave a comment about your favorite Harry Potter pairing or erotic fanfic. And let me know what you think about the Harry Potter erotica I included on this list.
Didn't find what you were looking for? Find more erotic stories here.
---
We're giving away a stack of our 20 favorite books of the year. Click here to enter, or just click the image below.