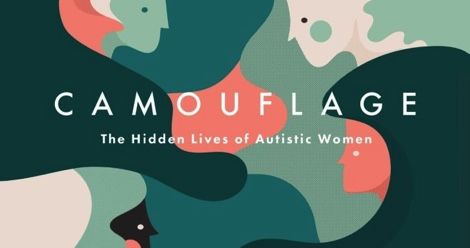 Comics Newsletter
An Interview With the Creators of CAMOUFLAGE: THE HIDDEN LIVES OF AUTISTIC WOMEN
This content contains affiliate links. When you buy through these links, we may earn an affiliate commission.
Camouflage: The Hidden Lives of Autistic Women seeks to educate. Society has multiple biases regarding autism, from refusing to diagnose autism to assuming multiple stereotypes. These stereotypes, from "you can't be autistic if you're bad at math" to "that's not a special interest"—can hamper, and even harm lives. Camouflage breaks down these harmful biases and shows real-life profiles, with beautiful illustrations to match.
Dr. Sarah Bargiela, a clinical psychologist, teamed up with illustrator Sophie Standing for this remarkable collaboration. Dr. Bargiela is a member of the CTRL group, and Ms. Standing's specialty is art about human sciences and psychology.
Camouflage is a nonfiction graphic novel about autism in women, and their stories. What was the inspiration behind this collaboration and the book?
Sarah: While working as a psychologist in a refugee service I needed some visuals to explain trauma to a patient and stumbled across the Trauma comic book that Sophie had illustrated for Steve Haines, and immediately loved it. Just before that, I had been approached by Jessica Kingsley Publishers (JKP) at a conference to write a book on my doctoral research on autistic women but wasn't sure where to start. Having come across Trauma, I realised a comic book could be an ideal way to make the research on autistic women accessible to a really broad audience. So I got in touch with Sophie, met for a coffee and she was really keen to collaborate, so we went from there!
What was the collaboration experience like?
Sarah: Working with Sophie was great—she is just so positive and curious which made her really easy to work with and bounce ideas off—it all came very naturally and she continually experimented with different ways of depicting the women's experiences. And because Sophie was already experienced in illustrating invisible diagnoses, like anxiety and pain, using visual metaphors, it just felt like a really good fit to also be working with her to communicate autistic women's experiences.
Sophie: It was such a great learning experience for me—I love collaborating with people like Sarah because her enthusiasm for the subject really inspired me to come up with creative ways of illustrating autism. We met up many times to discuss her research in depth, which allowed me to fundamentally understand what she wanted to achieve with the book. I also read many books on autism that Sarah lent me, so I could gain a broader understanding of the subject. Through the research, I felt increasingly passionate about creating something that would spread awareness and also give women and girls more confidence in their autistic identity.
Sarah gave me a lot of freedom with style and ideas, but as she too has a design background she was really great at coming up with ideas and suggesting layouts. We had a similar taste in colours and style and so the process was really smooth and natural. It was also interesting to illustrate with an autistic target audience in mind. Sarah and I discussed colour palettes and character styles that would best appeal to autistic women and girls and so her knowledge and research informed the way I illustrated.
What can neurotypical people best learn about autistic women, especially those that don't fit the stereotypes?
Sarah: That women can be autistic is probably the first invisible fact that has slipped under lots of people's radar. Then the other common autism myths that make it hard for neurotypical people to actually believe a woman is autistic, like, 'you don't have to be exceptionally good at one thing, like maths or art, to be autistic' or 'you can still be sociable and autistic'. Similarly, autistic women's ability to camouflage or 'mask' their autistic features means that a lot of autistic women can 'pass' as normal in social situations and are therefore are much harder to spot. That said, not all autistic women camouflage and some of the women I interviewed, actively avoided trying to 'fit in' to social stereotypes. And as one person with autism quoted, 'Once you've met one autistic person, you've met one autistic person'. The same applies to autistic women. Also, important to note, the autistic women I interviewed and represented in Camouflage were from a particular cohort of late-diagnosed women aged 18-30, without an intellectual disability; and the experiences of autistic women who received a timely diagnosis and/or have an intellectual disability are likely to be quite different.
Sophie, your other works include the Strange series with Steve Hains. How was working on Camouflage different?
Sophie: Camouflage features more stories, so the illustration style in places has more narrative. The illustrations were primarily intended for an autistic female audience, so there were some design choices—such as colour palette and character styles—which were made with this audience in mind.
Dr. Bargiela, how can family members help autistic siblings, parents, or children best?
Sarah: I think being open to having frank conversations within a family is important. That would include parents and caregivers being open to hearing what was difficult for their autistic child in their school day or their day at work, but also, what might be challenging for their non-autistic siblings too and creating a space where questions can be asked openly, without shame or worry or guilt. And the same applies to parents and caregivers being open between themselves with regards to what they might be finding challenging if they have a child who has recently received a diagnosis. This could involve being open to receiving support, be it meeting other parents in similar situations or being able to share the diagnosis with the wider family.
What do you both hope readers will glean from this book?
Sarah: I hope that readers can use it as a springboard and talking point for finding out more about autistic women. I would like it to serve as a raising awareness tool for those who have never heard of female autism, from health and education professionals to friends and family of newly diagnosed women who want their support networks to better understand them.
Sophie: I hope readers gain a more accurate knowledge of autism in women, and I hope it fills a gap in current research. I hope that it gives autistic readers more confidence in themselves and makes them feel better supported, and encouraged to reach out to wider autistic communities. Lastly I hope that the illustrations offer a more engaging visualisation of autism, making it easier for more people to learn about the issue.
Are you going to collaborate again?
Sarah: Absolutely. There is a project currently in the pipeline on pregnancy which is very exciting.
Sophie: Yes! There's something exciting in the pipeline that we're currently talking about.
What did you enjoy best about using the graphic novel medium to talk about autism and disabilities?
Sarah: We didn't talk so much about disabilities but I think the graphic novel medium worked well as Sophie's illustrations really brought to life some of the more nuanced aspects of autism in a really playful way, for example, the drawings on some of the women's special interests really brings to life the dedication and depth of research that autistic women went to when engaging in a special interest. Equally, the illustrations also capture some of the darker and more nuanced experiences in a sensitive way—for example, when depicting women's sexual exploitation. I just think the drawings bring the research to life, in a way that words alone could not, and make Camouflage accessible to a far broader audience.
What tools do you prefer for art and graphic design?
Sophie: I work digitally, so straight onto my computer or iPad using Photoshop and Illustrator to draw. Sometimes I'll rough something out quickly on pencil and paper but that's just to develop a very initial idea. The layout is all done on InDesign where the text and footnotes are added.
What upcoming works can we expect from both of you?
Sarah: I would like to continue translating health research into comic books so that people can access the latest findings on a particular condition in a quick and easy way.
Sophie: I'm currently working on a personal project which involves collating different ideas on mental health.