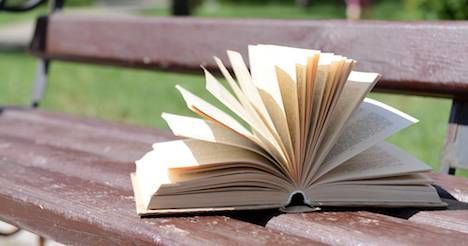 This content contains affiliate links. When you buy through these links, we may earn an affiliate commission.
Here's something you probably haven't thought too much about when you're reading a YA book: the representation of older adults. Part of the reason why you likely haven't thought much about it is because there aren't too many in YA books.
There are certainly adults in YA books, but it's rare to see adults who are older and/or elderly having a noteworthy role in these stories.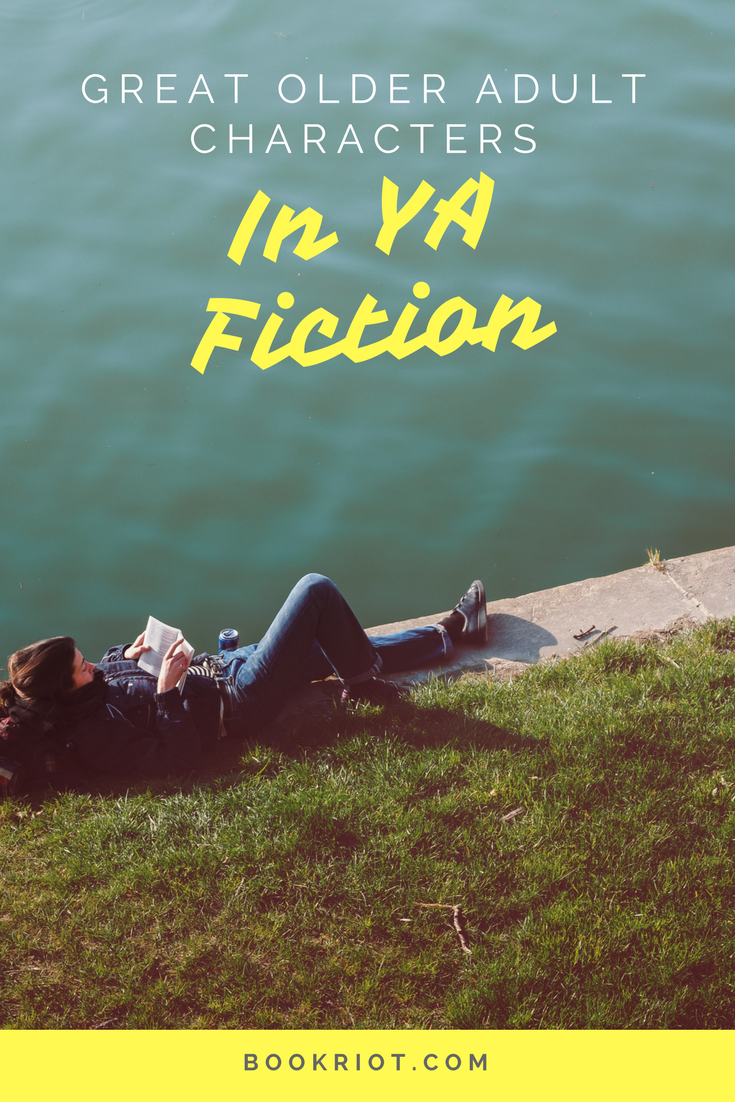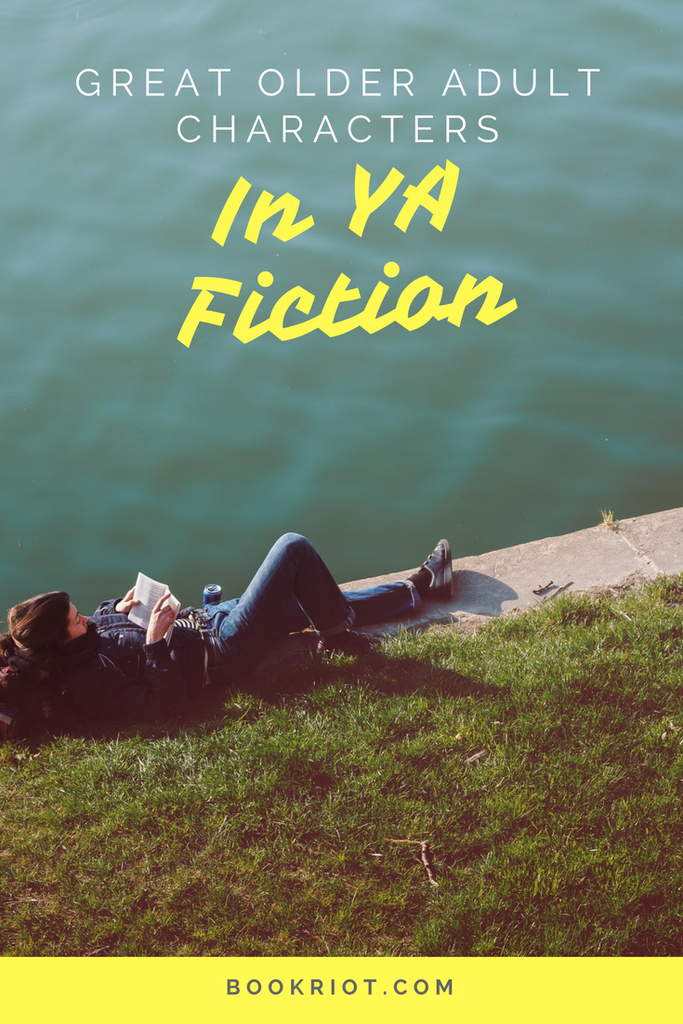 One of my favorite shows as a kid — a really young kid! — was The Golden Girls. I suspect I wasn't the only preschooler who enjoyed watching these older women do their things, even if I didn't understand a fraction of what was going on.
I have a hunch that, with the beginning of the show's streaming on Hulu, that we might see more younger people finding themselves singing "Thank You For Being A Friend" because they've become obsessed with these sassy, spunky women who lead full, interesting, and happy lives in a world that so frequently erases their presence.
Here's a round-up of some YA titles that feature older and/or elderly adults in the stories that are noteworthy, well-written, and, at times, downright fun.
Of interest on this list: while digging around, I noticed a real lack of YA stories where grandparents are the full-time, or even part-time, guardians of teens. As someone who grew up living in the house where both my grandparents lived from the time I was small until I moved out, it struck me as something worth pointing out — this isn't an uncommon reality.
The Adjustment by Suzanne Young (grandparents)
Tatum Masterson never went through The Program. She never had her memory stripped, never had to fight to remain herself. But when Weston, her longtime boyfriend and love of her life, was taken by handlers, she hoped he'd remember her somehow—that their love would be strong enough.
It wasn't.
Like all returners, Weston came back a blank canvas. The years he and Tatum spent together were forgotten, as well as the week when he mysteriously disappeared before The Program came for him.
Regardless of his memory loss, Tatum fights to get Weston to remember her. And just as they start to build a new love, they hear about the Adjustment—a new therapy that implants memories from a donor. Despite the risks, Tatum and Weston agree to go through the process. Tatum donates her memories from their time together.
But the problem with memories is that they are all a matter of perspective. So although Weston can now remember dating Tatum, his emotions don't match the experiences. And this discrepancy is slowly starting to unravel him, worse than anything The Program could have done.
And as the truth of their life together becomes clear, Tatum will have to decide if she loves Weston enough to let him go, or to continue to live the lie they'd build together.
Prepare for your Adjustment.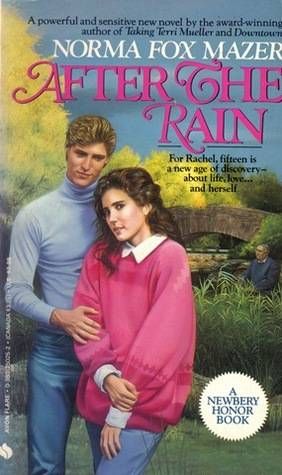 After the Rain by Norma Fox Mazer (grandfather)
At fifteen, Rachel is a worrier. She worries about whether her family understands her, whether her friends like her, and whether she'll get her first kiss before she turns sixteen. And she worries about whether she can handle having a real boyfriend if he does come along.
But it takes a dying old man — her grandfather — who has never been easy for anyone to handle, to show Rachel she has very special abilities. With love and compassion, she reaches the heart of an old tyrant who has always been unreachable. And in so doing, she comes to a better understanding of her family, her friends, and herself.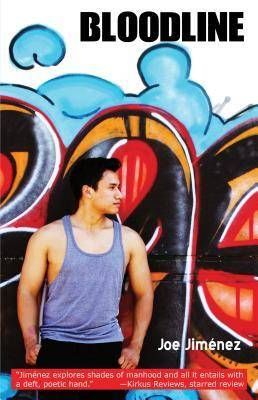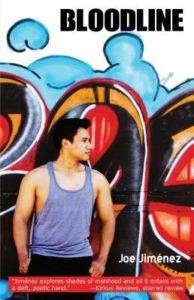 Bloodline by Joe Jimenez (grandmother)
In his junior year, seventeen-year-old Abraham learns how to drive a stick shift. He falls in love for the first time. And he has been in three fights and suspended twice, all before Thanksgiving. His grandmother fears the hard future that awaits him, so she invites her son—the one with a fat police file who has hurt her so many times—back into the house. Abraham's uncle is determined to make a man of him. Meanwhile, the boy's feelings for his friend Ophelia grow, and she tries to understand why he fights. "This will end badly," she warns.
At school, Abraham learns about genetics, and he wonders if people are born bad. Is it in their DNA? Was he born to punch and kick and scream and fight and destroy things because of the genes in his body? Is that what happened to his father? All he knows is that his father is dead and his mother is gone.
Deception's Pawn by Esther M Friesner (elderly lady-in-waiting)
Maeve, princess of Connacht, seems to have won her freedom. Her father, the High King, is finally allowing her to explore the world beyond his castle. But Maeve soon discovers that being the High King's daughter doesn't protect her from bullying or the attention of unwelcome suitors.
Struggling to navigate a new court, she must discourage the advances of her father's rival, who is vying with her host's son for her hand in marriage. Maeve is a pawn trapped between these two boys. Her bold defiance will bring her to the brink of disaster, but her clever gamble may also lead to her independence. Though she faces danger and intrigue, Maeve will also discover what kind of person-and queen-she's destined to become.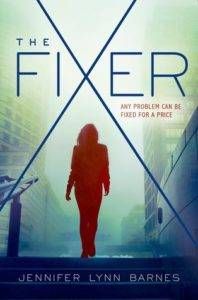 The Fixer by Jennifer Lynn Barnes (grandmother)
Sixteen-year-old Tess Kendrick has spent her entire life on her grandfather's ranch. But when her estranged sister Ivy uproots her to D.C., Tess is thrown into a world that revolves around politics and power. She also starts at Hardwicke Academy, the D.C. school for the children of the rich and powerful, where she unwittingly becomes a fixer for the high school set, fixing teens' problems the way her sister fixes their parents' problems.
And when a conspiracy surfaces that involves the family member of one of Tess's classmates, love triangles and unbelievable family secrets come to light and life gets even more interesting—and complicated—for Tess.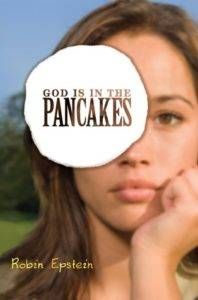 God Is In The Pancakes by Robin Epstein (elderly friend)
Fifteen-year-old Grace Manning is a candy striper in a nursing home, and Mr. Sands is the one patient who makes the job bearable. He keeps up with her sarcasm, teaches her to play poker . . . and one day cheerfully asks her to help him die. At first Grace says no way, but as Mr. Sands's disease progresses, she's not so sure. Grace tries to avoid the wrenching decision by praying for a miracle, stuffing herself with pancakes, and running away from all feelings, including the new ones she has for her best friend Eric. But Mr. Sands is getting worse, and she can't avoid him forever.
Going Vintage by Lindsay Levitt (grandmother)
When Mallory's boyfriend, Jeremy, cheats on her with an online girlfriend, Mallory decides the best way to de-Jeremy her life is to de-modernize things too. Inspired by a list of goals her grandmother made in1962, Mallory swears off technology and returns to a simpler time (when boyfriends couldn't cheat with computer avatars). The List:
1. Run for pep club secretary
2. Host a fancy dinner party/soiree
3. Sew a dress for Homecoming
4. Find a steady
5. Do something dangerous
But simple proves to be crazy-complicated, and the details of the past begin to change Mallory's present. Add in a too-busy grandmother, a sassy sister, and the cute pep-club president–who just happens to be her ex's cousin–and soon Mallory begins to wonder if going vintage is going too far.
Honey, Baby, Sweetheart by Deb Caletti (elderly woman)
It is summer in the Northwest town of Nine Mile Falls, and sixteen-year-old Ruby McQueen, ordinarily dubbed The Quiet Girl, finds herself hanging out with gorgeous, rich, thrill-seeking Travis Becker. But Ruby is in over her head, and finds she is risking more and more when she's with him.
In an effort to keep Ruby occupied, Ruby's mother Ann drags Ruby to the weekly book club she runs. When it is discovered that one of the group"s own members is the subject of the tragic love story they are reading, Ann and Ruby spearhead a reunion between the long-ago lovers. But for Ruby, this mission turns out to be much more than just a road trip.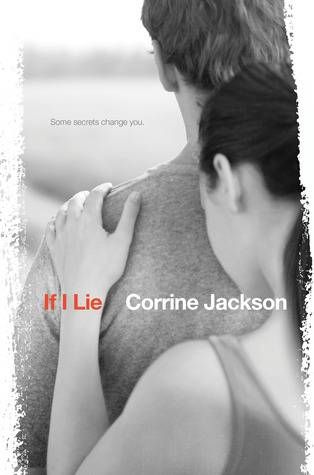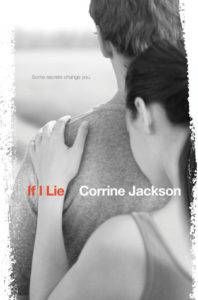 If I Lie by Corrine Jackson (elderly man who becomes a friend)
Quinn's done the unthinkable: she kissed a guy who is not Carey, her boyfriend. And she got caught. Being branded a cheater would be bad enough, but Quinn is deemed a traitor, and shunned by all of her friends. Because Carey's not just any guy—he's serving in Afghanistan and revered by everyone in their small, military town.
Quinn could clear her name, but that would mean revealing secrets that she's vowed to keep—secrets that aren't hers to share. And when Carey goes MIA, Quinn must decide how far she'll go to protect her boyfriend…and her promise.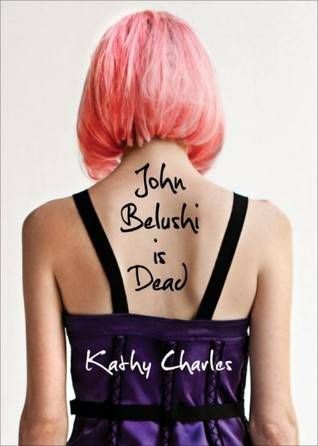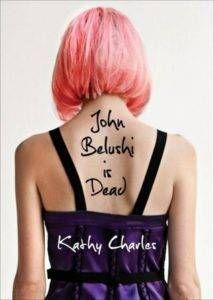 John Belushi Is Dead by Kathy Charles (elderly man)
Pink-haired Hilda and oddball loner Benji are not your typical teenagers. Instead of going to parties or hanging out at the mall, they comb the city streets and suburban culs-de-sac of Los Angeles for sites of celebrity murder and suicide. Bound by their interest in the macabre, Hilda and Benji neglect their schoolwork and their social lives in favor of prowling the most notorious crime scenes in Hollywood history and collecting odd mementos of celebrity death.
Hilda and Benji's morbid pastime takes an unexpected turn when they meet Hank, the elderly, reclusive tenant of a dilapidated Echo Park apartment where a silent movie star once stabbed himself to death with a pair of scissors. Hilda feels a strange connection with Hank and comes to care deeply for her paranoid new friend as they watch old movies together and chat the sweltering afternoons away. But when Hank's downstairs neighbor Jake, a handsome screenwriter, inserts himself into the equation and begins to hint at Hank's terrible secrets, Hilda must decide what it is she's come to Echo Park searching for . . . and whether her fascination with death is worth missing out on life.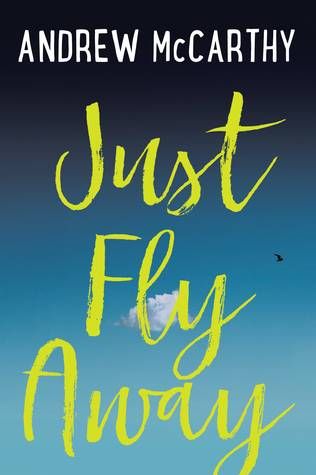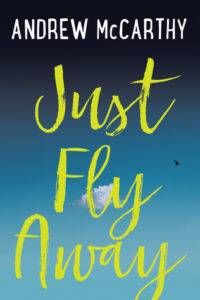 Just Fly Away by Andrew McCarthy (grandfather)
When fifteen-year-old Lucy Willows discovers that her father has a child from a brief affair, a eight-year-old boy named Thomas who lives in her own suburban New Jersey town, she begins to question everything she thinks she knows about her family and her life. Lucy can't believe her father betrayed the whole family, or that her mother forgave him, or that her sister isn't rocked by the news the way Lucy is. Worse, Lucy's father's secret is now her own, one that isolates her from her friends, family, and even her boyfriend, Simon, the one person she expected would truly understand. When Lucy escapes to Maine, the home of her mysteriously estranged grandfather, she finally begins to get to the bottom of her family's secrets and lies.
Just Like Fate by Cat Patrick and Suzanne Young (grandmother)
Caroline is at a crossroads. Her grandmother is sick, maybe dying. Like the rest of her family, Caroline's been at Gram's bedside since her stroke. With the pressure building, all Caroline wants to do is escape–both her family and the reality of Gram's failing health. So when Caroline's best friend offers to take her to a party one fateful Friday night, she must choose: stay by Gram's side, or go to the party and live her life.
The consequence of this one decision will split Caroline's fate into two separate paths–and she's about to live them both.
Friendships are tested and family drama hits an all-new high as Caroline attempts to rebuild old relationships, and even make a few new ones. If she stays, her longtime crush, Joel, might finally notice her, but if she goes, Chris, the charming college boy, might prove to be everything she's ever wanted.
Though there are two distinct ways for her fate to unfold, there is only one happy ending.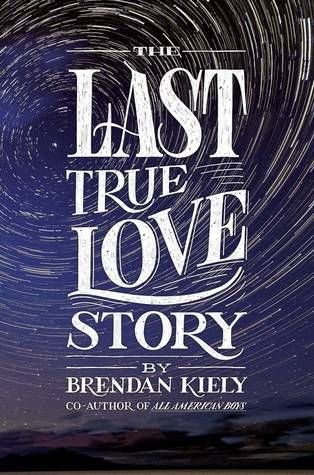 The Last True Love Story by Brendan Kiely (grandfather)

The point of living is learning how to love.
That's what Gpa says. To Hendrix and Corrina, both seventeen but otherwise alike only in their loneliness, that sounds like another line from a pop song that tries to promise kids that life doesn't actually suck. Okay, so: love. Sure.
The thing about Corrina—her adoptive parents are suffocating, trying to mold her into someone acceptable, predictable, like them. She's a musician, itching for any chance to escape, become the person she really wants to be. Whoever that is.
And Hendrix, he's cool. Kind of a poet. But also kind of lost. His dad is dead and his mom is married to her job. Gpa is his only real family, but he's fading fast from Alzheimer's. Looking for any way to help the man who raised him, Hendrix has made Gpa an impossible promise—that he'll get him back east to the hill where he first kissed his wife, before his illness wipes away all memory of her.
One hot July night, Hendrix and Corrina decide to risk everything. They steal a car, spring Gpa from his assisted living facility, stuff Old Humper the dog into the back seat, and take off on a cross-country odyssey from LA to NY. With their parents, Gpa's doctors, and the police all hot on their heels, Hendrix and Corrina set off to discover for themselves if what Gpa says is true—that the only stories that last are love stories.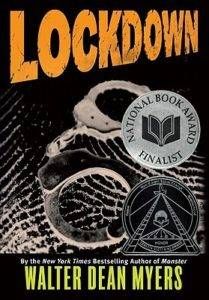 Lockdown by Walter Dean Myers (elderly man)
When I first got to Progress, it freaked me out to be locked in a room and unable to get out. But after a while, when you got to thinking about it, you knew nobody could get in, either.
It seems as if the only progress that's going on at Progress juvenile facility is moving from juvy jail to real jail. Reese wants out early, but is he supposed to just sit back and let his friend Toon get jumped? Then Reese gets a second chance when he's picked for the work program at a senior citizens' home. He doesn't mean to keep messing up, but it's not so easy, at Progress or in life. One of the residents, Mr. Hooft, gives him a particularly hard time. If he can convince Mr. Hooft that he's a decent person, not a criminal, maybe he'll be able to convince himself.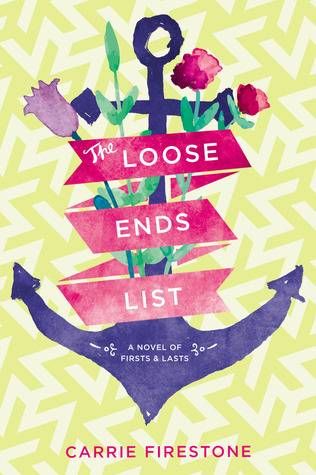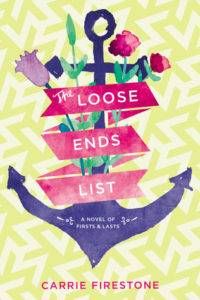 The Loose Ends List by Carrie Firestone (grandmother)
Maddie has big plans to spend the last months before college tying up high school "loose ends" alongside her best friends. Then her beloved grandmother drops two bombshells: (1) Gram is dying. (2) She's taking her entire family on a round-the-world cruise of dreams come true—but at the end, Gram won't be returning home.
With a promise to live in the now without regrets, Maddie boards the Wishwell determined to make every moment count. She finds new friends in her fellow Wishwellians, takes advantage of the trip's many luxuries, gets even closer to her quirky family, and falls for painfully gorgeous Enzo. But despite the copious laughter, headiness of first love, and wonder of the glamorous destinations, Maddie knows she is on the brink of losing Gram, and she struggles to find the strength to let go in a whirlwind summer shaped by love, grief, and laughter.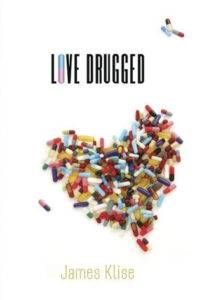 Love Drugged by James Klise (grandparents)
If you could change who you are, would you? Should you?
Fifteen-year-old Jamie Bates has a simple strategy for surviving high school: fit in, keep a low profile, and above all, protect his biggest secret–he's gay. But when a classmate discovers the truth, a terrified Jamie does all he can to change who he is. At first, it's easy. Everyone notices when he starts hanging out with Celia Gamez, the richest and most beautiful girl in school. And when he steals an experimental new drug that's supposed to "cure" his attraction to guys, Jamie thinks he's finally going to have a "normal" life.
But as the drug's side effects worsen and his relationship with Celia heats up, Jamie begins to realize that lying and using could shatter the fragile world of deception that he's created-and hurt the people closest to him.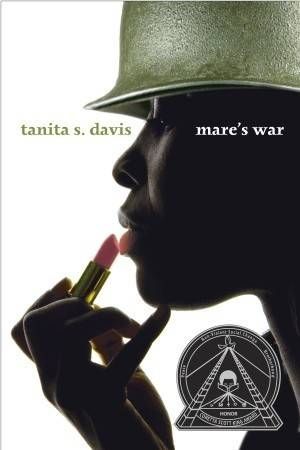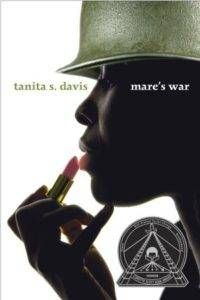 Mare's War by Tanita S. Davis (grandmother)
Octavia and Tali are dreading the road trip their parents are forcing them to take with their grandmother over the summer. After all, Mare isn't your typical grandmother. She drives a red sports car, wears stiletto shoes, flippy wigs, and push-up bras, and insists that she's too young to be called Grandma. But somewhere on the road, Octavia and Tali discover there's more to Mare than what you see. She was once a willful teenager who escaped her less-than-perfect life in the deep South and lied about her age to join the African American battalion of the Women's Army Corps during World War II.
Told in alternating chapters, half of which follow Mare through her experiences as a WAC member and half of which follow Mare and her granddaughters on the road in the present day, this novel introduces a larger-than-life character who will stay with readers long after they finish reading.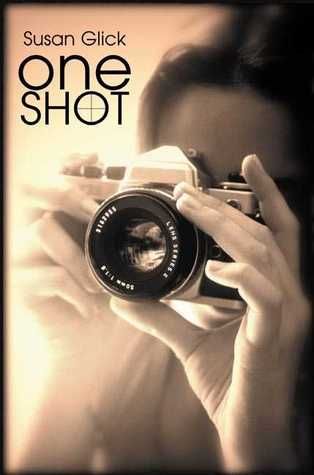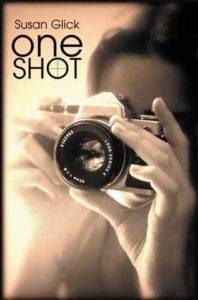 One Shot by Susan Glick (mentor)
Lorrie Taylor is looking forward to lazing away the long summer days with Sarah, who's been her best friend since childhood. But Sarah's working at the riding stables and has little time to spend lounging by the pool. The cute stable manager, Thomas, seems interested in Lorrie, but even his welcome attention doesn't make up for the fact that she feels lost in her own hometown.
Then Lorrie lands a job with renowned photographer Molly Price, who has become a recluse. The prickly old woman isn't the easiest person to get along with, but her photographs touch Lorrie deeply. With Molly's encouragement, Lorrie begins to shoot and print her own pictures.
As her abilities develop, Lorrie comes to realize that technical skill is not enough. Her search for that one perfect shot proves much more difficult than she ever imagined—and much more rewarding.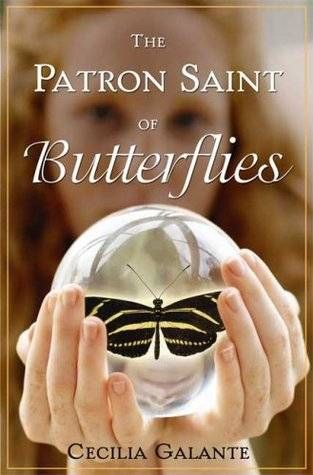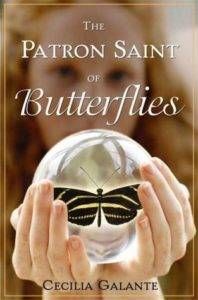 The Patron Saint of Butterflies by Cecelia Galante (grandmother)
Agnes and Honey have been best friends for as long as they can remember. But everything is about to change, from their friendship to the only home they've ever known: a religious commune called Mount Blessing. Agnes loves being a believer and following the rules of the commune, but Honey has started to rebel. Then, when Agnes and Honey experience the outside world (on the run, no less), their friendship is tested further. After all, when everything you've ever known turns out to be a lie, how do you find the truth? A powerful story of faith, doubt, abuse, and above all, friendship.
Scarlett Epstein Hates It Here by Anna Breslaw (neighbor)
Meet Scarlett Epstein, BNF (Big Name Fan) in her online community of fanfiction writers, world-class nobody at Melville High. Her best (read: only) IRL friends are Avery, a painfully shy and annoyingly attractive bookworm, and Ruth, her weed-smoking, possibly insane seventy-three-year-old neighbor.
When Scarlett's beloved TV show is canceled and her longtime crush, Gideon, is sucked out of her orbit and into the dark and distant world of Populars, Scarlett turns to the fanfic message boards for comfort. This time, though, her subjects aren't the swoon-worthy stars of her fave series—they're the real-life kids from her high school. And if they ever find out what Scarlett truly thinks about them, she'll be thrust into a situation far more dramatic than anything she's ever seen on TV.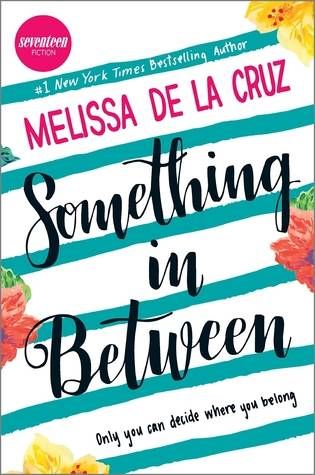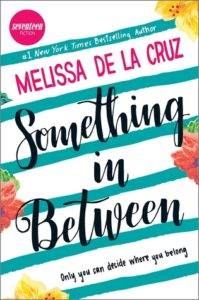 Something in Between by Melissa de la Cruz (an older "auntie")
Jasmine de los Santos has always done what's expected of her. Pretty and popular, she's studied hard, made her Filipino immigrant parents proud and is ready to reap the rewards in the form of a full college scholarship.
And then everything shatters. A national scholar award invitation compels her parents to reveal the truth: their visas expired years ago. Her entire family is illegal. That means no scholarships, maybe no college at all and the very real threat of deportation.
For the first time, Jasmine rebels, trying all those teen things she never had time for in the past. Even as she's trying to make sense of her new world, it's turned upside down by Royce Blakely, the charming son of a high-ranking congressman. Jasmine no longer has any idea where—or if—she fits into the American Dream. All she knows is that she's not giving up. Because when the rules you lived by no longer apply, the only thing to do is make up your own.
Sorta Like A Rock Star by Matthew Quick (retirement home elderly)
Amber Appleton lives in a bus. Ever since her mom's boyfriend kicked them out, Amber, her mom, and her totally loyal dog, Bobby Big Boy (aka Thrice B) have been camped out in the back of Hello Yellow (the school bus her mom drives). Still, Amber, the self-proclaimed princess of hope and girl of unyielding optimism, refuses to sweat the bad stuff. But when a fatal tragedy threatens Amber's optimism–and her way of life, can Amber continue to be the rock star of hope?
With an oddball cast of characters, and a heartwarming, inspiring story, this novel unveils a beautifully beaten-up world of laughs, loyalty, and hard-earned hope. The world is Amber's stage, and Amber is, well…she's sorta like a rock star. True? True.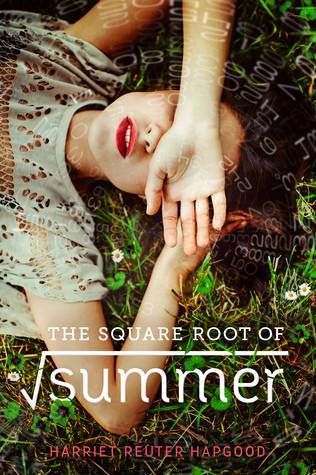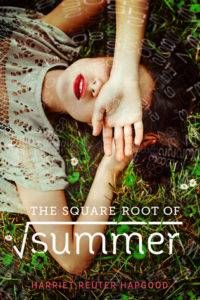 The Square Root of Summer by Harriet Reuter Hapgood (grandfather)
Gottie H. Oppenheimer is losing time. Literally. When the fabric of the universe around her seaside town begins to fray, she's hurtled through wormholes to her past:
To last summer, when her grandfather Grey died. To the afternoon she fell in love with Jason, who wouldn't even hold her hand at the funeral. To the day her best friend Thomas moved away and left her behind with a scar on her hand and a black hole in her memory.
Although Grey is still gone, Jason and Thomas are back, and Gottie's past, present, and future are about to collide—and someone's heart is about to be broken.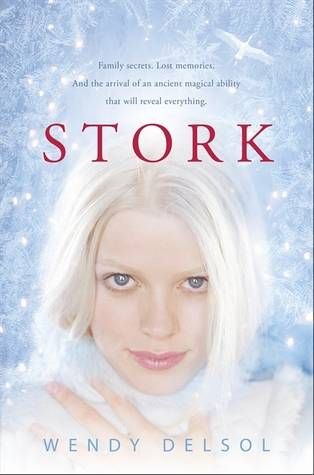 Stork by Wendy Delsol (~mysterious elderly women~)
Family secrets. Lost memories. And the arrival of an ancient magical ability that will reveal everything.
Sixteen-year-old Katla LeBlanc has just moved from Los Angeles to Minnesota. As if it weren't enough that her trendy fashion sense draws stares, Katla soon finds out that she's a Stork, a member of a mysterious order of women tasked with a very unique duty. But Katla's biggest challenge may be finding her flock at a new school. Between being ignored by Wade, the arrogant jock she stupidly fooled around with, and constantly arguing with gorgeous farm boy and editor-in-chief Jack, Katla is relieved when her assignment as the school paper's fashion columnist brings with it some much-needed friendship. But as Homecoming approaches, Katla uncovers a shocking secret about her past — a secret that binds her fate to Jack's in a way neither could have ever anticipated.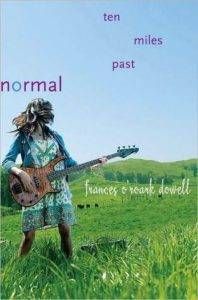 Ten Miles Past Normal by Frances O'Roark Dowell (elderly neighbor)
Janie Gorman wants to be normal. The problem with that: she's not. She's smart and creative and a little bit funky. She's also an unwilling player in her parents' modern-hippy, let's-live-on-a-goat-farm experiment (regretfully, instigated by a younger, much more enthusiastic Janie). This, to put it simply, is not helping Janie reach that "normal target." She has to milk goats every day…and endure her mother's pseudo celebrity in the homemade-life, crunchy mom blogosphere. Goodbye the days of frozen lasagna and suburban living, hello crazy long bus ride to high school and total isolation–and hovering embarrassments of all kinds. The fresh baked bread is good…the threat of homemade jeans, not so much.
It would be nice to go back to that old suburban life…or some grown up, high school version of it, complete with nice, normal boyfriends who wear crew neck sweaters and like social studies. So, what's wrong with normal? Well, kind of everything. She knows that, of course, why else would she learn bass and join Jam Band, how else would she know to idolize infamous wild-child and high school senior Emma (her best friend Sarah's older sister), why else would she get arrested while doing a school project on a local freedom school (jail was not part of the assignment). And, why else would she kind of be falling in "like" with a boy named Monster—yes, that is his real name. Janie was going for normal, but she missed her mark by about ten miles…and we mean that as a compliment.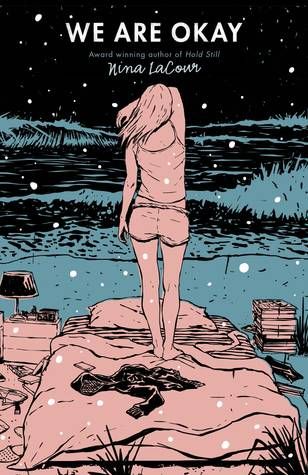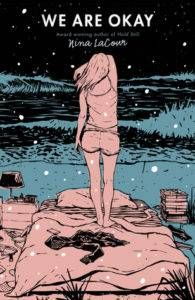 We Are Okay by Nina LaCour (grandmother)
Marin hasn't spoken to anyone from her old life since the day she left everything behind. No one knows the truth about those final weeks. Not even her best friend Mabel. But even thousands of miles away from the California coast, at college in New York, Marin still feels the pull of the life and tragedy she's tried to outrun. Now, months later, alone in an emptied dorm for winter break, Marin waits. Mabel is coming to visit and Marin will be forced to face everything that's been left unsaid and finally confront the loneliness that has made a home in her heart.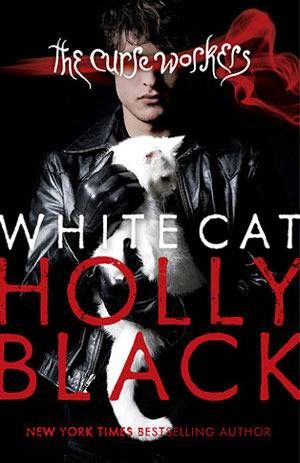 White Cat by Holly Black (series, grandfather)
CASSEL COMES FROM A FAMILY OF CURSE WORKERS – people who have the power to change your emotions, your memories, your luck, by the slightest touch of their hands. And since curse work is illegal, they're all criminals. Many become mobsters and con artists. But not Cassel. He hasn't got magic, so he's an outsider; the straight kid in a crooked family. You just have to ignore one small detail – he killed his best friend, Lila, three years ago.
Cassel has carefully built up a facade of normalcy, blending into the crowd. But his facade starts to crumble when he finds himself sleepwalking, propelled into the night by terrifying dreams about a white cat that wants to tell him something. He's noticing other disturbing things to, including the strange behavior of his two brothers. They are keeping secrets from him. As Cassel begins to suspect he's part of a huge con game, he must unravel his past and his memories. To find out the truth, Cassel will have to outcon the conmen.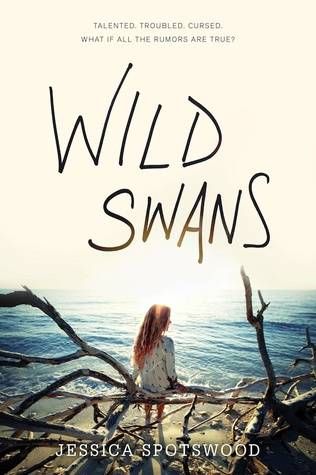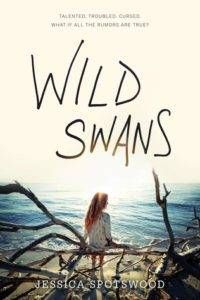 Wild Swans by Jessica Spotswood (grandfather)
The summer before Ivy's senior year is going to be golden; all bonfires, barbeques, and spending time with her best friends. For once, she will just get to be. No summer classes, none of Granddad's intense expectations to live up to the family name. For generations, the Milbourn women have lead extraordinary lives—and died young and tragically. Granddad calls it a legacy, but Ivy considers it a curse. Why else would her mother have run off and abandoned her as a child?
But when her mother unexpectedly returns home with two young daughters in tow, all of the stories Ivy wove to protect her heart start to unravel. The very people she once trusted now speak in lies. And all of Ivy's ambition and determination cannot defend her against the secrets of the Milbourn past.