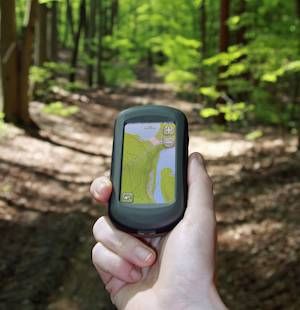 Opinion
Why Geocaching Is The Perfect Sport for Readers
Geocaching is a real-world treasure hunt. When this was written, there were over 2.5 million geocaches (or "caches") and 6 million geocachers around the world. Each cache is listed on a website. A player uses a GPS device (either a handheld GPS unit or a smartphone) to read and decipher the clues and then find the actual treasure. It may take a long hikes in the woods or a simple walk around the corner, depending on where you are and what you want to do. For someone like me, who prefers to sit with her head in a book, it can be a welcome little bit of exercise between chapters. Once found, you sign a log, record it on the computer, and move on to the next one.
So what is it about geocaching that would appeal to readers? First, it's a language-based game. There are often hints and clues hidden using creative language. Knowing that "rock out" can mean either that the cache is near a music store or that it is in a fake rock can give you a major edge. Some of the clues make New York Times crossword puzzles look like child's play. But, there are also simple, straight-forward clues that can encourage younger and beginning readers to apply what they have read to a real-life setting. Or, at least as real a setting as sneaking around bushes can be considered.
Second, each player determines his or her own game. Just like reading, you pick the topics, the speed, the goals, and whether other people are involved. If you like books like Wild or A Walk in the Woods, you might choose a trail of caches placed in a forest. If you like mysteries such as Encyclopedia Brown or Sherlock Holmes, you might choose caches involving cyphers and detective work (like this one which, if you figure out, please email me and tell me how!). If you're a fan of unusual things happening to normal people like in The Chronicles of Narnia, you can check whether there are any placed near the strange and interesting things around you (hint: there's almost always one placed at anything featured on Roadside America). Young readers will be pumped when they figure out a clue and find a cache before their parents. Competitive people will thrill in finding a cache as soon as it's placed or figuring out a really, really difficult one. In short, there's something for everyone.
Third, reading and geocaching are all about discovering worlds that may not be apparent to other people. In geocaching, people who don't cache are even referred to as "muggles" since they are unaware of the hidden world all around them. Do a quick search of your neighborhood and you'll find hidden things all over it. Plus, in order to keep it hidden, you need to use stealth and cunning to retrieve a cache undetected (I like to pretend to tie my shoe or talk on my phone as I casually get something out of hiding). On the flip side, you will forever be suspicious of people who are simply out for a walk near a cache site.
Libraries have picked up on readers' interest. Librarians and staff in many different states have placed caches in their libraries in an effort to encourage reading and visits. They are some of the most fun caches out there. Not only are you likely to visit a new library but you are almost always required to do some creative thinking in order to find the actual spot (even after you have found the library).
Books and authors are well-represented in the geocaching world. You can find ones about Harry Potter, banned books, and even Dr. Seuss. There are caches encouraging you to exchange one used book for another. There are caches near bookish statues. There are likely caches related to a lot of your favorite authors (Jane Austen, Emily Dickinson, Maya Angelou). You can also find recommended reading lists and summer reading lists. I could go on and on.
Geocaching is a fun way to combine reading with a little exercise and adventure. It's mostly free to join – you just need a phone and a team name. You can choose to spend a little more on an actual GPS, a premium membership, or a phone app that will give you a lot more options. I'd suggest checking it out before you spend the money, though. It can be frustrating and difficult but that makes the find a lot more fun. Happy caching!
Save