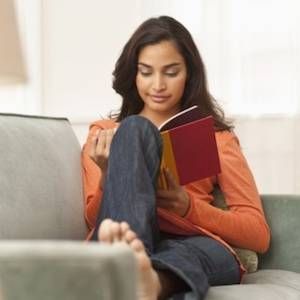 Nonfiction
Genre Kryptonite: Non-Fiction For Fiction Lovers
This content contains affiliate links. When you buy through these links, we may earn an affiliate commission.
For most of us, when we're introduced to books, we're reading fiction. Parents read us tales of once upon a time and far far away, with colorfully illustrated fables of dragons and witches and kings that capture our imagination, fill us with wonder and send us running back to the shelves for more. (Clever parents and teachers, it's almost like you planned that!)
But what this can sometimes mean is that, because we learned to fall in love with books this way, there's a whole other group of books out there that sometimes doesn't get that same kind of instinctual love: the non-fiction genres. I teach early middle school students and I can tell you that I have to maintain my highest levels of excitement to get them to put down their Harry Potters and Ever After Highs for a little bit just so I can convince them how awesome non-fiction can be, particularly favoritest of favorite non-fiction genres: narrative non-fiction.
Narrative non-fiction is sometimes rather loosely defined, but for it's fundamentally this: it's history for fiction readers. Honestly, I use it as a hook for fiction-obsessed kids for a reason. It's the best kind of storyteller's genre. The books in this genre tell tales of places and eras with all the enthralling pull of a true story promise, and enveloping charm of a long tale of adventure and mayhem, woven by the fireside on a long winter's eve. These stories tend to flow like fiction, with richly described scene-setting beginnings, memorable vignettes told for maximum shock value, amusement or horror, narrative arcs of people analyzed like characters at every turn, and endings that, while not always (or often- unsurprisingly) happily ever after, lead us to a denouement worth waiting for- whether it is of a mystery still ongoing, or the slow decline of an era, watching another one dawn, for better or for worse.
And, of course, let us remember that this is the best kind of once upon a time: the kind that really existed. And this does what no amount of timeline making or textbook reading could do: it tells non-fiction in a way that truly makes it come alive. These books use literary devices for the best of purposes: to tell a truth, to truly make us see someone in history as a person, and show us why they mattered.
For those for whom these characteristics sound appealing, here are some of my favorite examples of authors whose writing offers some of the best of the genre's benefits:
Stella Tillyard: Stella Tillyard is a historian whose work primarily specializes in the late 18th and early 19th Her most famous book is Aristocrats, which was adapted into a miniseries and which covers the lives of the five Lennox sisters, all of whom lead rather extraordinary lives, and who wrote extensively to each other. They left behind an amazing volume of correspondence. Their sisters' lives reach from the formal court protocol of pre-Revolutionary War Georgian Britain to the dawn of Victoria's reign, and illuminate a fascinating slice of life that was changing at a rapid pace. Tillyard's pose makes the reader feel like we know these sisters, and brings their voices alive in an intimate and sympathetic way. She has written several similarly engaging works of history (A Royal Affair, Citizen Lord) but recently took her talents for bringing the era to life by taking the logical next step and publishing a novel: Tides of War, a novel set in the Napoleonic Peninsular Wars.
Nancy Mitford: Ah, the inimitable Nancy Mitford. While she is best known for the runaway and lasting success of her fiction (especially The Pursuit of Love and Love in a Cold Climate, what is slightly less known is that she wrote absolutely wonderful biographies. They focus on luminaries of the 18th century and are witty, bright tales full of her personal pronouncements on the subjects' character and choices, written by someone who clearly felt she had an insider's perspective and certain authority on their exclusive, aristocratic lives. Far and away the best of the lot is her biography of Madame Pompadour, clearly a personal hero of hers. But her illuminating tale of Voltaire's affair with the scientist Emilie du Chatelet, Voltaire in Love, is also highly entertaining, and offers Mitford's highly entertaining and not-at-all intimidated perspective on this sometimes intimidating man of letters.
No god but God: The Origins, Evolution and Future of Islam blew me away when I first read it. It was published in 2006, but has lost little of its value as the issues and perspective it discusses remain quite relevant. His goal with this book is to explain the history of Islam by putting its development in its proper political, religious, geographic and demographic context over time. He uses the narrative style of non-fiction to present this history in a way that makes the outlines of the religion's development both comprehensible and fascinating. As a scholar of religions who was born in Iran, but who left as a child due to the Islamic Revolution to be raised and educated in America, Aslan is well placed to frame his history to an audience raised in largely secularized, Judeo-Christian based societies, which is who this book seems largely intended for. His book, just as reminder to understand Islam as a whole, complicated, diverse religion with its extremists, its reformers and its intense disagreements, as with many other religions, alone makes it more than well worth the reading.
Tom Reiss: Tom Reiss is a journalist who seems to have more or less fallen into writing narrative non-fiction by basically being one of the luckiest men alive, who just can't help falling onto mind-blowingly wonderful stories. The most recent example of this is his evocative, fantastically memorable Pulitzer-Prize winning biography of Alexandre Dumas' father, The Black Count. However, it is his first book of this kind, The Orientalist that I want to talk about, because it's one of my favorite books of all time. This time, Reiss stumbles on the story of Lev Nussimbaum, a writer from Baku, whose romantic novel Ali and Nino is considered Azerbaijan's national novel. He lived the life of a chameleon in a time when that would seem impossible (especially for someone of Jewish origin, as he was): in an early 20th century Europe increasingly and menacingly obsessed with identity categorization. His life takes in the sunset of the Ottoman and Russian Empires, Weimar Berlin and Fascist Italy, where he changes identities constantly, always running from himself more than the authorities. His subject's loose relationship with the truth and refusal to be pigeonholed keeps his life enthralling to the last.
David King's Vienna: 1814- How the Conquerors of Napoleon Made Love, War and Peace at the Congress of Vienna. I push this book whenever given the slightest opportunity to do so, so I'm not about to waste this one. It's possibly the most readable history I've ever come across. It has an enviable subject (the glittering gathering of international notables in Vienna who came together to end the Napoleonic Wars) and a fascinating focus (while readers will get a great overview of the outlines of the peace treaty and how it came out the way it did, most of the books' pages are devoted to the social whirl that surrounded the congress- where, it must be said, much of the real work got done.) His sources are plentiful and the amazing cast of characters he has to work with unparalleled, almost all of whom left behind gloriously detailed letters and accounts of what happened, riddled with personal vendettas and passions and stories both hilarious and ridiculous. And what's wonderful is that never does anything feel beside the point. The petty rivalry of the courtesans of the great and powerful, a king's drunken antics at a ball, whether Metternich's mistress was nice to him that morning- it all has a direct effect on what happens the next day. I've never had a failed recommendation with this one. King is a wonderful storyteller- you'll be educated, entertained and swept away all at once.
Duff Cooper's Talleyrand: I can't even tell you how much I adore this book. But isn't it a pretty traditional biography, you ask? Sure, but it belongs in this genre because it's a truly stellar example of it. Written in the same assured, aristocratic voice of insular, unquestioned privilege that characterizes the work of Nancy Mitford, his work on Talleyrand reads like your most engaging history professor who doesn't accept any nonsense from anyone. Talleyrand is the infamous, oft-reviled French diplomat who somehow managed to work for the ancien regime, Revolutionary government, Napoleon, and the restored Bourbon monarchy and survive with his head intact. Rather than find this suspicious and reflective of a lack of conviction, as many have, Cooper writes as a lifelong diplomat, giving props to genius of his own profession who, on the contrary, he feels represents the best talents of the profession and never got the respect he deserved. Cooper's work displays a commanding knowledge of the period, often penetrating analyses of the actual, rather than perceived, effect of Talleyrand's actions, and it is filled with memorable anecdotes that I'm still looking for excuses to tell at parties. He makes his subject understandable and vivid, and does it better than any novel on the subject could claim to.
So go on. There are some long, cold days ahead. Surely you've got some time to give this often overlooked genre a try? Really, I promise, it's just like many of your beloved fiction genres, but with a dose of real. And you know, like Twain said: Truth is stranger than fiction. Fiction, after all, has to make sense. But the real life depicted in these books, on the other hand, is often absurd and random and bizarre, which means that you get this wonderful genre, filled with unbelievable stories that need no other justification than their existence to be told.