Humor
10 Hilariously Funny Poems About Life And Love
This content contains affiliate links. When you buy through these links, we may earn an affiliate commission.
Funny poems are the unicorns of the poetry world, written by the linguistic geniuses who have mastered the written word and made it funny. Two things that are tricky enough on their own and (as I am currently demonstrating) ridiculously difficult to combine.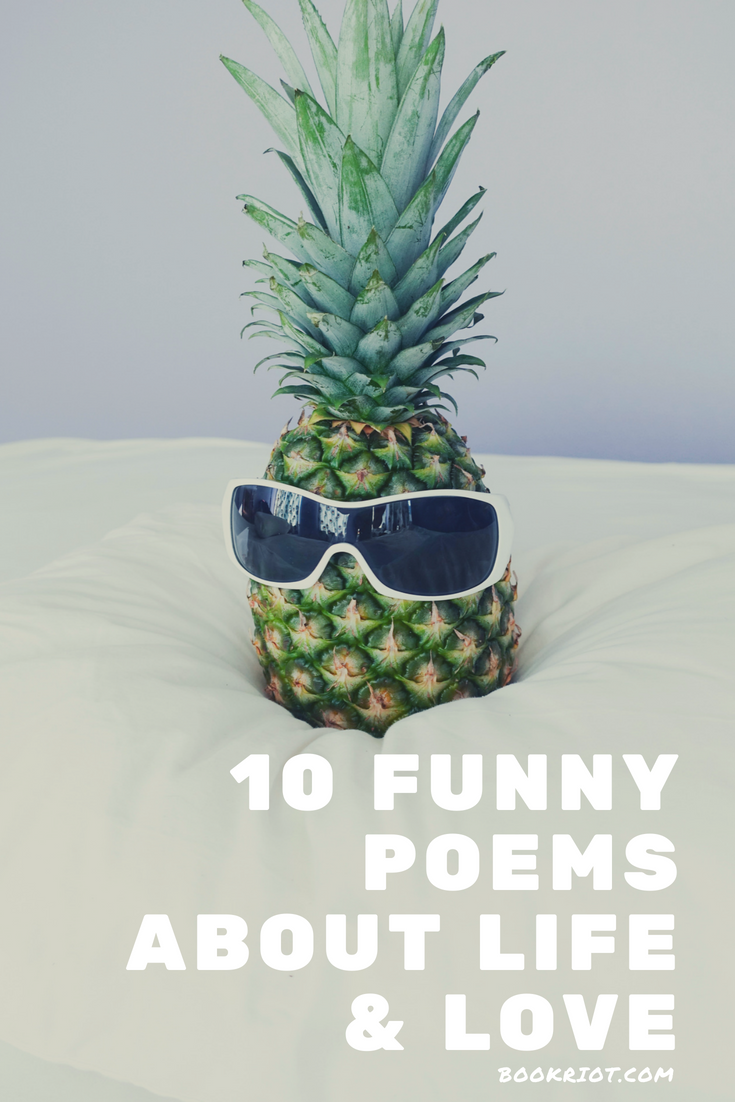 The scarcity of truly funny poems is why I've made a habit of collecting them. Here are some of the best funny poems about life, love, and everything in between.
"Count the Waves" BY SANDRA BEASLEY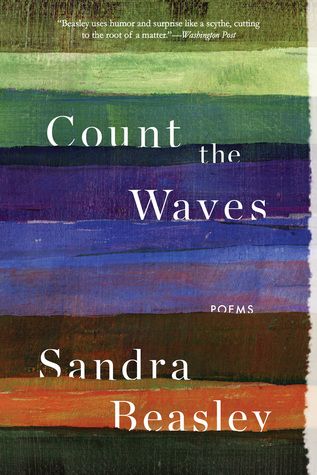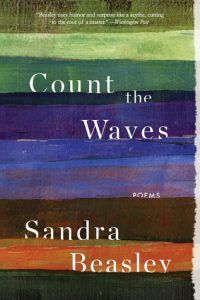 You must not skirt the issue wearing skirts.

You must not duck the bullet using ducks.
You must not face the music with your face.
Headbutting, don't use your head. Or your butt.
You must not use a house to build a home,
and never look for poetry in poems.
In fact, inject giraffes into your poems.
Let loose the circus monkeys in their skirts.
Explain the nest of wood is not a home
at all, but a blind for shooting wild ducks.
Grab the shotgun by its metrical butt;
aim at your Muse's quacking, Pringled face.
It's good we're talking like this, face to face.
There should be more headbutting over poems.
Citing an 80s brand has its cost but
honors the teenage me, always in skirts,
showing my sister how to Be the Duck
with a potato-chip beak. Take me home,
Mr. Revell. Or make yourself at home
in my postbellum, Reconstruction face—
my gray eyes, my rebel ears, all my ducks
in the row of a defeated mouth. Poems
were once civil. But war has torn my skirts
off at the first ruffle, baring my butt
or as termed in verse, my luminous butt.
Whitman once made a hospital his home.
Emily built a prison of her skirts.
Tigers roamed the sad veldt of Stevens's face.
That was the old landscape. All the new poems
map the two dimensions of cartoon ducks.
We're young and green. We're braces of mallards,
not barrels of fish. Shoot if you must but
Donald, we're with you. Trying to save poems,
we settle and frame their ramshackle homes.
What is form? Turning art to artifice,
trading pelts for a more durable skirt.
Even urban ducklings deserve a home.
Make way. In the modern: Make way, Buttface.
A poem is coming through, lifting her skirt.
Read this and other funny poems in Count the Waves.
"Frau Freud" by
Carol Ann Duffy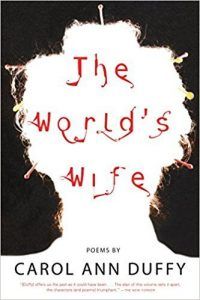 Ladies, for argument's sake let us say
that I've seen my fair share of ding-a-ling, member and jock,
of todger and nudger and percy and cock, of tackle,
of three-for-a-bob, of willy and winky; in fact,
you could say, I'm as au fait with Hunt-the Salami
as Ms M Lewinsky—equally sick up to here
with the beef bayonet, the pork sword, the saveloy,
love-muscle, night-crawler, dong, the dick, prick,
dipstick and wick, the rammer, the slammer, the rupert,
the shlong. Don't get me wrong, I've no axe to grind
with the snake in the trousers, the wife's best friend,
the weapon, the python—I suppose what I mean is,
ladies, dear ladies, the average penis—not pretty …
the squint of its envious solitary eye … one's feeling of
pity …
One of many equally hilarious poems in The World's Wife.
"Workshop" by Billy Collins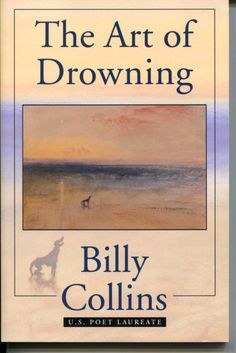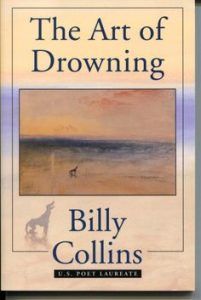 Now so immediately the poem has my attention,
like the Ancient Mariner grabbing me by the sleeve.
And I like the first couple of stanzas,
the way they establish this mode of self-pointing
that runs through the whole poem
and tells us that words are food thrown down
on the ground for other words to eat.
I can almost taste the tail of the snake
in its own mouth,
if you know what I mean.
Read the rest here or check out The Art of Drowning.
"Engineers' Corner" by Wendy Cope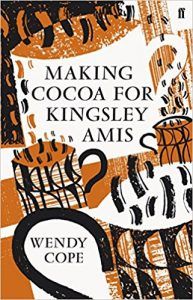 Why isn't there an Engineers' Corner in Westminster Abbey? In Britain we've always made more fuss of a ballad than a blueprint… How many schoolchildren dream of becoming great engineers?
—advertisement placed in The Times by the Engineering Council
We make more fuss of ballads than of blueprints—
That's why so many poets end up rich,
While engineers scrape by in cheerless garrets.
Who needs a bridge or dam? Who needs a ditch?
Whereas the person who can write a sonnet
Has got it made. It's always been the way,
For everybody knows that we need poems
And everybody reads them every day.
Read the rest here or check out Making Cocoa for Kingsley Amis.
Dear Advice Columnist by Bill Knott
I recently killed my father
And will soon marry my mother;
My question is:
Should his side of the family be invited to the wedding?
Want more? check out I Am Into Flying Myself.
"Inventory" by Dorothy Parker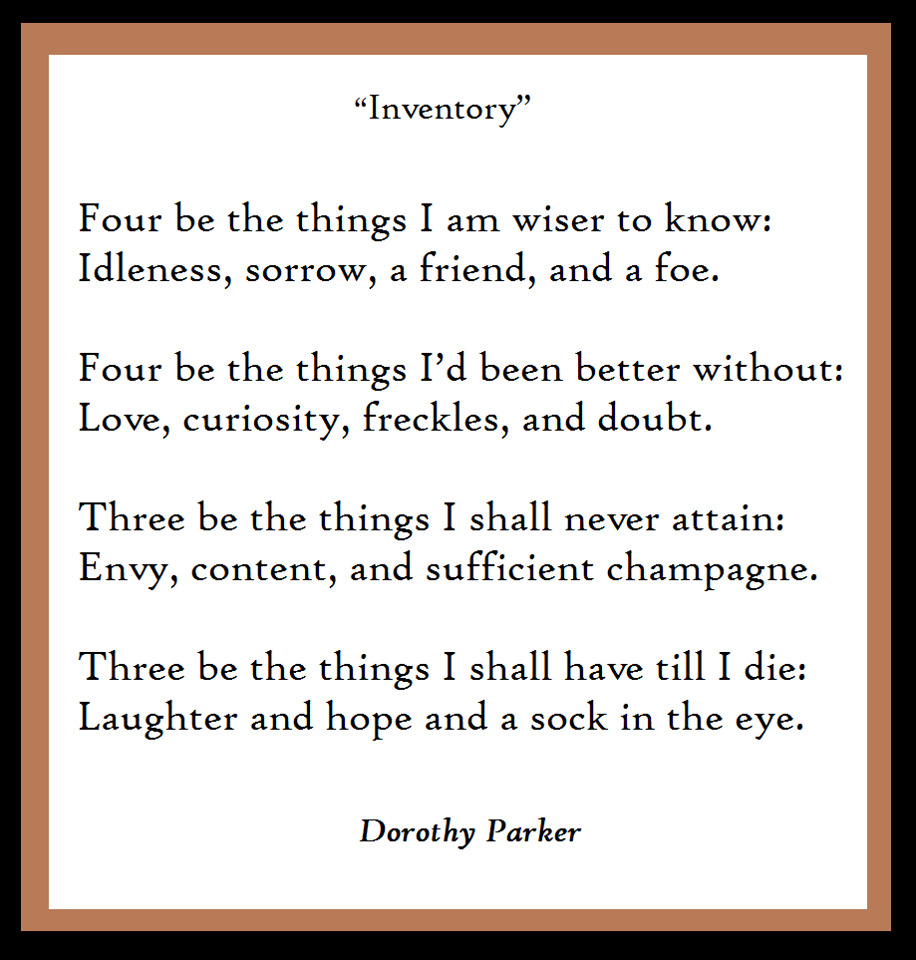 Four be the things I am wiser to know:
Idleness, sorrow, a friend, and a foe.
Four be the things I'd been better without:
Love, curiosity, freckles, and doubt.
Three be the things I shall never attain:
Envy, content, and sufficient champagne.
Three be the things I shall have till I die:
Laughter and hope and a sock in the eye.
More, you say? Pick up a copy of The Collected Dorothy Parker.
"Are All the Break-Ups in Your Poems Real?" BY AIMEE NEZHUKUMATATHIL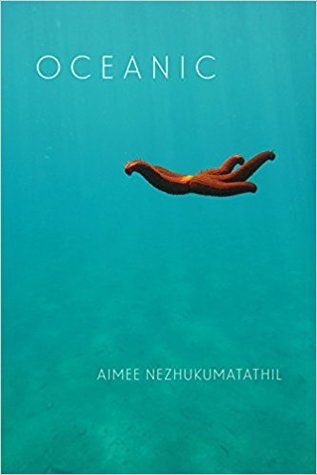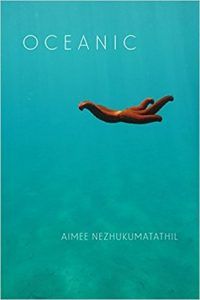 If by real you mean as real as a shark tooth stuck
in your heel, the wetness of a finished lollipop stick,
the surprise of a thumbtack in your purse—
then Yes, every last page is true, every nuance,
bit, and bite. Wait. I have made them up—all of them—
and when I say I am married, it means I married
all of them, a whole neighborhood of past loves.
Can you imagine the number of bouquets, how many
slices of cake? Even now, my husbands plan a great meal
for us—one chops up some parsley, one stirs a bubbling pot
on the stove. One changes the baby, and one sleeps
in a fat chair. One flips through the newspaper, another
whistles while he shaves in the shower, and every single
one of them wonders what time I am coming home.
Check out Oceanic, published by Copper Canyon Press.
"Report on the Most Recent Survey of Morale" by Carrie Shipers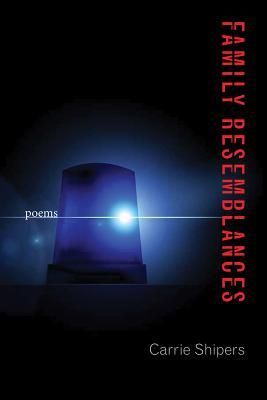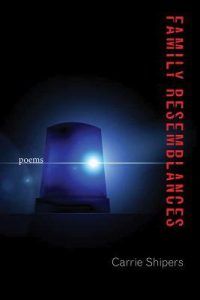 We noticed participation has decreased,
though whether due to layoffs or malaise
we can't be sure. While the survey
is anonymous, if you filled the comment boxes
with These questions suck or Stop wasting
my time, we probably know who you are,
especially if you mentioned your division,
duties and job description, and even more so
if you signed your name. We're sorry
you're suffering, but we doubt work
caused your divorce. We're also dismayed
by demands for better leadership.
While you're welcome to select Somewhat
or Not at all in response to Do you find
management effective?, we'd like you
to imagine how that makes us feel.
Perhaps it was insensitive to ask
which of your coworkers are seeking
other jobs, but we really need an estimate…
Read the rest here and check out Family Resemblances by Carrie Shipers
"Primipara" by Ariel Gordon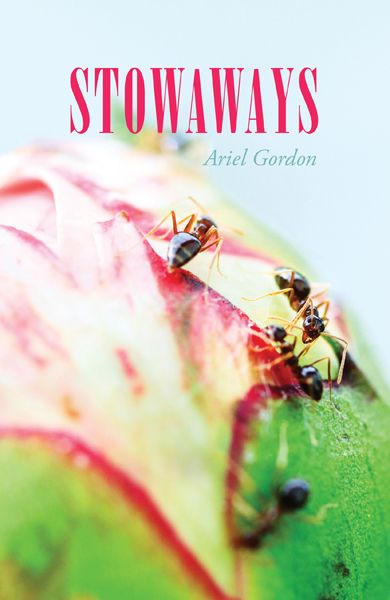 If I had had twins, I would have eaten one.
If I had had twins, I would have cracked
a beatific smile. Thanks,
but no. And primly given it/them back.
If I had had twins, I would have tucked
them under my arms like footballs or small perfect
hand-grenades aimed at my breasts: fuck.
If I had had twins, I would have kept mum.
Check out this and other funny poems in Stowaways.
"If only out of vanity" by Staceyann Chinn
Read the lyrics here.
What are your favorite funny poems? Hit the comments to share yours!