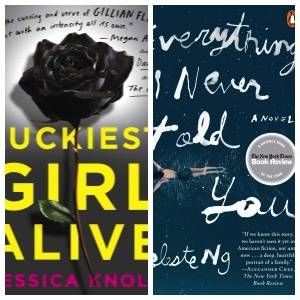 This content contains affiliate links. When you buy through these links, we may earn an affiliate commission.
In Fresh Ink, we highlight and discuss some of the week's most exciting new books.
HARDCOVER RELEASES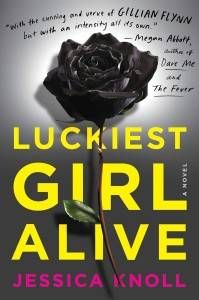 Luckiest Girl Alive by Jessica Knoll (Simon & Schuster)
As a teenager at the prestigious Bradley School, Ani FaNelli endured a shocking, public humiliation that left her desperate to reinvent herself. Now, with a glamorous job, expensive wardrobe, and handsome blue blood fiancé, she's this close to living the perfect life she's worked so hard to achieve.
But Ani has a secret.
There's something else buried in her past that still haunts her, something private and painful that threatens to bubble to the surface and destroy everything.
With a singular voice and twists you won't see coming, Luckiest Girl Alive explores the unbearable pressure that so many women feel to "have it all" and introduces a heroine whose sharp edges and cutthroat ambition have been protecting a scandalous truth, and a heart that's bigger than it first appears.
The question remains: will breaking her silence destroy all that she has worked for—or, will it at long last, set Ani free?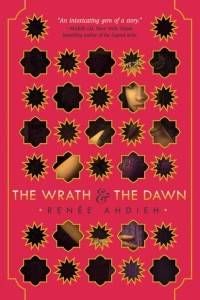 The Wrath & the Dawn Renée Ahdieh (G.P. Putnam's Sons for Young Readers
A sweeping and lush tale of romance and adventure
Every dawn brings horror to a different family in a land ruled by a killer. Khalid, the eighteen-year-old Caliph of Khorasan, takes a new bride each night only to have her executed at sunrise. So it is a suspicious surprise when sixteen-year-old Shahrzad volunteers to marry Khalid. But she does so with a clever plan to stay alive and exact revenge on the Caliph for the murder of her best friend and countless other girls. Shazi's wit and will, indeed, get her through to the dawn that no others have seen, but with a catch…she's falling in love with the very boy who killed her dearest friend.
She discovers that the murderous boy-king is not all that he seems and neither are the deaths of so many girls. Shazi is determined to uncover the reason for the murders and to break the cycle once and for all.
Inspired by A Thousand and One Nights, this sumptuous and epically told love story heralds the arrival of an exciting new voice in YA.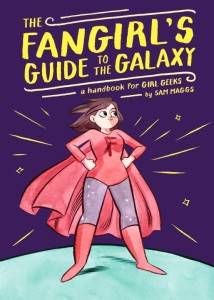 The Fangirl's Guide to the Galaxy: A Handbook for Girl Geeks by Sam Maggs (Quirk Books)
Fanfic, cosplay, cons, books, memes, podcasts, vlogs, OTPs and RPGs and MMOs and more—it's never been a better time to be a girl geek. The Fangirl's Guide to the Galaxy is the ultimate handbook for ladies living the nerdy life, a fun and feminist take on the often male-dominated world of geekdom. With delightful illustrations and an unabashed love for all the in(ternet)s and outs of geek culture, this book is packed with tips, playthroughs, and cheat codes, including:
• How to make nerdy friends
• How to rock awesome cosplay
• How to write fanfic with feels
• How to defeat Internet trolls
• How to attend your first con
And more! Plus, insightful interviews with fangirl faves, like Jane Espenson, Erin Morgenstern, Kate Beaton, Ashley Eckstein, Laura Vandervoort, Beth Revis, Kate Leth, and many others.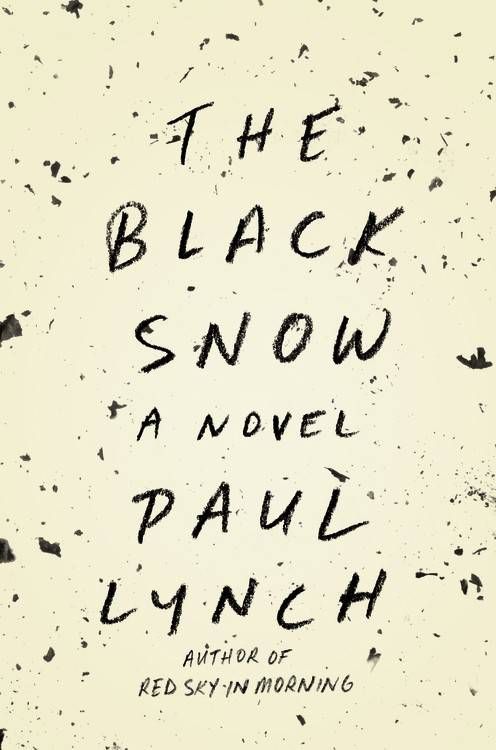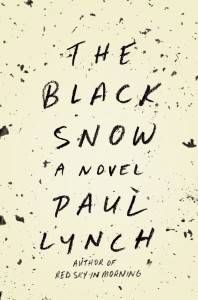 The Black Snow by Paul Lynch (Little, Brown and Company)
In Donegal in the spring of 1945, a farmhand runs into a burning barn and does not come out alive. The farm's owner, Barnabas Kane, can only look on as his friend dies and all 43 of his cattle are destroyed in the blaze.
Following the disaster, the bull-headed and proudly self-sufficient Barnabas is forced to reach out to the community for assistance. But resentment simmers over the farmhand's death, and Barnabas and his family begin to believe their efforts at recovery are being sabotaged.
Barnabas is determined to hold firm. Yet his teenage son struggles under the weight of a terrible secret, and his wife is suffocated by the uncertainty surrounding their future. As Barnabas fights ever harder for what is rightfully his, his loved ones are drawn ever closer to a fate that should never have been theirs.
In The Black Snow, Paul Lynch takes the pastoral novel and–with the calmest of hands—tears it apart. With beautiful, haunting prose, Lynch illuminates what it means to live through crisis, and puts to the test our deepest certainties about humankind.
PAPERBACK RELEASES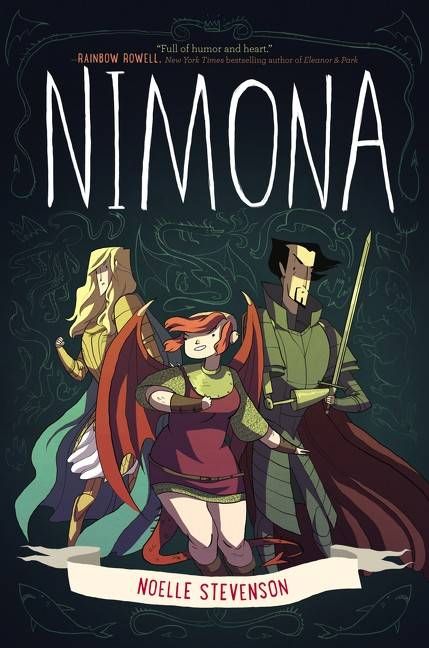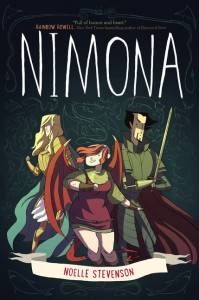 Nimona by Noelle Stevenson (HarperTeen)
Nimona is an impulsive young shape-shifter with a knack for villainy. Lord Ballister Blackheart is a villain with a vendetta. As sidekick and supervillain, Nimona and Lord Blackheart are about to wreak some serious havoc. Their mission: prove to the kingdom that Sir Ambrosius Goldenloin and his buddies at the Institution of Law Enforcement and Heroics aren't the heroes everyone thinks they are.
But as small acts of mischief escalate into a vicious battle, Lord Blackheart realizes that Nimona's powers are as murky and mysterious as her past. And her unpredictable wild side might be more dangerous than he is willing to admit.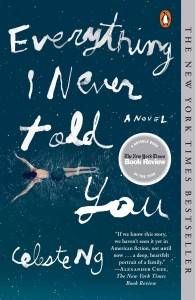 Everything I Never Told You by Celeste Ng (Penguin Books)
Lydia is dead. But they don't know this yet…So begins the story of this exquisite debut novel, about a Chinese American family living in 1970s small-town Ohio. Lydia is the favorite child of Marilyn and James Lee; their middle daughter, a girl who inherited her mother's bright blue eyes and her father's jet-black hair. Her parents are determined that Lydia will fulfill the dreams they were unable to pursue—in Marilyn's case that her daughter become a doctor rather than a homemaker, in James's case that Lydia be popular at school, a girl with a busy social life and the center of every party.
When Lydia's body is found in the local lake, the delicate balancing act that has been keeping the Lee family together tumbles into chaos, forcing them to confront the long-kept secrets that have been slowly pulling them apart. James, consumed by guilt, sets out on a reckless path that may destroy his marriage. Marilyn, devastated and vengeful, is determined to find a responsible party, no matter what the cost. Lydia's older brother, Nathan, is certain that the neighborhood bad boy Jack is somehow involved. But it's the youngest of the family—Hannah—who observes far more than anyone realizes and who may be the only one who knows the truth about what happened.
A profoundly moving story of family, history, and the meaning of home, Everything I Never Told You is both a gripping page-turner and a sensitive family portrait, exploring the divisions between cultures and the rifts within a family, and uncovering the ways in which mothers and daughters, fathers and sons, and husbands and wives struggle, all their lives, to understand one another.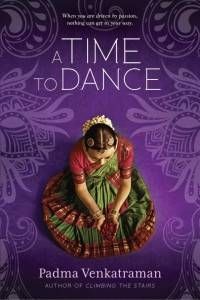 A Time to Dance by Padma Venkatraman (Speak)
Veda is a prize-winning dancer, skilled in the fine art of bharatanatyam dance. Then she is injured in a bus accident and her right leg is amputated below the knee. Worse, her dance teacher does not share her hope that she will ever dance again. Determined, Veda finds a new teacher, and though she must re-learn even the most basic of steps, his faith in her allows her to reclaim the art form that brings her so much joy. Told in lyrical poetry and set against the the shimmering backdrop of Indian tradition and culture, this is a powerful novel of loss, recovery, and the resilience of the spirit.
____________________
Book Riot Live is coming! Join us for a two-day event full of books, authors, and an all around good time. It's the convention for book lovers that we've always wanted to attend. So we are doing it ourselves.