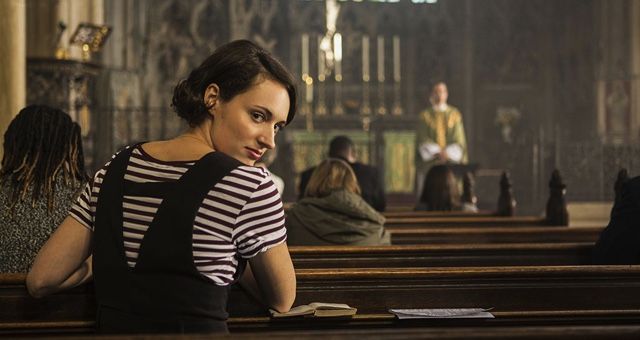 Lists
The Best Fleabag Quotes Paired With a Book
This content contains affiliate links. When you buy through these links, we may earn an affiliate commission.
SPOILERS AHEAD!! You were warned…
For us "greedy, perverted, selfish, apathetic, cynical, depraved, morally bankrupt" women, watching the second season of Fleabag felt like a breath of hope. Like, hey bitch, life might be a dumpster fire, but despite all your fuck-ups, sometimes good things can happen if you give yourself enough space.
While the first season of Fleabag was all about grief and guilt, the second season was all about love (still a lot of guilt), and that dirty little word: hope. Fleabag's relationship with her sister Claire remained antagonistic, but ended with Claire telling Fleabag she was the only person she'd ever run through an airport for. Fleabag was still dealing with the grief of losing her best friend Boo, and the role she played in her death; but Claire, in some ways, stepped into Boo's vacated position as support and confidant. Her father also helped Fleabag face truths about herself, and her capacity for love.
So where does the Priest fit in?
Throughout the show, Fleabag talks to the camera; giving commentary, making acerbic asides, and telling the audience secrets that she won't admit to anyone else. The people on screen with her are unaware. Until she meets the Priest. He seems to see her more clearly than anyone else, and it unmoors her.
Fleabag loves him, but he still leaves her, and that seems terrible; but sometimes, when you feel like trash inside, discovering that you're still capable of feeling an emotion like love is a relief.
It's all too much: too smart, too perfect. I've watched this show all the way through three times, and every time the last three episodes give me goosebumps. I'm a sucker for a good ending.
I've collected some of my favorite quotes from the show, and paired them with books that share a similar theme.
Enjoy.
10 Quotes From Fleabag Paired with a Book
"I have a horrible feeling I am a greedy, perverted, selfish, apathetic, cynical, depraved, morally bankrupt woman who can't even call herself a feminist."

Moshfegh's narrator in My Year of Rest and Relaxation could be described as greedy, perverted, selfish, apathetic, cynical, depraved, and morally bankrupt. She decides to sleep for a year to cleanse herself of her problems. She is supported in her endeavor by a psychiatrist who seems more hallucination than real, and the sleeping pill cocktail she is prescribed to fight the dubious psychiatric disorders she's diagnosed with. The pills leave her an apathetic zombie who sleeps, watches Whoopi Goldberg movies, and visits the local bodega to get more coffee and cigarettes. Her friend Reza is a constant impediment to her self- induced coma, showing up and leaving between bouts of wakefulness; Reza's concern for her friend's well-being is meant with scorn and hate; even as Reza's mom is dying of cancer, the narrator cannot muster the strength to give a shit. And this all sounds terribly selfish, but really, she might not have any other options.
"Either everyone feels like this and they're just not talking about it or I am completely fucking alone."
Nothing is lonelier than mental illness. Kirshenbaum's Bunny stabs herself in the leg with a fork on New Year's Eve and ends up in the psych ward of a hospital. While institutionalized, she has flashbacks to different periods of her life, and through her memories we see how alone she has always felt dealing with a lifetime of depression. This is a funny book with teeth. I think if Fleabag and Bunny ever met, they'd find camaraderie in their loneliness.
Fleabag and her best friend Boo are talking after Fleabag's mother's funeral:
Fleabag: "I don't know what to do with it."
Boo: "With what?"
Fleabag: "With all the love I have for her. I don't know where to put it now."
Boo: "I'll take it."
[Fleabag laughs]
Boo: "No, I'm serious. It sounds lovely. I'll have it."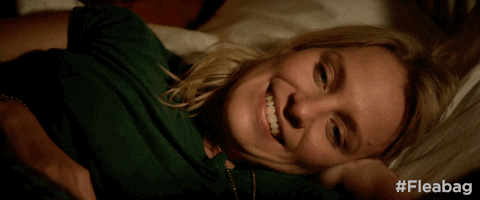 This is one of my favorite scenes in the show. A moment between Fleabag and her best friend Boo. It might also be one of the most romantic and tragic scenes, and says so much about Fleabag and her capacity for love; despite her terrible choices.
Grady Hendrix's My Best Friend's Exorcism looks cheesy and sounds gimmicky, but it is one of the best books I've read about friendship. Abby and Gretchen have been best friends forever, they know everything about each other, until Gretchen disappears one night, and emerges possessed by a demon. Everyone is bamboozled by the demon possessing Gretchen, but Abby knows her friend too well to be duped. So it's up to Abby to exorcise the possessive demon from her best friend's soul.
"I want someone to tell me what to wear every morning. I want someone to tell me what to eat. What to like, what to hate, what to rage about, what to listen to, what band to like, what to buy tickets for, what to joke about, what not to joke about. I want someone to tell me what to believe in, who to vote for, who to love and how to tell them."
This is Fleabag's confession that results in the infamous "kneel" scene. It's romantic when Fleabag says it, because we know that Fleabag has made some terrible choices; but this could also be a very dark proclamation. Like in Alissa Nutting's Made for Love.
Hazel's husband, Byron, is CEO of Gogol Industries (if you're thinking Google, it's not the same, but you're not far off), a multi-billion dollar tech company. Byron keeps Hazel quarantined in their compound where he tracks her movements and even keeps tabs on her vital signs. She escapes her husband when he tries to put a chip in her head that will link their brains. She hides from him in her father's retirement community, but it's only a matter of time before Byron finds her. So, Fleabag, be careful what you wish for.
"Women are born with pain built in. We carry it within ourselves. Men have to seek it out."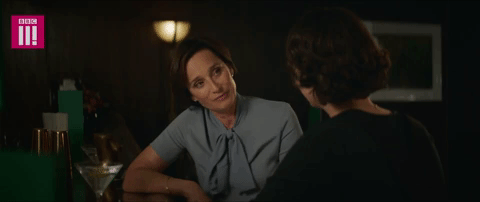 I couldn't pick one. There have been so many books written about women's pain.
**Trigger warnings ahead for rape and abuse**
Yeong-hye, plagued by dreams of blood, gives up eating meat. Meat repulses her. She also doesn't want to have sex with her husband because she says he smells like meat. Her husband, annoyed by his troublesome wife, rapes her instead. Her father, too, is ashamed of his daughter and hits her and tries to pry her mouth open to shove the meat down her throat. It's very violent. Sometimes what we eat and when we eat is the only control we have of our world. There are also allusions to the Greek myth of Daphne and Apollo.
This was written by a man, but it has the smartest things to say about what it's like to be a woman. Efendi, the protagonist, falls in love with the portrait of a woman who is wearing a fur coat. Soon he meets the woman in real life and they begin having an affair. Efendi is consumed by his love for the woman, even while she tries to warn him away. My favorite quote is too long to include in its entirety, but here's a few lines from Maria Puder (woman in the fur coat): "Do you know why I hate you? You and every other man in the world? Because you ask so much of us, as if it were your natural right…Mark my words, for it can happen without a single word being uttered…it's how men look at us and smile at us. It's how they raise their hands. To put it simply, it's how they treat us."
"I think you know how to love better than any of us, that's why you find it all so painful."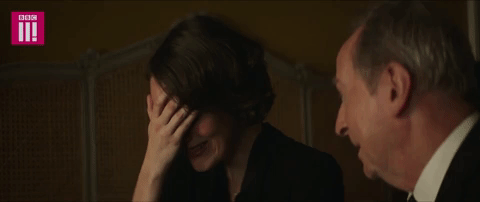 At times frustrating, Sally Rooney's Normal People is about Connell and Marianne and their evolving relationship over the course of a few years. Their romance starts in high school where Marianne is labelled weird, but Connell is popular and well liked. Marianne is attracted to Connell first: "It occurred to Marianne how much she wanted to see him having sex with someone; it didn't have to be with her, it could be anybody. It would be beautiful just to watch him. She knew these were the kind of thoughts that made her different from other people in school, and weirder." Eventually, Connell and Marianne end up in a secret relationship, but Connell betrays Marianne, and their relationship ends. A few months later, Connell and Marianne have graduated from high school and are now in college. They meet again at a party, and end up back together. This is the pattern of the plot: Marianne and Connell meet, something happens to separate them, but then they find a way back to each other. It's frustrating, but honest and painful.
"The only person I'd run through an airport for is you."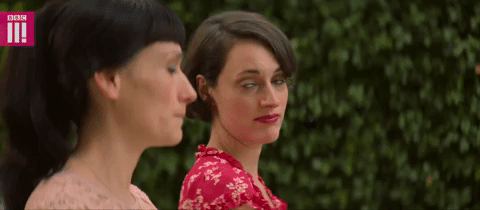 The only person I'd run through an airport for is you. Or: the only person I'd kill for is you. Constance and Merricat are sisters. They live together in their family's home, but the rest of their family are dead. They were murdered, and Constance was accused of killing them. Merricat loves her sister, and wants everyone else to go away. An easily predictable conclusion, but an extraordinarily fun ride. Also, I listened to a whole history of the Plantagenet family just because Merricat loved Richard Plantagenet. I do not collect death cup mushrooms, though, I swear.
"Hair is everything, we wish it wasn't so we could actually think about something else occasionally. But it is. It's the difference between a good day and a bad day. We're meant to think that it's a symbol of power, that it's a symbol of fertility. Some people are exploited for it and it pays your fucking bills. Hair is everything."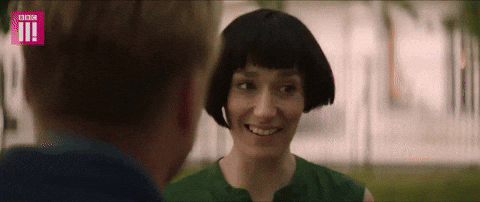 No, you can't touch Phoebe Robinson's hair, and yes, it is creepy that you asked. Phoebe Robinson is hilarious, and the hair part is just one aspect of the humor that is on every page of this book. This is a collection of essays all about being a woman, being black, and being in comedy. It touches on pop culture, politics, gender, and race. And again, it's hilarious—just like Fleabag accosting the hairstylist for ruining Claire's hair.
"Love is awful. It's painful. Frightening. It makes you doubt yourself, judge yourself, distance yourself from the other people in your life. Makes you selfish, makes you creepy, makes you obsessed with your hair. It takes strength to know what's right. And love isn't something that weak people do. Being a romantic takes a hell of a lot of hope."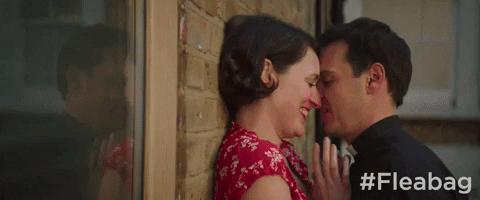 David Axelrod loves Jade Butterfield. A lot. He sets her family's house on fire when Jade's father exiles David from their house. He didn't mean to set the whole house on fire. He just wanted to get their attention. David is consumed with loving Jade: "It was a once in a lifetime thing. I hate to think it but I bet it's true. It's too bad for us that our once in a lifetime happened when we were too young to handle it." Instead of prison, David is sentenced to stay at a hospital. But David never stops thinking about Jade, and as soon as he is released he goes looking for her. It's an obsessive, creepy, selfish, frightening love.
Fleabag: "I love you."
The Priest: "It'll pass."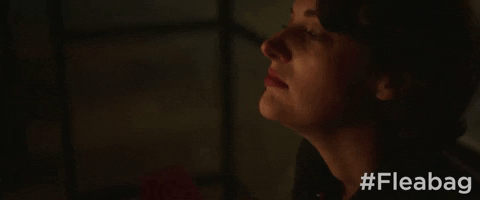 It won't pass is the point. Probably not, at least. And that's what Penelope Lively's Moon Tiger is about—memory and unforgettable love. Claudia, on her death bed, is remembering her life, but in scattered moments:
"The question is, shall it or shall it not be linear history. I've always thought a kaleidoscopic view might be an interesting heresy. Shake the tube and see what comes out. Chronology irritates me. There is no chronology inside my head. I am composed of myriad Claudias who spin and mix and part like sparks of sunlight on water. The pack of cards I carry around is forever shuffled and re-shuffled; there is no sequence, everything happens at once."
She remembers the man she loved and lost during the war, and how that love still lingers, despite the passage of time.
See, Priest: it won't pass.
Need More? Fleabag started as a one-woman play, and Book Riot has 50 Must- Read Plays by Women. Also, Fleabag made the list of 10 of the Most Cathartic Books for Burnout.