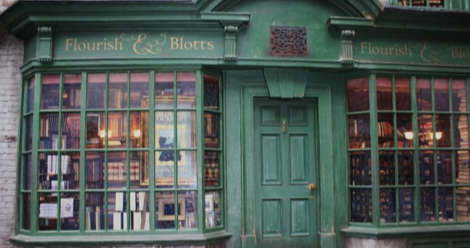 Lists
5 Fictional Bookstores I Want to Visit
This content contains affiliate links. When you buy through these links, we may earn an affiliate commission.
Real-life bookstores are wonderful, but sometimes fictional bookstores are even better. They're cozy, improbably well-stocked, and not threatened by such mundane concerns as "rent" and "online retailers." Plus, they are staffed or frequented by some of our favourite fictional characters.
Here are five fictional bookstores where I'd love to spend an afternoon.
The Shop Around the Corner,
You've Got Mail
I tend to annoy people by talking up my love for this Nora Ephron-directed movie, but it is just so delightful. Also, the main character, Kathleen, and I share a name, and she owns a children's bookstore called The Shop Around the Corner, so she basically has my dream life. (We will ignore the fact that the store closes because of the megastore that opens around the corner. In today's economy, Kathleen Kelly could reopen her store and Fox Books would be out of business thanks to Amazon. But I digress.)
Kathleen's lovely little bookstore is filled with great-looking displays, tons of books, and quirky, knowledgeable staffers. I would love to hang out here for an afternoon looking through children's books.
The Flourish and Blotts bookstore at Harry Potter World.
Harry's first experience in Flourish and Blotts, the Diagon Alley store where everyone buys their school textbooks, is described like this in Harry Potter and the Philosopher's Stone:
"They bought Harry's school books in a shop called Flourish and Blotts where the shelves were stacked to the ceiling with books as large as paving stones bound in leather; books the size of postage stamps in covers of silk; books full of peculiar symbols and a few books with nothing in them at all."
That is basically my idea of heaven. I think we can all understand why Hermione liked spending hours at Flourish and Blotts. Plus, you'll be able to pick up such one-of-a-kind reads as The Invisible Book of Invisibility (if you can find it, that is) and The Monster Book of Monsters.
The Travel Book Company,
Notting Hill
William Thacker (Hugh Grant) and Anna Scott (Julia Roberts) in his bookstore in Notting Hill.
Romantic comedies are full of bookstores (who could forget Carrie Fisher's line "Someone is staring at you in 'Personal Growth'" in When Harry Met Sally), but Hugh Grant's character's shop The Travel Book Company is one of the most charming. It's hard to imagine how a travel-focused bookstore could make enough money to stay afloat. Even so, the store looks full of books, all of which promise to whisk you away to a far-off destination.
Stars Hollow Books,
Gilmore Girls
In a show about someone as dedicated to books as Rory Gilmore, it only makes sense that there's an adorable small-town bookstore. When Rory gets a job sorting books, she admits that she's spending most of her paycheque on buying them. I know the feeling. Wouldn't it be fun to pop into this store, trade book recommendations with Rory, and convince her to give Jess another chance?
There's also the Black-White-Read Bookstore, which is where the gang went to watch movies. How could a small town like Stars Hollow support two cute bookstores? Was Taylor keeping them in business with a penchant for political thrillers?
My favourite daydream is about moving to a small town in Scotland and opening a bookstore, and this book only made that dream more vivid. When Nina loses her job as a librarian, she opens a bookmobile in a small Scottish town. Nina's favourite part of being a librarian was connecting a reader with the perfect book, and she uses that talent to her advantage in her new mobile bookstore. That, in a nutshell, is the appeal of a bookstore: that faith that one of its dedicated booksellers will be able to find you the book you didn't even know you needed to read.
What are your favourite fictional bookstores?
Save
Save
Save