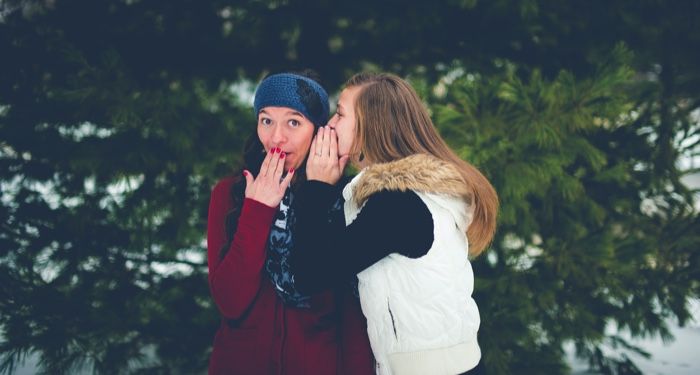 Sponsored
12 Great February 2021 YA Releases to TBR
February may be the shortest month of the year, but it's packed full of amazing new releases! From exciting debuts to series finales we've been waiting on for years, there's a ton to get excited about. I'm sure that The Project by Courtney Summers, Game Changer by Neal Shusterman, and The Desolation of Devil's Acre by Ransom Riggs are already on your radar, so I went with ten more great books that you definitely want to TBR! Get your library request button and your preorder carts ready, because it's a fantastic list of February 2021 YA releases.
Fat Chance, Charlie Vega by Crystal Maldonado
Charlie Vega is artistic, creative, ambitious. She's also fat, which isn't really a problem for her. She has a good relationship with her body, but it's hard to ignore the fact that other people think she ought to be thinner. Luckily for Charlie, she's got a great, supportive (thin) best friend. But things get complicated when Charlie starts flirting with a new guy and he seems to like her back…and then Charlie learns that he asked out her best friend first.
We Are the Ashes, We Are the Fire by Joy McCullough
Em Morales's older sister was raped at a party. She reported it, charges were made, and a trial was set. Em was her sister's biggest advocate every step of the way, and the jury found the rapist guilty…but when the judge sentences him to no prison time, Em is consumed with rage. Things get worse when a clip of her threatening violence goes viral, and she finds herself in a dark place, taking comfort in learning about Marguerite de Bressieux, a knight who avenged women that were sexually assaulted, as she tries to figure out how to move forward.
The Wide Starlight by Nicole Lesperance
When Eli was 10, she saw her mother whistle at the Northern Lights in Svalbard and get swept away. Now a teenager living on Cape Cod, the Northern Lights appear for the first time in years, and Eli concocts a plan to get her mother back. She's shocked when it works, but the mother who returns is not the same that left her, and when magical things begin to happen, Eli knows that this is not the end of the magic of the Northern Lights meddling in her life.
Love is a Revolution by Renée Watson
Nala is not the type to get involved in a political cause, sign petitions, or attend slam poetry events. But when her best friend and cousin begs Nala to join her at an open mic night for her birthday, Nala agrees and meets Tye, the emcee of the event. She falls hard. But Tye is much more politically active than Nala, and she tells a few white lies so it'll seem their interests are more closely aligned. As Tye and Nala start to spend more time together, those lies come back to bite her as she must figure out what matters most to her.
Muse by Brittany Cavallaro
In this alternate fantasy history, Claire is the daughter of a famed inventor who believes Claire is his muse, the secret behind his greatest innovations. But war is brewing, and when her father's latest invention is a failure, Claire is kidnapped by the governor, who also believes that Claire grants him special powers. He asks Claire to assist him in the coming revolution, but Claire must figure out if she'll become another man's muse, or strike out on her own and find her own fate.
We Are the Fire by Sam Taylor
Pran and Oksana were taken away from their homes as children and forced to join the emperor's army by undergoing a horrible transformation that allows them to wield fire. Luckily, they've always had one another, but when they learn about a deadly new mission they'll be forced to undertake, they decide enough is enough. But Pran and Oksana have very different ideas about how to rebel, and it could tear them apart.
Like Home by Louisa Onomé
Chinelo and Kate love their neighborhood, and the community that can be found there. But after a deadly incident at an arcade, people are moving away and saying all sorts of awful things about their home. Nelo thinks they can weather it…but when Kate's parents' store is vandalized, they find themselves in the middle of a media storm and everyone on the outside has opinions on how to fix the neighborhood. And even worse, Kate is pulling away from Nelo. Nelo will have to figure out how to preserve what she loves about her community, and fix her friendships.
Amelia Unabridged by Ashley Schumacher
Amelia Griffin is obsessed with the Orman Chronicles, a series of books written by the young and mysterious N.E. Endsley. Amelia's best friend Jenna shares in her obsession, and when the two get the chance to meet Endsley at a book festival, they're overjoyed…until Amelia misses her chance, Jenna meets the author without her, and they have the worst fight ever. And then before they can make up, Jenna dies in an accident. Bereft, Amelia is unsure what to do…until a rare edition of the Orman Chronicles shows up in the mail. Amelia tracks down where it came from, and discovers a big secret that Jenna wasn't able to share before she died.
The Initial Insult by Mindy McGinnis
Seven years ago, Tress Montor's parents disappeared while driving her best friend Felicity home. No one knows what happened, not even Felicity — or so she claims. Tress is now shunned and miserable, and she's determined to get answers from her former friend. She concocts the perfect plan, which involves trapping Felicity behind a coal chute in an abandoned house and bricking it up. She figures it'll get Felicity to talk…and if doesn't, Tress will settle for revenge.
Mazie by Melanie Crowder
Set in the 1950s, Mazie grew up in a small town in Nebraska and has always dreamed of the bright lights of Broadway. So when she's offered a once-in-a-lifetime chance to visit New York City and make her dreams come true, she breaks her boyfriend's heart and sets out. But New York City is both more wondrous and more soul-crushing than she could imagine, and auditions are far more difficult than she dreamed. What if landing the dream role means sacrificing her values?
The Obsession by Jesse Q. Sutanto
In this twisted thriller, Logan is obsessed with Delilah. He watches her every move on social media, and he's got a secret camera pointed at her house. He thinks she's perfect…but then he witnesses Delilah killing her abusive stepfather, and realizes everyone has secrets. Delilah is a survivor, and she's done letting anyone control her. So when she realizes that Logan knows what she did, she comes up with a plan to finally be free.
A Dark and Hollow Star by Ashley Shuttleworth
For centuries, the courts of the fae have existed hidden alongside the human world in peace…until a series of brutal ritualistic murders rocks the city of Toronto and threatens to expose the fae. Four queer teens must come together to form a tentative bond and investigate these murders before chaos is released and the human and fae worlds collide. And one of them is destined to tip the scales, but in whose favor is anyone's guess.
---
Want more 3 on a YA Theme? We've got you covered.