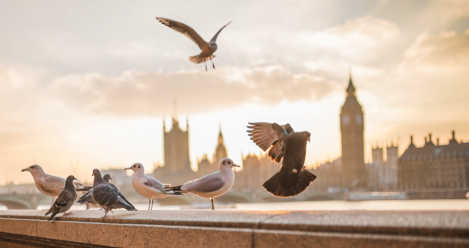 Lists
Fantastic February Books Out in the UK
This content contains affiliate links. When you buy through these links, we may earn an affiliate commission.
Enjoy this terrific selection of hot new February 2019 UK books.
Figuring by Maria Popova (Canongate)
This is one book I had been eagerly anticipating. From the creator of my absolute favorite site, Brain Pickings, comes this singular book on intellectual history. Shining light on some of the forgotten heroes of art, history, and literature, Popova provides phenomenal insight into humanity's journey through time.
Cherry by Nico Walker (Jonathan Cape)
Nico served as a medic on more than 250 missions in Iraq and is currently serving two more years in prison for bank robbery. This is a harrowing and visceral account of America's opioid epidemic and PTSD. This Hunter S. Thompson-esque, expletive-ridden account will shock and move you.
Adele by Leila Slimani (Faber)
Adele is Leila Slimani's much anticipated follow up to Lullaby. Incisive and poignant, this is a candid portrait of a woman struggling to keep up her double life. A haunting look at shame, desire and the search for independence.
A powerfully intimate novel about growing up between cultures and finding your identity. Gracefully self-aware, this stunning debut is a timely exploration of the meaning of belonging.
The Dreamers by Karen Thompson Walker (Scribner)
Karen Thompson Walker's second novel tells the mesmerizing story of a town transformed by a mystery illness that locks people in perpetual sleep and triggers extraordinary, life-altering dreams. A beautifully written and evocative novel about consciousness and memory.
The Plotters by Un-Su Kim (Fourth Estate)
Billed as Kill Bill meets Murakami, this Korean novel is a blazing thriller. Reminiscent of Tarantino, this inventive story combines deadpan wit with visceral violence.
Late in the Day by Tessa Hadley (Jonathan Cape)
The lives of two close-knit couples are irrevocably changed by an untimely death in Hadley's latest novel. A nuanced and elegantly written story about intimate relationships and our deepest secrets.
In this action-packed thriller, a series of violent assaults take place in a quiet village surrounded by the imposing Italian Alps. This atmospheric Teresa Battaglia thriller will keep you hooked till the very end!
Zuleikha by Guzel Yakhina (Oneworld)
Set in the aftermath of the Russian Revolution, this is a tenderly imagined debut about a young Tatar family: the husband murdered, the wife exiled to Siberia.
This ambitious debut captures the ghost of Bangkok's colonial past in this entrancing collage of lives set around a building in Bangkok.
Reading this impeccable piece of literature is an experience not to miss. The narrator talks to her 16-year-old son who has died by suicide. The boy is the same age as Li's own son when he took his own life. Beautifully expressed and heartrending, this book is about unspeakable grief and motherhood.
Fearlessly intense, these fifteen linked tales confront readers with dark theological complexities, fractured marriages, and mercurial temptations.
Muscle by Alan Trotter (Faber)
This dazzling piece of noir fiction is reminiscent of Raymond Chandler's work. Starring detectives, crooks, and femmes fatales, this subversive debut packs a punch.