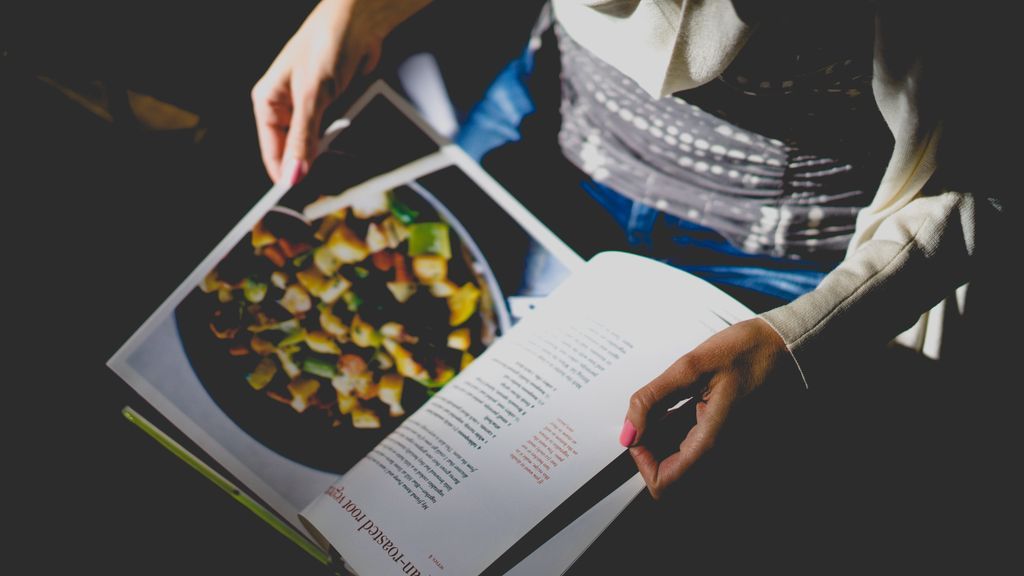 This Riot Recommendation on favorite cookbooks is sponsored by Healthyish: A Cookbook with Seriously Satisfying, Truly Simple, Good-For-You (but Not Too Good-For-You) Recipes for Real Life by Lindsay Maitland Hunt.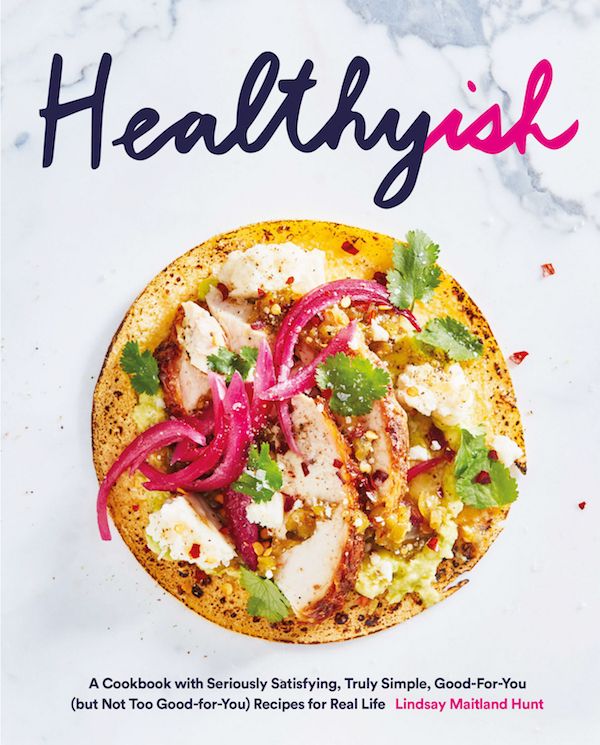 Healthyish is recipe developer Lindsay Maitland Hunt's totally doable, delicious, and dead-simple cookbook, helping us to eat how we all want to eat—healthy, but with an occasional bit of decadence.
For anyone on the move, working long hours, and trying to eat a bit more healthfully, Healthyish offers 131 satisfying recipes with straightforward instructions, using as few pots and pans as possible, and ingredients that won't break the bank. Emphasizing balanced eating rather than fad diet tricks, Hunt includes guilt-free recipes for every meal of the day, from breakfast to snacks to dinner, and yes, even Healthyish treats.
---
My brother and my sister-in-law gave us a cookbook for Christmas, and all of a sudden my eyes are open to the rut my dinner table has been occupying since the last time we welcomed a new cookbook (maybe three or four years ago?). It's an exciting time in my kitchen! We asked you what cookbook you think Riot readers should get some hard-earned food stains on, and here are some of your answers:
The Food Lab: Better Home Cooking Through Science by J. Kenji López-Alt
Girl in the Kitchen: How a Top Chef Cooks, Thinks, Shops, Eats and Drinks by Stephanie Izard and Dan Goldberg
Back to the Kitchen: 75 Delicious, Real Recipes (& True Stories) from a Food-Obsessed Actor by Freddie Prinze Jr.
The Moosewood Cookbook by Mollie Kaizen
Come and Get It! Simple, Scrumptious Recipes for Crazy Busy Lives by Ree Drummond
Our Best Bites: 150 Family-Friendly Recipes by Sara Wells and Kate Jones
Joy of Cooking by Irma S. Rombauer and Marion Rombauer Becker
How to Cook Everything by Mark Bittman
Minimalist Baker's Everyday Cooking by Dana Shultz
Plenty: Vibrant Vegetable Recipes from London's Ottolenghi by Yotam Ottolenghi and Jonathan Lovekin
Eat Like a Gilmore: The Unofficial Cookbook for Fans of Gilmore Girls by Kristi Carlson and Bonnie Matthews
Lidia's Mastering the Art of Italian Cuisine by Lidia Matticchio Bastianich and Tanya Bastianich Manuali
BraveTart: Iconic American Desserts by Stella Parks
The Oh She Glows Cookbook: Over 100 Vegan Recipes to Glow from the Inside Out by Angela Liddon
Cravings: Recipes for All the Food You Want to Eat by Chrissy Teigen and Adeena Sussman
Smitten Kitchen Every Day: Triumphant and Unfussy New Favorites by Deb Perelman
Soup: A Kosher Collection by Pam Reiss
The Enchilada Queen Cookbook by Sylvia Casares and Dotty Griffith
Victuals: An Appalachian Journey, with Recipes by Ronni Lundy and Johnny Autry
Make-Ahead Paleo by Tammy Credicott and Sarah Fragoso
Salt, Fat, Acid, Heat: Mastering the Elements of Good Cooking by Samin Nosrat and Wendy McNaughton
101 Asian Dishes You Need to Cook Before You Die by Jet Tila
A Feast of Ice and Fire: The Official Game of Thrones Companion Cookbook by Chelsea Monroe-Cassel and Sariann Lehrer
Better Homes and Gardens: New Cook Book
The Shredded Chef: 120 Recipes for Building Muscle, Getting Lean, and Staying Healthy by Michael Matthews and Andrea Lynn
Stock the Crock by Phyllis Good
EveryDayCook by Alton Brown
Weelicious: 140 Fast, Fresh, and Easy Recipes by Catherine McCord
Taste of Persia by Naomi Duguid
The Complete America's Test Kitchen TV Show Cookbook 2001-2018
Add a Pinch: Easier, Faster, Fresher Southern Classics by Robyn Stone and Ree Drummond
The Sneaky Chef: Simple Strategies for Hiding Healthy Foods in Kids' Favorite Meals by Missy Chase Lapine
The Nerdy Nummies Cookbook: Sweet Treats for the Geek in All of Us by Rosanna Pansino
What are your favorite cookbooks? Want even more cookbook recommendations?