Sponsored by Dynamite Entertainment, publisher of White Sand Volume 2 by Brandon Sanderson.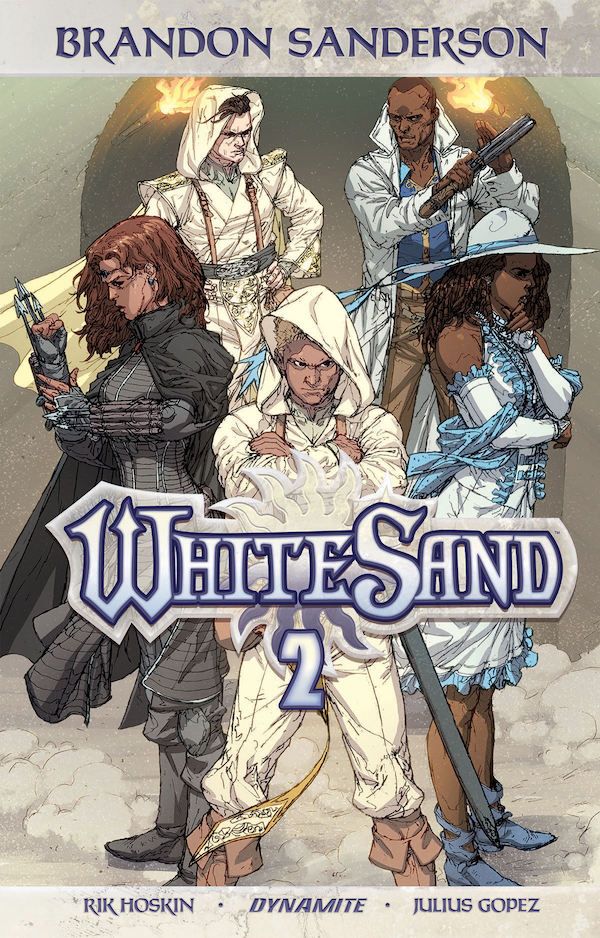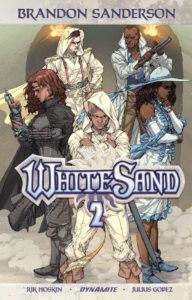 Following the loss of most of his colleagues in a violent ambush, Kenton has become Lord Mastrell of the few remaining Sand Masters, magicians who can manipulate sand to do their bidding. With the ruling council poised against him, the hot-headed Kenton must become a diplomat to have any hope of preventing the eradication of his people forever. However, there's another complication: assassins are coming for him from all directions, and Kenton's only true ally is Khriss, a visitor from the other side of the planet who has an agenda of her own to pursue.
---
Fantasy comics have been on a roll recently. From ladies taking over medieval castles to surrealist journeys through time, we have a great list of fantasy comics for you to sink your teeth into.
Lady Castle by Delilah S. Dawson (Author) Ashley A. Woods (Artist)
In this new comic, all the men in the village ride off to fight for glory. Which is all fine and dandy until…a dragon devours them all. Now, the ladies of the castle have to take up the mantle and learn to fight, build, and rule. This is an adorable, fiercely inspiring comic illustrated beautifully by Woods and told compellingly by Dawson. Fans of fairytales will love this reversal of the common trope of the damsel including knights and princesses of all shapes, colors, and sizes.
the prince and the dressmaker by Jen Wang
The Prince and the Dressmaker is a fairy tale of a kind we haven't seen enough of. Prince Sebastian tries to fit into his family's ideas of who he should be, but little do they know—at night, he wears dresses and puts on an alter ego as the beautiful Lady Crystallia. Frances, his best friend, creates the gorgeous dresses for him and keeps his secret, but as things begin to unravel, their friendship will be tested. In this fantasy comic, Jen Wang tells a heartwarming story of friendship, romance, and identity for all ages.
lights of the amalou by Christophe Gibelin (Author) Claire Wendling (Artist, Cover Artist, Colorist)
Lights of the Amalou is an epic fantasy that has won the Press Award at the Angouleme Comics Festival, and for good reason. We begin in a world where Theo, a magician, draws new creatures and they come to life. This is all a part of a deal he made with an ancient oak tree in exchange for immortality. While things are good for a while, two demons want to shake up the status quo. Lights of the Amalou's story accompanies breathtaking art from a world-renowned illustrator and will be sure to stick with you long after you finish it.
abbott by Saladin Ahmed (author) Sami Kivelä (artist) Jason Worde (colorist) Jim Cambell (letterer)
Elena Abbott is a chain-smoking reporter determined to get to the truth. She begins to investigate a slew of crimes that the police have left untouched and discovers they definitely aren't what they seem. There is a dark, supernatural current to these grisly murders and Abbott won't stop until she uncovers every mystery. You see, these same forces once took everything she held most dear. Written by Hugo Award–nominated Saladin Ahmed, Abbott is a new addition to the amazing fantasy comics coming to shelves this year.
american gods: my ainsel by Neil Gaiman, P. Craig Russell (Writers) P. Craig Russell, Scott Hampton (Artists) Scott Hampton (Colorist)
The story of Neil Gaiman's American Gods in graphic novel form continues with American Gods: My Ainsel. Gaiman himself helps convert the book to the comic form, following Shadow and Wednesday as they endure the trials and tribulations of starting a godly war. Bizarre, fantastical, and an adaptation long overdue, American Gods: My Ainsel sustains Gaiman's story in a new format. This is perfect for anyone who is a fan of the original book or the recent television series.
bloodborne: death of sleep by Ales Kot (author) Piotr Kowalski (artist)
This series is a tie-in to the cult classic video game of the same name. Just like its source material, Bloodborne: Death of Sleep is a gory, heavily detailed adventure in the Bloodborne universe. The comic promises the same action, blood, and darkness that the video game delivers, thanks to talented writer Ales Kot. In addition, Piotr Kowalski's art is eerie and dynamic, perfect for the atmosphere that the game created in its players.
The Highest House by Mike Carey (Author) Peter Gross (Artist)
The breathtaking cover for The Highest House #1 should already be enough to convince you to read it. But this comic, which releases in February 2018, has a lot of great elements that point to a worthwhile read. The creators are known for their past successful comic, The Unwritten, and continue to amaze with their distinctive concepts in fantasy comics. In The Highest House, a slave boy makes friends with a powerful being in hopes of escaping his fate.
prism stalker by Sloane Leong
Though not coming out until March, Prism Stalker looks to be an interesting romp through a unique bio-punk universe. Vep is a young refugee forced into slave labor in a colony on a far away planet. She wants to return to her family but doesn't know how—until an exciting opportunity arises. Fraught with stunning colors and hypnotizing artistry by writer and artist Sloane Leong, Prism Stalker is certainly one to put on your to-read list.
God Country by Donny Cates (Author)
Geoff Shaw, Jason Wordie, John J. Hill (Artists)
God Country gives us a superhero we haven't seen before. Emmet Quinlan lost his wife and his mind. Overwhelmed with grief and dementia, he erupts in violent outbursts that are a danger to everyone around him. However, when a tornado destroys his home and the surrounding town, Emmet develops unheard of powers. He discovers a magical sword in the midst of the storm and takes it upon himself to become a new type of man. A savior, sworn to defend Texas against the monsters now headed toward its heart.
spillzone
by scott westerfield (author) alex puvilland (artist)
Spillzone is a graphic novel that revels in the weird and unexplainable. After a "spill" of some sort, Addison's hometown becomes a surreal nightmare filled with ghouls, alternate reality, and things she can't even name. Addison has to venture inside, however, to take pictures of the town to support her sister who's been traumatized by her time inside the Spill. Mysteries unfold beautifully in this gorgeous first volume of Spillzone, and you'll want to pre-order the next volume as soon as you're done.