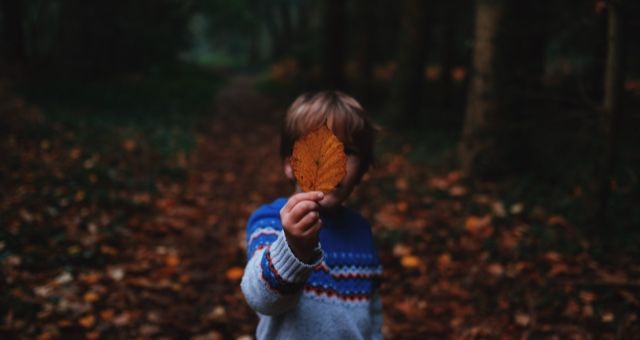 Children's
Fall Books for Preschoolers: 18 Essential Autumnal Reads
This content contains affiliate links. When you buy through these links, we may earn an affiliate commission.
From fiery leaves to the apple harvest, fall is a season of wonder. We only have to look at the youngest among us to witness the majesty of fall through fresh eyes. Autumn children's books definitely capture the beauty of the cooler months and often use fall as a launching point for stories about friendship, change, and community. In this list of the 18 best fall books for preschoolers, you'll find must-read fall stories for kids, with a focus mainly on picture books.
The Best Fall Books for Preschoolers
Apple picking is a quintessential fall activity as this Level 1 (Preschool–1) book shows. This fun rhyming story about a brother and sister who have an apple picking adventure is a great way to introduce a nature-based activity that centers around the ultimate healthy fall food: apples.
Many homes celebrate Thanksgiving in November. Get your preschoolers ready for the holiday with this picture book about a Chinese American family's community gathering after a soybean harvest.
Unlike the other fall children's books on this list, Bruce Goldstone's Awesome Autumn is a work of nonfiction. Awesome Autumn is full of fun facts and splashy pictures about the season, perfect for preschoolers wondering about the changes they see in their world as the calendar turns.
The Day You Begin by Jacqueline Woodson and Rafael López
Fall means the beginning of school, and for many preschoolers, that could mean anxiety and doubt. Ease those fears with National Book Award winning author Jacqueline Woodson's The Day You Begin. This charming, inclusive picture book helps kids embrace their individuality and promote empathy in the classroom.
Fall Leaves by Loretta Holland and Elly MacKay
Skillfully written and beautifully illustrated, Fall Leaves is a stunning picture book that takes readers through the subtle changes throughout the fall season. Preschoolers learning about the change in seasons will witness it through Elly MacKay's dazzling color palate and Loretta Holland's clever wordplay.
Fletcher has a special tree he loves just outside his fox den. When autumn plucks the leaves off the tree, Fletcher will do anything to try to stop it. An adorable fall picture book for preschoolers looking to understand the cyclical nature of seasons.
This beloved bestseller picture book about fall depicts the season not just in the country but in diverse urban settings, making sure city kids see their environment represented, too.
Plenty of great fall books for preschoolers capture the wonder of gorgeous leaves glowing in the bright sunlight. In Hello, Harvest Moon, readers get treated to the enchanting autumnal world under the light of a full harvest moon.
This interactive picture book matches fun words to breathtaking fall scenes. Eleven gatefolds punctuate the reading experience with reveals that encourage interaction with the story.
Ehlert uses photographs of actual leaves and stunning scenery in her creative picture book for fall. Preschoolers will love the whimsy of this story about "Leaf Man." At the end, Ehlert's generous backmatter helps readers identify different leaves.
As his neighbors, family, and friends drop their leaves come autumn, Little Tree holds tight to his, afraid to let them go. What will finally make him accept a necessary change? Loren Long uses the turning of the seasons to propel this poignant tale about embracing the inevitability of growing up and finding your courage
The Scarecrow by Beth Ferry and the Fan Brothers
I'm always in awe of illustrations by the Fan Brothers, and The Scarecrow shows you why. Paired with Beth Ferry's charming tale of an unlikely friendship, the artwork in this autumnal picture book for preschoolers is nothing short of magic. This story is great for children learning the ropes of the malleability of friendship, paired with the changing seasons.
Sophie's Squash by Pat Zietlow Miller and Anne Wilsdorf
Kids often form ironclad attachments to objects, whether it's a special blanket, a stuffed animal, or, in this picture book's story, a squash. Sophie befriends a yellow squash she names "Bernice," yet she disregards her parents' warning that the vegetable will soon rot. Sophie's Squash is a tender and funny book that takes a gentle approach to teaching children about softening attachments to precious items.
Sweep by Louise Greig and Júlia Sardà
Teaching children about managing big emotions can be tricky, though necessary. In Louise Greig's Sweep, Ed learns how to regulate strong feelings by sweeping fall leaves as an outlet. Júlia Sardà's lavish artwork complements the emotional core of the story.
Grace Lin's Thanking the Moon is a must-have if you're building your collection of fall books for preschoolers. In this diverse seasonal story, a Chinese American family celebrates the Mid-Autumn Moon Festival. Preschoolers can learn about this traditional holiday in Chinese culture through this inviting picture book.
This quirky, humorous fall-themed picture book continues Lucille Colandro's "There Was An Old Lady" series. Children looking for a laugh will delight in this funny story about a goofy old woman who swallows autumnal leaves. Colandro's rhyming verse is a good opportunity to teach preschool children about rhymes and poetry.
Every gardener has experienced the nightmare scenario of a crop growing too much. Linda White's Too Many Pumpkins takes that situation and turns it into a learning opportunity for young readers. Rebecca never liked pumpkins as a kid, and when she accidentally sparks a robust crop of them, she needs to find a solution for the overflow. This classic picture book also teaches kids about kindness, community, and green ways to deal with an out-of-control harvest.
Welcome autumn with this marvelous picture book from author-illustrator Lauren Stringer. Rather than reflecting the full bouquet of fall colors, Stringer's picture book focuses on bright, bold yellow, yielding a surprising, zestful experience with a real sense of motion.
---
Looking for more fall books for preschoolers? Check out Book Riot's coverage of all things autumn children's books in these articles: