Children's
30 Thanksgiving Books for the Little Ones In Your Life
This content contains affiliate links. When you buy through these links, we may earn an affiliate commission.
One Thanksgiving, when my grandmother was visiting, she showed us how to do the Electric Slide, which she had just learned at her line dancing class. When it came time for her to pivot and change directions, she hitched her knee up, turned her body, but her foot didn't get the message. Down she went. She broke her wrist dancing in kitchen on Thanksgiving. And that is why no one is allowed to dance in my mom's kitchen, especially on Thanksgiving.
It's a story we still tell, especially now that my Grandma has passed. Nowadays, we've all scattered, and Thanksgiving looks so very different than it did when I was a child. That's the thing about holidays, isn't it? The stories we tell, the ways we remember things, change as we get older. I have my own child now. While I dress him in cute T-shirts that extol the virtues of pie, I know it's also time to tell him the stories: family traditions, seasonality, Grandma's stuffing recipe, why we watch the parade, history, thankfulness. So here's a list of 30 Thanksgiving books for the little ones: books for babies, preschoolers, and older children who can take a bit more chew.
Because this is 2018, we want to avoid revisionist history. We want to focus on the feel good stuff that comes from our people, but there's an entire history of exclusion, trauma, and extortion to grapple with. These are Thanksgiving books for counting, books for thankfulness, books for cooking and family, books for parades, but also books for the history of Native Americans, for immigrant experiences, books for expanding our cultural understanding.
So whether your baby is tiny or not, here are 30 Thanksgiving books for the little ones.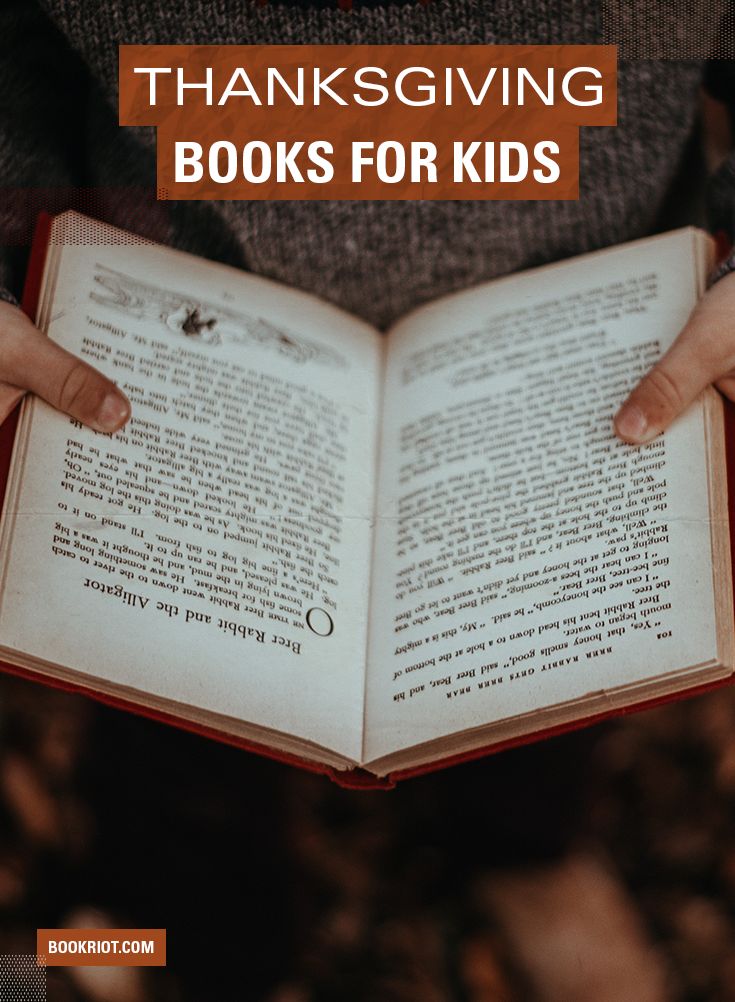 Thanksgiving Board Books
This book was one of Anna Dewdney's final projects before she passed away in 2016. And in this story, it's time for Thanksgiving, and Llama Llama and his family are giving thanks for all the wonderful things around them.
This "lift the flap" book is a standard in our house. But instead of looking for baby's belly button, we're looking for baby's turkey stuffy!
The super silly turkeys in this counting book are doing lots of un-turkey-like things, dancing and being chased by bees! The colorful fabric tabs will be fun for baby to experience.
This colorful book is the perfect size for baby to hold and flip through on his or her own. Celebrating food, family, and the holiday season, this book introduces new vocabulary and colorful pictures.
Thankful by Eileen Spinelli, ill. by Archie Preston
This book teaches children to notice the details in their lives and to be thankful for the everyday blessings they encounter. The rhyming is perfect when read aloud to your little turkey.
With interactive finger puppets, you and your baby can join Turkey and his friends in giving thanks.
preschool Thanksgiving books
In this "knock, knock" book, join Little Hoo in guessing which of his guests is next to arrive for Thanksgiving dinner.
10 Fat Turkeys by Tony Johnston, ill. by Rich Deas
Silly Turkey Syndrome must be a thing! In this book about 10 fat (and silly) turkeys, children learn to count backwards from ten as these turkeys get into some very silly antics.
While this isn't necessarily a Thanksgiving book, it's a darling counting book about a mom and her children going to the grocery store to buy ingredients, and then working together to cook a feast for their family.
Thanksgiving is about many things, but this book reminds us that it's especially important to remember to have a thankful heart.
This little turkey has been invited to everyone's houses for Thanksgiving dinner! What's a turkey to do? Well, head to dinner, of course! This silly book follows turkey's journey to eat at five different homes for Thanksgiving. We just hope he doesn't burst!
Thanksgiving children's books
balloons over broadway: The True Story of the Puppeteer of the Macy's Parade by Melissa Sweet
This beautifully illustrated book tells the true story of Tony Sarg, the puppeteer who came up with and designed the signature helium balloons that would become a staple of the holiday season and of the Macy's Thanksgiving Day Parade.
Todd Parr's warm wisdom and signature illustrations are back again in a book that celebrates and encourages thankfulness. What I particularly like about this is that 1) it's not necessarily a Thanksgiving book, so it encourages thankfulness all year long, and 2) it gives a reason for being thankful (for example, "I'm thankful for music because it makes me want to dance"). A great addition to your year-round library.
Gavin is back at Grandma's for another Thanksgiving filled with distant relatives and being bored, but his cousin Rhonda has something else in mind: escape. To the swing set in the yard. If they can make it past myriad obstacles, they just might find freedom from Thanksgiving.
Giving Thanks: A Native American Good Morning Message by Chief Jake Swamp, ill. by Erwin Printup
This book is a special full-color illustrated children's version of the Thanksgiving Address, a message of thanks that originated with Native people in upstate New York and Canada. The message is still given at ceremonial gatherings of the Iroquois, or Six Nations.
Squanto's Journey: The Story of the First Thanksgiving by Joseph Bruchac, ill. by Greg Shed
This book presents the origin story of Thanksgiving as we know it from the Native American viewpoint. When the Mayflower landed in America, they did so in the home of the Pokanoket, and Squanto was the one to greet them. This is his story.
The Wampanoag by Kevin Cunningham and Peter Benoit
In the 1600s, the Wampanoag people inhabited New England, spread out over what is now Cape Cod, Martha's Vineyard, and into Rhode Island. When we talk about pilgrims landing on Plymouth rock in Massachusetts, it's likely they would have encountered Wampanoag people. The Wampanoag is an in-depth look at the Wampanoag people, their culture, housing, and more.
Duck for Turkey Day by Jacqueline Jules, ill. by Katherine Mitter
Tuyet is excited to celebrate Thanksgiving, but there's one problem: her family is having duck and not turkey! She is horrified—what will her teacher or her classmates think? But she enjoys her holiday, and the duck, and when she gets to school on Monday and leftovers are brought out on the lunch table, Tuyet gets a surprise: other families had roast beef and lamb and enchiladas for Thanksgiving. This book teaches children that there's no one way to celebrate Thanksgiving.
Turkey Trouble by Wendi Silvano, ill. by Lee Harper
It's almost Thanksgiving, and this turkey has a big problem: he's the main course! In this hilarious story, Turkey works on finding the perfect disguise to save him from becoming Thanksgiving dinner.
Thanks a Million by Nikki Grimes, ill. by Cozbi A. Cabrera
This sweet collection of poems reminds readers of how wonderful it feels to have a thankful spirit, and what great power lies in a simple "thank you."
Rice and Rocks by Sandra L. Richards, ill. by Megan Kayleigh Sullivan
While this isn't a Thanksgiving book, its themes and subject matter lend themselves well to this time of year. Giovanni's friends are coming for dinner, and his grandmother is serving rice and beans. But Giovanni doesn't like "rice and rocks," and he's afraid that his friends will think this traditional Jamaican dish is weird. But his aunt and his parrot take him on a journey to foreign places where people eat rice and beans, and Giovanni is able to learn the value of his heritage.
Cora Cooks Pancit by Dorina K. Lazo Gilmore, ill. by Kristi Valiant
Once again, not a Thanksgiving book, but as this story is one of a little girl learning to cook, it seems appropriate. Cora gets to help in the kitchen, but she usually has to do the little kid jobs. But when her older brother and sisters head out, Cora takes their place in the kitchen. She and her mother cook pancit, and Cora does the grown-up jobs: shredding chicken, soaking noodles, stirring the pot. It's a warm story of a little girl cooking the food of her heritage and finding her place in the kitchen.
Turk and Runt by Lisa Wheeler, ill. by Frank Ansley
Turk is the apple of his parents' eyes: a dancer, an athlete! Or, according to his brother, Runt, a goner. They are turkeys, after all, and when people with roasting pans show up to pick the juiciest turkeys, one by one, no one will listen what Runt has to say. What lengths will he have to go to for his family to pay attention?
This beautifully illustrated book reminds children and parents alike to take joy in the small things in life, and to keep a thankful heart. Again, not a Thanksgiving book, but certainly one appropriate for the holiday (and the whole year).
Sweet Potato Pie by Kathleen D. Lindsey, ill. by Charlotte Riley-Webb
This is the story of a large family in the early 1900s. There's a drought on, but this family finds a delicious way to earn the money their family needs to save the farm. With festive food and the family spirit, this is a thematically appropriate choice at Thanksgiving time.
When We Were Alone by David Alexander Robertson, ill. by Julie Flett
As a little girl helps her grandmother with her garden, she notices things about the old woman. Why does she wear her long hair braided? Why does she speak another language? And why does she spend so much time with her family? So her grandmother tells her the story of when she lived in a residential school and those things were taken away. When We Were Alone is the story of a troubling part of our history, and ultimately focuses on empowerment and strength.
Rivka is having a hard time explaining Thanksgiving to her parents, recent Jewish immigrants from Russia. Rivka enlists the help of a group of Rabbis to give their blessing on the holiday and convince her father that Thanksgiving is for everyone.
It's 1924, and Milly is in a holiday playground in New York City, particularly in the holiday displays at Macy's, where she frolics under the eye of Mr. Macy himself. But Milly's family misses Poland, their homeland, and their traditions. Milly convinces Mr. Macy to start a celebration that combines old traditions with new American ways, and the resultant parade is still enjoyed to this day.
This book would be a great way to introduce your kids to folktales and legends from Native Americans across the United States.
Miguel's papa has sent a turkey to be fattened up for Thanksgiving, and Miguel takes a liking to the bird. Soon, Miguel and his new turkey friend, Gracias, are going everywhere together. But he's not supposed to be a friend—he's food! Will Miguel be able to save Gracias from the Thanksgiving table?
---
For more Thanksgiving books for kids, check out 7 Thanksgiving Children's Books if You're Not Down with Venerating Colonialism. And hit the comments to share your favorite Thanksgiving books!