Interviews
Doin' It In The Nook: Reading With Kelly Corrigan and Matt Nathanson
This content contains affiliate links. When you buy through these links, we may earn an affiliate commission.
"I just want people to stretch. I want them to push themselves to do more than entertain themselves when they read. I want the books to engage and challenge folks. That's the best part of art," says Matt Nathanson, one half of the duo behind Doin' It In The Nook.
Nathanson is a singer-songwriter with 14 albums to his name, and his hit single "Come On Get Higher" went twice platinum in the U.S. His partner in the Nook is Kelly Corrigan, New York Times bestselling author of a number of books, including Tell Me More and The Middle Place. Together, they've developed one of the most impassioned and engaging book clubs using technology to connect them with their fans and other readers eager to expand their literary horizons.
"We met volunteering for Oakland Children's Hospital years ago," said Corrigan. "I'm a writer so books were on the table off the bat."
Corrigan and Nathanson's dynamic is a huge part of what makes The Nook special. Their brand of humor, heart, and interest in going in deep with literature encourages others to do the same. It's clear their friendship, much like the discussions they host, begins with books but expands further and deeper.
Doin' It In The Nook takes place on Facebook and invites readers to vote for what they'd like to read among three pre-selected contenders. When one title emerges as winner, readers are given a date and time for a Facebook Live chat, hosted by Corrigan and Nathanson. Along the way, there's ample opportunity for Nookers to share favorite passages, open up discussion, or ask questions about what they're reading. All discussions are saved to the Facebook page, meaning readers who can't join live are able to still enjoy the discussion at a later time.
"I wanted to start a book club because I needed an excuse to read more fiction and I felt like, at the same time, I might be able to inspire people who liked my music to read something they might not ever consider. Kelly was my only choice because she rules and she loves books and we have such a good time hanging out and talking," said Nathanson.
Doin' It In The Nook launched at the end of November 2018. Chimanada Ngozi Adichie's Half Of A Yellow Sun was the first title, and has since been followed by equally challenging diverse titles. The discussions run for about one hour and aren't structured in any particular way.
"Nothing about The Nook is all that intentional," said Corrigan.
Nathanson adds that limiting discussion time helps from making the conversation lose its steam.
"It kills the purpose to just drone on. […] Kelly and I decided we wanted to treat this more like a class discussion, more structured. Keep the ball moving," he said.
Corrigan and Nathanson balance each other out, especially as conversation about a book grows beyond its covers into bigger topics of social, cultural, and global realities.
"Oh boy, I get real heated," Nathanson said. "Kelly is much more even keeled. I just take everything so fucking seriously. I feel like Kelly and I have a genuine respect for each other and each other's ideas, so we have some empathy and respect when we don't see things the same way. That's what is so great about talking books with thoughtful people. It blows them wide open in ways you could have never predicted."
"Our conversations are evolving in a cool way. Calmer. Slower," added Corrigan.
She also noted that one of the things that's stuck with her about the experience of hosting The Nook is how it's encouraged people to stick with books they may have otherwise quit.
"Matt said something last time that really struck me. If not for the nook he'd have put the book down. And there's value in finishing something that's not your favorite. There's a lot of learning in that experience."
Following discussion of Adichie's novel, Doin' It In The Nook took on Housekeeping by Marilyn Robinson, The Handmaid's Tale by Margaret Atwood, Sing, Unburied, Sing by Jesamyn Ward, Normal People by Sally Rooney, and Siddhartha by Herman Hesse. The most recent title selection was Kazuo Ishiguro's Never Let Me Go. The titles that didn't make the discussion cut have been equally as inclusive.
"I decided early on (and Kelly agreed) that we wanted to steer away (as much as we could) from books by straight, white males. Not that they're not great. I just think that we definitely have gotten our fill of that perspective. I felt strongly that I wanted to read books that took me to countries I'd never been to and showed me cultures I had never experienced," said Nathanson.
"We were both excited to read women and people of color. We are eager to enlarge the lens," Corrigan added.
As for their favorite books and discussions so far, Corrigan noted while she enjoyed Half of a Yellow Sun, she didn't love Adichie's book quite as much as she dug the author's other novels. She loved Robinson's Homecoming, whose book Gilead Corrigan names as one that's impacted her life deeply.
"Gilead is the ultimate example of sparse but passionate. It's full of feeling without being overstuffed," she said. She also noted Operating Instructions as a powerful book in her life, noting "[it] showed me a category of writing I didn't know existed."
Nathanson loved Siddhartha so much he read the book twice prior to discussion, then revisited the last third of the book again after.
"I was asked to Skype into a class discussion about it at my old high school. The philosophies behind that story are just a constant mindblower for me. That's the kind of book I can read every 6 months and get something new out of it every time," he said.
His least favorite read so far? The Handmaid's Tale.
"Maybe it was over-hyped and it didn't stand a chance because of that. I thought the concepts were amazing, I just thought the story itself kinda petered out for me in the last 1/3rd of the book."
Corrigan and Nathanson, both being artists themselves, have found a way to balance their creative lives with their reading lives. This balance is essential to them, and it's clear through Nook that they don't cut corners when it comes to getting reading into their everyday lives.
For Corrigan, being in transit is where she's able to make reading time a priority.
"Travel creates a dozen little pockets of time perfect for reading. It's such a joy to drop the phone into my bag and pull out the book. I often hear myself say, goodbye world as I switch gears," she said.
For Nathanson, it's dedicating a specific time to prioritize reading during the day.
"Reading life hack: read first thing in the morning and last thing at night. Even if it's just 15 pages, twice a day. For me, that works every time. As long as you start far enough out, you can get it done in bite sized bits."
Corrigan and Nathanson hope to host an in-person, live book club at some point, and guest hosts are on their list of things they'd love to see happen in the future. They're interested to see how new voices might add to the discussion and change the dynamic. And while the possibilities are real here, both Corrigan and Nathanson were eager to imagine which literary luminaries they'd invite for the best dinner party in the world were they able.
"Marilynne Robinson for sheer intellect. David Sedaris for wit. Colson Whitehead for imagination," said Corrigan.
"James Baldwin, because he was the sharpest, most articulate, most mind blowing human we have ever had. Raymond Carver, because he is my favorite writer of all time. And Mary Oliver, because she was endlessly enlightened and dialed into it all," Nathanson said.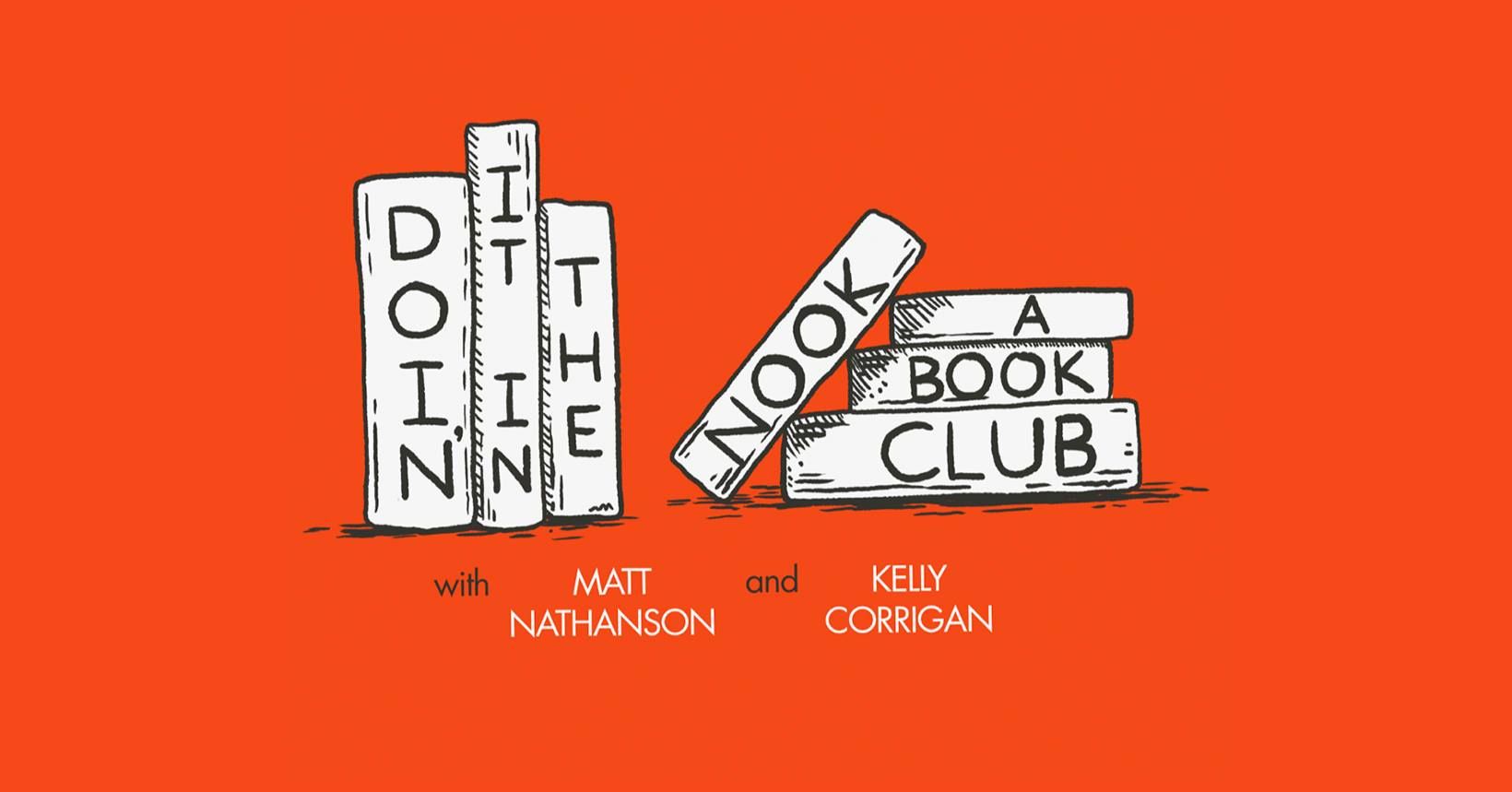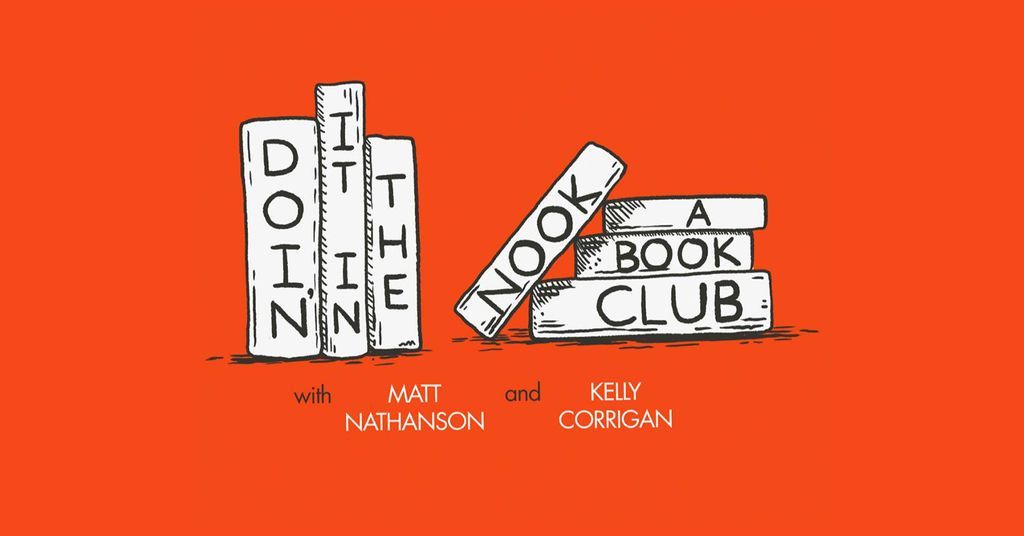 Doin' It In The Nook is on a short hiatus for the holidays. Corrigan and Nathanson encourage readers to catch up with previously discussed titles while they prepare to bring the book club into a strong start in 2020. Check out Doin' It In The Nook on Facebook to enjoy discussions of previous titles, as well as to keep an eye out for the next title and discussion in this one-of-a-kind digital book club.