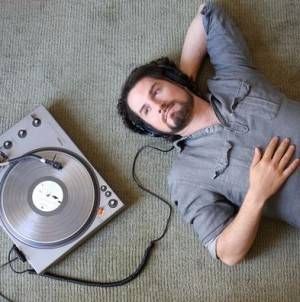 Singer/Songwriter Matt Nathanson gained name recognition when his song "Come On Get Higher" earned Platinum status a few years ago, but he's been making music — and laughs — for years. I found his music when I was in high school and fell madly in love with his work, as well as with him as an artist. He's smart, funny, and his lyrics are beautiful. His live shows, which were the first I was allowed to go to, were always inspired, energetic, and, many times, super raunchy. I even had the chance to sell merch for him at one of his college shows on my 19th birthday, and I'll always remember that as a super special gift because of how great the show was, how he played one of my requested songs, and how the energy from start to finish was just there.
October 2 marked the release of his tenth studio album, "Show Me Your Fangs." Aside from being a musician though, Nathanson knows how to work social media beyond promotion of his own work. He's dedicated to a variety of social causes, and he's outspoken about his own privilege as a straight white man, both in the industry and beyond it.
But it's not just his smart and savvy social media use that stands out: it's also how much he loves books and reading. His Instagram especially is filled with books, book recommendations, and a clear interest and passion for reading. Here's a round-up of some of Nathanson's best book picks. It's eclectic and fun.
Oh, and the number of times he's tweeted about using and loving the library? A way into a former librarian's heart.
On the last book he read from the library:
fire and rain – david browne. (almost done with it) https://t.co/FbCUZb2JZI

— matt nathanson (@mattnathanson) September 3, 2015
On books being removed from high school classrooms:
wild shit. come on, humans! https://t.co/qmAEXrM13p

— matt nathanson (@mattnathanson) May 5, 2015
Opinions about Gone Girl:
10 minutes into "gone girl" and i already hope both of them die.

— matt nathanson (@mattnathanson) September 6, 2015
On the bookstore to visit when you only have 24 hours in San Francisco:
@MarciDahms tacos with everything at la taqueria on mission at 25th. baker beach. and go to green apple books & get something rad to read.

— matt nathanson (@mattnathanson) October 26, 2014
On using the library when you're not at home (my favorite!):
just renewed my library books online– on MY PHONE– from COLORADO!! #thefutureisherebitches #anditisblowingmymind

— matt nathanson (@mattnathanson) August 11, 2011