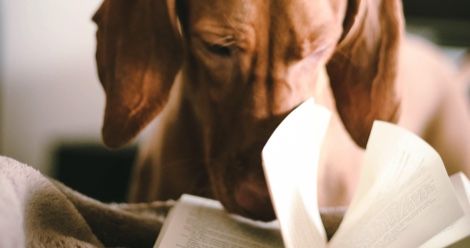 Lists
40 Wag-Worthy Dog Books You'll Want to Get Your Paws On
This content contains affiliate links. When you buy through these links, we may earn an affiliate commission.
Want to read more dog books? Of course you do. Here's where to get started.
Dogs and Books: You Can't Go Wrong
Two things that have always been a part of my life are dogs and books. I learned how to walk by the side of my German Shepherd, Abby, and I was lucky enough to grow up with books all around.
Although I currently own two cats (who are amazing), I will always be a person who splits my heart equally between cats and dogs.
This means I will never turn down a good book involving a dog. I work in a library, and if I pass a book and see a dog involved, I investigate. I'm not alone. We had an entire display of dog books recently, and I'm pretty sure the entire library staff was happier each time they passed it.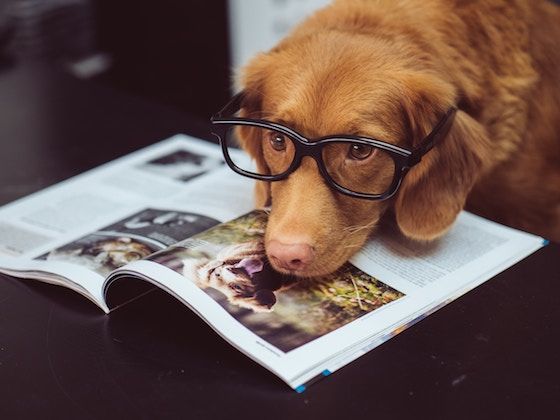 Dogs and dog books make life better. Stories about dogs can move people as few other things can. Anyone who tries to tell me they didn't cry their face off while reading Where the Red Fern Grows is either lying or a robot.
So for all of you looking for your next round of dog books, I've included a list of some I've read and loved or added to my TBR list. I've tried to include a little something for everyone. The list isn't meant to be the end all be all, but a good guide (we even have some more suggestions here).
Enjoy the list below, and let me know which titles you'd add!
Just don't tell my cats what I've been up to (they're watching me from the loveseat as I write).
40 Wag-Worthy Dog Books
An entire book of portraits of dogs eating peanut butter. What else do you need?
Senior dogs are amazing, and sometimes don't get the appreciation they deserve. This collection of photographs and stories helps give much-deserved appreciation to special seniors everywhere.
Dog photo books just give such lovely insight into the personality of individual pups, and this one helps show the character of a cast of shelter dogs who got to ham it up in a photo booth. This book lets people see the beauty in shelter dogs. Smiles for days.
This is pure entertainment. It's basically dog Twitter/Instagram in a book, and no dogs get bad ratings in this book. This is one of my go-tos when I need a quick laugh.
The Lost Dogs: Michael Vick's Dogs and Their Tales of Rescue and Redemption by Jim gorant
I think all dog lovers can agree that the entire Vick situation was horrific, and enraging. So this book, which focuses on the amazing canine survivors, is a reminder that dogs can be forgiving, resilient, and loving in the face of almost any situation.
This hilarious book is precisely what it sounds like. October Jones (alter ego of animator Jim Butcher) gives his bulldog a voice through a series of amazing texts.
Oogy survived life as bait for dogfights with only one ear and a face full of scars. He was not likely to be considered a first choice. But thankfully, as told in this heartwarming story, sometimes it just takes the right people to see just how special an animal is. Personally, I think Oogy is adorable!
Anyone who has owned a dog has wanted to put a sign on them and display their shame to the world. Favorite purse destroyed? Had floorboards eaten? Well, dog shaming displays the owners who have shamed their pups, in a hilarious, playful manner.
Travel along with Steinbeck as he takes a road trip through America with his poodle, Charley, to better understand the country and its people.
Join Inman as he pays tribute to his dog Rambo and explores all the mysterious habits many dog owners have seen and questioned. Told in glorious Oatmeal style.
A legitimate Little Golden Book classic that follows the story of a curious little puppy. Always a joy to read.
Julie Klam's memoir of falling for her first Boston terrier. A story of a woman, her dogs, and the many lessons we can learn from our furry friends.
One of my childhood favorites, this is the simple story of Harry, a dog who likes to be dirty and hates a bath. Simple premise, but fun and super cute book.
Buck is a domesticated dog who goes through an intense journey away from his once stable life. A classic tale of learning to survive, and even embrace, the wild.
Ribsy by Beverly Cleary
Beverly Cleary was one of my obsessions as a child. If it was Beverly Cleary, I would try it. The final book in the Henry Huggins book, this follows Henry's dog Ribsy on a journey to get home.
Fawcett's comics about life with dogs and the inner thoughts of dogs have gained a massive following for a reason.
Cute photos of dogs and fun stories? I'm in. Plus, it gives some insight into the background of BarkBox and even has tips for owners.
Oliver uses her own personal experiences to examine the bond between humans and dogs. That personal touch makes it particularly gorgeous and moving.
I love everything about this book. Furniture design perfectly (and cleverly) paired with dogs in stylish illustrations. I am not sure how Amodeo had this come to mind, but it's wonderful.
A fantastic picture book for any child. The story of a little girl searching for the perfect dog she has in mind, who learns that sometimes what is truly perfect can surprise you.
Something about people writing poems for their dogs, or in their dog's voices, always seems to give me a certain level of insight into the writer. Sweet, funny, enjoyable all around.
My Big Dog by Janet Stevens and Susan Stevens Crummel
Ok, so the main character of this book is a cat. A cat who has to learn that the big new dog isn't actually the end of the world. One of the cutest picture books I've ever read. A perfect read for any cat who might be about to get a new dog sibling.
This one's not about puppies or pet dogs. Instead, highly intelligent Victorian monster dogs who have lived in seclusion stumble into modern New York, having known only their way of life. It was an immediate add to my TBR list.
Gaston by Kelly DiPucchio and Christian Robinson
An adorable picture book about Gaston, the French Bulldog, who lives with all poodles. Filled with lovely illustrations, Gaston teaches us what really makes a family.
The Carl series is a genuine classic (he remains one of my favorites). Follow Carl as he keeps baby Madeleine company through all her adventures. Basically, Carl is the best boy.
Susan Orlean tells the story of the German Shepherd extraordinaire, from his rough start as a puppy in the middle of World War I to his rise to fame.
Perfect for anyone interested in dog behavior. A collection of tales of all types of issues that Dodman has seen over the years working with dogs and owners. Great insight into the various issues dogs can display, and ways to help them through.
Wish by Barbara O'Connor
Charlie is eleven and suddenly in a new place with unfamiliar family. In an uncertain and lonely situation, she meets and befriends a stray dog, who may help her learn to connect.
The plot of this book is basically Hamlet. If Hamlet was mute and spoke strictly by signing, the setting was a farm in Wisconsin, and the family was highly involved in raising dogs. The story of Edward and his family is interesting on its own, but his connection with his dog Almondine (and the other dogs he has grown with), makes this especially appealing for dog lovers.
What makes us act the way we do around dogs, and what do our dogs think of behavior? This is the central question at the heart of The Other End of the Leash.
I've always found the way dogs work and behave really interesting, so books like this, which study the world through a dog's perspective, are fascinating.
Nick Jans tells the story of a single black wolf that began to interact with the residents and dogs of Juneau, Alaska. A look at the relationship formed with Romeo, and what it taught those who encountered him.
A modern classic about a girl whose life is changed when she meets and befriends a dog she names Winn Dixie.
Clifford is a playful, curious, lovable dog, who just happens to be giant and red. His adventures with his owner Emily Elizabeth are childhood fixtures.
Two dogs, one cat, and a journey to get back to their family. Have you seen Homeward Bound? It was based on this. The adventure these three go on through the wilderness to get back to their family is not only exciting for young readers but shows just how dedicated pets are.
The fact that dogs love us is clear, but I think we've all stopped at some point and wondered what's going on in their heads. Gregory Berns certainly did, and after adopting his dog, he decided to try and decipher how a dog's mind works.
George wants to be a good pup. But there are cats, and there is cake, and other temptations. What's a dog to do?
The story of Dion, an ultramarathoner, and Gobi, the little dog who joined him on his trek. A story of the power of friendships made in unlikely places, and the sacrifices made for love.
This series is pretty popular in my library, and I'm not surprised. The illustrated books about a slightly evil guinea pig and his new energetic corgi brother are funny and well drawn. Bonus: they help explain the process of blended families adjusting in a really fun way.
This will make you cry. I'm sorry. But Hachi's story of extreme loyalty and love for his owner makes him worthy to be on any list of great dog stories. There's a reason he has his own statue.
---
Hit the comments to share your favorite dog books!