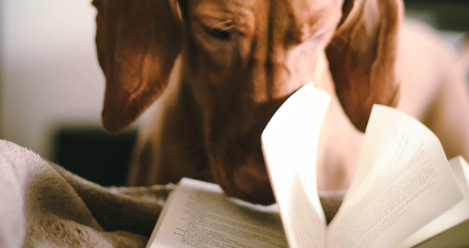 40+ of the Best Books About Dogs
This Riot Recommendation of best books about dogs is sponsored by Gordon: Bark to the Future! by Ashley Spires from Kids Can Press.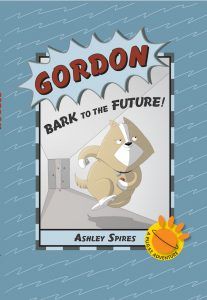 HOLY FUZZBUTT! Aliens have invaded, and Gordon's fellow space pets have been captured! Now Gordon will have to fight the enemy alone! Gordon's never been much of a fighter—his deadliest weapon is his mind. What's a genius dog to do? Time travel, of course! Will Gordon be able to save himself, his friends and his humans? And get back to the future? Kids won't want to miss this hilarious trip through space and time!
---
Is it any surprise that when we asked for the best books about good boys, your favorite canine-themed page-turners, great reads featuring doggos…you flooded us with recommendations? From kid lit to mystery to memoir, here's a small sample of the furry pals you can find in a book:
The Art of Racing in the Rain by Garth Stein
From Baghdad, With Love: A Marine, the War, and a Dog Named Lava by Jay Kopelman and Melinda Roth
Susie's Senior Dogs by Erin Stanton
A Dog Wearing Shoes by Sangmi Ko
Strays by Jennifer Caloyeras
Love That Dog by Sharon Creech
The Day Cagney Lost Her Wag by Laurie Salzer and Lynn Starner
The Lost Dogs: Michael Vick's Dogs and Their Tale of Rescue and Redemption by Jim Gorant
Saving Audie: A Pit Bull Puppy Gets a Second Chance by Dorothy Hinshaw Patent
Robot Dreams by Sara Varon
Lily and the Octopus by Steven Rowley
Inside of a Dog by Alexandra Horowitz
Old Yeller by Fred Gipson
Rescuing Penny Jane by Amy Sutherland
Chase by Linwood Barclay
Afterglow: A Dog Memoir by Eileen Myles
Old Faithful by Pete Thorne
Oogy by Larry Levin
Hurry Home, Candy by Meindert DeJong
Gizelle's Bucket List: My Life with a Very Large Dog by Lauren Fern Watt
See You in the Cosmos, Carl Sagan by Jack Cheng
How Dogs Love Us by Gregory Berns
The Call of the Wild by Jack London
A Big Little Life by Dean Koontz
Where the Red Fern Grows by Wilson Rawls
Laika by Nick Abadzis
Saving Audie: A Pit Bull Puppy Gets a Second Chance by Dorothy Hinshaw Patent
Dog Songs by Mary Oliver
Strider by Beverly Cleary
A Dog's Purpose by W. Bruce Cameron
The Underdogs by Melissa Fay Greene
Sputnik's Guide to Life on Earth by Frank Cottrell
Starting with Max by Ying Ying
Where's Spot? by Eric Hill
A Dog Called Kitty by Bill Wallace
The Chet and Bernie series by Spencer Quinn
The Knife of Never Letting Go by Patrick Ness
Dog Medicine by Julie Barton
The Dog Stars by Peter Heller
Lireal by Garth Nix
Dog Church by Gail Gilmore
Black Dog by Levi Pinfold
The Poet's Dog by Patricia MacLachlan
The Dog Who Saved Me by Susan Wilson
A Time for Home by Alexis Morgan