Lists
The 4 Best Curated Book Subscriptions To Quit Your Reading Slump
This content contains affiliate links. When you buy through these links, we may earn an affiliate commission.
I am almost never at a loss as to what to read. I have a number of sources I turn to for book recommendations and, at the moment, my gimme list hovers at around 150. But there's something about curated book subscriptions—and about subscription boxes in general—that fills me with delight. The anticipation. The self-indulgence. The items I may not have chosen for myself otherwise—but which turn into new obsessions.
Now that subscription boxes are A Thing (I use so many of them and may or may not have a problem), the offerings out there for bookish boxes have ballooned. Here are my four favorite curated book subscriptions for all my fellow book nerds.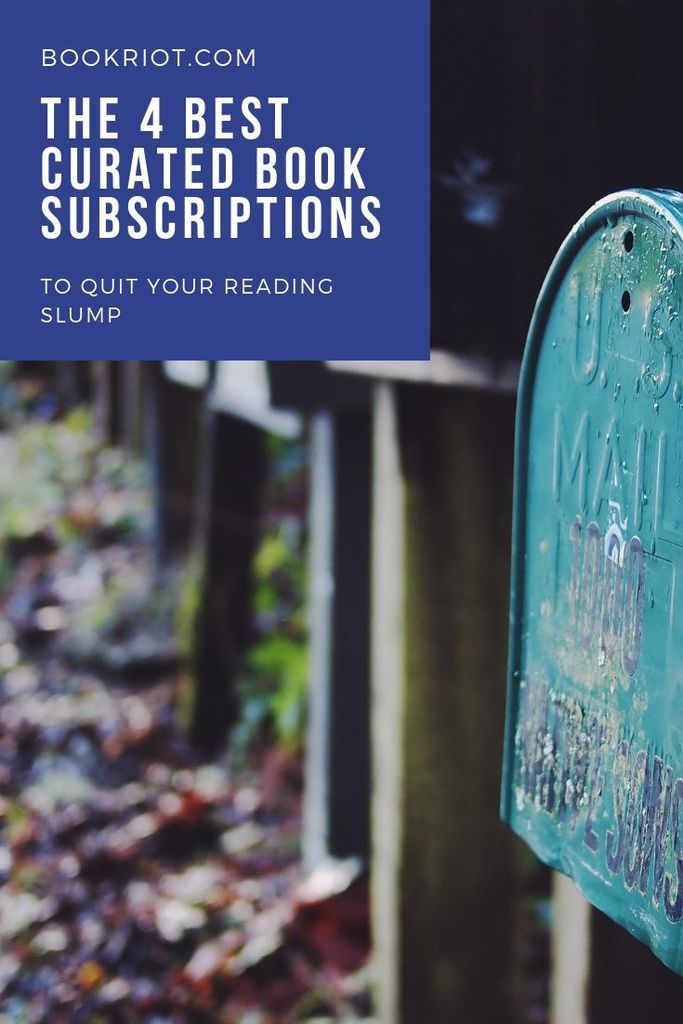 I joined the FBC earlier this year. When I received my first box—covered in a personalized magazine collage—I was charmed. In addition to that month's book (Lauren McKeon's F-Bomb), there were a number of other goodies in the box, including a sampler pack of lube from Smitten Kitten, which was very much in my sex writing wheelhouse. In fact, each month's box is packed with products from woman- and queer-owned small businesses. But my favorite aspect of the FBC is the community. There's an active Facebook group for members and, every month, founder Renee Powers hosts a video chat to discuss the latest book. Subscription packages run from $12/month (a virtual membership that gains you entry into the online community) to $20/month (for just the book) to $42/month (for ALL THE THINGS).
BOTM is another book subscription box I used to receive before it occurred to me that I had to get my subscription box habit under control. I've also gifted it to others, as I find their monthly selections to be consistently on point. Here's the lowdown. Every month, you pick which book you want out of a selection of five buzzy new releases. You can also purchase add-ons from a selection of other books and bookish gifts. And then, well, you wait with bated breath beside your mailbox until it arrives and, once it does, cancel all of your other plans! It costs $14.99/month and, if you're not interested in any of the choices in a given month, you can opt to skip that month and you won't be charged. It's a great way to keep on top of what's new and hot.
There's no one I trust more to give me amazing book recommendations than my fellow Book Rioters. I'm pretty sure that, collectively, they know everything about every book ever. Which is why their curated book subscription service is the bee's knees. The key to TBR's awesomeness is the personalization. Subscribers are assigned a bibliologist who creates a quarterly recommendation list that caters to their interests. For $15 per quarter (or an annual fee of $50), you receive a list of three book recommendations via email. For $79 plus $4.79 shipping per quarter (though you get free shipping if you opt to pay an annual fee all in one chunk), you receive in the mail three actual books that have been chosen specially for you. It's like having a personal shopper! Fancy!
Finally, I have to give a shout-out to the Powell's subscription service because of the support they give to independent publishers. Every six to eight weeks, they send along the new books they're most excited about, along with some other surprises. For example, those who received Volume 70 received a signed hardcover edition of Carmen Maria Machado's Her Body and Other Parties, an ARC of Julián Herbert's Tomb Song, a booklet containing an interview with Machado, and a bonbon set from Alma Chocolate. Yes, please? Each volume is $44.95, which includes shipping. Which is a small price to pay to simultaneously support an indie bookshop and an indie publisher (and your need to receive a constant stream of books in the mail)!
---
You're welcome.
(Though also I'm sorry to your wallet.)