Crossover Appeal is a weekly feature that challenges the idea that you have to choose a side between YA and adult fiction. Each week we'll feature a book that has been marketed as YA and a book that has been marketed as adult and tell you why everyone should be reading them, no matter what happens to be your comfort zone.
__________________________
YA Books for Adult Lit Readers
I'm diving a little far into the backlist here, I know, but the whole point of Crossover Appeal is to find books you might have missed. If you weren't between the ages of 10-19 between 1998-2000, when this book was published and won a Printz, you might have missed this one all together. I've been doing a lot of rereading this year and this was top on my list of books to revisit. It's a strange, beautiful little book about a ten year old boy whose baby sister is ill. She's in and out of the hospital, leaving Michael mostly unsupervised in his new house. He discovers something strange in the family's decaying shed: a man who seems to have wings and calls himself Skellig. Skellig looks young, but he's sick and weak from arthritis, he says. Along with his odd, homeschooled neighbor Mina, Michael tries to save Skellig and figure out exactly who, or what, he is.
Why You'll Love It
Skellig is a lyrical, absolutely beautiful novel about growing up and dealing with grief. It's framed within a fantasy, but this is as much about growing up and realizing that there are other people who live completely different lives from you as any novel. It's coming-of-age, plus fantasy, and in that respect, this is a crossover novel of all sorts. If sometimes it's difficult to believe the main character is ten, you forgive Almond simply because the writing is so exquisite.
Adult Books for YA Lit Readers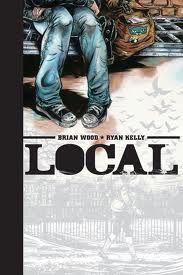 Local by Brian Wood (author) and Ryan Kelly (illustrator)
I try to pick books that are at least somewhat similar, so at first glance, Local, a realistic graphic novel, and Skellig, a fantasy novella, have little in common, but trust me on this one. They're both beautiful coming-of-age stories that creatively tell a story that's been told again and again. These interconnected comics were collected in an omnibus in 2008. They all loosely follow Megan, a girl who decides to leave home one day and find her fortune across the country. Each comic takes place in a different city in the US and the amount of detail that goes into each comic is breathtaking.
Why You'll Love It
The fact that Local is so realistic, with images that perfectly capture both a location and the life of one person, makes it an absolutely perfect comic, at least in my mind. Megan's transformation is clearly drawn out from beginning to end, even when some of the comics don't focus on her and her story. In this sense, Michael from Skellig and Megan from Local are kindred spirits. They both see the world as a new place by the time their stories are through. Michael by meeting and getting to know the mysterious Skellig and Megan by traveling the country and forever altering her perspective.
__________________________
Leslie Fannon is a blogger, crocheter, graduate student and, most recently, an assistant at a publishing company. She writes about poetry, graphic novels, and Spanish literature at Regular Rumination. Follow her on Twitter: @lulu_bella